10/10/2013 – Michigan 3, Boston College 1 – 1-0
I once watched a YouTube video of Luke Moffatt scoring five goals in one game. He'd just committed to Michigan and was still playing AAA with Little Caesars or Honeybaked or whatever, and I was told that he was the best 15-year-old playing hockey in the world. I believed it, and Luke Moffatt believed it.
Every waking moment since has been something of a disappointment after that high, for both of us. For me, at least, that's a compartment. For Moffatt it's been his life. Moffatt's prospect status slid until he was a seventh—and last—round draft pick. At Michigan he trundled through seasons that were matched and surpassed by guys who never thought they were the best player on their team, let alone in the country: 5-8-13 as a freshman, 6-10-16 as a sophomore. Last year he was an idling third-liner who finished –8 as the team he probably thought he'd be leading to a national title and incidental Hobey Baker missed the tournament for the first time since evolution was a thing.
My buddy who grew up playing hockey and still knows way more about it than I do heaped derision on him: no check, no effort, no defense, no care. I thought that was a little unfair. But only a little. Luke Moffatt kind of symbolized everything that was wrong with last year's team.
-----------------------------------
Boston College is fast. Michigan was fast; Boston College is still. Michigan has little bursts of fast. Boston College lives on it, and whenever you see them live it jumps off the ice. Boston College is fast. Get your back turned at the wrong time and throw the puck the wrong way in your defensive zone and you are in for a harrowing minute and a half as they swarm you, talons out.
Michigan endured a few shifts like that, and when that happens the mind turns to old games in the tournament against these guys where Michigan was just able to keep up for a while before collapsing, exhausted, as soon as BC tied it. You know that one game I'm thinking about. The one with nine minutes without stoppages.
When I felt that coming on, Michigan lifted a stick. Boston College, which is fast, would be coming out of the defensive zone and then a Michigan guy would have the puck and not quite know what to do with himself. After the puck hit the corner, Michigan would pen Boston College in their zone for a change. I kind of expected this. I've been talking up Andrew Copp and JT Compher for six solid months now.
I did not expect my confirmation-bias riddled self to fist pump because Luke Moffatt was shouldering his way through to keep possession, finishing checks, and playing like the best goddamn 15-year-old on the planet, seven years later. Forget the two power-play snipes. Forget everything about them except Moffatt's comically exaggerated goal celebrations after. Those were Jean Claude Van Damme-level overacted. They were wrestling heel moves. Forget the snipes. Remember the reactions, and apply it to Luke Moffatt plundering through the offensive zone to acquire or re-acquire possession.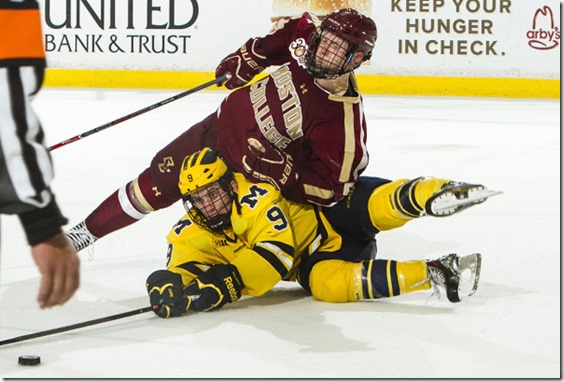 Why is Luke Moffatt on the second line next to the all-effort freshmen? Go to hell, that's why. Luke Moffatt is tired of being a guy who was a prospect. Luke Moffatt is tired of my buddy popping on message boards to trash his effort level. Luke Moffatt is tired of being a third liner. Luke Moffatt is done with that crap. Go to hell, says Luke Moffatt. He says it directly to me and my hissy fit last year. And I say yes, sir.
Luke Moffatt's going to get a major and game misconduct he deserves. And I'll say yes, sir.
-----------------------
After Moffatt buried the 3-1 goal, Michigan had a relatively easy time of seeing Boston College off the ice in the third period. They were desperate; they managed five shots. Michigan put the clamps down, as the clock ticked down and an odd feeling of security descended, last year momentarily seemed like a hazy dream. After that moment it was real, and still bleeding in front of you because Michigan had taken its stick and sliced it across the throat.
Afterwards, Michigan gathered at center ice as they always do. I always watch this. It feels different every time. This time, it was rocket-fueled resentment and a chin held high. We are not them, despite largely being them. That is not us. This is us.
They lifted their sticks as they had Boston College's, and announced their presence. This is not last year's team. An ice shavings-covered, slavering Luke Moffatt is plenty of evidence of that.
[After the JUMP: tracing the outlines of what happened at RIT, Coppwaii.]
Bullets
Probably! I was bleeding to death in the back of an airplane when Michigan played RIT and have no idea what happened or how to feel about a 7-4 win in which Michigan rips off four goals in the first 13:32, blows the lead during a disastrous second period, and then reclaims it to win. The shots are alarming: Michigan got outshot 46-27. Taking ten minors against RIT's five has something to do with that.
Some of the many goals:
That's De Jong getting walked on RIT's first; Evan Allen's game winner was a total fluke.
RIT's official site posted all of RIT's goals:
What happened:
De Jong gets walked.

Puck pops out into the slot between Bennett's feet, unchecked guy in slot slams it home.

Di Giuseppe gets caught playing D 4-on-4, plays it horribly, two on one pass trickles through, Racine can't close five hole.

PP shot from high slot gets through, deflected, save, rebound pops up and is whacked out of midair into the net.
#3 is a little soft, the others were no-chancers. I think I'd rather have the team make some grim defensive errors than have Racine let in soft stuff. Hopefully a bit of a fluke; no time to judge before a challenging series against UNH this weekend.
Well, how do you do. Tweeted out something during the game about how the 2-1 score after two may have been a little flattering despite the shots for (25) and against (16) and do believe that since BC hit two posts and missed an open net after Racine went on a Montoya-worthy vision quest. The game was dead even despite Michigan's significant shot edge, because BC's chances went wide or clanged off the post while Michigan's hit the goalie.
Still… how about that? If Michigan played BC in a tourney game tomorrow I'd walk in feeling okay about that.
Copp emoji goes here. Copp is not only the all-effort future two-time captain but a guy who 1) knew exactly what he was doing when he flung the puck at the goalie from behind the net to bounce it off him and score and 2) zipped a one-time tape-to-tape pass to Moffatt for his second power play marker. Here is my current Copp emotion level.
Get ready for GIS searches for "kawaii," Google. I'm going to be all up in that.
Freshmen defensemen to the rescue. BC returned Johnny Gaudreau, a diminutive player in the stickhandling goal maniac bastard mold who scored a PPG as a freshman. They got back three other guys with at least 36 points last year. And they generated almost nothing off the rush and did get outshot significantly. The only time I saw a defenseman make a particularly wince-worthy play was late when Gaudreau broke Brennan Serville's ankles on a rush. Downing, De Jong, and Lohan outperformed any reasonable expectation by furlongs.
De Jong in particular had a couple of really impressive Merrill-like plays where he gathered the puck in a difficult situation, fended off an opponent, and moved it to the right place at the right time. De Jong drawing onto the top line instead of Downing was either a pretty good sign or a really bad one; two games in it's still probably the former despite that goal above. This is all too good to be true and there will be dispiriting errors at some point that see scratches draw in; holding BC to one goal in game one is about as good as it gets.
Suddenly: depth, wow. Found Michigan's lines in this one really weird. To review:
Kile-Copp-DeBlois
Moffatt-Compher-Motte
Di Giuseppe-Nieves-Hyman
Allen-Lynch-Sinelli
Michigan seems to have built their lines around three pairings: Copp-DeBlois. Nieves-Di Giuseppe, and Compher-Motte. The former two worked well last year and Compher-Motte has been a thing for the last two years on the NTDP; in this one the NTDP guys showed the value of that connection on one particularly telepathic rush that resulted in a scoring chance. Build your roster around those three pairings and you've got three solid scoring lines, maybe four when Guptill comes back and knocks Kile down to either the PDG-Nieves line or fourth line. Even now that fourth line features a kid in Evan Allen who got a lot of PP time and has a wicked shot.
Against RIT, Michigan put Sinelli back on the bench and apparently installed Guptill on the top line even if the line chart Michigan put out said he was on the fourth line. He assisted on a PP goal, Michigan's first; the second goal was DeBlois from Guptill and Copp.
Racine check in. Ideally he gets the water-bottle snipe from the top of the circle; understandable that he didn't. 20 other saves, several quite good, and seemingly improved rebound control are reassuring. If BC had in fact dumped in a couple of those goals they narrowly missed none of them could have been blamed on Racine even a little.
It would have been nice if someone was there to see it. Announced attendance was 76% of capacity. Yost was pretty good; it is no longer what it was. I am trying to make my peace with it. At some point, though, the prospect of a sold-out, bloodthirsty crowd has to be more of a driver towards wins than a marginal increase in profitability for a department that's already printing money.
Life exists outside of spreadsheets, people! No, it is not ironic that I am exclaiming this! I feel things deeply! You're a jerk!