Lacrosse: Michigan State Preview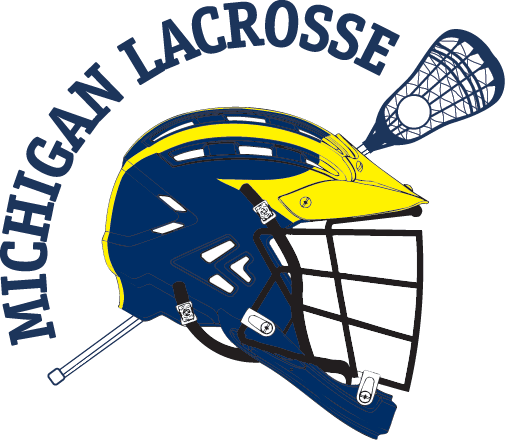 This Saturday the #1 ranked Michigan Lacrosse team will take on their instate rival at 7PM at East Grand Rapids High School as part of the Great Lakes Lacrosse Classic. Tickets are $6, and gates open at 5:30. Defending Division 2 state champions East Grand Rapids will take on Division 1 reigning champs Birmingham Brother Rice at 1PM as part of the festivities. For more, check out the EGR lacrosse page.
Past Results
Michigan has an 19-1 record all-time against Michigan State. For the past four seasons, the Wolverines and Spartans have closed the regular season with the Great Lakes Lacrosse Classic, with the venue alternating between Grand Rapids and Birmingham each year.
In the 2006 regular season, #1 Michigan defeated #22 Michigan State 14-8 at Forest Hills Central High School in Grand Rapids. The Spartans would get their revenge in the CCLA tournament, however, coming away with an 11-10 win in which they were dominated in every aspect except the final score.
The 2007 season would bring a sweep of Michigan State, with a 14-6 victory at Birmingham Seaholm High School in the regular season and a 10-3 domination in the championship game of the CCLA tournament at Kings High School in Mason, Ohio. In that game, now-senior faceoff specialist David Reinhard won 5-of-6 draws, and Anthony Hrusovsky notched two goals and an assist. [Ed: full preview after the jump.]
In 2008 (the first of back-to-back undefeated National Championship seasons for the Wolverines), Michigan again earned the season sweep of their in-state rivals. Forest Hills Eastern High School in Grand Rapids was the venue for the 13-5 regular season win. Trevor Yealy scored five goals for Michigan, and defenseman Harry Freid had two assists. In the CCLA Championship game, Michigan again pasted MSU, earning a 21-5 win behind five Trevor Yealy goals and six assists from Kevin Zorovich.
Last year was the first time in three seasons that Michigan didn't beat Michigan State twice, but only because the Spartans failed to make the CCLA Championship game. The regular season ended with a game at Birmingham Seaholm High School that was delayed several times due to lightning. The weather wouldn't be a huge issue for Michigan though, as Trevor Yealy scored eight goals, Kevin Zorovich notched four assists, and David Reinhard won 65% of his faceoffs on the way to a 21-9 victory.
The Spartan Season
The Spartans started the season well, going 8-1. That hot start turned their weekend trip to Colorado into a huge opportunity to show that they're for real, but they were unable to capitalize, falling to resurgent Colorado and #2 Colorado State. Their other loss was an 8-5 road defeat to Florida State.
Michigan State has faced many teams in common with our Wolverines so far:
Common Opponents
Michigan
Michigan State
Opponent
Date/Location
Result
Date/Location
Result
Simon Fraser
3/12, Ann Arbor
W 22-10
3/14, East Lansing
W 12-9
Eastern Michigan
3/14, Away
W 19-2
4/10, Neutral
W 14-0
Oregon
3/20, Neutral
W 5-4 (OT)
3/22, East Lansing
W 9-7
Western Michigan
4/2, Ann Arbor
W 29-5
4/8, East Lansing
W 25-4
Central Michigan
4/3, Ann Arbor
W 19-1
3/27, Away
W 16-8
Colorado
4/9, Away
L 12-10
4/17, Away
L 10-4
Colorado State
4/11, Away
W 10-6
4/18, Away
L 13-7
The only team against whom Michigan and Michigan State had different results was Colorado State. Michigan had greater goal margins in every game except against Oregon.
The Team
Offensively, the Spartans are led by a trio of attackmen in redshirt junior Patrick Nemes, sophomore Michael Bailey, and junior captain Connor Bush. All average more than two points per game, with Nemes nearing four. They are all well-rounded as well, with only Bailey notching more than two-thirds of his scoring on goals, rather than assists. Nemes also leads the team in ground balls, with 20 according to MCLA.us (which is definitely low, but the underreporting should be even across the roster).
Just looking at (poorly recorded) stats, it's tough to say which defenders are the key players, but senior captain Matt LaCasse (epic flow!) and junior Brendan Hunt lead the unit in ground balls. Hunt also appears to be one of the "tough guys" on the squad (as we'll see in a moment), tying for the team lead in penalty minutes with senior captain midfielder Derek Baynton.
In goal, senior captain Dean Hall has played in every contest, saving 63.9% of shots faced and allowing seven goals each time out. He's been relieved by sophomore Tony Maccio in some contests. The faceoff specialist for State is sophomore Matt Wisniewski.
The Vicious Electronic Questioning
Michigan State's second-year headman Dwayne HIcks was kind enough to answer just a couple questions about his team. Much thanks to him:
Tim: Who are some of the key players for Michigan State, both offensively and defensively?
Coach Hicks: Offensively, we have Patrick Nemes, Connor Bush, and Mike Bailey. They will lead the offense and control the ball. Defensively, Dean Hall is one of the best goalies in the country. Matt LaCasse, Brendan Hunt and Mike Schneider are very strong defensemen who like playing physical. I think this will be one of those games where they will be looking to make contact.
Tim: MSU had a big opportunity to make a statement with a road trip through Colorado last week. What went wrong? How does the team recover from losing both games?
Coach Hicks: The Colorado road trip was a great opportunity that just didn't go our way. Both teams were very good and played well. We did not. We did not do the things that helped us win against Simon Fraser and Oregon. So, it was a lose for us but a great learning opportunity. Now we know what we have to do to win upper level games and stick to it.
Tim: Is the team still confident they'll be able to make the MCLA tournament?
Coach Hicks: It's been a strange season for most teams...lots of ups and downs. I think we showed we can play with anyone. Are we sure we're in, no one is sure they're in until you win your conference and get the invite, So, right now, we're focused on the next game ahead of us, then the CCLA Championships. Thinking about the Nationals would be getting ahead of ourselves.
Tim: What will be some of the biggest keys to the game against Michigan on Saturday?
Coach Hicks: I think it will come down to ball control and pressure. The team that controls the ball, wins the ground balls, and doesn't turn the ball over will have the advantage. Michigan is going to pressure us on clears, we'll have to be prepared.
Tim: Win or lose on Saturday, how has the season stacked up to expectations?
Coach Hicks: Our goal was to get this team to the nationals. Once you're at the dance, anything can happen. But you have to get to the dance. We're see how things play out over the next two weeks. I think we're in a good position and we are still in control of our own destiny. So, I'm really happy with that.
Thanks again to Coach Hicks for his time.
The Implications
Michigan State has a lot to play for, as getting swept on their weekend road trip dropped MSU to 8-3 from a guaranteed bid to make the MCLA tournament to a bubble squad that might need some help to make the field. A win against Michigan would cement a spot in the tournament, and even a respectable loss followed by the same in the CCLA conference tournament might do the same.
Michigan is playing to maintain their #1 ranking, and likely the #1 overall seed in the MCLA Tournament. A win against the Spartans (still a top-15 team despite their recent struggles) would all but lock that up, assuming another run to the CCLA Championship game, hopefully capped by another victory over MSU.
Aside from that, in-state bragging rights, the allegiances of hundreds of kids in attendance, and even the #1 seed in the CCLA tournament are on the line. Even if this wasn't a #1 v. #12 matchup, it would be a Big Deal in lacrosse, as far as the state of Michigan is concerned.
The Prediction
Michigan has outplayed the Spartans in nearly every game against common opponents (the contests against Oregon in radically different weather conditions notwithstanding), and has proven over the course of the past three seasons that they are a lacrosse force to be reckoned with. They are more talented, more organized, and better-coached than their in-state brethren.
Still, the rivalry factor can be a big deal. Michigan State saves their best performances in every sport for Michigan, and lacrosse, though not a varsity sport, is no different. The Spartans are always hungry to prove themselves against Big Brother.
At the end of the day though, that hunger and that drive for validation haven't gotten the Spartans a win against Michigan in the past five contests, or six out of the past seven. All those advantages that Michigan has built up over the past several years have won out on the field, and Michigan has been dominant. This year should be no different. I see Trevor Yealy notching five goals, and Thomas Paras getting three in a 20-11 Michigan win.