The Kobe Assist: Another Way Trey Burke Is Good At Basketball
All missed shots are not created equal.
That's the premise of this article by Grantland's Kirk Goldsberry, who examines the work of the NBA's foremost volume shooter, Kobe Bryant, and comes up with a very interesting new statistic. The background [emphasis mine]:
[J]ust like shot outcomes, rebounding outcomes also depend on who is shooting, where they are shooting from, the stratagems of each team, the rebounding abilities of each player, and the precise spatial configuration of the 10 players on the court; as a result, there is a less apparent tenet of basketball: All missed shots are not created equal, and their DNA is inherently dependent upon their ancestral events — some missed shots are good for the defensive team, and some benefit the offense, as many misses actually extend offensive possessions with the proverbial "fresh 24."
Goldsberry coins the name "Kobe Pass" for any shot that is rebounded by the offense—an individual statistic for the shooter, as offensive rebounds is obviously a stat that exists. This leads to the "Kobe Assist":
In fact, league-wide, 34 percent of the time Kobe passes results in points right away because the recipient of the Kobe Pass, a.k.a. the offensive rebounder, frequently scores immediately after acquiring the basketball. In such cases, I define the Kobe Assist as an achievement credited to a player or a team missing a basket that in a way leads directly to the kind of field goal generally referred to as a put-back, tip-in, or follow.
In case you haven't caught on, Kobe Bryant is the master of the Kobe Assist, putting up the best numbers even before the Lakers brought in rebounding force Dwight Howard (having Pau Gasol and Andrew Bynum helped, of course).
While Kobe Assists depend in no small part on a player's supporting cast—the guys going up for the rebound, especially—there is still an art to their creation. Much of this has to do with where on the floor a player takes his shot; as a general rule, the closer to the basket a shot originates, the more likely an offensive rebound will occur: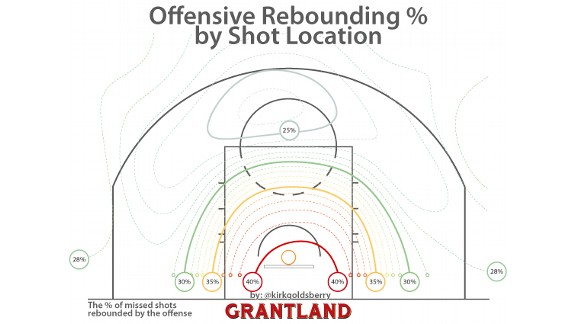 There is one notable exception: three-pointers are rebounded at a lightly higher clip than long twos. This is an NBA chart, so the stats for college may be slightly different, but the point remains that long twos are the worst shots in basketball—often a waste of possession not only because of their low-percentage nature and lack of the upside of a potential extra point, but also because they're usually the last shot of a possession.
[Hit THE JUMP to see the best Wolverines at producing Kobe Assists as well as a new advanced metric, adj. points per shot]
Charting Michigan's Kobe Assists
This lengthy preamble leads to a point beyond noting a cool new stat, of course. I went back through the play-by-plays for each of Michigan's regular-season games and tallied Kobe Passes and Kobe Assists for each player who's seen significant time (Caris LeVert is the one notable exclusion from the current rotation, but I plan to track these all year and he'll get in once he plays more). Chart? Chart.
| Player | 2PA | 2PM | O. Reb. | KA | 3PA | 3PM | O. Reb | KA |
| --- | --- | --- | --- | --- | --- | --- | --- | --- |
| Trey Burke | 75 | 42 | 13 | 5 | 39 | 14 | 10 | 2 |
| Tim Hardaway | 63 | 37 | 3 | 1 | 39 | 14 | 9 | 1 |
| Nik Stauskas | 30 | 14 | 5 | 4 | 38 | 23 | 6 | 1 |
| Glenn Robinson III | 53 | 32 | 4 | 0 | 21 | 8 | 4 | 1 |
| Jordan Morgan | 45 | 28 | 6 | 4 | 0 | 0 | 0 | 0 |
| Mitch McGary | 36 | 23 | 5 | 0 | 0 | 0 | 0 | 0 |
| Spike Albrecht | 7 | 3 | 2 | 1 | 8 | 3 | 2 | 0 |
| Matt Vogrich | 6 | 3 | 1 | 0 | 9 | 3 | 1 | 1 |
| Jon Horford | 12 | 5 | 5 | 1 | 0 | 0 | 0 | 0 |
| TEAM | 327 | 187 | 44 | 16 | 154 | 65 | 32 | 6 |
It's early in the season, so there are serious sample size issues with these numbers; with that noted, a few trends have emerged. For one, there's a stark difference between two-point shots and three-point shots. Michigan rebounds 31.4% of the charted two-point misses and immediately converts 36.4% of those rebounds. The Wolverines actually pull down a higher percentage of three-point misses—40.0%, in fact—but only tally Kobe Assists on 18.7% of those opportunities. This makes sense—three-pointers tend to bounce further away from the basket, making an immediate putback more difficult.
Burke And Hardaway
Then we get to the individual players, and the contrast between Tim Hardaway Jr. and Trey Burke. Hardaway's two-point shots are rebounded at a remarkably low rate (11.5%), and only one of his 26 misses has been immediately converted into points. On the other hand, 39.3% of Burke's two-point misses result in offensive boards, and 38.4% of those find the net within seconds.
To look at it another way, when Trey Burke takes a two-point shot, Michigan either scores or gets a fresh 35 on the shot clock an incredible 73.3% of the time; they score off the shot or immediate putback at a 62.7% clip. While Hardaway's two-point shooting percentage is actually higher than Burke's (58.7% to 56.0%), his twos result in points or a new shot clock 63.4% of the time, with scores or putbacks at a 60.3% rate.
Hardaway's numbers are quite good, of course, but this is just another way to show Burke's impressive efficiency; his ability to take what the defense gives him without forcing the issue is why he's the best point guard in the country, period. Here's an example of one of his Kobe Passes (a should-be Kobe Assist, but the play-by-play charted an attempted Jordan Morgan tip-in before his eventual putback):
Even though Burke misses the shot, he creates the rebounding opportunity by beating his man off the dribble and forcing Morgan's defender to slide over and help, leaving Morgan all alone under the basket.
In contrast, here's one of Hardaway's dreaded long twos:
By settling for a long jumper (with 14 seconds on the shot clock, no less), Hardaway doesn't force any extra defender to commit to him, allowing NC State to account for all of Michigan's potential rebounders. The shot goes off the mark, and NC State rebounds easily.
To his credit, Hardaway hasn't settled as much for those type of shots, but his style still doesn't lend itself to Kobe Assists nearly as much as Burke's. Hardaway takes more jump shots than Burke—in part because he can rise above a defender at just about any time—even when he beats a player off the dribble; Burke's more likely to go all the way to the rim, which draws more help.
Holy Stauskas
I'll repeat the sample size caveat—caveat: small sample size—before this next stat: 76.3% of Nik Stauskas's three-pointers result in a made basket or offensive rebound. Caveats aside...
Even though he's not as lethal from two, Stauskas is still taking smart shots—63.3% of his twos either go in or get rebounded, and an even 60% result in points either directly or via putback. This is despite Stauskas only making 14 of his 30 two-point attempts this year. When he goes inside the arc, however, he tends to aggressively attack the basket, creating those second-shot opportunities.
Michigan's bigs have also proven adept at creating multiple opportunities to score with their shot selection—not a huge surprise given their shots mostly originate from around the basket. It also helps when you do this:
That may have skewed McGary's numbers a tad. Also likely an anomaly: Jon Horford's five Kobe Passes on seven missed shots.
Introducing Adjusted Points Per Shot
When I showed these numbers to Brian, he suggested a new metric, incorporating the Kobe Pass/Assist numbers into a player's points per shot. The formula: (2*2FG + 3*3FG + 2*KobeAssists + [team's points per possession][KobePasses - Kobe Assists]) / FGA.
In layman's terms, add a player's points to the points scored directly off his misses and the (admittedly approximate) expected points scored when the team gets a rebound off his miss and doesn't immediately put a shot back up, all divided by his field goal attempts. This gives the expected number of points a team will score on a possession in which a certain player takes a shot. I've dubbed this stat "adjusted points per shot," and Michigan's numbers are as follows:
| Player | Adj. PPS (2P) | Adj. PPS (3P) | Adj. PPS (Total) |
| --- | --- | --- | --- |
| Trey Burke | 1.38 | 1.42 | 1.39 |
| Tim Hardaway | 1.24 | 1.37 | 1.29 |
| Nik Stauskas | 1.24 | 2.02 | 1.68 |
| Glenn Robinson III | 1.30 | 1.41 | 1.33 |
| Jordan Morgan | 1.47 | - | 1.47 |
| Mitch McGary | 1.44 | - | 1.44 |
| Spike Albrecht | 1.31 | 1.42 | 1.37 |
| Jon Horford | 1.39 | - | 1.39 |
Jiminy Cricket.
Is Stauskas's number sustainable? Probably not. Do I care right now? No. That number says when the ball leaves his hand, Michigan will on average score 1.68(!) points on that possession—2.02(!!!) when he shoots a three—and I be like dang all over again.
This metric also illustrates the difference between Burke and Hardaway, as well as the quiet efficiency of Glenn Robinson III, who—albeit in a smaller role—currently rates better than Hardaway. Michigan's post players score the best inside the arc; since the vast majority of their shots originate from directly around the basket, this is not a surprise.
I'll be keeping track of this stat all year, and as the season goes on much of the noise in the numbers will fade away. At any rate, Trey Burke is pretty damn good at basketball, and Nik Stauskas is Michigan's best shooter in a very long time.