Just A Shirt I Wear To Work
9/2/2017 – Michigan 33, Florida 17, 1-0
can you target ribs though [Christopher Cook]
I felt pretty good about this game for a long time, and continued to feel better as we approached it. First Jim McElwain freaked out about someone on the internet facetiously claiming that he laid upon a shark in the nude. Then some Florida guy said this about the Michigan defensive line:
"They don't move well sideline to sideline, so I think we should take advantage of things like that."
Allegedly paying some SEO outfit 70,000 clams to scrub your Google results of a twitter joke that nobody would have remembered 24 hours later if you hadn't gone full Streisand Effect is one thing. Declaring Michigan's defensive line to lack Southern Speed is another.
The former is insane, yes, but insane manias are not just encouraged but required for high-level college football coaches. Telling your team that Mo Hurst, Chase Winovich, and Rashan Gary can't run is plain old laziness.Gary and Hurst made tackles on WR screens...
Heggie can't hold block on Hurst (duh, R-FR vs. NFL 1st rounder). McCoy, who's looking upfield to block 9, doesn't notice til it's too late. pic.twitter.com/cZu74GiA7T

— David Wunderlich (@Year2) September 3, 2017
And Winovich, well:
For the win and the over pic.twitter.com/zCmQyzkTAv

— Barstool Blue (@BarstoolUofM) September 2, 2017
A Michigan team that sent so much to the NFL a year ago could have been the subject of many, many legitimate critiques to be expressed in the media. For Florida Man to settle on that one, and say it out loud, was proof that the Gators' internal monologue was indistinguishable from any random SEC SPEED message board. Before this game they talked like one; during this game they played like one; after this game they probably imploded like one. Florida talked that work, got that work, and talked about getting worked.
-------------------------------------------------------
Reporter: I saw you had a work type shirt with your name on it? What's that?
Harbaugh: It's my work shirt.
Reporter: Is there more of a story to it?
Harbaugh: No, just a shirt I wear to work.
Jim Harbaugh is accused of stunts, antics, and bids for media relevancy on the regular. These are mostly true. The subtext, however, is that Harbaugh's profile-raising activities eat into time otherwise spent on the boring work of making a football team. That is not true. Harbaugh and his coaches are also doing that.
Michigan spent most of this game in a bonafide 3-3-5 that they had hardly shown on film last year, baffling Florida's blocking schemes and showing two unprepared quarterbacks a glimpse of hell. Hell is Rashan Gary closing on you unblocked. The proper response is to fall over and pretend you died of rabies, as Felipe Franks did.
On offense Michigan's backs repeatedly burst outside to find that Florida had neglected to deploy a force player. The consistency with which this happened was baffling at first and then felt like a thing Michigan saw and prepared to exploit. Probably 60% of their rushing yards came on the 10-12 carries that started inside and ended outside. At one point I thought about that sideline video from the Stanford-VT Orange Bowl where Harbaugh's telling his back the backside cut is there, and sure enough.
Mike Shaw would have kicked ass in this game [Cook]
In the aftermath, McElwain talked about how his team got beat up and pushed around by a bigger, stronger Michigan team... you know, the one deploying 10 new starters on defense and a receiving corps consisting entirely of baby lambs stretching their legs. That's default coach talk after taking it on the chin, but Florida didn't lose a bench press competition. They lost because Michigan presented them with a puzzle they could not solve.
Many teams have done that to Florida these last seven years. The Gators are now in the exact same place Michigan was during the dolorous late Hoke era. Spencer:
This is laughable, like openly contemptible. Consider the list of teams that with meager resources and worse recruiting footprints and every other curse imaginable have built top 30 offenses out of nothing. That list based on 2016 alone is hilariously bad given what Florida spends on their head coach alone, not to mention the resources surrounding the football program, one that even after all that spending has topped out at a recent ceiling of "sort-of fleshed-out secondary character with an inflated reputation who makes it into the second act of the Western before being killed in a gunfight when he runs out of bullets."
Michigan is now on the other side of this equation and when Florida hires Jeff Brohm next year they will be too, and if you're not pulling for that you are a cold person indeed.
For Michigan, a fog of nervousness now evaporated. Your author spent 50k words talking about why he wasn't worried about Michigan's incredible outflux of starters, but as some guy named Foug walked up for the opening kickoff there were butterflies all the same. The difference between "should be" and "is" has bitten Michigan fans too many times in the last decade, and at kickoff all that practice talk is just talk.
Foug could have put that ball straight out of bounds and kicked off a clownshow. At one point, after three separate game-losing disasters in a row, it felt like he had. Michigan did not waver, and once the disasters stopped raining down they asserted themselves as one would.
"This is Michigan" no longer feels like a cruelly oblivious thing to proclaim. They lost the world, and they are still here, being Michigan. Working at it every day.
HIGHLIGHTS
Parking God:
Full game tight cut:
Postgame presser from Harbaugh:
AWARDS
Known Friends And Trusted Agents Of The Week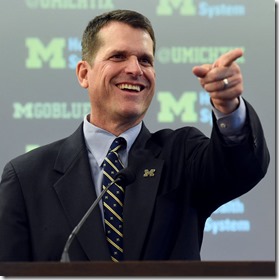 you're the man now, dog
#1 Devin Bush. This space has asserted that Devin Bush was accidentally the perfect Don Brown linebacker recruit, and it took one game for that to become obvious. Bush got two sacks in this game and had a few more instances of QB terror; he takes angles that normally mean you lose and wins with them; he shows up in the QB's chest with a quickness that seems to shock them. He is a missile.
#2 Ty Isaac. Not sure how much this is going to translate to opponents that either make sure to have a force guy and pay attention to a run threat on third down, but Isaac was mansome in game one. He converted two third and longs on the ground, embarrassed a couple of would-be tacklers, and kinda looked five-star-ish against a very fast defense.
#3 Quinn Nordin. Nordin missing a 32-yarder was the only thing preventing him from ending up #1 on the list. One game into his Michigan career he's already tied for third in career 50+ yard field goals, with 50 and 55 yarders to his name. He also grooved a couple shorter ones down the middle. His other miss, from 52, was eminently understandable.
Honorable mention: Tarik Black's two catches went for 80+ yards; DPJ nearly broke two different punt returns; Winovich, Hurst, and Gary were all between good and dominant, also the entire rest of the defense.
KFaTAotW Standings.
3: Devin Bush (#1, Florida)
2: Ty Isaac (#2, Florida)
1: Quinn Nordin (#3, Florida)
Who's Got It Better Than Us Of The Week
Embedded above: Chase Winovich seals the game in the most appropriate fashion possible.
Honorable mention: Nordin bangs in 55-yarder; Nordin bangs in a 50-yarder; Tarik Black is wide open for a deep touchdown; Nick Eubanks is a very fast quasi-TE; Ambry Thomas rips the ball out on a kick return; various and sundry assaults on Florida QB sanity.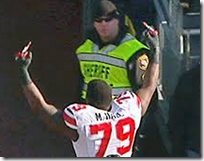 MARCUS HALL EPIC DOUBLE BIRD OF THE WEEK.
Pick six #2. This was the moment during the game when a loss felt most plausible, because every subsequent Michigan drive was destined to end in a pick six. Feels bad man!
Honorable mention: Pick six #1; punt block after pick six #2; Speight checks Michigan into the perfect play and he misses an easy TD; a couple of completions where Hill was in good position but couldn't get his head around and react.
[After THE JUMP: a play from the 2012 Nebraska game.]
OFFENSE
Same pic.twitter.com/mvYXahki0T

— Noah Neidlinger (@candor_for_sale) September 3, 2017
Jittery jumps. Wilton Speight did not come out on fire, but his performance wasn't as dire as my twitter mentions would have it. The first interception was about 90% on Crawford. While it's true the throw was high and a little behind, that's a rope 20 yards downfield and was well within acceptable parameters. Change that to a catch and give Speight his DO+ on the shoulda-been Crawford touchdown and Speight's performance feels a lot different.
He did get sped up and rattled and never really settled in, as happened to him on occasion last year. It was a disappointing outing—almost the only one on the team. I still think he'll settle in and be notably improved over last year. The Navarre Sucks faction of the fanbase will never accept him at this point.
A beautiful mind. Speight had a terrible throw on this play but it was a beautiful check:
Almost the exact same thing happened to Michigan back in 2012 against Nebraska. At the time it was an opportunity to make some foreboding noises about Michigan's burgeoning Hoke disorganization:
I loved their first touchdown:
Pick route, sure, but rubbin's racin'. Nothing Michigan can do as soon as that guy rubs Gordon off. Where'd they get that call?
all your heads in a box to the left

From the sideline after they got lined up with 25 seconds on the clock and Michigan showed man coverage with one high safety. That was not aww shucks luck. It's using the extra information the defense gives you to exploit it. Michigan, meanwhile, is usually still in the huddle with 18 seconds on the playclock and often scrambles to the line with no other option than running what's called no matter what the D shows.

It kind of sucks that Michigan doesn't seem to want to do similar things. You'd think every coach would love the opportunity to get whatever information they can before making a decision.
This does not happen to Michigan's defense much, if at all, anymore because it's hard to know what you're looking at. Meanwhile the offense gets out of the huddle with alacrity* and gives itself the time to do things like the above. Last year Michigan's offensive tempo was slightly above average not because they used it at all but because the calls got in quickly. This despite the Harbaugh collaborative playcalling approach. It's impressive.
*[The only delay of game Michigan took in this game appeared to be because the playclock was erroneously reset to 25 seconds instead of 40. Harbaugh tried to explain it to one of the refs but got a blank stare as the guy tried to count above 10 and then gave up because of a lack of fingers.]
that separation though [Cook]
Back in Black. Tarik Black had just two catches in his debut; they were rather impactful all the same. He scored Michigan's first touchdown on a massive safety bust:
That's quarters; the safety is pattern-matching—probably. He's a backup who got inserted after an injury. Michigan went after him immediately. There is no world in which he can jump up on that underneath route and that cornerback can play outside leverage; this was an excellent playcall to attack a weak spot but not a Grant Perry slick route or anything.
Black's second catch was an eye-opener, though. When the flag came down afterwards I was assuming that it was an illegal touching penalty after Black ran out of bounds; he did not. He managed to blow by a cornerback trying to jam him into the sideline and get yards of separation after that failure. It's one thing to do that in a spring game against a true freshman; to do it with the bright lights on against a Florida CB is another thing.
Black's lack of targets makes sense; true freshman. His performance on the ones he got lives up to the hype. Let's ignore the drop for now.
Grant Perry can play yo. The ball spinning is addressed in the "miscellaneous" section. Here we're just talking about Grant Perry before the whistle, where he was terrific. The ball-spin catch was a third down conversion he made at full extension while getting interfered with. He jetted past the slot corner for a big completion in the second half. Speight almost certainly should have gone to him on the cover-zero third and goal that ended with an impressive Crawford fade catch out of bounds.
He is clearly going to be Michigan's #1 option when they need to move the chains. He gets separation against even super-athletic DBs—he was also Michigan's top chain-mover against OSU last year and in the Citrus two years ago—and has excellent hands. He's just too good to not get a ton of targets. My revised opinion is that he's Michigan's leading receiver this year, especially since the "Pep equals passing spread" offseason takes appear to be on point.
Ulizio roughed up. Nolan Ulizio was always going to be in tough in his first start against some excellent DEs, and it showed. PFF charged him with two sacks and a hit despite Michigan helping him with frequency. He seemed functional on the ground; pass protection was a huge problem. An early review from user AJDrain is less kind than even my initial impression is, FWIW:
This was really, really ugly. We knew RT was going to be a problem, and the film makes it look worse. 2 of the 3 sacks of a Michigan QB were with Ulizio at fault, and run blocking wasn't much better.
We'll see how it goes in UFR.
[Cook]
Evans/Higdon. The other two parts of Michigan's three-headed RB rotation both had good days. Higdon did have one bad cut on a sweep that he could have gone north/south on but instead strung himself out to the sideline. He also had a couple of slick runs to punch it into the endzone on Michigan's momentum-shifting drive to open the third quarter.
Evans isn't De'Veon Smith suddenly but did break a few tackles, one of which turned a modest gain into a 29-yard sideline jaunt. His overall numbers were meh, and he wasn't involved in the passing game. But there's still no question who #1 is. His 22 carries doubled Isaac up.
Eubanks doesn't even need to look at the ball [Cook]
Next gen TEs. Both Sean McKeon and Nick Eubanks looked like solid or better receivers in their second-year debuts. Speight hit McKeon on back to back out routes on one drive; Eubanks caused a lot of Michigan fans to ask "who the hell is this receiver I've never heard of" when he got behind the Florida secondary on a second-half bomb. Eubanks changed his number from 18 to a very WR-ish 82, and looked the part of a flexy flex TE.
Gentry was not heard from but did line up as a split end in a couple of goal line situations on which I was waiting for the fade. Maybe next week.
Wheatley? Wheatley's blocking has come in for a bit of clucking amongst early second-watch returns; from what I've seen he looks like last year's Wheatley where he will hammer you if he gets latched on but will frequently fail to do so. He appeared to be the TE with the most snaps, so he's got that going for him. Bunting barely featured.
DEFENSE
So that's what a 3-3-5 is supposed to look like. Michigan stunned Florida and any Michigan fan with a memory extending back to the RichRod era by playing the vast majority of this game in a Casteel-vintage 3-3-5. This was a bizarre thing to experience. Michigan crushed Florida's offense with a defense that was so bad the last time Michigan ran it we told the man who gave us Denard Robinson to go, and never darken our towels again. Hell, even last year many of the minimal complaints I had about Michigan's defense revolved around three-man lines that the opposition gashed on the ground. Not so here.
This was a 3-3-5 but not the 3-3-5 that Greg Robinson tried to run; by "Casteel vintage" what I mean is that Michigan deployed one MLB at depth—this was almost always Bush—and had two guys creep closer to the line of scrimmage, inserting themselves at varied spots along the line in an attempt to cause maximum confusion and havoc. These gents were usually Gil, McCray, and Furbush. Here's an example:
The three guys in three-point stances are the DL. Furbush is the linebacker creeping towards the line of scrimmage inside the tackle box. Bush is deployed at almost a full five yards of depth; McCray is thinking about creeping himself. He will blitz, in fact.
When I studied the 3-3-5 in an attempt to figure it out this is what it looked like. There was one linebacker acting as a sort of front-seven safety while the rest of the gentleman tried to fry the brains of the offense the opposed them. It was not whatever Greg Robinson came up with during the complete disaster against Penn State that was the final straw for most folks:
Kenny Demens had his facemask barely a yard from the butt of the nose tackle and was deployed as a 240-pound DT trying to make up for it with momentum. This was not that. This is going to make the 3-3-5 make so much more sense when I UFR it.
What does Don Brown really want to be? The above is incredibly fascinating to me. I've read up on Brown and watched a bunch of his film and he's always been a 4-2-5 guy. He's got an "anchor" strongside end who whoops tight ends and takes doubles and keeps his "viper" clean and the safeties interchange when that makes sense and they all can do a decent-to-good job in man coverage and blitzes, the end.
In game one of year two at Michigan he comes out in a bonafide 3-3-5 stack that they seemingly wanted to implement last year. Michigan started running 3-3-5 a bunch against Rutgers, a spread to run offense insofar as it can be called an offense, and worked it in for the rest of the year. It was always a sidelight, even against OSU.
Now it might be the base defense? How crazy is that? I find it maximally crazy. I am also not going to question Don Brown or his mustache, especially after Florida acquired 11 rushing yards.
Is Don Brown so focused on the OSU game that he's reshaping his entire defense to attack a power spread? One game in it kind of feels like it. This is exciting, and also crazy. But here we are.
Hulk up, son. The fumble Metellus 'forced' was mostly Felipe Franks having a baby-lamb moment and dropping it on his own, but his ability to get there despite being block was a thing. He dismissed his blocker with authority:
FUMBLE! Josh Metellus forces the fumble and Lawrence Marshall jumps on it to give the Wolverines the ball. pic.twitter.com/0Pj7TEosCi

— Evan Petzold (@EvanPetzold) September 2, 2017
Kinnel flashed to the backfield for a couple TFLs or near TFLs, and Hudson looked like the angry man shot of a cannon he was supposed to be. Collectively Michigan's safeties had no relevant busts. Every time Florida got a pass off it was to a covered guy. Sometimes they made a play; at no point was one handed to them.
Gil the ghost. LB Devin Gil had literally not been mentioned in any of the insider talk across three different sites through both spring and fall practice. He started in lieu of Mike McCray, and got a fair amount of playing time. I don't think a player has come from such depths to start Michigan's opener in as long as I've been paying detailed attention. He seemed just as good as anyone else, pending a more detailed review.
CBs: ask again later. Hill got beat on two long completions. The first was a perfect throw and likely unstoppable for anyone, even dear departed Jourdan Lewis. The second was not great. Brandon Watson had one impressive PBU and was step for step with his guy on a couple other targets that weren't close enough for a catch event. Long, too, was close to in phase on a couple of deeper targets.
Early returns are fairly encouraging here. Watching that second long hit against Lewis and thinking "that would not have happened to Jourdan Lewis" is the main downer.
Hey, turnovers! After one game Michigan's defense has recovered three fumbles. They had six all of last year and two in 2015. Turnovers are random as hell.
SPECIAL TEAMS
in your face charlie murphy [Cook]
[well worn sleepover joke]. Qunn Nordin seems pretty good. His day was described above. That's a lot of leg that Michigan's going to have around for four years. Hopefully the 32 yarder was an aberration; seems like it.
SECRET KICKOFF SURPRISE. Michigan didn't just bamboozle Florida with a 3-3-5 they had shown only sporadically last year, they sprung a second devastating surprise: kickoff specialist James Foug. Harbaugh told the media that Kyle Seychel would be the kickoff guy, a perfect subterfuge. Not so fast, my friends! Foug strode onto the field confidently and proceeded to bash eight kickoffs. Four were not returned; a fifth was such a missile that a wounded Tyrie Cleveland staggered into a wolfpack of Michigan players and left without the ball. Genius!
DPJ. One: I thought we had already agreed to this.
attention Michigan internet, hereby requesting that anyone referring to Donovan Peoples-Jones as 'DPJ' do so in the Run The Jewels cadence

— ♫♪ Ryan ♪♫ (@kurogane) September 2, 2017
If not, it is agreed to.
Two: hot damn he looks like a promising punt returner. He had the luxury of being on the receiving end of the 2017 Golden God Ron Coluzzi Punter Of The Year award winner's 55-yard boomers, so he wasn't often forced into fair catch decisions; he did have to track and acquire a number of punts over his head. He did so without a bobble, and then he ate up 10 or 15 yards quite a lot, often by dodging three guys and getting hewed down by the last gentleman standing between him and a big one.
Kickoff returns. N/A.
MISCELLANEOUS
ain't nothing illegal here officer
Refs –1000. Michigan scored a touchdown on its opening drive only for an illegal man downfield call to bring it back and force a field goal. They called it on Hill, who motioned out of the backfield and was not anywhere near the line of scrimmage on the snap. This was prima facie ludicrous because everyone in the backfield is by definition an eligible receiver.
As people tried to unravel the call a second theory emerged: it was Crawford, who stepped off the line of scrimmage and checked with the official to make sure he was not covered up. The only other gent who went in a pattern was the split end, who is again by definition an eligible receiver.
That call was boggling, nonsensical, and directly cost Michigan four points that it looked like they'd really need for about 55 minutes. Whoever made it should be fired and then thrown into a lake of Houston fire ants.
Refs –1000, part 2. There were two interminable targeting reviews in this game. The good news is that they were internally consistent. Devin Bush's borderline hit did not result in an ejection; neither did a near-identical hit from a Florida DB. The bad news is that those two reviews ate up some 8-10 minutes of gametime.
!!! Trolling your own coach is definitely a decision you can make.
A Florida WR seemed to have a shark mouthpiece!?!? pic.twitter.com/T9KizT1QNv

— auncey chillups (@bauncechill) September 4, 2017
Further bad news about targeting: nobody knows what it is, still. Both Bush and the Florida DB would likely have been ejected if the guy in the booth was using the same standards that half of college football was this weekend. Purdue had a guy kicked out because of a facemask to shoulder hit. That is absurd.
I have no hope this is going to get fixed, ever. But here's my best effort at fixing this terrible rule:
It's not targeting if the primary contact is not on the helmet. The Purdue player ejected put his facemask into the shoulder of Lamar Jackson. There was some incidental helmet to helmet contact. The force went into the shoulder.
It's not targeting if the offensive player is moving his head into the strike zone. A Utah State player got ejected because he was trying to break up a pass; as he approached to hit the WR the WR dipped his head, drawing contact.
Glancing or inadvertent contact is not targeting. Make the PSU ejection last year explicitly not targeting. Make the kind of things like Bush running along the sideline and having his helmet get hit as much of it's hit explicitly not targeting.
If you can't figure it out in 60 seconds it's not targeting. FFS. The introduction of VAR into soccer has been infuriating because they've been excellent at getting the decision inside of a minute. There is no damn reason that football reviews have to take so long when in almost all cases the people watching on television have all the relevant information within 30 seconds.
Annual redshirt bonfire campfire takes. Per Michigan's participation report these are the freshmen who played, grouped into rough categories:
DUH: Tarik Black, Donovan Peoples-Jones.
NOT 100% NECESSARY BUT PRETTY OBVIOUS: Kwity Pate, Ambry Thomas, J'Marick Woods, Ben Mason.
WTF? Andrew Stueber, Benjamin St Juste.
This is not many freshmen at all. Michigan isn't listing Aubrey Solomon, a guy who would have been a solid "duh" if he'd played, or Oliver Martin, or Jaylen Kelly-Powell. I was assuming all of those guys plus a couple more would get time on special teams at least. This is about as minimal as was possible.
The two WTF takes are potentially interesting. Stueber got not chatter this fall; is he in the running for the RT job even now? St Juste... St Juste is weird. Shruggie dot snapchat com.
UPDATE: users alert me that Aubrey Solomon and Josh Ross played late. I should know better than to rely on player participation. Solomon is a duh and Ross is a pretty obvious.
Don't spin the damn ball! Because it's a penalty! Sometimes! Perry did it again, no call. Eubanks did it, no call. I saw Calvin Ridley throw a ball 30 feet in the air in the FSU-Alabama game, no call. I saw a defensive back kick the ball in frustration, no call. It happened at least three times in the Purdue-Louisville game, no call. Just be nice, like Peppers, and don't let 'em hit you with that.
Yessir. From Kurt Taylor's twitter:
" HARD WORK IS UNDEFEATED" #GoBlue #GoMaize #UMichFootball

— Kurt Taylor (@KurtTaylorRb2) September 3, 2017
HERE
Best:  Glycerine
Devin Bush had himself a game.  As noted earlier, he had 3 TFLs for 14 yards, including 2 sacks, and was singularly disruptive on a dozen plays that didn't even show up in the boxscore.  A moment that stood out to me was on the drive following the blocked punt, Florida caught the Michigan defense a bit flat-footed on 3rd down.  Even while some of the other defensive players didn't have proper positioning, Bush sniffed out the run immediately, help string it out toward the sideline, and met the back in the gap.  It was clear that part of Florida's gameplan was to test Michigan's linebackers and their ability to cover sideline-to-sideline, and Bush in particular showed the type of burst and pursuit ability that will be essential going against teams like PSU and OSU down the line.  And in Don Brown's defense, Bush's combination of speed and size is only going to become more of a weapon.
https://texags.com/forums/5/topics/2878393

You would think that 5 million/year would get you a coach that could hold on to a 44-10 lead late in the third quarter
All my A&M gear just went into the Harvey donation box
Bailure: "Nothing is more embarrassing in an opener then getting beat by an online school"  A&M: "Hold my beer"
GOD I HATE YOU SUMLIN.....AND CHIEF YOU ARE RIGHT THERE AS WELL
And I would be remiss if I did not highlight Smoothitron's work here:
Are we bad people? Probably.
ELSEWHERE
This thread from @Year2 will be of interest:
Suppose Fred Johnson doesn't step on Franks's foot here. It's still a loss because who's blocking Rashan Gary (No. 3)? No one. pic.twitter.com/k0Tu09y66n

— David Wunderlich (@Year2) September 3, 2017
COACHING CHAMPIONS – It's incredible to realize that Florida did not score any offensive points after their 1st possession field goal. The Michigan defense recorded six sacks and forced three turnovers and oh ya, the Gators only gained 11 yards rushing for the entire game!  Those are incredible stats to drop in the first game of the year. While the credit goes to the players for making all those plays, Don Brown and Greg Mattison deserve some props for coaching these guys and putting them in positions, formations and schemes that enable them to be successful. Remember how your jaw dropped when Michigan throttled Colorado in the 1997 season opener? That's how I felt Saturday. This defense is gonna be that kind of good this year!!
One of the things I most love about the Harbaugh era is that I know halftime adjustments are coming.  I know they are coming like the article of faith that it was in my youth, that Bo's teams were second half teams, they would adjust at halftime and the depth would wear you down, and they would seize control again.  For a long time, even going back to the Carr era, this was not as much the case.  Scholarship limits played a role in that, but it also comes down to having a staff that can see things and finding ways to adjust, knowing that the other team will be adjusting as well.  When Michigan came out and took the opening possession of the second half 75 yards on ten methodical plays and took a lead they would never relinquish, it felt like things were going to be OK.  Nordin's steel toe was bombing field goals from beyond 50 yards, and while it would be nice to turn these drives into touchdowns, Florida wasn't exactly moving the ball, even with a switch the Notre Dame transfer Malik Zaire at quarterback.
"I said I think it was an advantage being so young because it gave us the opportunity to form a brand new identity off the backs and off the shoulders of the people that had come before us and paved the way," Winovich said. "I think that's what we did. We had a fast-paced defense, we were flying around to the ball, hitting everything that moved.

'I tweeted it earlier because they said we're going to slap the brakes off Michigan and I said, 'We don't even use brakes, we're all gas.' I think that was evident (Saturday)."

In the second quarter, even after Michigan gave up two scores on interception returns, the defense didn't panic.

"We were on the bench and were looking around and kind of laughing because we knew their offense, at least we felt it, they really couldn't do anything against us," Winovich said. "We went back out there. It doesn't matter how many touchdowns our offense would have given up, we still have a job to do. We're like hired, contracted workers just going out there doing our job and having fun."
Perfect? Far from it. But consider the circumstances.

Speight started every game but one last year, only to get the John Beilein two-foul hook from Harbaugh. (John O'Korn would have played regardless, supposedly, but still.)

He could have wilted — no pun intended — but instead found his groove, hitting Sean McKeon and Grant Perry on key completions to open the second half.

I know it's a cliche, but if anything can't be questioned, it's Speight's toughness.

This is the same guy who threw an interception on his first pass in last year's season opener against Hawaii and went on to finish 10 for 13 for 145 yards and three touchdowns. He bounced back after getting clobbered early in the Colorado game. He played hurt late in the season.

Bouncing back from getting pulled by Harbaugh stands out as the biggest display of resilience in his career to date. Players of lesser stuff might have caved, checked out, sulked.

While he had help from his friends, Speight didn't do any of those things. That's a good sign for a Michigan team that will continue to go through growing pains this year.
Michigan's best asset on defense right now is its athleticism. So it made a lot of sense for Brown to put as much of that on the field at once as he could. From there, you cut guys like Bush loose and let them go make plays. The sophomore inside linebacker was outstanding all game and U-M's front kept him clean, which allowed him to roam free and make plays sideline-to-sideline. And, unlike past years, you don't lose a beat when you ask Bush to drop into coverage. He can run with most tight ends and running backs, which is a huge advantage for Brown.
Webb:
Suffice it to say that Bush back up the hype about his ability as a blitzer. The word "lethal" was used when describing his penchant for getting home. That was on display Saturday. But just as impressive was his ability to diagnose and get to perimeter run plays. He snuffed them out with stealthy precision. It was reminiscent of former Michigan backer that also played much bigger than his size. Larry Foote was a tackles-for-loss machine whose playmaking abilities earned him All-American status as a senior. Bush is a long way from that, but the comparison is apt. Right on down to the edge that he plays with.

After nearly getting tossed for targeting after contacting the helmet of a Florida receiver whose head fell into Bush Jr.'s target zone, the former Sunshine State star said he's not going to dial back his aggression.

"It's just me," he said.  "That's just what I do. If they want to eject me, eject me."
Maize and Go Blue. Maize n Brew. A lot of the analysis in this article is off but it's an interesting take from the Florida perspective. Also Baumgardner. Harbaugh read a letter from an 18 year old deployed marine pregame. Harbaugh on the QB swap. National takes collected.