Jimmystats: So Many Stars. Stars Are Good
I have revamped my player database, and learned how to make gorgeous interactive charts. Wanna see where this class stacks up?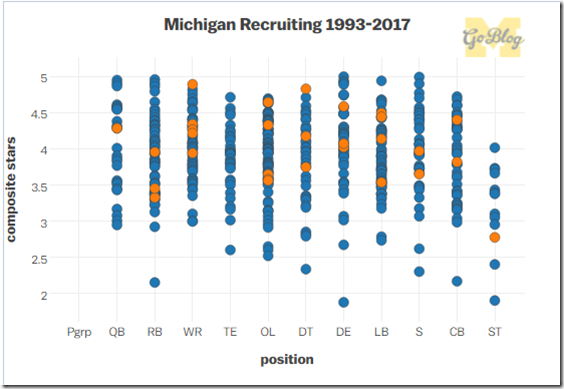 Mouse over the dots to see whom each belongs to. The orange ones are this year's class (they limit free users to only a few colors and I was trying out a bunch of these).
[UPDATE: Didn't see that they limit your views too. No more interactivity—if somebody knows a good site to build these let me know. In the meantime if you download this and open it in your browser I think it will work for you.

]
The spreadsheet still lives here and includes a ton of updated data thanks to some readers who helped me out. If you want to see the actual ratings and rankings that went into these numbers I've put that all on a separate tab. Behold:
I had some help. Reader David Moorhead pulled out all of his old recruiting issues of The Wolverine that had data going back to 1990. Much of the National Recruiting Advisor (ancestor of Rivals), Parade, Lemming, PrepStar, Street & Smith, USA Today, and SuperPrep (Scout predecessor) data came from his work. Also reader Jeff Alotta helped me play around with the math some as I tried to rebuild how I give out star ratings for regional and national position ranks.
SO, HOW DID WE DO THIS YEAR?
good.
The receivers and front seven look amazing when stacked against the players who've come through here in the modern era. It's also a very balanced class. And it's huge. Getting to Best Class Ever™ would be tough. The Class of '94 formed the basis of a national championship team and while not everyone stuck around almost everyone made it to the NFL. The next class then produced two guys in the conversation for greatest football player who ever lived in Woodson and Brady. On the other hand this class matches either of those in average quality, and then doubles the size.
AND STARS MATTER?
That appears to be the case, statistically, when I compare the star ratings of past players to how many games they started at Michigan. Note not just the trendline, but where the NFL players came from: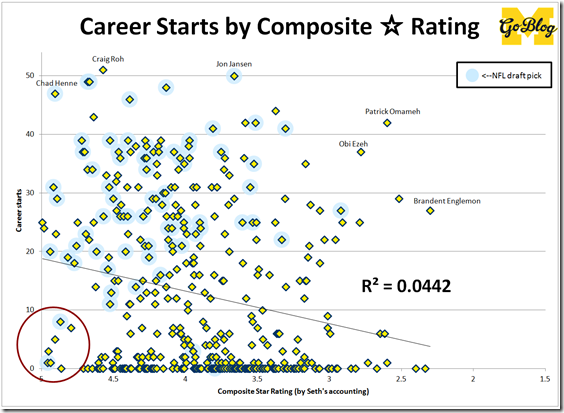 click biggerates.
The average star rating (on my 5-star sliding scale) of a future NFL player coming out of high school was just under 4.25. That's roughly equivalent to a top-125 player who's the #2 player in Ohio or the 9th best cornerback in a deep year.
That r-squared is saying "they're related but star rating is no guarantee." Note however that lots of starts don't necessarily mean quality, e.g. Ezeh. You should also note that the number of little diamonds bunched at zero starts gets thinned out considerably as it gets into the 4-star range. This is consistent with every other study that compares on-field performance to recruiting ranking, which always show you can get great players from the 3-star ranks but the higher-rated players are progressively more likely to contribute.
Let's blow up that bottom corner to see the 5-stars who had fewer than 10 starts at Michigan:
It's hard to look at that and make a claim that the scouts got it wrong. Five of the seven left with eligibility remaining to play with another Power 5 school or the Yankees—Fargas, Simmons, and Mallett would all play well as upperclassmen elsewhere and stick in NFL. Baraka couldn't stay sober, so that wasn't even a scouting issue. Henson is a special case.
That leaves Green and Grady. On review of every other consensus 5-star running back in recruiting database history up to when Green committed that seems to just be horrible bad luck.  Grady and Green were overrated or undeveloped, which sucks since every other RB rated as highly was either awesome or lost his career to something not related to talent.
WHAT DOES THIS MEAN FOR NEXT YEAR AND BEYOND?
The last two classes, like the 2012-'13 hauls under Hoke, are making up for the two smaller classes between. The 2016 class had to play a lot of guys right away to fill the depth chart and this year will be the same. There's no way around having an incredibly young team this year. By next year however these hauls will start to show. I think we're done with 30-man classes for the time being.
National championship teams have to get close enough for luck to do the rest. The 2016 team was that with terrible luck despite a lot more misses than normal for the quality and size of Hoke's early classes that built it. Harbaugh's found Michigan another one or two shots at it again down the road. That's all you can ask.