Jim Harbaugh GIF Tournament 2016: Miscellaneous Harbaugh
Previously: The Good Times Region, The Bad Times Region, Harbaugh In Action
Before we get to the final first-round matchups, here's a look at how the Harbaugh In Action region shook out. I'll be honest, I didn't see this 4-5 upset coming.
#1 Dr. Harbaugh: 2,312 (80%)
#8 Pre-Snap Adjustment 581 (20%)
#4 Green Ass Smack: 1,125 (45%)
#5 Hype-Up Beating: 1,364 (55%)
#3 Harbaugh's Huddle: 1,363 (57%)
#6 Ready To Play: 1,046 (43%)
#2 Punt Demo: 2,092 (86%)
#7 What's The Call: 353 (14%)
Green Ass Smack, gone far too soon.
Anyway, the final region includes all the GIFs I couldn't find a spot for in the other regions. The running theme: Harbaugh is basically a living emoji.
[Hit THE JUMP to see the field and put in your votes.]
(1) Good Shit, Jedd vs. (8) Exit Stage Right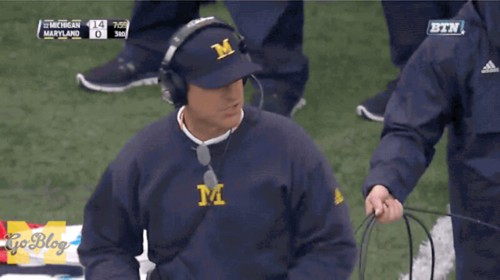 A GIF with an excellent backstory—Harbaugh saying "good shit, Jedd" after Jedd Fisch dialed up a passing touchdown—that may be ripe for an upset because without the backstory there's not much going on here. Because of the outcry when this wasn't included in the Good Times region, however, I've put it as a one-seed.
I'm 95% sure Harbaugh had no intention of hitting the double-high-five, which was just a serendipitous byproduct of him hitting the ledge over the tunnel.
(4) Head Scratcher vs. (5) Cringe Emoji
A perfect summation of that Indiana game.
That "living emoji" thing?
Yeah.
(3) Pffffffhahahaha vs. (6) What F-ing Happened
I don't believe Harbaugh agreed with the explanation for this call.
The lip-reading portion of this is pretty good. The face he makes after he puts his hipster-specs back on is better.
(2) Snow Crabs? vs. (7) Shoulder Slump
From last April, when Harbaugh and Fisch sat down with Jameis Winston to give him pre-draft advice. That is a pitch-perfect reaction to the whole Publix situation. (Yeah, I know, it's got a caption. I don't consider that a full-blown edit and this was too good to not include.)
"Sorry, Jim, we've only got 2% and skim."
I'll let the voting run through the weekend. The second round, which will feature some brutal matchups, is up next.