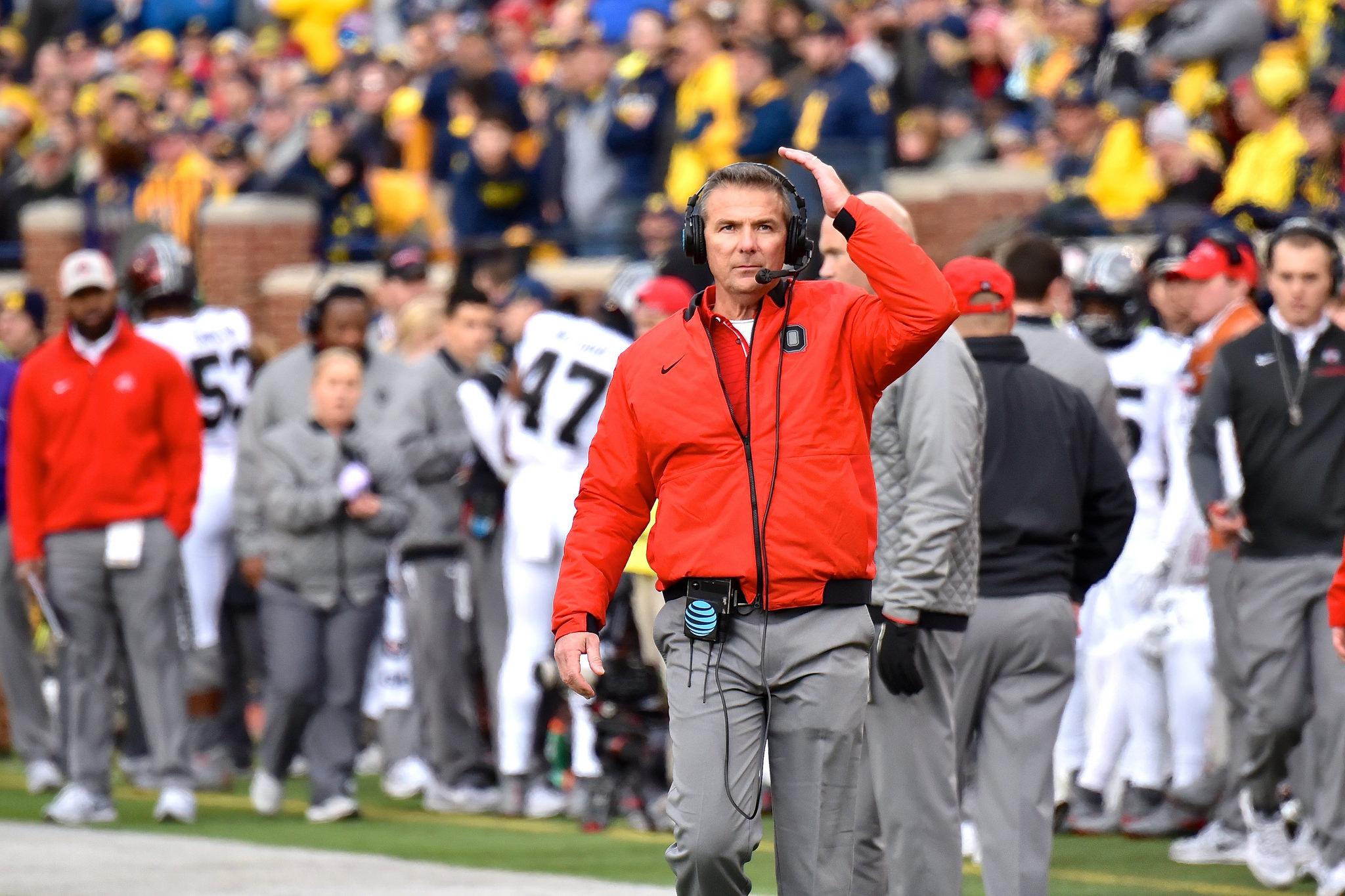 It's Your Job To Know
[Bryan Fuller]
It doesn't matter whether Urban Meyer knew what Zach Smith did to his wife. It didn't matter if Joe Paterno knew. It didn't matter if Lou Anna Simon knew. All three of these people were or are the superiors of people who can fairly be described as evil, and we are now coming to a society-wide revelation that systems that allow abusers to continue unchecked for years are designed to do so. People in charge of massively failed systems do not get a pass because their system sucks.
Penn State was designed to allow Jerry Sandusky to continue operating well after his mysterious departure from the program. He used Penn State facilities to abuse children for years after his official departure from the staff. That departure was never explained despite requiring explanation: extremely successful 55-year old defensive coordinators do not simply evaporate from college football. Anyone poking around the edges would have found out. That it went on so long is by design.
Michigan State was—is—designed to allow Larry Nassar to operate for years even after reports started filtering up the ranks. Nassar was allowed to see patients for 16 months while he was under investigation for sex crimes. His direct superior is also a sex criminal whose behavior was reported to no avail. The Michigan State board of trustees offered their strong support for Simon even after the scope of the criminality became clear, and hired an ancient toad crony to try to sweep things under the rug.
The only way Urban Meyer did not know about Zach Smith is if his entire program is designed to keep that knowledge away from him. Saying he might not know is no defense. It is worse for Meyer if he ran the kind of program where the head coach did not know serious, damning information about one of his assistant coaches when every one of his coaches' wives knew, when the police knew, when fucking bloggers knew:
Of course he knew. He knew he was an alcoholic, he knew his marriage was in shambles and he knew that his mentor's grandson was a terrible football coach and that he was protected because of bloodline. Literally everybody knew. I knew. I wrote around it for six years.

— Ramzy Nasrallah (@ramzy) August 1, 2018
There are programs like that. There are programs where the biggest sin in the business is telling the head guy what you're up to. Jim Tressel ran a "no snitching" program, and then a lawyer with some very wrong ideas about how Ohio State wanted to run things made the cardinal mistake: he told the head guy what people were up to. The Ohio Bar gave him some misconduct runaround in the aftermath because no deed against the wishes of the program goes unpunished.
It's one thing when you don't want to know about some kid exchanging services for money. But "I don't want to know" is systemic. It spreads. Ohio State learned nothing. Their lesson from the snitching incident was never learned because that entire program was indignant that the NCAA had the temerity to enforce its "no lying to us" rules and fell ass-backwards into an elite coach who just inexplicably left a program he had two titles at. When that guy decides to import an already-established domestic abuser from his previous job, well, nobody asked you about it.
Ohio State was designed to shelter Zach Smith. Urban Meyer's programs at two different unversities were designed to shelter Zach Smith. Meyer's level of knowledge is irrelevant except in an after action report. If Urban Meyer didn't know it's because he didn't want to know. It's his job to know. It is his job to know if any of his players have a jaywalking citation. It is 1000% his job to know whether the flagship institution of the state of Ohio is accommodating a serial abuser.
It is your job to know. If you don't know, you shouldn't have a job.