An Interview With Kalen Ballage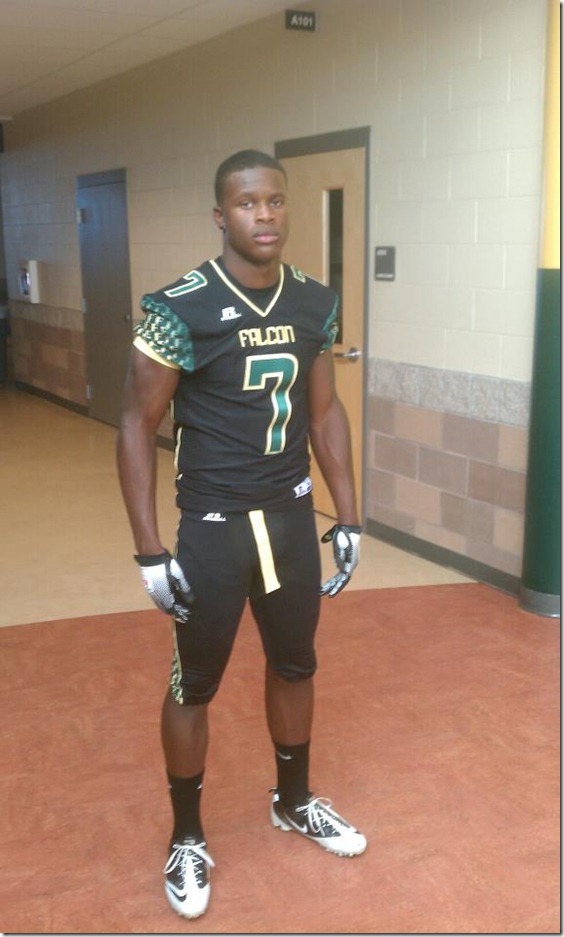 It's been assumed for a while that Michigan would not take a running back in the 2014 class but after talking with ATH/RB Kalen Ballage I've learned that the coaches may still be in the market for a ball carrier. Ballage is a bit of a wildcard being a multi-purpose Colorado kid, but his measurables and physical attributes are on an elite level. He was a very unique young man to speak to and he had some good things to say about Michigan as well as another program in the mitten.
Being a Colorado kid, pretty far from Michigan and the midwest, we don't necessarily hear a ton about you, so what have you been up to this summer, football or non-football related?
A lot of both really. I believe that you can't be wrapped up in a sport for too long, I think that hurts you as an athlete. I never understood when guys play basketball year-round or anything like that. Do something different, I think it helps you as an athlete. I've been just hanging out with friends, going swimming, you know bonding with my teammates outside of football but it also helps with football. We've spent time doing workouts and getting it in on the field as well.
I know a little bit about you, as much as is posted on the recruiting sites. Tell me your most recent and accurate height, weight, and speed because what's listed is pretty impressive.
Right now I'm 6'2", 225 and I run a 4.37, and yes that is laser-timed. I haven't ran it since I got that time and that was last summer. I haven't really ran a 40 since and I think I'm a lot stronger since then and I believe faster as well, with putting on 10-15 pounds. I've just tried to better myself as an athlete.
You've mentioned the word "athlete" a couple of times now and most sites list you as such, but Michigan is looking at you purely as a running back correct?
Yes sir, actually most teams are now. A couple of schools have offered me at linebacker, but the more and more they see my film they start to see me as a running back even though I'm capable of playing an outside linebacker position. Running back is the place that I'd like to be personally, and some schools that have offered me at linebacker have switched to linebacker, and those who haven't still do see me as a linebacker.
You talked about the different positions you can play, what do you think you bring to the field as a player, either at running back or linebacker? In other words what do you think you do well on the field?
One thing I definitely bring is a winners mentality. If a coach tells me to do something, I just do it. I don't have a problem doing it if it's about the team. That's what I've always been about, that's just what I've been taught, my parents have raised me well. Whatever I can do to help the team, that's what I want to do. If you want to stick me at corner or safety, I actually have an offer at strong safety, Vanderbilt wants me to play there. If you wanted to put me at O-line or D-line, that has never happened (laughs) but I'd do it to the best of my ability if the coach needed me to.
That pretty much leads me into my next question and you sort of answered it already, but headed into your senior year what do you think you bring to the team or the field as a teammate or as a coachable person?
Yeah, the thing about me is that I didn't become a leader just this year. I've been a leader since I stepped onto the field on varsity as a freshman. I've just always been that guy, you know? No matter how young or old I am I've tried to be a leader and leadership-wise I don't think much will change just because I'm a senior.
Most schools around the country have started practicing in some capacity so what has your high school team done so far?
Yes sir, we started actually on Monday and we're easing into it like every other team I'm sure. First we had to go helmets, then helmets and shoulder pads, then full pads without much hitting, and then we actually got to bang a little bit today. That was definitely fun, first hitting of the season is always hype. We've got music playing and doing Oklahoma's and stuff so that was a lot of fun. Our first game is on August 30th, so we're getting there.
How has your recruitment been going this summer? Run down your offers a little bit and just tell me in general how it's gone.
To be honest I can't name all of them. I know some of my main guys right now are Michigan, Michigan State, Boise, Nebraska, Washington and ASU. You know those schools are up there. I also have offers from Arizona, Colorado, Colorado State, Georgia Tech…man, I can't remember all of them and I know that's probably bad, but.
Not putting words in your mouth but would those "main guys" you named make up your top group at this point?
Definitely. Those are the schools that I've found out more about and I've been in contact with them. I just know a little bit more about them and what they have to offer me.
I can't remember where I saw it, maybe Twitter or something, but you are planning on taking an official visit to Michigan now correct?
I believe so, I believe so. I actually don't have a Twitter so a lot of people do twist my words up. It's definitely a school that I'm considering taking an official visit to more than some others so, yeah.
Who are some of the others that you are juggling around with Michigan right now for your officials?
Michigan State, Boise, Nebraska, and ASU or Washington, still kind of looking for a 5th there, but still not even completely closed to any school to be honest.
I'm curious, as a Colorado kid, why so much interest in the Michigan schools?
Their ability to produce big running backs. Michigan State the past couple of years, more than Michigan (he said it with a "with an all due respect" tone), I mean I'm a big running back and people think that if you're big you just shouldn't be in this position, but I like to prove people otherwise. That's not me being cocky that's just me feeling that I can do anything I set my mind to. Michigan State produced Le'Veon Bell and now he's in the NFL playing with the Steelers. You know if you don't have the desire, or don't want to play in the NFL, I don't think you should be playing college football. Guys want to get to the league, you know, that's been their dream ever since they were little. I think that's going to be a factor in deciding what school you want to go to.
You mentioned that you did a little more research and found out more about Michigan. What do you know now and what did you find out?
Oh man all of the attributes they have! I still have not taken a visit there, but I speak with the coaches as often as I can. You know The Big House, the facilities, they just have so many things to offer a football player beyond football and academics to take care of you as an athlete.
When you think about the other schools you mentioned earlier what are some other factors that are going to help determine where you'll play in college?
Like I said Michigan State and their ability to produce big backs and be a team in the Big Ten that runs the football a lot. If I go to a school I don't want to sit back and watch the ball get slung around, you know like Texas Tech or something. I'd like to tote the rock a little bit and that's what I like most about them. For Boise State, a lot of people ask me, "Why Boise State?" It's just their ability to win. They've been winners, they have the best win percentage in college football for like, the last 10 years. You definitely want to be on a winning football team. Nobody wants to be on a team where there's nothing there for them. Also their ability to put people in the NFL. These last couple of years you know, Doug Martin, DJ Harper, they have some DB's and wide receivers in there. And you know, Boise was my first offer and that holds some kind of sentimental value because when nobody else looked at me, and no one else thought I was anything, they did and they offered me. They're kind of the reason I have these other big offers from Michigan and the other big schools, they kind of blew me up. That first offer is just special.
So you're about to start your senior year, you seem to have a top 5 or 6 and some officials in mind, when would you like to make a decision and end the process?
To be honest, ideally, I'd like to make my final decision soon after my football season. I'm one to focus on what I'm doing and I don't want any distractions out side of football even though it's more football, I just want to focus on the season at hand and then focus on my commitment. It's my last high school football season ever and I learned from the seniors on my team last year that your senior season is one of your most special seasons of your football career. No matter if you're still in high school, college, or even playing in the NFL, no one ever forgets their high school senior year.
I've been impressed with your answers and you seem to be a pretty deep thinker, so I'm curious as to how you see your own decision going. What will Kalen Ballage's commitment look like?
I actually spoke with Tom Lemming and I might end up making my decision on his show so I can talk about why I made that decision over others. That's more like a 10 minute thing, you know at the Army game I won't be able to really announce why I went to this school, you kind of just pick up your hat and they move on from it. I'd really like to explain why I make the choice that I make.
---
Ballage is yet another well-spoken, intelligent young man who seems to be taking his recruitment very seriously so he can make the best decision for himself. The Michigan coaches seem to value these types of attributes more and more with each kid that I speak to. It will be interesting to see if Ballage does schedule an official visit to Michigan or not given the fact that most people believe there will be no running back taken in the 2014 class. Personally I'm all for 6'2", 225 lb. athletes that clock laser-timed 4.37 forty's, but that's just me.