The Instrument Is Out Of Alignment
9/19/2015 – Michigan 28, UNLV 7 – 2-1
This is our concern, Dude [Patrick Barron]
It didn't take long for Jim Harbaugh to shift from cheerfully and convincingly explaining why Jake Rudock's play was better than it looked against Utah to… not doing that. After UNLV, a couple of post-game questions clearly designed to fill already-written stories about Rudock's grim day with quotes raised Harbaugh's ire. He deflected a couple with boilerplate ("his job is to win football games") and assertions about a swirling wind, but when a third came:
Um, I guess I'm not as concerned with statistics as you two seem to be.
I hesitate to side with the Talk About types, but I'm concerned. I'm concerned with both the statistics (123 yards against UNLV, probably half of which came on "smoke" screens) and the overall level of play the statistics crystallize.
We're working with small sample sizes, of course, but that's all we've got to project with. The projections are not ideal.
I am not buying the wind conditions being a problem. I was in that stadium. I have been in it for many games. I once had a life and death fight with a poorly designed poncho. I have seen and endured all kinds of weather, and at no point on Saturday did the wind rise to a level where it felt like a serious factor. It blew a bit; I have seen many quarterbacks deal with that and much worse.
Those quarterbacks include one Jake Rudock. Kinnick Stadium juts out of a vast unbroken expanse of plains extending to the Rocky Mountains. In February I had occasion to drive through virtually the entire state of Iowa during a blizzard; I went at highway speeds because the snow was blown over the roads in an ever-streaming mass, never settling. Only the odd copse of trees huddled around a farmhouse provided enough of a windbreak to allow snow a temporary home, and even that was more refugee shelter than citizenship.
That drive reminded me of a David Foster Wallace essay about his youth tennis career that necessarily focused on one of the overriding concerns outdoor sportsmen have when the nearest bump in the terrain is thousands of miles to the west:
The biggest single factor in Central Illinois' quality of outdoor life is wind. There are more local jokes than I can summon about bent weather vanes and leaning barns, more downstate sobriquets for kinds of wind than there are in Malamut for snow. The wind had a personality, a (poor) temper, and, apparently, agendas. The wind blew autumn leaves into intercalated lines and arcs of force so regular you could photograph them for a textbook on Cramer's Rule and the cross-products of curves in 3-space. It molded winter snow into blinding truncheons that buried stalled cars and required citizens to shovel out not only driveways but the sides of homes; a Central Illinois "blizzard" starts only when the snowfall stops and the wind begins. Most people in Philo didn't comb their hair because why bother.
Of all the things that might explain why Jake Rudock could not hit Drake Johnson on a five-yard swing pass, wind is the least believable.
----------------------------------------
So. Let us calibrate our panic. It is the first year of a new head coach handed a terrible QB situation making do; that head coach has been massively successful anywhere he's laid his head. Macro panic: nil.
Micro panic: measurable. The Big Ten looks like a bunch of goobers plus MSU and OSU and I guess maybe Northwestern is good. A team that has Michigan's salty defense and a steady, boring offense is going to win a healthy number of games. Michigan's offense has been boring; it has only managed to be steady against Oregon State.
The offense Michigan fielded on Saturday loses games Michigan fans are currently filing in the win column. While that's cause for a shrug long term thanks to the state of the QB roster, it does dent Harbaugh's early momentum. Does that matter much? The recent trajectories of high-level coaches and… well… Brady Hoke say not particularly.
But it is nice to win things. I'm busy downgrading my expectations about as fast as I'm downgrading my expectations for the rest of Michigan's schedule, which is fine, I guess. I expect a bumpy ride and then as soon as anything goes smoothly I exclaim THIS IS IT FOREVER, because I am irrational.
We've gone from hoping that we should dump Rudock's career at Iowa from our expectations to hoping it's still valid to add those games in; it probably is. The upside of escaping Greg Davis, where Iowa fans are going nuts about a guy whose completions are five yards downfield or shorter 80% of the time feels gone. We would like to lock in the low-turnover game manager if that is still available.
HIGHLIGHTS
AWARDS
wear Jourdan Lewis #brand jackets [Patrick Barron]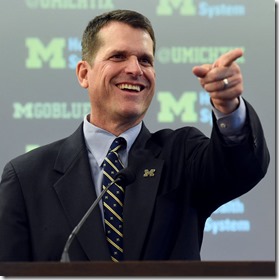 Yet To Be Named Harbaugh-Themed Guys Who Did Good Award.
you're the man now, dog
#1 Jourdan Lewis had 4(!) PBUs on the day, and those were mostly as he covered the very legit Devonte Boyd. Playing as well as any Michigan DB since… Leon Hall?
#2 Ty Isaac ripped off the 76-yard touchdown that made things comfortable at halftime. On that play he made a swift cut upfield, broke a tackle, and put on the jets. He looked solid on his other seven runs as well.
#3 Channing Stribling picked off a pass, defended another, and was able to stick to the receiver any time he was tested.
Honorable mention: Blake O'Neill probably would have snagged the first-ever punter mention in this section if he hadn't shanked that one. Any member of the front seven—Michigan spread 8 TFLs among 9 players. Jehu Chesson did go grab a rushing touchdown.
YTBNHTGWDGA Standings.
5: Chris Wormley(#2 Utah, #1 Oregon State)
3: Jake Butt (#1 Utah), Jourdan Lewis (#1 UNLV)
2: De'Veon Smith(#2 Oregon State), Ty Isaac(#2 UNLV)
1: Willie Henry (#3 Utah), AJ Williams (#3 Oregon State), Channing Stribling(#3 UNLV)
Who's Got It Better Than Us Of The Week
Honorable mention: Picks from Clark and Stribling. Glasgow's thunderous TFL. Blake O'Neill essentially passing the ball down to the 3, and hitting a 59-yarder without a return.
WGIBTUs Past.
Utah: Crazy #buttdown.
Oregon State: #tacopunts
UNLV: Ty Isaac's 76 yard touchdown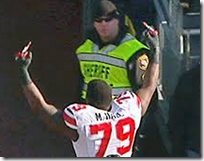 MARCUS HALL EPIC DOUBLE BIRD OF THE WEEK.
The general sentiment was to keep double bird. That was my inclination as well.
This week's worst thing ever.
Jake Rudock matches his 2014 interception total in game three by throwing one that hits a linebacker in both hands. The linebacker deflected it to a defensive back, but that was not bad luck.
Honorable mention: Rudock misses a flare route by yards. Any number of interior rushes that didn't get much. Those two Decker passes towards the end that seriously compromised Michigan's quest to keep UNLV under 200 yards.
PREVIOUS EDBs
Utah: circle route pick six.
Oregon State: Rudock fumbles after blitz bust.
UNLV: Rudock matches 2014 INT total in game 3.
I am sensing an unfortunate theme.
[After THE JUMP: corners making plays, DL emerging, run game woes explained, YIP YIP YIP YIP]
OFFENSE
When Michigan went outside it was ridiculously easy [Upchurch]
Ground grunts. De'Veon Smith never got going in this game in large part because UNLV was willing to put the world within six yards of the line of scrimmage:
This was in contrast to Oregon State, which wasn't exactly conservative (both safeties at ten yards generally means one of them is going to be a heavy run defender) but was not exactly aggressive, either.
UNLV also virtually ignored the edges. When Jehu Chesson got a jet sweep he needed one block from Henri Poggi and one from Darboh downfield to score; most of those fullback dives featured unblocked defensive ends crashing down while no one tracked the pitch guy. The swing pass Rudock missed at the start of the second half would have gone for 30 yards and maybe a touchdown, as Drake Johnson was about to be one on one with a free safety. Any outside run on which Michigan targeted correctly was an easy chunk of yards.
Michigan did not explore this with the frequency they probably should have. This game is going to come out negative in RPS because Michigan had a lot of plays blown up by guys they weren't trying to block or didn't have the numbers to. That's irritating in the moment but with Michigan up multiple touchdowns much of the day and playing a team that barely got past midfield you can understand M going into boring, expectation-shedding mode with BYU next up.
Rudock is not Denard [Upchurch]
Transition issues. The most alarming bit of the day in the passing game was the period in the second half where Rudock started sitting in the pocket forever and then running around because he could not find anyone to throw the ball to. One of those worked out into the world's longest eight-yard scramble; even that felt like a very bad idea Rudock got away with because he was playing UNLV.
The interception clearly sapped Rudock's confidence in what he was seeing, and the results were not pretty. Rudock's not the biggest or strongest or most likely to throw a football through a brick wall; his assets are intelligence and good, quick decisions. Remove the quick decisions and you've got a passing game that looks like Michigan's did on Saturday.
Great catch necessarily out of bounds [Upchurch]
Wide receiver debates. There's a rift in the Michigan fanbase between folks who are piling it all on Rudock and those who are splitting the blame with the wide receivers. I'm actually more in the former camp, to my surprise. There was one pass in this game that looked bad for Amara Darboh since he turned to the inside before having to spin back outside on a deep ball that eventually fell incomplete.
[@ Right: Barron]
That's not great tracking of the ball; it is also a problem with Rudock since Darboh has beaten his guy solidly and expects that he'll get an opportunity to make a relatively easy catch of a ball coming over his right shoulder. Instead he is invited to execute a full Willie Mays basket catch on a ball that is much more difficult than it has to be.
Meanwhile the Harris catch above was in fact a great adjustment to a ball in flight. Unfortunately that ball gave Harris zero chance of staying in bounds. Rudock has consistently given his deep receivers little to no play on the ball. The first Chesson pass against Utah isn't even an exception. Yes, Chesson slowed up a hair. But he had beaten his man so badly that his main concern was running out of room in the endzone; Rudock overthrew a ball that he should have been putting up for a layup.
All this goes back to the major weakness I thought I saw over the summer: Rudock tries to make the perfect throw every time and rarely puts up the kind of pass where his receiver gets a chance to make a play. We've seen a couple that may have been inaccuracy more than anything.
I do think a guy like Funchess would be helping out a lot, but Michigan's situation at WR is not that incredibly dire.
OL things? I don't have much to say about them yet. Pass protection was very good. The run issues came coupled with a number of mashing blocks at the point of attack that got less than you might think because of the sheer number of bodies in the area.
Strobel number roulette. Strobel donned an OL's 50 this week and tucked inside Mason Cole on a number of goofy alignment plays that Michigan did not execute particularly well on.
DEFENSE
Rather decent. In the game preview I predicted that UNLV would not get to 200 yards if their starting quarterback did not play. He played probably 2/3rds of the game and UNLV still barely scraped over that number thanks to a Purdue-Certified Make The Final Score Look Better drive and Jim Harbaugh declining a penalty on a play that ended the first half.
[Eric Upchurch]
Corners perform. The most notable development on the day was Michigan's corners excelling all around. We expect that from Jourdan Lewis these days but every game he does is another increment on our Bayesian estimations of his ability.
We do not yet expect that from Jeremy Clark and Channing Stribling, so watching them both pick up sweet interceptions and play well in other aspects of the game was encouraging. Stribling undercut a dig route:
Yes, the ball is to the inside; very few interceptions are not aided by the offense failing to execute. The offense wins if everyone is perfect. Taking advantage of opportunities when the offense is not perfect is what defense is about.
Clark got his head around on a go route on which he'd already put the wide receiver just about on the sideline to find the ball in his chest; he caught it on the rebound.
Both guys added other instances of quality play, especially Stribling. Stribling was tested on a few downfield bombs and defended them all. He had a PBU on a crossing route that was late. Clark had a couple opportunities he did pretty well on as well. The one clear problem was a pass interference penalty Clark took on the snap before his interception; at least Clark was savvy enough to take the 15 yard hit after he knew he was in trouble.
Godin was robbed of a sack by balance and bloody fate [Barron]
Godin coming on. Chris Wormley had a quiet day, leaving Ryan Glasgow and Matt Godin to be the most frequent backfield stormtroopers on the day. Glasgow you kind of expect at this point. My only worry with him is that he'll be unable to hold up against big OL that double him; against average and average-at-best teams he's a rock.
Godin is a pleasant surprise. He started seeing considerable playing time late last year after some injuries and the Clark dismissal opened up snaps. He did decently with them. This year he's improved enough to be a virtual fourth starter on a line featuring three very good players, and he's making an impact. Multiple times in this game he blew opposition OL back; he remains pretty good at slicing past them, especially on stunts.
The same concerns about holding up extend to Godin, but there is a reason the OR persists next to Chris Wormley's name on the depth chart. It has nothing to do with Wormley.
Henry's got to watch his legs. Henry also didn't have a big day, as UNLV tended to run away from him on zone plays and cut him. He was unfortunately susceptible to hitting the ground on those plays and was often responsible for the cutback lanes that saw the Rebels snatch a number of successful runs.
Lawrence Marshall has just escaped the doghouse. He saw time very late. That is a better indicator he's not going to live up to the spring hype just yet than not playing at all. Marshall didn't get snaps in either of Michigan's first two games; maybe that was talent, maybe it was injury, maybe it was suspension. If he's seeing the field late in a blowout he's probably healthy and obviously not suspended; I doubt we see him take on a prominent role this year.
Meanwhile Michigan's getting solid pass rush even without a major contributor at that end spot.
I know this is a shot of Michigan's offense in the defense section but I'm talking about WR screens (shut your mouth) and we don't have any shots of UNLV screens, which is wonderful. [Upchurch]
We are a team that is bad at blocking and has QB issues and we're going to virtually ignore WR screens. That was UNLV on Saturday. I recall one WR screen, period. I may be omitting one or two; I still love that to bits. Michigan puts their corners in press man a lot, which dissuades screens, and then it seems like the word on Peppers is out. It feels super to go through two games against spread to run teams in which Michigan gave up one chunk of yards on a dumb little edge screen*. They are in fact outgaining opponents on dumb little edge screens.
*[Not counting the tunnel screen that almost went badly against Oregon State; this is about screens that don't involve the offensive line.]
The prior point leads into this one about how modern the D feels. The opener featured a play on which a (probable) scrape exchange was not made on a zone read keeper. That play drew a ton of "argh Michigan never defends the spread" ire on twitter. I thought it too. And then Michigan shut Utah's offense off, for the most part.
They followed that up with a couple of outings against teams trying various tricky tricks that have usually resulted in Michigan falling over and soiling itself; none have worked consistently. Maybe there is an instance here or there in which Michigan does not adjust to motion or gets the bejeezus held out of a critical linebacker, but given how quickly they adapted those feel like missed assignments instead of systemic problems.
Michigan has a couple of simple checks (the flappy bird thing they do) they run constantly when offenses try to unbalance them with motion; they will interchange safety and corner when that makes sense. They are a nickel base D.
None of these teams are that good on offense, even Utah, but there are many Michigan teams of the past whose defenses would have massively underperformed expectations when faced with offenses that did not match up with the manball offenses they went up against in practice. DJ Durkin's defenses have not done so yet.
MISCELLANEOUS
YAAARGH. Hell of a shot from Eric:
[Upchurch]
Hello. The tubes have been replaced by Yips.
YIP YIP YIP YIP YIP YIP YIP [Patrick Barron]
Some excellent side-eye from the lady on the far left of this picture.
Puntin'. So this is how Blake O'Neill's doing this year.
bryan [1:47 PM] Are we grading O'Neil punts on a scale of Zoolander poses yet?

From La Tigra to Magnum?

ace [1:48 PM] that was definitely a Magnum

(phrasing)
That was after O'Neill blasted a rugby kick 59 yards with no return. That punt was on a line but hit so hard that the returner ended up standing in an incorrect place with insufficient time to correct that error.
Before that, O'Neill had one of his delayed kicks that he dropped at the three yard line for Channing Stribling to fair catch. His shank was really the only thing standing between him and the kind of post game praise we've never seen issued to a punter around these parts.
Returnin'. Michigan went from a series of all-out block attempts against Oregon State to a series of return attempts that didn't go quite as well as Michigan hoped. The spectacular Peppers return was indeed spectacular, but it wasn't particularly assisted by blocking until Peppers had whizzed past three befuddled Rebels.
I'm okay with that. I liked the fact that Michigan was trying something. On these returns they would line up with a few guys off the edge and then make a call to scoot guys around, presumably in an effort to get UNLV gunners releasing directly into guys who suddenly show up where they were not. It's a good idea, and one that demonstrates the effort and creativity Michigan is putting into special teams this year. That and the Aussie punter.
Orin Incandenza game theory changes. I'm going to bug the Mathlete about this, but that punt down to the three made me wonder if a world in which touchbacks don't happen or are at least very rare is one in which punting is the optimal strategy in a lot of situations where the conventional wisdom is to go for it after pointing and laughing at Rod Gilmore. I went from irritated before the delayed punt to shrugging, because sure put them at the three.
Peppers is going to be fun. This is not information.
I still refuse to believe half these cuts are physically possible. pic.twitter.com/8JZlAwcLoT

— Ace Anbender (@AceAnbender) September 21, 2015
Dadrock subplot. Oregon State music was split about 50/50 between Special K's usual playlist and Harbaugh's first generation iPod. That split went away, replaced with nothing but WCSX's greatest hits. Even the Kid Rock songs that made it were the Kid Rock songs on which he does his Bob Seger impression.
This was funny and generally diverted me from the fact that there was absolutely no let-up in the music from the Brandon era. That lasted about two and a half quarters, and then I was psychologically beaten down by it. We are still filling every available space with blaring music like Michigan fans are infants that need a rattle in front of their face 99% of the time. But when the crowd responds like this I guess you have to continue:
@mgoblog @AceAnbender @Slaghtrain Someone is enjoying the music at The Big House today. pic.twitter.com/Jto4bntneu

— Lookin 4 field corn (@slaghc) September 19, 2015
Hackett talked about toning it down; I haven't seen any evidence of it yet.
HERE
Best:  Neapolitan Without Chocolate and You Hate Strawberry or
Worst:  Vanilla Ice Cream topped with Vanilla Extract Mixed with Vanilla Sorbet

One of the most derisive terms you hear on the internet (coined by legendary champion/male stripper Kevin Nash) to describe a professional wrestler is that he's a "vanilla midget".  The term has a number of meanings and, in certain contexts, can almost be a backhanded compliment, but in general it refers to a wrestler who is good at "wrestling" but not so good at the "sports entertainment" part of it; it typically means he's short, bad on the mic, a bit weird/generic looking, etc.  Despite its evocative nature of a particular type of guy, it's been applied to wrestlers of all stripes, usually in a way to trivialize their real accomplishments and reduce them to a trite tableau of unmet cosmetic expectations.

I noticed during this game how many people became discouraged that UM's utter dominance of UNLV wasn't "more" than it was.  Outside of the one Isaac run, this was basically UM spending a half methodically walking up and down the field with minimal resistance from the Rebels, running the same basic plays effectively but without much flair.  Yes, part of that was due to Jake Rudock's continued inability to consistently throw the ball farther than 10 yards downfield, but UM was going to play this game as close to the vest as possible.  If this was an NES game, UM just went full Tecmo on the playbook.
The Two Jakes
* I thought I was going to have to rename this section The One Jake. Rudock finally threw a ball to Butt in the second half. Jake B. ended up with two catches for 14 yards. If they are saving him for BYU and the bigger B1G games, I understand.
* In the now weekly battle between Jake Rudock and ST3-defined efficient QB play, Rudock was 14 for 22 (64%, check,) with only one interception (check,) but he only averaged 5.6 yards per attempt. Ugh.

WHAT ARE THOSE?
* The WHAT ARE THOSE? award goes to the BTN cameramen. Those people running around on the field in stylishly matching outfits are football players. It's generally a good idea to keep your electronic moving picture taking box pointed at those players, especially the one that has the ball in his hands. But don't get too close lest the rest feel left out.
I have availed myself of the camerawork and can report that it was real bad. At least when the camera guy is trying to express his avant-garde truth it was generally followed by a replay that indicated what the hell happened. This does not help people watching live but should prevent me from ragequitting UFR.
ELSEWHERE
DEFENSIVE CHAMPION – Channing Stribling's interception on UNLV's first drive set the tone for the Michigan Defense. If the opponent wants to take the football to start the game, Durkin's D has to let them know that they will not be able to move the ball and that's what #8 did. The INT was emotionally charging for Michigan and emotionally deflating for UNLV.
Hoover Street Rag goes on a Killers kick. Maize and Blue Nation:
But there were a lot of things to be satisfied happy about. The offensive line did what they were supposed to do to an outmanned front...holes were made and QB's were protected. UNLV got only 2 TFL's and no sacks. Ty Isaac ran the ball better and more effectively then he ever has in the Michigan uniform. The defense played outstanding as usual. Special teams were solid and Michigan's punter Blake O'neill booted 4 of his 5 aussie-style punts inside the 20. All in all, it was a business as usual type of game...which is something you haven't really been able to say around Ann Arbor that much recently.
MLive grades. Marcus Ray on Rudock. The BTN's intro was actually good, if nothing else was. Jourdan Lewis is good. Touch The Banner. Recruit reacts. Maize and Brew.