9/3/2016 – Michigan 63, Hawaii 3 – 1-0
this elevator goes all the way up buddy [Bryan Fuller]
I wonder if Michael Jordan has an internal insincerity meter for crowd reactions he gets. It's 50/50. Jordan is the kind of transcendent athlete who could legitimately go through life thinking that 100,000 nearly random people would burst into rapture at his mere presence. But to get to that level you have to be completely unstinting in your self-evaluations. To be Michael Jordan you cannot have anything but an infinitely precise vision of yourself in your head.
Anyone who went to North Carolina and was once pictured four feet tall next to Joe Dumars on a Sports Illustrated cover cannot have many misconceptions about the general feeling of southeast Michigan towards his person. So I wonder if Michael Jordan got thrown up on the big screen at Michigan Stadium and heard what the reaction was and thought to himself "I don't know what these people are one thousand percent rabid about, but it ain't me."
Because that happened. Michigan put Michael Jordan on the big board and people went nuts and if Michael Jeffery Jordan was any part of that you'd have to get down to the third derivative, where damn near everything is in the +c. Happy to have you and all that, but if you're not down with being an emblem for a bunch of other stuff we cannot help you. Emblem you are.
Same thing with all the Jumpman stuff a few weeks ago. Part of that may be genuine excitement that a different company is making tubes with holes for your arms, but most of it is because it's a place to put your enthusiasm. It is a tangible thing you can do
I mean, the students showed up on time.
Let us consider the situation. It is noon. Michigan is playing Hawaii, a 42-point underdog. The sun is unfettered in the sky, at maximum hangover-beatdown wattage. It is Welcome Week. And despite being the same age as Will Smith's kids, the students are in their section at kickoff.
Anywhere you look you'll find evidence that Michigan fans are amped for this season, including this here blog that predicted 12-0 like an idiot and sold out of its season preview magazine. I don't think anything can top assembling nearly 30,000 students in 2016. As a reminder, this is what MSU's stadium looked like at halftime of a Big Ten game last year:
MSU fans. They gone. pic.twitter.com/X8c8Fh9e9i

— Tony Paul (@TonyPaul1984) October 3, 2015
Harbaugh's got a shot at canonization now, after The Miracle Of The Full Student Section At Noon During Welcome Week 2016.
----------------------------------
The team did their best to keep the party going. Even Wilton Speight's interception gave the defense another three plays on which to establish that Hawaii was going nowhere, and tack on stats when Michigan got the ball back. Like when you're running punts back to the one in NCAA football so you can make your absurd numbers even more absurd.
Michigan did not punt, scored seven touchdowns on offense, and would have won this game by two scores if none of those counted. It took Hawaii 25 minutes to get a first down and about that long to scrape above zero yards of offense. Jabrill Peppers jumped over a guy for fun. The only time anyone booed was when Hawaii broke the shutout with an audacious 55-yard field goal.
There wasn't anything they could do against Hawaii that would change opinions positively; they held serve.
This allowed the crowd to continue losing their mind for flyovers and Charles Woodson and Lamarr Woodley and Jim Hackett, who got the biggest cheer of anyone they introduced because he did one thing very well. Never in the history of interim athletic directors has one been greeted so rapturously.
And even that was kind of cheering at something because it's there, not for something. The yelling in Michigan Stadium was about things yet to happen. It's on the way. 
HIGHLIGHTS & SUCH
Parking God:
Postgame pressers from Harbaugh and players at Maize and Blue News.
AWARDS
[Fuller]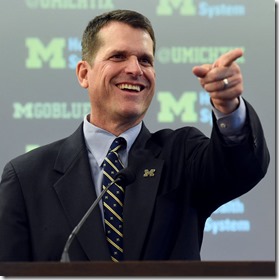 Known Friends And Trusted Agents Of The Week
you're the man now, dog
#1 Mike McCray led the way with 3.5 TFLs, two of them sacks, and a total of nine tackles. His impact is even a little understated by those numbers, as he also picked up a holding call on a play that still ended with the QB buried under a pile.
#2(tie) Delano Hill and Jabrill Peppers. Hill had a pick six, a nice PBU on a deep ball, and a TFL on which he displayed his trademark open-field tackling. Peppers had two TFLs, a sack, and an absurd punt return ending in a hurdle of a dude damn near standing up. I also think he was shorted a TFL on the first play of the game, as that went (very slightly) backward.
#3(tie) Chris Evans and Mason Cole. Evans cracked 100 yards on just 8 carries. Cole helped spring a big chunk of those with a lovely reach block and looked like a very good center indeed.
Honorable mention: Eddie McDooom; Ben Gedeon; Ryan Glasgow; all persons living and dead.
KFaTAotW Standings.
3: Mike McCray(#1, Hawaii)
1: Delano Hill (T2, Hawaii), Jabrill Peppers (T2, Hawaii).
0.5: Chris Evans (T3, Hawaii), Mason Cole(T3, Hawaii).
Who's Got It Better Than Us Of The Week
This week's best thing ever.
No I don't care that this was called back.
Any GIF requests? As always, noting the time is helpful if possible. This one's covered. pic.twitter.com/xGiOubHLJ4

— Ace Anbender (@AceAnbender) September 4, 2016
Honorable mention: Evans bursts down the sideline; Evans bursts up the middle; various blitzes on which the only response was HALP; pick six; other pick six; Carl Grapentine pronouncing "McDoom"; Grant Perry's sinuous corner route; Michigan introducing Jim Hackett to thunderous approval as someone else plots a corporate Facebook page response.
WGIBTUs Past.
Hawaii: Laughter-inducing Peppers punt return.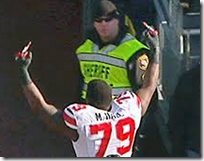 MARCUS HALL EPIC DOUBLE BIRD OF THE WEEK.
This week's worst thing ever.
Another Bryan Mone injury of some severity is the worst both for him and Michigan's DT depth.
Honorable mention: Wilton Speight momentarily panics everyone with a pick on his first snap; that one drive when Stribling was getting the business a bit; jerko Hawaii kicker ruins the shutout with a 55-yard FG.
PREVIOUS EPIC DOUBLE BIRDs
Hawaii: Not Mone again.
[After THE JUMP: and introducing Chris Evans]
OFFENSE
[Fuller]
Hello Mr. Evans. Eight carries, over 100 yards, that'll do. Evans's longest run wasn't exactly hard, but his burst allowed him to split the safeties:
His most impressive run was a backfield Houdini job that turned a TFL into a nice gain, and on a couple of interior carries he showed the right amount of patience behind his blockers before trying to burst out from the pack. The speed is obvious and undeniable; the running back instincts were a bit of a surprise and very nice to see.
Evans's presence in the backfield is also evidence of Harbaugh's flexibility. He's not exactly the Harbaugh running back prototype. Harbaugh doesn't care if you can play, though.
[Upchurch]
Speight eval. That first throw was real, real bad. (#analysis.) If it hadn't been picked off a safety had a pretty good shot at a PBU. He did have a guy further inside open:
At least Speight's tendency to have ugly starts is getting compressed? Pretty soon he'll have a terrible first step away from center on the first play and everything else will be fine.
After that and a wonky screen Michigan got away with he was close to perfect. Hawaii offered little resistance and no pressure, so his performance gets filed under "necessary but not sufficient" as we try to determine if QB is going to be a problem spot this year.
I'm slightly encouraged. Speight was accurate after the first few throws and had one on which he moved around smartly before hitting Moe Ways. His throwing motion looked pretty odd a couple times; his release seemed long. He did not attempt a pass downfield. Also he threw a pass at a Hawaiian. As debuts go it gets a B.
Sinuous route, revisited. Perry's touchdown was pretty slick:
He cuts out for a step, then breaks to a post. The DB over him bites on the first route, then tries to recover, and once the corner route finally reveals itself that dude is toast. If you were so inclined you could call this a triple move. To me it's more like a really well-run corner route.
This play reminded me of an event in the Citrus Bowl also involving Perry:
My favorite thing was a subtle route alteration that got Khalid Hill wide open. Here Perry tucks his route inside off the snap. The linebacker clearly checks him a couple times… and then Perry breaks back to the outside. A distracted linebacker with no depth is then easy pickings for the second-level throw to Hill:
I haven't seen a similar thing from Michigan's offense. I'm sure it's commonplace in the NFL. The combination of Harbaugh and Fisch feels like it should be good at figuring out these little things that screw with matchup zones (and regular ones) by messing with keys.
Routes like these take the pattern-matching that is universal in college football these days and use it against itself.
OL takes: pending. I don't have a ton to say about the OL just yet. They did what they should do against this level of competition. A few of Evans's runs saw him run up the back of extended double teams that just caved the Rainbow Warriors in and get five or six yards.
I did notice a really nice scoop block from Bredeson and Cole on one of Evans's chunk runs. You're watching the left guard and the center here:
I'm trying to look for opponent-invariant things and Cole's ability to get around that DL and seal him away is one. That's the kind of thing I was hoping to see from him early in the year to confirm my theory he'd be a kickass C. Meanwhile Bredeson gets a good pop on that guy and then finds his second level block.
Bredeson alternated with Kugler, so those guys appear to be close; Newsome was undisputed at left tackle. Kugler keeping pace with the massively hyped Bredeson is good news both for depth this year and next year's starting line. If he's in the conversation that's one more solid candidate for 2017.
[Bryan Fuller]
The Kaiju package. Michigan didn't do anything particularly whip-saw until the second half, when they inserted both Tyrone Wheatley and Devin Asiasi at tight end. Both dudes blew Hawaii guys out. Asiasi was particularly impressive as true freshman; he didn't look it.
Crack sweeps. Michigan ran a bunch of sweep plays where they inserted a wide receiver to take out a linebacker. Jehu Chesson wrecked people three or four times. Eddie McDoom… did not. Not a big deal for a slight true freshman but that's not his game.
Fullbackery. Khalid Hill didn't look like a guy who was going to get a ton of carries despite his touchdown. On the other hand, both Poggi and Hill looked like solid blockers.
WOOP. It doesn't appear that Shane Morris will ever be Michigan's starting QB, but at least he got to do this:
[Upchurch]
College football's increasingly untenable as structured but these kind of things are why it remains so powerful. Ain't nobody care about Dan Orlovsky, including his parents. I just about lost it for Tyrone Swoopes on Sunday, and not because* he just put a dagger in Notre Dame's heart.
*["mostly but not entirely because"]
DEFENSE
[Fuller]
Well, that lives up to reputation. All four of Michigan's sacks in this game came from the linebackers. That matches Michigan's non-DL sack total from all of last year. The LBs tacked on an additional four TFLs. A total of eight TFLs is almost half of Michigan's season total in that department. Aggressiveness: upgraded.
Pepper's first game as a linebacker was impressive. The above was a TFL he acquired with his trademark burst. Hawaii ran a pin and pull and had two OL leading it out; Peppers just picked his moment and was instantly in the position you see above. The first offensive snap for Hawaii was similar: Peppers was kept clean and the instant he saw a gap in the line he burst through it for a near-TFL.
Questions about what happens when Peppers actually gets blocked remain unanswered. This is a good thing.
The safety pendulum. Interesting adjustment to spread teams motioning guys across the formation: Michigan would drop Delano Hill down to a nickel-ish spot and shoot Peppers back to a two-deep safety look with Thomas. This makes a lot of sense since Hill also functions as an edge destroyer. He's not Peppers; he is a great open field tackler and a very tough block for a WR or even a TE.
Peppers, meanwhile, is the kind of athlete who allows you to get away with NFL-style hijinks where you line the guy up at eight yards and whoops he's in a deep third.
[Eric Upchurch]
The Gary debut. Gary didn't rip anyone's face off but I thought a big part of that was stuff like you see above: holding. By the time Gary got in for a bunch of snaps things were already way out of hand and the refs were ignoring all but truly egregious holds. There were a lot of OL hands grabbing Gary's shoulder pads.
Even so he was still active. He helped force a couple TFLs even if he didn't get in on the statsheet, and on the McCray sack/strip Michigan dropped him off to cover a wheel route(!). We didn't get to find out whether that would go well or not; the sheer audacity of having a 290-pound man cover a back gives you an indication of his freaky athleticism.
Stribling got worked a little bit there. Hawaii's only success on offense before the starters got pulled was on their drive right before the half. They went empty and got a couple catches on a mismatch between a slot receiver and McCray, and then they went to work on Stribling. He got beat in press man to turn first and 25 into a first down. On the next play he got back-shouldered, and then a few plays later he was in the vicinity in zone coverage—that may or may not have been his deal. He did have good coverage on third and goal from the 18, which isn't the toughest situation.
Stribling did have a couple of interceptions even if one was called back because of a penalty, but neither was amazing. The first was Stribling diving at a deflected ball; the second was a throw directly at him despite the fact he wasn't even the closest Michigan defender to the relevant receiver.
It seemed telling that Hawaii stopped going after Clark once he had a PBU on their first target. We'll see if that has an impact on playing time once Lewis returns.
Hello, Mike McCray. McCray looked the part of a big-timer. The Big Ten's defensive player of the week spent his day jetting past Hawaii OL with no hope of blocking him on blitzes. Brown seemed totally fine with telegraphing those blitzes in exchange for putting his linebackers nose to nose with OL.
He did get stuck in a mismatch when Hawaii went five-wide at the end of the first half, but that's not really his problem. He's 250, a slot receiver isn't going to be a good matchup.
The Hill interception is a Brown thing. Here it is:
Play action, Hill sucks up a little bit, and then Hawaii leaves their back and TE in to pass block. Hill's now in freelance mode in a "robber" zone, and duly robs. That did not happen all last year. Michigan did not have a surprise defender in a spot the QB does not expect.
Also on this play: Michigan has a deep third defender. It's Jabrill Peppers and he starts eight yards from the LOS. Michigan is making an effort to disguise what they do more.
Also also: check the DBs to the bottom of the screen swapping receivers when the outside guy breaks to a slant. That didn't occur last year either, which led to a number of switch routes and picks that got guys open against Michigan's man to man.
Onwenu at nose tackle please. Michigan isn't particularly close to needing Michael Onwenu on offense. Once Braden returns, he's behind at least Kugler and Bredeson and possibly David Dawson at a position where rotation is rare to nonexistent.
They are now extremely close to needing him on defense. Mone's status is uncertain. Hurst can move back to NT but is also battling an injury. Depending on Mone, Onwenu is one or two injuries away from the two deep. And a 375 pound guy who can move a bit will be able to give you some snaps.
Maybe he's an OL down the road, but right now the need is much greater on D.
MISCELLANEOUS
Injuries. Woof. A full dossier of the long list of injuries Michigan appears to be dealing with:
Probably minor: After the game Harbaugh said that Jourdan Lewis, Ben Braden, and Maurice Hurst all could have played if necessary and were held out as a precaution. De'Veon Smith had some sort of rib issue that also fits in the same category. 
Could be a few weeks. Taco Charlton writhed quite a bit when someone rolled up on him and then limped off with an ankle injury. That could be anything between nothing and the dread high ankle sprain. Webb reports that "3-4 weeks" is the resonable timeline. Noah Furbush didn't dress and was in a "big knee brace" according to Dan Murphy. Drake Johnson didn't dress and Webb reports that he has a hamstring issue.
No, please no. Bryan Mone was having an MRI. Webb also reports that he should be out 3-4 weeks, which is a massive exhale.
[Fuller]
The Great Halifax Redshirt Bonfire. We went over this on the podcast and I came out less perturbed than I thought. Expended redshirts categorized:
Obvious: Rashan Gary, David Long, Lavert Hill, Khaleke Hudson, Ben Bredeson, Devin Asiasi, Chris Evans.
You could get away with one but not complaining: Eddie McDoom, Kekoa Crawford, Josh Metellus.
Surprise necessity: Michael Dwumfour, Michael Onwenu, Josh Uche.
WTF? Sean McKeon, Kingston Davis.
Mone's injury instantly pushed any nose-tackle type substance to the field, because there's nothing after the top five DTs other than true freshmen. If Mone's out, can Onwenu help you against Wisconsin or PSU? Yes. Then you play him. Dwumfour is a bit less likely to help you but it's easy to see a situation where he fields meaningful snaps. Furbush's injury puts Uche in the same category.
So the only two I really don't get are McKeon and Davis. McKeon is behind four scholarship tight ends and probably fifth year senior walk-on Michael Jocz. Even without Drake Johnson, Davis is your #5 tailback. I know people talk about that as a reward but if I was either of those guys I'd want that redshirt; reportedly Higdon was peeved last year when his got yanked off so he could get fewer than a dozen carries.
One disappointment… It was no longer blindingly clear that Michigan's piped in music was directly imported from Harbaugh's first-gen iPod. Until "Baba O'Reilly" played in the fourth quarter there was no indication Harbaugh had personally selected the noises coming into our ears.
…and one relief. Nobody tried to make Harbaugh's rap thing into "In The Big House." I salute the good judgment of whoever had to shoot that down, because someone suggested it.
God bless Carl Grapentine. He got just the right number of vowels in "McDoom," which is a number between three and five. Between Grapentine and Howard King Michigan has been blessed with the best PA announcers in the country.
HERE
Best:  Still a Wall

As I noted earlier, the Rainbow Warriors were absolutely demolished in the first half of this game.  Hell, they didn't break positive total yards until their last drive of the half, and finished 2 quarters of football with a total of 55 yards on 39 plays.  By comparison, Delano Hill's interception was for 27 yards.  Again, I understand all about the quality of the opponent, but even the Baby Seal U's of the world would be surprised by that level of domination.  For the game, UM had 10 TFLs for 52 yards, including 4 sacks for 41 yards, highlighted by the first 2 of Mike McCray's career.
ELSEWHERE
Wilton Speight's momentum happened to spin him right into Jim Harbaugh's face.

His first snap as a starting quarterback at the University of Michigan resulted in an interception. Right into the arms of Hawaii's Damien Packer.

Everything happened in a blur. And before he realized it, he was standing next to the head coach who had only recently placed his faith in him as a first-time starter.

But there wasn't rage. Or anger. Or anything close to that.

"He was kind of laughing," Speight said.
Touch The Banner breaks down the Evans jet up the middle. As per usual when something goes right up the gut untouched, Hawaii helped out with a busted assignment:
Above: As Evans takes the handoff, you can see where this play has gone wrong for Hawaii. Asiasi has locked out the SAM linebacker, and Kugler is kicking out the SDE. The nose tackle who was looping around in the previous snapshot? He overshot the B-gap and has run himself out of the play, essentially getting picked off by Kugler's kickout block.
In the grand scheme, this was as strong a season opener as you could hope for in this kind of enterprise.  When your defense loses the shutout because the kicker defiantly nails a 55-yarder, you just kind of laugh, because the offense nearly covered the over by itself.  So many freshmen played today, it felt like an away team with all of the redshirts burning. 
Michigan also never punted. I don't remember that ever happening before.
Chris Evans, Freshman, Running back

While driving home from the game, I asked my wife who should get a game ball this week. Her response: "That Evans guy." So, as my wife has requested, here you go (I was actually already giving him a game ball, but don't tell her).
MVictors updated its uniform timeline. Also, Sap issues a decal or two:
UNIFORM CHAMPION – I LOVE how the Michigan helmet looks with the Amarillo yellow and dark blue colors. The matte finish, while different, looks tough. I know there are some of you who aren't down with it, and to you I say, "Get on board with the change and embrace it – it's gonna look Championship sweet when it's all said and done!"

Now the design, and how the stripes don't converge at the back & bottom of the helmet? 

That's another conversation for another time!
I guess David Mayo is writing Michigan football columns now? Okay. Michigan is a 34.5 point favorite against UCF. Maize and Go Blue. Harbaugh did not like suspension speculation.