I Have Done All I Can Do In This Town
11/17/2012 – Michigan 42, Iowa 17 – 8-3, 6-1 Big Ten
Eric Upchurch
M. Ward – Helicopter
A couple years ago Carl Hagelin lasered a wrist shot off the post and in directly in front of my seats at Yost. It was senior day; there was a second left in overtime. I saw the puck rise all the way and knew its path was true. In the aftermath I wrote about a kind of envy I have for old-timers who have only their burned-in memories of these titanic events:
…while I've been craving video boards at Yost for years there's something beautiful about not having the thing you just experienced altered by someone else's perspective. Since the Werner goal isn't on youtube no one can tell me he wasn't wielding a scimitar, wearing an eyepatch, and screaming "hhhhhyarrrrr" as he swashbuckled towards the net. I'm pretty sure the unicorn he was riding was named Steve.

Those days are over but thanks to Carl Hagelin Yost got one last opportunity to walk out of the building buzzing about the thing that just happened in your head, and only your head.
I feel aftershocks of this when I'm on the radio with Craig Ross and the topics get twisted around to 1970s basketball refereeing and Craig gets a little frothy and a guy calls in to froth a bit with him. I love this. You don't even know. I have no idea how much of it is accurate but I've double-checked my brain with Youtube enough by now to know that the things we have in our head are a lot further from the untrammeled gospel than it seems.
When you have this presented to you directly, it's unsettling. You think you remember everything about these blazing moments in your sports fandom and it turns out not to be so, and you wonder about all the other things you may not have right. Before anyone could check their brains, the tower in your head could go unchallenged.
A part of me wishes that Denard turning Tanner Miller into a chasing ghost was gone, extant only in all of us who saw it, slightly different but equally validating and valedictory and satisfying in all of our heads. I mean obviously not, this would be terrible, I can recite Keith Jackson's call of Charles Woodson's OSU punt return (Woodson's got one block… he's got another block… one more and he's gone!) from memory and hear the three separate roars from the crowd without even cuing it up. Obviously not. Despite the memorization I just watched Charles Woodson return that punt eight times. This site is dedicated to archiving the events and the feelings behind the events. Obviously not.
But… maybe a little. If that was just there and gone, well, seeing that would be something. Like watching Tom Harmon. Like experiencing the rage of playing Indiana in a dusky, mustachioed 70s basketball arena where television was just a rumor and your brain the only repository of a precious thing—the life you lived.
-----------------------------------------
Midweek, Michigan fans were facing down the prospect of ceremonial snaps. Walter Smith was exhumed to reassure us that life goes on even after you lose what should be the culmination of your career to a busted limb:
"It still haunts me today to not play your senior year," said Smith… "To work that hard at something and have that happen is devastating. It could have led me the wrong way."
It was not particularly reassuring. At some point I thought I realized I'd seen the last of it, and I started thinking one of the things stuck in my head that calls itself forth at times: "And I sat down on the grass, on the burnt grass, on the black, burnt, dirt and grass, and I can admit this now: I wept. I cried big, old, giant tears."
Because memory is unreliable I had to plug it into Google and got two hits and realized that this was the Robert Earl Keen story I'd warped into a column about Michigan hockey losing the national title game two years ago after staying up all night editing my now-wife, then-fiancée's dissertation. I did this just now, and read it, and yeah. This is what I felt when I thought about the black burnt dirt and grass:
At some point Michigan is actually going to win another goddamned national championship and some of this will be redeemed. Not all of it, though. Shawn Hunwick is never going to do that again, and nothing's ever going to match the Swedish flag and my complete failure to get people to replace all words in the goal cheer with "bork" when Hagelin scores. Things come and go; this one has gone and I'm stunned at how much I miss it already.
Except the stunned part, because obviously not stunned more like openly dreading forever.
-------------------
Denard got a ceremonial snap, and ran for three yards, and then got another, and ran for four yards. Collectively they are the Michigan fanbase's favorite first-quarter plays to set up third and three ever. It became clear that we had been granted a reprieve from the future.
The sun was out, shining on Michigan's present and future as each senior took a bow. Vincent Smith hacked down men much larger than him and scored on a throwback screen. Jordan Kovacs took a quarterback escaping into space and turned it into a tackle for loss. Roy Roundtree was Worst Waldo open for a touchdown.
And on another option play, Denard eschewed a pitch that was there, accelerating outside of Thomas Rawls to the corner, where he faced down an Iowa safety. One juke later, he was tearing down the sideline. A hundred ten thousand took it and put it in their memory. I was there. I saw it. I can tell you about it, but it's something you have to experience for yourself.
As the day descended into a blissful victory lap, Denard audaciously reversed field for another big gain en route to exceeding 100 total yards on 15 touches. On each play, you could feel the stadium burst with anticipation. Please give me one last thing to have here. He did, twice, and the cloud that dogged Walter Smith evaporated.
After, I walked down to the tunnel and watched him go, young and old alike reaching down for one last moment.
Maize and Blue Nation
I was there. I saw it. Let me tell you about it.
Media
Eric's gallery is on the front page a few posts back.
Cake!
Photos from MVictors pregame:
JT Floyd's daughter
Brock Mealer looking pretty dang ambulatory
Also hugs.
Maize and Blue Nation's gallery includes a great shot of the captains walking off the field after the game:
And Robinson looking on at Gardner being interviewed:
Awards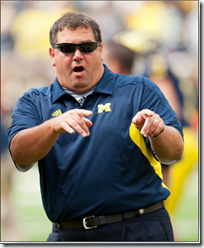 Brady Hoke Epic Double Point Of The Week. You can no longer be denied, Devin Gardner: 18/23, 314 yards, six total TDs. I be like dang. More about Iowa being the worst thing ever a bit later; setting that aside, it's remarkable that Gardner throws an out and you're just like "this is extremely likely to be on target and moving fast when the WR catches it." His accuracy and comfort with the offense grows weekly, and when he needs to have his legs bail him out those are still around.
Honorable Mention. Jeremy Gallon (133 yards receiving without getting a gift long TD, let's not think about the punt), Roy Roundtree (gift long TD but hey 83 more yards), Denard Robinson (8.1 yards a touch), GERG Davis (your QB completed 19 of 26 passes for 7 YPA), Jordan Kovacs (I just like Jordan Kovacs), Will Hagerup (did not wander off to Ypsilanti at halftime, wondering if he should transfer to a school at which he would see the field).
Epic Double Point Standings.
3: Jake Ryan (ND, Purdue, Illinois)
2: Denard Robinson (Air Force, UMass)
1.3: Jeremy Gallon(Alabama, 1/3 Minnesota), Drew Dileo (Michigan State, 1/3 Minnesota), Roy Roundtree (1/3 Minnesota, Northwestern)
1: Craig Roh(Nebraska), Devin Gardner(Iowa)
Brady Hoke Epic Double Fist-Pump Of The Week. It must be Denard Robinson juking Tanner Miller to the ground. Yes. All of the that.
And then he felt he was being unfair so he ran out of bounds.
Honorable mention: Denard reverses field on dinky flare pass, Gardner to Gallon for a juggling 50 yard catch, Roundtree goes Worst Waldo on third and seventeen, Vincent Smith throwback screen for old times.
Epic Double Fist-Pumps Past.
11/10/2012: Mattison baits Fitz, Kenny Demens decleats Northwestern, game over.
11/17/2012: Denard WOOPS Tanner Miller in Big House finale.
Offense!
caveats (Upchurch)
Iowa caveats apply. Large Iowa caveats apply. Several plays were comically wide open as Iowa's secondary was ruthlessly exposed for the clown college it is. Only the incompetence of Big Ten passing attacks obscured it previously. Meanwhile, Devin Gardner is now eligible for social security after one particular goal-line passing play.
Late in the game, Iowa quit. Caveats apply. Large ones.
Let's ignore all caveats! Holy pants. The combination of the Devin Gardner-oriented slick passing game with spicy deep bombs combined with Denard Robinson carrying the ball to annihilate Iowa's defense utterly. Michigan scored touchdowns on their first six drives and were going in for another when Micah Hyde made a pretty badass interception on what would otherwise have been first and goal for Michigan.
Gardner's accuracy is getting creepy—a couple of underthrown deep balls were short only because their targets were so vastly wide open that the only way to not score a touchdown was to miss them, and the corner routes he's throwing are consistently on the money. This was the third straight game he hit Gallon in the numbers on a deep bomb—on this one Gallon had a guy draped all over him and still brought it in.
More than that it seems like Gardner just has a certain je ne sais quoi about him. The scrambles are a big part of this. There's more to it, though.  In this game just having the patience to sit and wait a million years on that play where he could was an asset, and then he had that brilliant improvisation fling at Roundtree…
fling! (Upchurch)
…that caused Dave Pasch to manically exclaim he was "JUST TOYING WITH THE DEFENSE!!!" He was.
As we go along here I'm moving away from thinking things like the yakety sex touchdown against Minnesota are not sustainable items you can count on to keep your offense going game in, game out. Gardner has kept a ton of drives alive with his scrambles and his ability to adjust on the fly—neither of which are Denard assets.
Horrible defenses all, yes. Inability to run for two yards without a quarterback involved, yes. Still.
Inability to run for two yards without a quarterback involved. …looked like it might be going away as Toussaint popped a couple nice gains—one of them on a real live successful option pitch from Denard—but then Toussaint sustained extreme damage and it was back to the salt mines. Rawls, Hayes, and Smith combined to acquire 35 yards on 13 carries, 2.7 per. Yeah, a number of those were short yardage. Still, a long of eight yards was acquired, and that was when the entire Iowa defense freaked out about Denard only to get the counter pitch in their face. Runs on which offensive line blocking was relevant topped out at six yards.
This is just something that must be accepted. Michigan is not going to get much of anything up the middle against Ohio State, and must be able to throw effectively. It'll be interesting to see if Ohio State tries to match John Simon up against Michael Schofield or lets the Lewan/Simon throwdown go down. Either way, Whoever Versus John Simon is the single most important positional matchup in the game.
Upchurch
Rawls hype level descending. Not very far from a low baseline since the Purdue blip up was only a couple carries, but descending. To me he seems very Kevin Grady so far and it's hard to see him getting anything against that DL and OSU's speed to the outside. I don't know what they can do about it, though. Smith is the same thing, more likely to make a man miss and far less likely to grind out YAC.
Hayes and Norfleet clearly don't have the coaches' trust, which is unfortunate because the role Michigan needs to fill when they go to that Fritz package is the darting outside guy who can tightrope the sidelines no problem when he gets that counter pitch or juke a defensive back when he gets the option. I have the feeling that sometime next year one or the other will get an extended run, do well, and leave us all wondering why they couldn't get on the field in 2012 (probably because they can't block).
Meanwhile, while I'm not writing off Rawls the trendline there is not heading towards anything more than a short-yardage guy. A short yardage guy that bounces it way too much.
Nefarious Ohio State plans. Michigan has not called more than a couple runs for Devin Gardner yet aside from short-yardage run/pass rollouts that have turned into half-scramble/half-intentional-run touchdowns. The reason has been obvious: if Gardner goes down Michigan is rolling with a one-armed Denard and Russell Bellomy. This has been a logical thing to do.
I think they have to break the seal on that in the Game.
I'm not suggesting Gardner takes off 20 times or anything, but some dose of Gardner/Denard inverted veer action seems like a big opportunity to hit something big. The problem with working Denard into the gameplan as a not-quarterback is that he basically can't block for reasons of inexperience and elbow, so how do you work around that limitation? To date, Michigan has given him the ball and used him as a decoy.
They'll continue doing that, but it's time for the Denard/Devin Mesh Point. By making Denard the tailback and running the veer, they either get Denard on the edge without contain or option someone off, thus blocking someone with Denard without actually blocking someone with Denard. Add in the potential for play action off that look and you've got my #1 must have thing for OSU.
Toussaint damage. I am probably not informing you of anything you do not know when I say he has broken bones in his legs and is done for the year. A reader pointed out this study done on 31 soccer athletes that saw the subjects with twin fractures return to competition an average of 40 weeks after their injury, which would be just before next season.
If he can't get back in time for 2013, he should be able to apply for a sixth year. His first redshirt was due to a shoulder injury.
Citizens for Dileo. If a ball is thrown at Drew Dileo and hits the ground, it is pass interference and should be an automatic flag. Now please let the man return punts.
Defense!
Upchurch
Could have gone better. Iowa's touchdown drive was pretty alarming. And even if Vandenberg was making all the three yard passes, it's a little disappointing when the opposing QB goes 19 of 26. Some of that was inexperience, some of it scheme—on a late third and four Michigan moved Gordon down late and used him as a man defender on a TE out successfully; previously they were using linebackers making tougher run/pass reads.
HOWEVA, I don't think I'm as down as Hoke was after the game. Guy seemed downright dispirited by a team that barely scraped over the 300 yard mark thanks to a jerky onside kick and 22 meaningless yards before halftime. Iowa went three-and-out on four of their first six drives. If the ref doesn't throw a terrible roughing the passer flag on Jordan Kovacs, they would have been facing fourth and eleven at the 32 on their field goal drive. By the time they put together the 81-yard-drive that rescued their yardage from the abyss it was 42-10 and Kovacs and others were cooling their heels on the sideline. Iowa is bad and having them do anything is bad; I'm not really sure they did much of anything other than throw it at their tight end.
Weisman coming back was a big help for them. The difference in quality between that guy and Garmon was obvious, and he still only managed 3.9 YPC.
The game in a nutshell. Michigan third down conversions: 9/12 with two of those failures subsequently converted on fourth down by Devin Gardner. Iowa: 6 of 14 and 1 of 3 on subsequent fourth downs.
worst roughing the passer ever (Upchurch)
Godspeed, Kovacs. I may get all blubbery about Denard but if Devin's going to do the things he seems like he is doing, Kovacs might actually be the guy I miss more next year in on-field terms. Do you people remember that Michigan used to give up huge long touchdowns all the time? Like, weekly.
Kovacs's utter reliability has turned Michigan into a defense that essentially never gives up anything without a chance to redzone you to death. He is literally the best safety I have experienced as a Michigan player, walk-on be damned, status be damned. All hail Kovacs.
Iowa tight end cloaking device. I like it much better when Greg Davis is operating it because the end results are decidedly non-Moeaki. Mattison likely has something to do with it.
Miscellaneous!
Weekly Devin Gardner lookalike photo. Not necessarily a thing, but after Hipster Devin last week it's a thing this week because…
Upchurch/Groening
…because it's a thing.
Brady Hoke FTW. Moments that make you think "boy I'm glad that guy isn't Michigan's coach" are flying fast and furious these days, what with Minnesota's leading receiver bombing Jerry Kill in a 4000-word tumblr post by way of announcing a transfer and Bret Bielema punting from the Ohio State 30 and Mark Dantonio punting on fourth and medium down three with three minutes left—a decision that slashed his team's chances by a third.
It is impossible to conceive of the first thing happening under Brady Hoke. Jerry Kill seems like a decent guy and doesn't have the opportunity to tell his side of the story, but it's hard to picture anyone on Michigan's team even having a side of the story. I mean, Hagerup interaction post-OSU-atrocity. QED.
And while I wouldn't put it past Hoke to freeze up in the heat of the moment (everyone does sometimes) his game theory decisions are near-perfect in two years at Michigan. Saturday, Michigan faced fourth and goal at the one, sent the kicking team out… and called timeout because Hoke was like "wait I am Brady Hoke." While the ensuing touchdown turned out to be unnecessary, it was the right move and it paid off.
Usual student complaining. Status as of "Can't Turn You Loose" soundoff, as captured by MVictors:
Usual statement of preferred policy: all freshmen get to buy tickets; after that you have to show up by kickoff at half of the games to renew.
Iowa: home of the hyphen. Iowa's moved from Inexplicably Great White Wide Receiver—who now makes his home in Minneapolis when he's not bombing Jerry Kill and leaving—to Somewhat Good Hyphenated Name Guy. They're multiplying now: Iowa iced Kevonte Martin-Manley, Henry Krieger-Coble, and Louis Trinca-Pasat this weekend.
Here
Ace instant recap:
In a way, it was fitting.

Denard Robinson's Michigan Stadium career did not begin according to script. It started with a fumbled snap, then became something magnificent.

It ended with him unable to throw a football, but still very able to take the Big House's collective breath away.
Heiko has presser recaps from Hoke and the players.
Steve Bigach had 3 tackles. I bring this up because his name is a perfect metaphor for the BIGGG TENNNNN this year. BIG ACK! (Hey, bonus points for me for working in a cat photo.)
Best:  Those Who Came and Stayed Will Always Be Champions

I know that everyone has talked up last year's seniors as epitomizing Bo's "Stay and Be Champions" motto, but I've always felt this Senior class has been given a short shrift considering the environment that existed when they decided to come to UM.  The 2011 class came to UM with a fair bit of uncertainty, what with a coaching change and a shift in offensive and defensive systems, but they all arrived on campus in a world where UM hadn't missed a bowl game since Nixon was in office and had only one .500 record over that span.  Like everyone, they figured UM would, at worst, suffer through a "down" season of 8 wins before challenging for more titles.

But we all know how that played out.  And not only did the team struggle on the field, but off it players questioned Rich Rodriguez's leadership and allegations of improprieties bubbled up before the season.  Their reality was a program coming off the worst season in their history, with an embattled coach and a media ready to burn him at the stake.  Few offensive and defensive stars could be found on the roster, highlighted by the fact that UM had two players taken in the 2009 draft and 3 in 2010, with one of them being a punting Space Emperor.
[AFTER THE JUMP: all of the links all of the links]
Elsewhere
Opponent stuff. Iowafreude is available, if you're all torn up about Iowa for some reason.
me and my emotions will fit right in!
Anyone going to the Nebby game, please start a "Can't… wait for… 2021" chant for me.
But yeah, it was fun when Michigan wasn't Michigan.

First half, second half, postgame. As of yet no Iowa blogs have offered a substantive take on the game, not that I blame them. I've been there, and I mostly posted pictures of depressed-looking otters.
Blog folk. SMQB:
Given Denard Robinson's track record at the position, I don't think it's productive to play "what if," but goodness, Michigan's offense looks like the complete package with the passing game outsourced to the arm of Devin Gardner. Robinson has always been typecast as a glorified tailback in the shotgun, anyway – that's what he was recruited to be by Rich Rodriguez – and seemed to be drifting even more inexorably in that direction before suffering the arm injury against Nebraska that's prevented him from throwing a ball over the last three weeks. Simply removing the pretense has opened up the last frontier of the offense downfield: Gardner connected on five passes covering at least 20 yards, Robinson got his with 122 as a rusher/receiver and the Wolverines went for 300 passing/200 rushing for the first time in two years under offensive coordinator Al Borges. They also scored touchdowns on each of their first six possessions, all on drives covering at least 60 yards.
There are many notions that Senior Day gives you, and I spent a lot of time speaking toward the ephemeral nature of college football players just two weeks ago, so I won't recap that.  But I also was struck today by the idea that college football is so much about "What if?"  What if this, what if that?  We can talk ourselves into almost any scenario, almost any reality, ignoring the pieces of the puzzle that don't fit our hypothetical narrative, and convincing ourselves that it was just one or two moments away from being perfect.  What didn't Devin get the QB snaps in Lincoln?  What if Devin had been playing QB that night in South Bend?  What if David Brandon were not so committed to "wow" experiences and selling our souls to Saban?  (Also note, you have many fewer of these than our friends in East Lansing this year.)  But while "what if" is comfort, what is is that which must be dealt with.  Truth be told, the reality of today, outside of Fitz's injury and Jack Kennedy not getting to throw a pass, today's reality was a good one.  Not a great one all time, but a pretty darn good one.
This isn't even about this game but by the suns I will link Bring Your Champions, They're Our Meat if given the slightest opening to:
There are No Fists Pumping in Mudvanston

Good gravy, it happened again.  Northwestern fans had already steeled ourselves for the inevitable fourth-quarter comeback; those are old hat by now, and we face them with the steely resolve of a circus freak show man preparing to receive an cannonball to the solar plexus or the late Crocodile Hunter riling up a poisonous reptile and letting it lunge its fangs near his unprotected khaki crotch.

Wikipedia page, "Richards began by letting people (including heavyweight

champion Jack Dempsey) punch him in the gut. He then progressed to letting

people jump on his belly, being struck by a two-by-four, being struck by a

sledgehammer, and finally being shot by a 104-lb. (47 kg) cannonball from a

spring-loaded 12 ft. (4 m) cannon," and then presumably finished the day by

watching Northwestern try to hold a lead in the fourth quarter.

All Northwestern had to do to walk out of the Enormous House with a rare victory was to hold on for less than 20 seconds and prevent the ball from floating 30 yards in the air, getting batted by the defender, and having Roy Roundtree somehow pluck it out of the air with one hand while falling to the turf.  College football is an engine of cruelty.
Maize and Blue Nation:
I'm not exactly sure what the formation was called, reverse wishbone maybe? But the 3-back set with Devin under center was a new look from this offense. I suspect we'll hear more about it fromthese guys. In the presser, Hoke mentioned that Borges had been wanting to get this offense to this point for the last 18 months. For reasons he declined to delve into, it just hasn't happened until now. I guess the timing of injuries and opportunities made it work this time.
Fritz. It's Fritz.
Maize and Go Blue has a transcript of the Denard portion of the presser. Recaps from Maize and Go Blue, Touch The Banner, Touch The Banner again.
Mainstream folk. Gardner tied a Michigan record with six TDs. Wojo:
One more twist, one more blurry surprise. Denard Robinson returned to the lineup just long enough to say goodbye, and to reaffirm what we already knew.

Robinson is a quarterback unlike any we've ever seen, except he left the Michigan Stadium field for the final time Saturday as a running back-quarterback-receiver, another intriguing wrinkle in a career of plenty. We saw practically a brand-new Michigan offense, with Devin Gardner excelling at quarterback and Robinson everywhere in the backfield, and the results were numbingly impressive.
Jordan Kovacs took his time, slowly blazing a path to the tunnel. When he got there, he spread his arms wide to greet fans on both sides of the entrance with a high-five.

"It was bittersweet," Kovacs said. "Obviously, it was a big win for us. That was exciting. For it to be the last time in The Big House, I'm not ready for it to end. It's been quite the journey, and I'm ready to ride it out."
Meinke on that game next week:
"It's fun," Hoke said of the series. "It is fun, because it's a great rivalry and there's a lot of respect on both sides for both programs. I mean, you ask, it's fun. It's going to be fun."

That's four "funs" in two sentences.

That's a lot of fun.
Meinke gives everyone Fs! He demands excellence!
Baumgardner listening to the Cure while writing:
"(I was just thinking) about all the memories I've had with this team, everything we went through," Robinson said following Michigan's senior day victory. "All the ups and downs we had in this stadium.

"Time went by so fast."

For Robinson, Kovacs and the rest of the Michigan senior class, it really did.

Although, at times, their careers almost certainly had to feel like an odyssey that may never end -- and if it ever did, one that would almost certainly end with frustration and pain.
Students not showing up anywhere. Moeller honored. Kovacs on whatever that was:
"A lot of times I'm just happy we're not playing our offense," senior safety Jordan Kovacssaid. "When we go against our offense in practice, we just get played. You just shake your head. I don't know what I would do [against it]. I have no idea."
Meinke asserts moot point. Numbers.