4/6/2013 – Michigan 61, Syracuse 56 – 31-7, championship game
he doesn't actually have to do anything the game is ova the queensbury thing to do is to slow up and I don't know take a foul or something or probably just wait around until the buzzer goes off
wat
srsly are you insane
DUNK
THAT
AAAIIIEEEEE
--Brian Cook's brain, 4/6/2013
That happened pretty quickly there as the brain assembled Syracuse's pregame dismissiveness of Michigan with who had the ball: Jordan Morgan. Morgan, who had just rescued Michigan's bacon by taking a charge on trash-talking Brandon Triche. Morgan, who went from a three-year starter to afterthought as Mitch McGary blew up. One technical for hanging on the rim is requested. Oh god no actually nevermind.
Morgan may not have had a bone sticking out of him a week ago but his emotional state has to be even more roiled than Kevin Ware. Ware just has to watch everything pensively and not pick his nose during the 15 minutes of gametime he is on screen. Morgan has to go out there and do things. When these things start with Morgan fumbling a sure layup out of bounds, he knows the exact tenor of the moans in the crowd, how even if only 5% of them are actually saying something nasty the rest are thinking it.
Kevin Ware's just a fan for the moment. For long stretches of this last month I've wondered if sometimes Morgan wished he could be. And the living envied the dead.
------------------------------------
This was a zombie apocalypse of a game. Most of it was spent with Michigan players peering between the trees, trying to figure out anything approximating a path to the basket. They were not forthcoming. Almost half of Michigan's attempts were from three, many of those the sort of desperation heaves that Syracuse thrives on inducing. Michigan's main accomplishment on many possessions was to not turn the ball over.
Basically every number in the box score that isn't McGary and Robinson throwing down putbacks is ugly. Stauskas: 0-5. Hardaway: 1/6 from two, 3/10 from three. Burke: 1/8. Michigan put together a strong first half on the back of some shots from outside the dome and then collapsed, scoring a miserable 0.74 PPP in the second half. And won.
Syracuse meanwhile shot 21% from 3 and only approached 50% from two because CJ Fair was knocking down sixteen-footer after sixteen-footer. Michigan's approach on offense was Lloydball not just for the harrowing final few minutes but the whole game, shutting down Syracuse's transition offense (just two fast break points) at the expense of even bothering to use Trey Burke, for the most part. There were a couple of possessions in which Burke dribbled himself to a profitable spot, and it seemed strange and frustrating on all those other possessions where he just passed it around the perimeter.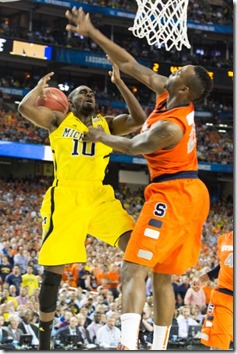 It was Big Ten grind. Thoughts turned to similar games this year when fortune and malice conspired to screw Michigan. Kansas? Don't talk to me about Kansas when Spike Albrecht misses the front end of a one-and-one. I can only think about Indiana, about that time when refs decide they Will Not Decide The Game—clean block at right via Dustin Johnston—and missed front ends and the moment Morgan fell off a cliff like the basketball he left on the rim for weeks until it decided to go the wrong way.
---------------
Morgan went away then. The next game was a 2/6 struggle against Penn State in which Morgan was quickly shuffled to the bench after a bobbling start; Mitch McGary came on, racked up a double-double, and that was pretty much that. The nail in the coffin was the next night. Morgan started against Wisconsin, racking up 3 TOs and no shots in 8 minutes. He evaporated straight off the court, opacity dropping to zero percent in front of thousands.
McGary then turned into Wes Unseld—if you haven't heard, ask Jeff Withey. It was Wally Pipping so fierce they might rename the thing, or at least provide a corollary. To get Jordan Morganed is to have your brain damaged by an on-court experience and then watch your backup eat your job in two seconds.
Unless McGary adds 40% three-point shooting to his ever-expanding repertoire—actually, I give that 50/50 at this point—Jordan Morgan's probably never going to start at Michigan again. That's rough for a player who's had confidence issues forever. Probably the first thing Michigan fans heard about the guy was MSU fans making fun of Michigan recruiting someone who infamously broke down in tears at some camp or something. Derrick Nix may have been involved. I don't remember the exact details. I do remember the implication.
Soft. Jordan Morgan was supposed to be soft. May actually be "soft," whatever that means. It's impossible to watch the ups and downs of his career and not think that he lacks the icy veins of a Trey Burke, that he probably experiences sports as oceans of terror punctuated by islands of relief. I know that feel, bro. It's an entirely different kind of courage there. To barely outrun fear is different than simply not having it.
He has done it. After the madness of the last week's Kansas ending and yesterday, Morgan's shattered quote in the aftermath of the South Dakota State game has an entirely different meaning:
"I think I was in for like two possessions, and got two stops… I mean, that's what I do."
Jordan Morgan may fumble balls out of bounds, but in the most harrowing moments of… well, probably his life, his brain worked. He knew Elijah Johnson was going too fast, too far away from the basket to get a shot. He knew he could get to the spot against Brandon Triche. He got stops. Michigan continues on.
Highlights
Game
I was torn, so deputized! By all rights Mitch McGary deserves one of these things and I haven't actually written one. The secret weapon is Ace, who I badgered into typing something up about Enormous Doom Puppy. I felt this was a bench game, though, so I wanted to focus on a bench player. Also that charge made me carefully extract one of the carefully hoarded swear words from the vault and deploy it. So… yeah.
Speaking of the bench…
This is why you burn Caris LeVert's redshirt. This is why you bring in Spike Albrecht. When they did the former I muttered a number of things about how if you think Caris can give you a few possessions of anything in a tournament game, you have to play him because this is a year in which all of the eggs go in the basket. Meanwhile, everyone in the world cocked an eyebrow at bringing in this little post-grad point guard.
All bow to John Beilein. Albrecht and Levert were collectively the only things saving Michigan from a disastrous three-point shooting night and tourney exit, going 4/5 as the rest of the team was 4/19. Levert added a couple of assists and fine defense in 21 minutes, which is a career high in games when Michigan has full complement of players*. I believe he was mostly checking James Southerland. Since Southerland is not named CJ Fair he had a crappy night.
Meanwhile I must have had a lot of company when my brain started going SPIKE WHERE IS SPIKE when Syracuse deployed their press at the end. That's quite a move, when people are moaning in all caps to themselves about your absence.
*[He had more in the CMU game, which Hardaway missed, and the MSU game at Crisler when Nik Stauskas got his face exploded by Branden Dawson's elbow.]
Also, Mitch. It says something that McGary is still making my jaw drop five games into this run. Six assists increased his career total by a third and tripled his game high, plus he shot okay (4/8) in a game where shooting "okay" is fantastic and ripped down 12 boards. What can you say? There is no comparable. If someone does this in the future, or even looks like doing this over a couple games, they will namecheck him. Because there is no one else.
The free throws, yeah. Louisville might try to exploit that with backup big Stephen Van Treese, who was instantly attacked whenever he hit the floor by Wichita. Might cost Michigan some points.
McGary part 2: boards. Michigan won the board war 36%-29%, and while that Michigan OREB number isn't too surprising against a zone, Syracuse was a crushing OREB machine all year and Michigan held them below the D-I average. Remember earlier in the year when Michigan's outstanding rebounding was the shaky tent pole propping up their entire defense? And how when that went away late in Big Ten play, it collapsed? Opponent OREB numbers in the tourney:
SDSU: 28%
VCU: 19%
Kansas: 23%
Florida: 26%
Syracuse: 29%
32% is average. The top major-conference team, Arizona, held opponents to 27%. One of Louisville's main assets is their OREB.
Wha happen? How did Syracuse almost halve Michigan's PPP in the second half? This is a thing that I'd need to watch the film closely to figure out but I have some outlines in my head: two possessions into the second half I thought Michigan should call timeout because 'Cuse had changed what they were doing in the zone and Michigan seemed confused.
One, they extended it. Two, they brought up the wing player on the left up, presenting something that looked closer to a 3-2 zone—which as far as I know does not exist—when the ball was at the top of the key. It felt like pushing out this far should have left gaps for GRIII running the baseline for lobs and whatnot but Michigan never found that play. The zone adaptation made Michigan's three-pointers seem even less like good ideas, and hampered the McGary high post game that was so effective in the first half. Michigan never really adjusted.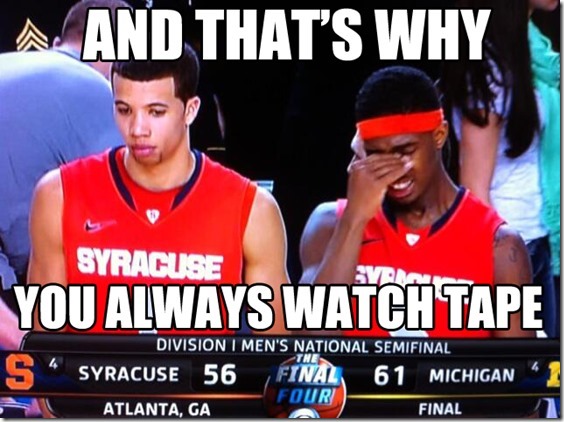 Ace
Trey at least took MCW with him. Burke had a pretty terrible night. It was nowhere near as terrible a the one he induced Michael Carter-Williams into. Syracuse came out trying to post MCW on Burke, which lasted one possession without an entry pass. They probably should have gone back to it, since for the rest of the game Carter-Williams got nothing. He was 1/6 from the floor, didn't get to the line, had just two assists to his five turnovers, and fouled out. ORTG: 28. Burke was a 90 despite the crappy shooting because of his 4:1 A:TO ratio.
Okay guy. Syracuse was in a lot of trouble at the end what with both of the starting guards having fouled out, but that Cooney guy tried to go to the basket down three with under ten seconds left. And then took a tough, contested shot. From two. Okay guy.
Random
I know that feel Rapture guy. Yup, same guy from the GIF:
I'm just glad I wasn't wearing an awesome hat that caused people to take pictures of me at whatever this juncture was.
Watching basketball in a dome. We were in the 200 level in a corner, and this was surprisingly fine. It was a bit far away but I saw the Morgan charge and immediately thought "charge"; ie, I felt I had a good idea of what was going on almost all of the time.
I thought the novelty of a Final Four would be a one-time thing and I would not return if Michigan were to make one in the future. After last night I've flipped on that. If you can stay out of the upper deck it's worth it.
So… this happened. I'm not sure whether to spank or kiss these children.
Dustin Johnston
Is the addition of he Webber pictures gratuitous or necessary shock therapy? Were these moppets close enough to the sideline that Michigan's players could see them? Did everyone in the arena immediately think about this when Michigan burned its last TO with over two minutes left? Don't know, better have been, yes.
Is there an entire article about timeouts? You betcha.
The best thing about Denard Robinson. He was there, in much better seats than I had, and there was chatter about this in my section. With three minutes left they put him on the video board and he looked exactly how I felt. In my experience this never happens* because athletes are understandably cool about the whole cheering for athletes thing. Denard Robinson looked sick with three minutes left and I was I KNOW THAT FEEL BRO and and some point during our eons-long departure from the Georgia Dome we realized he was walking 50 feet behind us and wondered if we could just, like, give him money now that his eligibility had expired. We chickened out; I think to do that at that moment would have been somehow insulting.
But anyway, I get annoyed at everything and they put Denard on the board at the Final Four and he looked like he'd eaten a sea urchin and I felt better. Denard!
*[Though I wish that Jordan Kovacs was famous enough for the world's Nantzes to put him on the video board. He was also there, wearing his hard hat and Cronin's Cronies T and getting crap about the hard hat. Kovacs, always Kovacs.]
'Cusefreude. I really like the SU blog presence—Troy Nunes is in fact an absolute magician—but they do have a terrible, RCMB-glory-days board at Syracusefans.com if you want to wallow. MGoUser "Captain" headed over to TNIAAM and recovered choice bits:
If McGary and Aaron Craft had a baby I would punch it right in the face
hat triche charge made me throw my hat at tv and it cracked LCD.... cant even watch now...

srsly cuse baseball cap thrown hard enough will crack an LCD... i learned the hard way
Jordan Morgan made someone throw their hat so hard it broke their TV. Yeah, that gets you a game column.
Elsewhere
Five Key Plays. I know you just want this one first.
Presser transcript. UMHoops recap. Terry Mills! Ann Arbor is happy. Bill Tennant, did you really say "frickin'?" I doubt it. Bacari Alexander pregame involves anything other than orange juice lol jk orange juice:
While the Wolverines are keeping themselves humbled and hungry, Alexander has to think of a motivational tool for when Michigan faces Syracuse in one of Saturday's national semifinal games.

The choice seems obvious to him — orange juice.

"You know that did happen two years ago when we played Syracuse, (a 53-50 loss), out in Atlantic City, and Evan Smotrycz, who was on our roster at the time, was quite upset that I soiled his jersey," Alexander said. "I hope Evan forgives me. Evan, if you're out there watching, I'm sorry."
Support our… screw it, you're a jerko. UMHoops photos. Jeff Goodman on Beilein:
ATLANTA -- Zack Novak sat in the stands, after being granted a few days off from his professional team in the Netherlands, watching his former coach and teammates advance to the national championship game.

"We wish you were still playing," one Michigan fan said to Novak, who graduated a year ago.

"No, you don't," he replied. "Because now you're seeing what happens when that man has talent."
Daily's Everett Cook on Morgan. Baumgardner on Morgan:
"We just told him, if we win this whole thing, you're going to have a moment," Michigan senior captain Josh Bartelstein said of Morgan. "And that's going to be the reason we win.

"And sure enough, his moment came tonight. I'm just so happy for him."
Niyo on reserves:
"I think it says we're a team — a true team" assistant coach LaVall Jordan said. "Everybody always says Trey Burke and the Wolverines. But we're a true team."

True to their word, they proved it again Saturday, as a couple freshman role players off the bench provided the early spark and a marginalized upperclassmen sealed the deal.
Boeheim's take. Good luck with this Tony Paul:
Hey, Spartans: Just this once, it's OK to cheer for Wolverines
Hope you enjoy dead cats in the mail. Baumgardner brings out the D word. Meinke on LeVert. Get thee to Crisler if you're not in Atlanta. Stauskas is okay with getting benched. MGOEEYORE IS NOT SAD