I Can Reach It This Time
12/1/2013 – Michigan 41, Ohio State 42 – 7-5, 3-5 Big Ten
Bryan Fuller
About a dozen people asked me during and after the game about how they should feel, and all I had and have is a shrug. I don't know, man. I know this is the part of the blog where I come up with The Big Feel (uh… working title) about what happened on Saturday, and I'm as jumbled as anyone else.
How are you supposed to feel after coming up one play short against an undefeated Ohio State team that was favored by three scores? How about when that makes you two of the last 13 against the Great Satan? How are you supposed to feel after watching whatever that was on offense since the Notre Dame game* turn in the second-most yards Ohio State has ceded in 123 years? After watching the mostly valiant defense turn into the Indiana outfit that necessitated the footnote in the previous sentence?
Football's ridiculous. There's that. We can all agree on that after the football gods cooked up the worst possible torture imaginable for Harvey Updyke, who is 100% at fault for the way the Iron Bowl ended. That is the only thing that actually makes sense about football, a 109-yard field goal return to beat the #1 team in the country. Football is ridiculous.
For me this is a giant ball of frustration. Sometimes you come out on the wrong end of a classic and that sucks but it's still pretty much okay because of the context of the game and the fact that you got to experience it. The 2005 Rose Bowl is the best example in Michigan's recent history. This aspired to that status, but was doomed from the start because of one question.
WHY
WHYYYYYYYYYY
------------------------------
People will say things about rivalries and sure, I believe that after watching Michigan State play Michigan for the past half-decade. There is no amount of rivalry that bridges this gap:
IOWA, 7 BIG TEN GAMES AGAINST NOT MICHIGAN: 4.9 yards per play allowed, in a pack just about tied for second in the conference behind MSU.
IOWA VS MICHIGAN: 158 yards ceded at 2.8 per play.
NEBRASKA, 7 BIG TEN GAMES AGAINST NOT MICHIGAN: 4.8 yards per play allowed, also in the pack. (Yes. Nebraska's defense was actually kind of good in Big Ten play.)
NEBRASKA VS MICHIGAN: 175 yards ceded at 2.8 per play.
OHIO STATE, 7 BIG TEN GAMES AGAINST NOT MICHIGAN: 5.0 yards per play allowed, third member of pack**.
OHIO STATE VS MICHIGAN: 603 yards ceded at 7.4 per play.
One of these things is not like the others. It's the one that doesn't make you want to listen to Pearl Jam like you're 15 and a girl just laughed at you. If Michigan does anything like what they did in this game against Nebraska, Iowa, and Penn State, they're 10-1 and shaking their fist at Michigan State's defense as the reason this game won't result in a rematch. In that context, a battle of top ten teams that goes down to the wire inside the wire, sure, classic away aw shucks it only hurts when I think about it, it's on. Which BCS bowl are we going to?
After the nine games between Notre Dame and Ohio State, that's a bit fanciful.
When Dave Brandon's not making ludicrous comparisons to Nick Saban and throwing Mike Martin, Denard Robinson, and Martavious Odoms under the bus, he's pointing out that Michigan is just two… three… four plays away from being Super Awesome Team. Anyone with eyes can see that they are three rather improbable ones away from being 4-8. Michigan was a yard away from losing to Akron, needed Desmond Morgan's best Woodson impression to beat UConn, and executed the only successful fire-drill field goal in the history of football to get to overtime against Northwestern. Fate has been kind and cruel in equal parts this year. This is a 7-5 team that finished with a losing record in conference because it deserved to.
That sucks. Putting on the fireworks against Ohio State to end the season is better than taking a steel-toed boot for three hours, but you watch them run play action that curls Jeremy Gallon back to Gardner off of that bubble-iso look and the mind argues with itself about whether it should say "hooray" and wave a little flag or "did you not want to win the Iowa game?" and wave a pitchfork.
You wonder how much earlier this progress could have come if Michigan had settled on a few simple things to start the season instead of trying to run everything that had ever been drawn up on a napkin. Or how much time they set on fire by running that gimmicky tackle over stuff that was dead as soon as it was put on film. How is it that these pieces can be assembled to put up 41 points against ND and OSU and zero (approximately) against the rest of the schedule?
Actually winning the game comes with a big old bucket of redemption. Coming that close and coming up short… well, ask Devin Gardner.
"I threw an interception to lose the game," Gardner said, his voice low and barely audible. "There's not much else I can say."
This is a person who just completed 70% of his passes for 450 yards and in the press conference after he's like me on the benches after the game, keeping my head down and trying not to hear the Ohio State fans around me. Hurting. In his case, both physically and mentally. All I've got on the former part is a sore wrist from bowling, but man did I feel that other bit at the same time he did.
This is a moral victory. It stops a large chunk of the bleeding, likely solidifies the recruiting class, and gives Hoke more stable footing going forward. And he's going to be here. It is much better than getting your head stomped.
But the thing about moral victories is that they aren't, you know, victories.
*[Indiana just gave up nearly 500 yards passing to Danny Etling. Indiana is rookie mode, and is set aside.]
**[Wisconsin at 4.8 without a Michigan game is the fourth member; Michigan is next in a tier by itself at 5.4, but then again it didn't get to play its offense; FWIW, Penn State's defense was meh at 5.7 and Michigan got 4.7 per play.]
Awards
Brady Hoke Epic Double Point Of The Week. At one point late in the game, Gardner scrambled out of the pocket, found himself alone with a defensive back, and faked a throw to absolutely no one. This got him a first down and what looked like a sprained ankle. He managed to limp back to the huddle, whereupon I felt Michigan should just run the ball because their QB needed some time to not be dead. They threw it; Gallon was wide open on a corner route; Gardner missed it badly. Because he was dead.
When not dead, he turned in a superlative performance despite being pretty much dead. Devin Gardner is tough. Yes.
Honorable mention: Gallon and Funchess are pretty good you guys. The offensive line had a pretty good day not just by their standards but by the standards of average-ish D-I teams everywhere.
Epic Double Point Standings.
2.0: Jeremy Gallon (ND, Indiana), Devin Gardner(ND, OSU)
1.0: Desmond Morgan(UConn), Devin Funchess(Minnesota), Frank Clark(PSU), Matt Wile (Nebraska), James Ross (Northwestern)
0.5: Cam Gordon (CMU), Brennen Beyer (CMU)
Brady Hoke Epic Double Fist-Pump Of The Week. In a game that was more about holding serve than field position, Michigan somehow stripping Carlos Hyde as he GRRAAAHHHHed his way towards another first down was even more important than a turnover usually is. That got Michigan back on level terms after being down a break, as it were, and provided the frenetic finish.
Honorable mention: Gallon screen goes for 84, announces that Michigan is not going to roll over dead. De'Veon Smith rumbles for 38 yards, looking like he did as a high schooler what with dudes bouncing off of him and such. That thing with Gardner pump-faking at air. Fight!
Epic Double Fist-Pumps Past.
8/31/2013: Dymonte Thomas introduces himself by blocking a punt.
9/7/2013: Jeremy Gallon spins through four Notre Dame defenders for a 61-yard touchdown.
9/14/2013: Michigan does not lose to Akron. Thanks, Thomas Gordon.
9/21/2013: Desmond Morgan's leaping one-handed spear INT saves Michigan's bacon against UConn.
10/5/2013: Fitzgerald Toussaint runs for ten yards, gets touchdown rather easily.
10/12/2013: Devin Funchess shoots up the middle of the field to catch a 40 yard touchdown, staking Michigan to a ten-point lead they wouldn't relinquish. (Right?)
10/19/2013: Thomas Gordon picks off an Indiana pass to end the Hoosiers' last drive that could have taken the lead.
11/2/2013: Clock expires.
11/9/2013: Nebraska muffs a punt through no action of Michigan's.
11/16/2013: Michigan executes a clock-running last-second field goal to get the game to OT.
11/23/2013: 404 file not found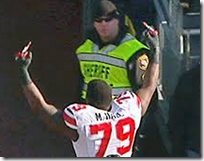 NEW! MARCUS HALL EPIC DOUBLE BIRD OF THE WEEK. At the fine suggestion of a reader, this goes to the worst, most ANGAR-inducing thing in the game. Because double birds will live forever.
Your inaugural Epic Double Bird: Devin Gardner's "fumble" that was reviewed and confirmed after about three seconds when he looks clearly, obviously down.
[AFTER THE JUMP: Throw it up at the tall guy, FIGHT, defensive implosion, further double-birding at the replay official.]
Offense
As discussed. The bit here with the overview thing was basically the game column. What do you do with that? Borges has probably the two best performances of the modern era against OSU on his M resume… and 10 games of less than 300 yards. You have permission to be maddened.
For instance…
HEY THAT SEEMS LIKE A GOOD PLAY. We're 11.9 games in to Devin Funchess's sophomore year and they finally throw the dude a go-up-n-git-it in the endzone. It works, because CUMONG OBVIOUSLY MAN.
Ace mentioned the way teams defend Calvin Johnson in the redzone on the podcast last week and since Thanksgiving is my annual Lions observation, I got a chance to confirm that. I confirm it is amazing to see teams dedicate two defenders to the guy on literally every play ten yards from the endzone. Michigan should be doing the same thing, especially when their run game is what it's been for most of the year.
I mean, ask Doran Grant if Funchess can get up. He will probably tremble and try to duck under the table. It's his safe space. (Upchurch @ right.)
Let's not change one damn thing about Funchess, BTW. With Gallon headed to the NFL, Michigan is going to need a new #1 receiver and if that's not Funchess I'll eat my hat. If Michigan tries to bulk him up over the offseason it will be a tragedy. Guy clearly has no interest in blocking except insofar as he has to to stay on the field, and he is crazy good at catching things and running with them.
Let's dump the fiction inherent in the TE next to his name and make him the glorious Minitron that he can be. He's outrunning CBs, he's outjumping everyone, he probably would have had a thousand yards receiving if he was a wideout from the start. He is a receiver. If you want to put his hand down every once in a while, okay fine. Do not make him 260 pounds. Do not have him work on his blocking (much); have him catch passes and run routes.
The most bizarre thing. Everything was bizarre about the offense's performance Saturday but nothing more so than the running back production. The problems with Ohio State's defense are mostly with the giving up long passing plays. Against the run, they are solid. Final conference-only sack-adjusted YPC:
| Team | Sack Adj YPC |
| --- | --- |
| Michigan State | 3.1 |
| Iowa | 4.1 |
| Wisconsin | 4.2 |
| Nebraska | 4.3 |
| Ohio State | 4.4 |
| Michigan | 4.5 |
| Northwestern | 5.0 |
| Penn State | 5.1 |
| Minnesota | 5.5 |
| Indiana | 6.0 |
| Purdue | 6.1 |
| Illinois | 6.5 |
Michigan State laps the field and OSU is a hair or two behind the runners up. The two runners-up who played Michigan obliterated them. Again, in games not against Michigan OSU is basically in a pile of teams competing to be the second-best outfit in the league.
So of course Ohio State allowed a combination of Green, Toussaint, and Smith to go for a combined 137 yards on 24 carries, 5.7 a pop. None of this was done with fancy business except maybe Smith running through a couple of tackles en route to his 38-yarder. Most of it was just good solid find-the-hole running, which… like… holes.
Unfortunately, the vague hope provided by Northwestern was quickly snuffed out against Iowa, so this isn't a pattern so much as a couple of blips. It is progress, for whatever reason. My theory is that the bubble stuff mostly kept people from loading up too bad and this helped the OL get some easier assignments, which made the iso/inside zone stuff effective enough that people got worried about it, which then opens other things up. With some progression from the OL that came later than usual because of all the chaos, you get an actual running game.
No longer surprised by this. [Upchurch]
A salute to Jeremy Gallon. Jeremy Gallon is going to break Michigan's single-season receiving record in the bowl game. He is at 80 catches and 1284 yards right now, 46 away from tying Braylon Edwards in 2004. He is going to set the new mark.
To be fair to Braylon, he only had twelve games to put up his yards; Gallon has 13. He needs 156 to beat him on per-game yardage. But no one else is even close. Okay, okay, Indiana, but let's take a moment to reflect on and appreciate just how great a player Gallon is. Remember the first time they threw him a fade in the endzone and you were like "NO WHAT STOP THAT… okay!" We have a "jeremy gallon is inspector gadget" tag for this reason. He just did that again against Ohio State; he's been a screen merchant and a deep threat and a security blanket and his cloaking device catch against ND that set up THE GAME IS OVA is an iconic Michigan play. So too the spin move touchdown against Notre Dame this year.
He was also so incredibly fun he got the Michigan football twitter account to do something entertaining… on purpose!
Not bad for a 5'8" dude out of Apopka who was a high school quarterback. Jeremy Gallon is an all-time Michigan great, of all time, in all departments. Jeremy Gallon, I salute you.
Also he looks like Snoop from the Wire, now and forever.
Can we get people under 70 in the booth? Devin Gardner was obviously down on his fumble but after a three-second review the call on the field was "confirmed." Michigan had about fourth and two from the OSU 40 if he's correctly ruled down. Hoke's going for it and if they get that 50/50 play they are likely to score in some capacity. Instead some guy dribbling pudding behind him everywhere he goes takes a vague glance at it and calls down to the refs with "GRITS FOR DINNER SALLY, AND MAKE 'EM WALDO. I'VE GOT A TOOTLER IN MY HOOP! ALL SAY HEY HEY FOR THE FROG GOD."
That guy is bad and should feel bad, but he's obviously incapable of distinguishing fantasy from reality. Fantasy in which he's being oiled up by a limber Urban Meyer.
Defense
Slippery when white [Upchurch]
Welp. I thought before the game Michigan's run defense would get "somewhat" exposed. Qualifier unnecessary. Michigan couldn't load the box because of the structure of the OSU offense and issues at safety, about which more in the next bullet point. Once OSU interior OL got away with single blocking Michigan's DTs, that was always going to be bad. For every crease the DTs stuffed up for probably still four yards because of Carlos Hyde they were absent on two more for 7, 8, 20 yard Hyde gallops.
Without the ability to consistently win those one on one battles, it was either risk it deep or try to get lucky as you bled them down the field. That's what the spread's good at: putting you in a position where you have to expose matchup issues.
No Wilson, Avery gone, trouble. The number one problem with the defense we didn't know about going in was on Jarrod Wilson's hand: a big ol' cast. Avery got knocked out for some reason early in the game, leaving Michigan with Thomas Gordon and Josh Furman, who you may remember tackling or being in the area of almost every one of Braxton Miller's six completions.
I got pretty frustrated by Michigan's dedication to playing it conservative even as Hyde was blasting them play in and play out, but the choice between that and either deploying Furman in man coverage or as a single deep safety was never going to be a pleasant one. Missing Ross hurt, but the obvious lack of faith in the safeties was the number one personnel issue in this game.
Number two. Not having Pipkins was brutal, for the first time. Michigan turned to Richard Ash for the first extended snaps of his career at some point in the second quarter. Not ideal when you're playing an OSU rushing offense that is a juggernaut.
Number three. Also, Ross would have been nice to have. I don't think Bolden or Gedeon played too badly in his absence, though, and that seems like issue #3 with injuries.
All that said. At some point it seems like it had become clear that playing bend but don't break was a pretty bad idea when Hyde and Miller were consistently grinding out seven yards. Michigan opened the second half with a Ryan blitz that caught Hyde for a TFL, and I thought that was going to open a new era of blitzing from all over; no dice. Michigan was in the process of getting gashed for a probably-fatal touchdown when Hyde fumbled in the midst of his sixth yard after contact.
I'm not sure Mattison had much to do with this, because OSU just presents you with a lot of bad options when you can't beat their OL. There's only so much in your bag of tricks when you have to align in a certain way or you get screens on your face.
Probably should have dropped it. I know it's impossible to expect a guy who's spent his entire life trying to get an interception to not get an interception when the opportunity presents itself, but Countess ended up providing OSU with a 55 yard punt without a return on his pick. Not much you can do about that.
Miscellaneous
TUBES
Fuller
Decision analysis du jour. Hoke had four decisions in this game that were notable, though two were pretty much identical. Those were:
1. Not trying to get a drive to end the first half. I get running the ball from your own 20 with 1:03 left in the half. I don't necessarily like it, but since a lot of Michigan's offense had been pulling screen rabbits out their hat, I understand.
Once you get 13 yards from Green on that first down, though, the equation changes significantly. Those yards count double in your decision making since they not only get you 13 yards closer to points but they push Ohio State back an equal distance if you have to punt, and since you're snapping the ball with maybe 50 seconds after the first down they have less time to do anything with it. That completely swings the decision from 50/50 to obviously try to get points.
Not doing so burns you up when you end up losing by one point.
2. Michigan goes for it on fourth and two from the OSU 14 down a touchdown near the end of the third quarter. I am about to go check the Advanced NFL Stats calculator for  baseline and I bet you a nickel this is not close…
…actually, it's sort of close. It says you're 34% to win if you go and 30% if you kick, with a break-even point of 40%. Not a slam dunk. The numbers do suggest it's the right call and in the context of the game, where Hyde is just crushing you down the field and it seems like it's about holding serve, I think that leans towards going.
Note that Hoke did that thing he sometimes does where he sends the FG team out and then thinks better of it, calling timeout and putting his offense back on the field. The whistles probably had something to do with Wile shanking it. While I'm happy Hoke overrules the natural inclination to take the safe play, I'd rather he save those timeouts, especially in the second half.
3. Michigan goes for it on fourth and two from the OSU 4 down a touchdown with just under seven minutes left. This seems like an absolute no-brainer, but in fact it is almost equally close as the earlier decision in the calculator (38% break even) and the amount of time left in the game has a huge, fascinating impact:
The break-even percentage is relatively flat from 10 minutes (41%) to 7 minutes(38%), still favoring going for it.
With six minutes left, the break even percentage skyrockets to 51%, making the decision a virtual coinflip.
With five minutes left, the break even percentage is 64%(!) and the move is kicking(!).
It's a coinflip at 4 minutes again, and 3.
It then heads in a landslide towards going for it with 2 and 1 minutes left.
This is obviously about the way coaches will play with a four point lead versus a tie game and how likely you are to get another possession. Until five minutes you should go for it because either way you are likely to get the ball back. By five minutes, the possibility that the other team goes on a game-ending scoring drive is so high you should put three points on the board and hope they run run run punt, and from there the likelihood you see the ball again steadily drops. And in fact those numbers reflect exactly what happened in this game: Ohio State went on a five-minute touchdown drive, giving Michigan an opportunity to respond.
I would have blown a gasket if Hoke kicked a field goal in that situation with five minutes left, but it might be the move. Probably not in this game when you can't stop Carlos Hyde to save your life; when your run defense is at least average, kick down a touchdown with five minutes left. I know. It's weird.
4. Michigan goes for two at the end of the game. The world wanted Hoke to do this, to the point where there have been vanishingly few complaints about it even after it didn't work, and those have been more of the "I'm not sure about that…" variety instead of the "DEATH TO EVERYTHING" variety. Rivals ran a poll and 92% voted in favor of two, even after it didn't work. That's unheard of.
I'm with everyone. That was a weird situation that did not feel like a 50/50 shot headed to overtime, especially with the relatively unproven Wile kicking and Gardner near dead. I'd take one play to win it.
(Decision I do not realistically expect any coach to make: going for two when you are down two touchdowns and score. If you score again to make that two point attempt relevant The math there assuming an average 43% conversion rate is:
43%: You lead by one.
24%: You are tied because you missed the first one and got the second one.
33%: You miss both, and are down two.
The timing was borked on this as both Michigan and OSU added touchdowns after Michigan went from 35-21 to 35-35, anyway.)
WAT. Just when you thought "by jove, this is a high quality two minute drill" at the end of the game, Michigan gets a first and goal on the two and spikes the ball with 35 seconds and a timeout. That was boggling.
The clock's stopped until you're ready to snap, and even if you take ten seconds before you snap the ball a quick fade thing to the endzone sees you with 21 seconds and a timeout with three downs, plenty of time to get in three plays, two of which can be runs (since you have a timeout and it doesn't matter if the clock runs out on fourth down).
It didn't end up mattering because the next play was the go-up-and-git-it to Funchess. If it had, large sections of Ann Arbor would be pissed off rubble.
Upchurch
FIGHT. Look man you know you would love it if that happened every year. I am all about football players swinging at each other while they're wearing helmets. It is always hilarious and spicy. Viva harmless fisticuffs, especially when they knock out RJS for two offensive contributors, one of whom immortalizes himself with a double bird as he leaves. Fights. Always fights.
As to what happened:
Norfleet did his Norfleet things—he really is a great special teams coverage guy—by dodging a blocker and getting in a horsecollar-ish tackle that takes Wilson down by the front of the shoulder pads. I assume that as this was happening Norfleet was badgering Wilson with thousand-mile-per-hour trash talk, which ended up with Wilson doing some sort of GERT ORF ME lunge at Norfleet as Norfleet leapt up to flex and whatnot. He walks away, innocent as can be, the rest of the coverage team sees something untoward, they surround Wilson, and then Wilson loses his head.
NORFLEEEEEE—DAMMIT. He finally breaks a kickoff and it gets called back for a penalty that was way away from the play. >__<
Michigan did score anyway on that drive, at least.
On a related topic, if you're mad about the Clark personal foul, don't be. I mean, do be, but be mad at Clark. After the fight he spent about 10 seconds with his helmet off woofing at the sideline, which I was 90% sure would draw a flag but did not. He'd done a lot of woofing earlier in the game, as well; at that point he was on double secret probation. He undoubtedly kept woofing one play too long. That he didn't get one earlier was charity from the refs.
I was surprised that Hoke chewed him out and then sent him right back out there, but in retrospect the meanest thing to do to a defensive lineman is ask him to deal with Carlos Hyde.
Accident? Jeremy Gallon was announced as #10 during senior day festivities. Just sayin'…
Here
Hey look it's Eric in the endzone. Brhino takes a look at all of the "one play away" games from the last decade. Would like a bit more distinction between things like Gardner needing to drive Michigan the length of the field against Ohio State last year and needing to get three yards this year, but it's a good baseline.
* Frank Clark only had one tackle. We needed more production out of him. He did have one QH that wasn't credited to him. OK, I'll admit it, I have no idea what constitutes a QH. I thought it was a QB hurry or QB hit, but Clark deposited Miller on his backside early in the game and doesn't have a QH to show for it.

* QWash didn't register a stat. If he was commanding double teams and freeing up linebackers, that would be acceptable. Instead, Ohio averaged 8.5 YPC.

* I don't know how to defend the spread. The folks that claimed it wouldn't work in the Big Ten are swimming around aimlessly in a fetid soup of cognitive dissonance today. I saw numerous posters after the game complain that Mattison didn't put 8 or 9 in the box to stop Hyde. What, and leave two wide receivers completely uncovered? The best you can do against the spread is put 7 in the box and go man-to-man with the WRs. But then you need your 4th best cover corner to stay with their WR, and if the running back breaks through the box, there is no safety to clean up. No, the best you can hope for is to win one-on-one battles along the line and get to the mesh point before they can option you. We did this once with Jake Ryan. Auburn did this numerous times to Oregon in the championship game a few years ago when Fairley and some other dude shut down Oregon. We don't have the Fairley and other dudes we need on the d-line yet.
Worst:  Lining Up for Two, Again

One thing that DID drive me crazy was that final 2-point conversion play.  Not because the first playcall was a bad idea; I like stacking WRs in short yardage because their dispersal can really disrupt a secondary and, at the very least, opens up some space in case Gardner wanted to run.  I do like having at least one receiver on the other side just to keep the defense honest, but that's a minor quibble.

But once UM lined up and OSU saw the formation, they called a TO to, I presume, align their defense in a different/better formation.  So after the timeout, what did UM do?  They lined up in (I believe) the same formation, or at least something functionally similar.  I know there are limited plays for short-yardage situations, but at least give OSU a different look, a wrinkle, something that would provide some uncertainty.  I'm not calling for the statute of liberty (though that would have been awesome), butsomething man.  Instead, it felt like OSU knew the ball was going to Dileo before the snap and played it as such, picking off the pass basically as soon as it left Gardner's hand.  It felt like the "safe" call to make in that situation, and after a game full of ballsiness and dramatic comebacks, I'd have prefer something a bit different on the reset.
I don't know about that, actually. Even after all that, Ohio State basically blew it. The guy covering Gallon is focused on Dileo; if Gardner can read that and wait a second he's got it. Instead we get what we got. It does feel like Michigan should be thinking of what OSU might do in this situation and reacting to that instead of just running their play, but that has not happened much this year.
Elsewhere
A salute to Devin Gardner. MVictors:
> Should we have gone for 2?  I liked the call, and I have trouble finding fans who disagree.  I know you are out there, but it feels like most everyone liked the balls and more importantly, the call.  If anything we should have gone for two earlier in the game as the nerds will tell you.

> Like the play?   I think most fans did not like the call, I get that, and I didn't watching it live upstairs.  That said, when I watched the replay I think if Devin throws it half a second earlier and a little more outside it might have been there.    All this said, I probably would have spread things out and gave Devin a few options.
HSR:
In the end, it was for them and we're just happy to have been a part of it.  This isn't about moral victories or taking solace in the margin being closer even if the result was what most of us expected at the beginning of the week.  It is for them.  If we doubt that, just look at Devin Gardner's face as he meets with the media after the game.  He doesn't look that way because he let us down, no, it is because he knows he let his teammates down, even if the reality of the day contradicts that feeling.  As much as any person on the field, he got his team in a position to go for that win when very few people outside of their locker room thought it was even possible.  Then they didn't get that win, and the feeling sucks, and you try telling him otherwise.
JEREMY GALLON – You do realize that Michigan will have to replace their all-time leader in receptions next year, don't you?   Did you ever guess that was going to happen when #10, I mean, #21, er, Jeremy Gallon graduates this year? Big plays and big shoes to fill for sure.

Hats off to you, Jeremy 10-Gallon-Hat!
They have now given Borges a Tlon and a negative Tlon this year, and that makes sense.
After the pass, Gardner crumpled to the ground, spent. He stayed there, his arms and legs extended out. That's what you'll remember, because that's the image that will last. This one hurts just like the loss last year, maybe even more. A win wouldn't have cured the offensive line or erased any losses. But it would've helped a lot. It would've erased some of the sting from a disappointing season. It would've put to rest any coaching rumors. So, yes, you'll remember Gardner on the ground, because that's what matters, but don't forget the rest. Don't forget how it made you believe, and Hoke too. It was a painful end, but Michigan lived it well.
Takeaways. Photos from MVictors. Touch The Banner. Midnight Maize made an appearance.