Hoops Preview: Wisconsin 2018-19 Part One
HEY FOLKS

Friday is University of Michigan night at the Pistons game. There's a postgame meet-and-greet with GRIII and five bucks from every ticket ordered through the above link will go to chronic fatigue syndrome research. The hat is no coincidence! It's Ace's hat! Not literally! But if you've listened to our very visual podcast you've no doubt seen his hat.
There are three seating options: corner, baseline, and the 200-level sideline. MGoBlog people are supposed to gather on the 200 level. Consume!
THE ESSENTIALS
WHAT
#6 Michigan (17-0) vs
#17 Wisconsin(11-6)
WHERE
Trohl Center
Madison, WI
WHEN
Noon Saturday
LINE
Michigan –1 (Kenpom)
TV
ESPN
THE US
Michigan eased back into the Big Ten schedule with three games at home and just Illinois on the road. Two of those were "B" games to Kenpom, signifying a top-100 opponent when venue is considered. Two didn't make the tiers at all.
Well, buckle up: 11 of Michigan's remaining 14 regular-season games are "A"—top 50—matchups. Those kick off on Saturday with what Kenpom projects is Michigan's second-most difficult game remaining: at Wisconsin. (The finale at Breslin is, unsurprisingly, #1.) Bart Torvik Dot Com is relatively down on Wisconsin and high on Michigan but even so this game checks in #4 amongst remaining tests. Michigan hasn't faced a team the advanced stats like this much since their two game demolition derby against UNC and Purdue back in early December.
It'll probably be fine, but the push for the conference title starts now. 
THE LINEUP CARD
Click for big.
Projected starters are in bold. Hover over headers for stat explanations. The "Should I Be Mad If He Hits A Three" methodology: we're mad if a guy who's not good at shooting somehow hits one. Yes, you're still allowed to be unhappy if a proven shooter is left open. It's a free country.
Pos.
#
Name
Yr.
Ht./Wt.
%Min
%Poss
ORtg
SIBMIHHAT
G
0
D'Mitrik Trice
So.
6'0, 187
80
22
113
No
Just A Shooter with <10% of attempts at rim. 42/46% shooting, some assists. Ventures inside line for jumpers some.
G
34
Brad Davison
So.
6'3, 206
76
18
113
No
Charge takin', nut punchin' son of a gun will get to the rim some but shoots <50% once there. 46/44% splits.
F
21
Khalil Iverson
Sr.
6'5, 217
56
13
104
God yes
D-first garbage man is 0/27 from 3 over last 1.5 years. Usage evaporated once other guys came back.
F
35
Nate Reuvers
So.
6'11 240
52
19
118
No
Heir apparent at C spends most of his time as stretch 4. Top 50 block rate, 60/39% splits, rock bottom TO rate. Awkward fit on D at 4 but upgrade on Happ for 8 MPG.
C
22
Ethan Happ
Sr.
6'10, 237
79
35
110
Yes
Unique point-center has top 50 assist rate, giant usage, good efficiency, and a major achilles heel: 49% on FTs. Not super athletic and can get eaten up by bigger, jumpier Cs.
G
23
Kobe King
Fr.*
6'4 203
49
13
116
No
Efficient when called upon with ability to get to rack but attacks rarely.
G
1
Brevin Pritzl
Jr.
6'3, 198
48
12
125
No
Even more tilted towards Just A Shooter this year. 75% of his shots from 3, hitting 34%.
F
2
Aleem Ford
So.
6'8, 220
29
15
88
Sorta
Just A Shooter hitting 31%. 6 two-point FGAs all season.
F
15
Charles Thomas
Sr.
6'8, 250
13
25
106
Maybe
Bit player gets a few minutes here and there.
[Hit THE JUMP for the rest of the preview.]
THE THEM
Happ has been Happ since Zak Irvin was on the team [Bryan Fuller]
Wisconsin was back… and now they're less back. A 10-2 start featured wins over Xavier, Oklahoma, NC State and Iowa with understandable setbacks against Kenpom #1 Virginia (on a neutral court) and in overtime at Marquette. D'Mitrik Trice was on fire from three, hitting well over 50%. A protected seed beckoned.
Then the roof caved in. Wisconsin's lost four of their last five. Two of these are to top-20 Kenpom teams in Purdue and Maryland. Two are… not. Wisconsin put up 14 first-half points against Minnesota at home and could not claw their way back. An odd trip to Western Kentucky resulted in a seven-point loss.
The series of narrow losses (Wisconsin is #325 in Kenpom's "luck" metric) and the general brutality of the Big Ten now have the Badgers 1) in the Kenpom top 20 and 2) projected to barely scrape above .500 in conference play. A home game against Michigan is a massive opportunity.
As far as the basketballing goes, this is a much deeper and better team but stylistically almost identical to last year's Badgers. Ethan Happ gets giant usage and contends for Kenpom POY. If you leave him alone in the post he goes to work. If you double him, or think about doubling him, or think about thinking about doubling him he finds someone open for three. Surely everyone reading this post is familiar with Ethan Happ by now. If not:
The senior version is essentially identical to last year's edition; Happ maxed out as a sophomore and has been been in the Happ zone since. The only difference this year is that Happ's steal rate, which was downright stunning for a big his first two years, has dropped. He went from top 25 two years ago to 115th in 2017-18; this year it's halved. Keeping Happ on the floor has taken priority.
Of note is that Happ's yearly FT% has gone 64%, 50%, 55%, 49%, so if Austin Davis wants to foul out in eight minutes that's perfectly fine. Encouraged, even.
The other key cogs in the offense are the two starting guards. D'Mitrik Trice returned from a season-ending injury on fire. He was the Kenpom MVP of Wisconsin's important nonconference wins over Oklahoma and NC State because he went 7/8 and 4/5 from three, respectively. He was 5/5 against Xavier, 4/8 against Iowa, etc.
It couldn't last and it didn't. In Wisconsin's last eight games Trice is 17/53 from deep, which is a 32% conversion rate. His ORTGs during this five game stretch with one win: 84, 59, 76, 97, 110. Word appears to be Out. Trice has next to no ability to get to the rim—just 17 attempts on the season and 7 makes—so if you press up on him his options are to jack a difficult three or work his way inside the line for a jumper. He's pretty good at those but you can't eat off two point jumpers alone.
Trice does have a TO rate of 12 and is the only non-Happ with a decent assist rate (16) so he's not quite Just A Shooter. But he's close. Hopefully Michigan's ability to suffocate folks behind the arc hits him hard.
Trice's backcourt mate Brad Davison is the most Wisconsin guy on the roster. This means many things. There are charge compilations.
The Brad Davison charge compilation we deserve @BadgerMBBpic.twitter.com/YeIiODDhgZ

— NCAA March Madness (@marchmadness) November 28, 2018
There is gamesmanship worthy of deportation.
And occasionally someone's zingers-and-mash gets the business.
Brad Davison channeling his inner Grayson Allen... pic.twitter.com/8dbKLP2aLY

— Screen The Screener Podcast (@STheSPodcast) December 9, 2018
When not drawing the ire of a nation, Davison hits 46/44% from the floor and creates a large majority of his shots inside the arc. These aren't always great shots but Davison, unlike the rest of UW's backcourt players, will put his head down and get to the rim. His conversion rate there is dire, but the first step is getting there. Like everyone else on the team he has a rock-bottom TO rate; his versatility portends well for him down the road. Even right now he's a pretty efficient average-ish usage player.
Sophomore Nate Reuvers is the last Wisconsin player with usage that's not in the afterthought zone. He's a 6'11" stretch 5 in the mold of… every single Wisconsin center before Happ. Happ's presence pushes most of his minutes to the four, where he's been very efficient everywhere except the free throw line (60/39/64) with—surprise—a rock bottom TO rate.
Reuvers seems like he'd be an awkward fit on defense as a four but his massive block rate more than makes up for the increased rate of threes that go up. One wonders why Reuvers is only getting about 20 MPG: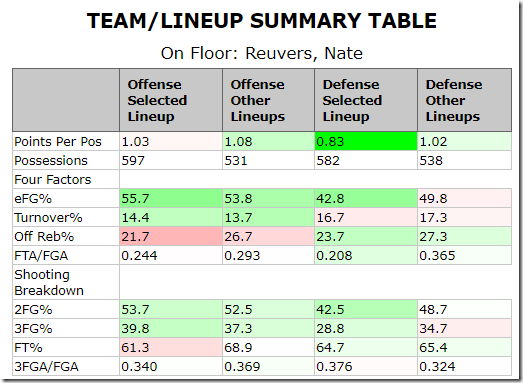 A little bit of three point luck on defense there but that's a giant efficiency gap. Matchup issues are probably the, uh, issue: like Isaiah Livers there are defensive matchups he can hack and ones he can't. Reuvers may be a major asset against a non-driver at the four but would struggle against, say, Ignas Brazdeikis.
Reuvers doesn't have much post game, with 75% of his makes there assisted, but does have a little; he is excellent on other twos (49%) to go with his near-40% three point shooting. He's legit.
From here on out it's bit players. The final starter is senior Khalil Iverson, who was an amazing 0/24 from three last year. This year he's 0/3. Iverson's minutes and (especially) usage have dropped substantially this year; despite that his efficiency has also dropped. Iverson has always been a garbage-man around the rim who thrives on putbacks and assists; this year his conversion rate at the rim has dropped considerably.
That's incidental to what Wisconsin really wants out of Iverson. What they want is a guy who shuts down the opposition's biggest threat:
"I think Khalil is starting to evolve into a more consistent defensive stopper," Gard said after Iverson helped hold Mason to 11 points on 5-for-18 shooting on Monday. …

"Obviously, athletically, he has all the tools. Now it's a matter of gathering all the wisdom that comes with that experience. You just can't have the tools and become a good defensive player. You have to gain experience and understand what you can do, what you can't do, some tricks of the trade."
With Happ, Davison, and Trice sucking up all that usage Wisconsin has the luxury of throwing Iverson out there.
Wisconsin's bench comes in to huck up threes and does almost nothing else. Aleem Ford and Brevin Pritzl are extreme Just Shooters, except Ford has an ugly TO rate for a guy with 6 two-point attempts on the season. Redshirt freshman Kobe King does get a fair number of shots inside the arc and a solid proportion of them are actually at the rim, but like the other two main components of the bench he's an afterthought with usage barely above 10%.
THE TEMPO-FREE
After last year's disappointment this offense has snapped back to a Typical Wisconsin Offense. That's not a whole lot different than a Typical Beilein Offense. You know the drill:
Good shooting, especially from three(19th at 39%).
A rock bottom turnover rate (4th nationally).
Rock bottom tempo (339th).
Few OREBs (309th).
Few free throws (308th).
Wisconsin has two deviations from the typical pattern. Their three point volume is low, as you'd expect from a team with Ethan Happ and another non-shooter in the starting lineup. And their free throw shooting is ugly. Again this is mostly Happ but both Reuvers and Iverson are also in the low 60s.
Wisconsin's defense has also bounced back significantly, thanks in large part of the emergence of Reuvers. It, too, is Wisconsin through and through, trading aggression for a bunch of contested shots. The Badgers are 30th in two-point D, keep opponents off the line, clean up their own boards, and do a decent job of preventing threes from going up.
These programs have evolved into mirror images of each other.
THE KEYS
Happ vs Teske. The common thread during this recent Wisconsin slide is giant usage from Happ but not much efficiency. WKU—which inexplicably has 5*, 6'11" future NBA center Charles Bassey—held Happ to 9/23 from the floor. Minnesota ate an 8/12 night from two but Happ was just 1/7 from the line and had three TOs. Purdue had to double constantly with a freshman C playing most of the game and ate a 14/17 night and six Happ assists but also forced nine turnovers. Only Maryland and their dual NBA posts were able to get Happ's usage down into the realm of the sane.
Michigan is going to give Teske a slap on the back and wish him luck, and that's probably the right move. Last year Michigan won by 9 at the Trohl Center despite Happ getting 29 points, because he took 26 shot equivalents to get there. The operative number from Michigan's perspective: two assists.
That was almost entirely a Wagner performance—Teske got nine minutes. And while Michigan's two-point D is evidence enough that Teske is a hell of a defender, his results against back-to-the-basket post-up threats haven't kept up with his pick and roll excellence. A brief survey:
Dererk Pardon went 10/12 and 8/9 from two.
Mike Watkins went 8/11, albeit on a bunch of heavily contested shots.
Giorgi Bezhanishvili went 6/10.
Juwan Morgan had 25 on 25 shot equivalents and was 7/17 from two.
Nobody else on the schedule to date has much or any post-up game. This is one good performance, a couple of guys who hit some tough shots, and then Pardon giving Teske the business.
Michigan's had the luxury of no mid-week game to prep for the Badgers, so it's put up or shut up time for Teske as a shutdown post C.
Get in their grills. Outside of Happ, Wisconsin is devoid of guys who can create good shots for themselves. Trice, Ford, and Pritzl all get less than 20% of their shots at the rim; Davison does get there some but converts at 49%. Trice's crazy efficiency has dipped as teams focus on getting up on him and forcing bad shots if they're going to be from three; Michigan is extremely good at doing this to the opposition.
Get after Reuvers. If Iggy turns out to be a terrible defensive matchup for Reuvers, Wisconsin's options are to live with it or give minutes to a one-dimensional bench player. Reuvers's minutes were notably restricted against Iowa, which usually plays Tyler Cook at the four, and NC State, which has 118 ORTG slasher Dorin Torn there. Teams that don't have a high usage four, or have a guy more inclined to post up, allow Reuvers and his excellent help D to stay on the court for more minutes.
Shot volume. This is going to be a slow, low-possession game. Both teams are in the 330s in offensive tempo. Both teams are going to take care of the ball and largely abandon the offensive boards. But there are degrees. Michigan's weak spot on D is forcing turnovers, but they're 111th; Wisconsin is 244th. The same goes for offensive rebounding: Michigan is not good but is also 100 spots better than the Badgers.
That OREB gap gets even more pronounced against top 100 foes; if Michigan can chisel out a 5-10 shot advantage it'll be tough for Wisconsin to make up the gap since they're not likely to be getting high quality shots on the regular.
THE SECTION WHERE I PREDICT THE SAME THING KENPOM DOES
Michigan by 1.