Hoops Preview: 2018-19 Wisconsin Part Two
THE ESSENTIALS
WHAT
#6 Michigan (21-2) vs
#11 Wisconsin (17-6)
WHERE
Crisler Arena
Ann Arbor, MI
WHEN
Noon Saturday
LINE
Michigan –5, 68% to win (Kenpom)
Michigan –6.8, 79% to win (Torvik)
TV
FOX
THE US
Michigan was able to hold a Rutgers team that's officially "pesky" at arm's length in their last outing. At virtually the same time Michigan State provided a welcome batch of perspective by losing to Illinois. Also a welcome opening of the conference race, which Kenpom now projects as a three-way tie between the two Michigan schools and resurgent Purdue.
The Boilers have cleared the brutal part of its schedule and now settle in for a home stretch with just one top-20 game, that at Maryland. Michigan, on the other hand, has five top-20 opponents in their final eight games. A return date against Wisconsin is first up, and probably mandatory if Michigan wants to keep pace.
THE LINEUP CARD
Click for big.
Projected starters are in bold. Hover over headers for stat explanations. The "Should I Be Mad If He Hits A Three" methodology: we're mad if a guy who's not good at shooting somehow hits one. Yes, you're still allowed to be unhappy if a proven shooter is left open. It's a free country.
Pos.
#
Name
Yr.
Ht./Wt.
%Min
%Poss
ORtg
SIBMIHHAT
G
0
D'Mitrik Trice
So.
6'0, 187
81
22
110
No
Still just a shooter who never gets to the rim. 42/45 shooting splits.
G
34
Brad Davison
So.
6'3, 206
78
18
113
No
Grayson Allen if he looked like the illicit son of R Lee Emery and Matt Damon.
F
21
Khalil Iverson
Sr.
6'5, 217
53
14
101
God yes
Burlywing played only 9 minutes in first game. Dunks on others assists for most of points.
F
35
Nate Reuvers
So.
6'11 240
53
20
114
No
Heir apparent at C spends most of his time as stretch 4. Top 50 block rate, 60/39% splits, rock bottom TO rate.
C
22
Ethan Happ
Sr.
6'10, 237
79
35
109
Yes
Unique point-center has top 50 assist rate, giant usage, good efficiency, and a major achilles heel: 47% on FTs. Not super athletic and can get eaten up by bigger, jumpier Cs.
G
23
Kobe King
Fr.*
6'4 203
49
11
116
No
31 mins in first game, hit 2/2 from three and 0/2 from two. Will get to rack a little but usage is rock bottom.
G
1
Brevin Pritzl
Jr.
6'3, 198
48
11
129
No
Just A Shooter, hitting 40%, 50% in Big Ten play but on just 26 attempts.
F
2
Aleem Ford
So.
6'8, 220
32
15
89
Sorta
Just A Shooter, horrible (21%) from three in Big Ten play. Naturally hit 2/3 in first game.
F
15
Charles Thomas
Sr.
6'8, 250
12
26
104
Maybe
Bit player gets a few minutes here and there.
[Hit THE JUMP for the rest of the preview.]
THE THEM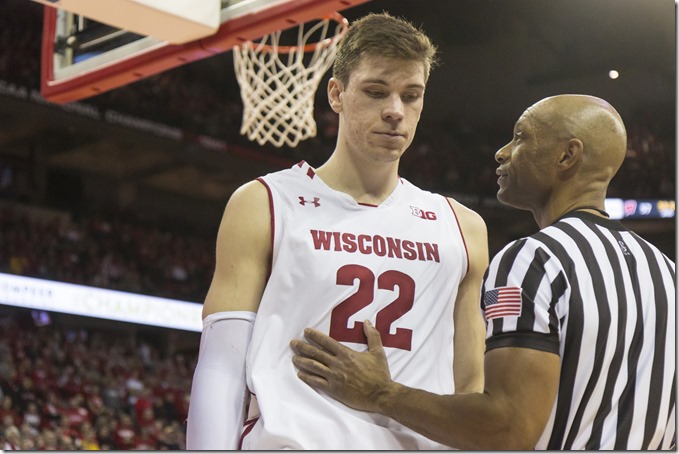 [Barron]
As with previous rematch editions of these posts, this is the same team Michigan played earlier this year: Ethan Happ is #2 in the KPOY race with giant usage and a similarly giant assist rate. Wisconsin surrounds him with guys who do little other than shoot on offense and play that uniquely frustrating brand of flop-tastic Wisconsin defense with various people who should be shot into the sun. The previous post's The Them section is still on point.
The usual errata:
Happ's FT% has dropped another couple points to 47%.
D'Mitrik Trice is 12/29 from three over his last six, a bounce-back from a meh stretch leading up to the Michigan game. He's now 29/86 (34%) since cooling off from his torrid start. Scouting report is out.
Khalil Iverson has added one more consecutive missed three to his current streak, which now sits at 28.
Brad Davison added another embed to the growing pile of evidence he's garbage.
Anyone catch Brad Davison's attempt at taking out Jordan Murphy? #Gophers @NadineBabu @GopherHole pic.twitter.com/xlbE7H6jxE

— Andy Habhegger (@Habby831) February 7, 2019
In non-errata news, Wisconsin elected to cover Ignas Brazdeikis with Ethan Happ for much of the game in the Trohl Center and this worked better than their wildest dreams: Iggy put up a goose egg and Reuvers, a better defender, was able to help gum up Michigan's pick and roll game, as Alex detailed. Michigan will no doubt have better ways for Iggy to attack whichever 5 Wisconsin decides to put on him.
THE TEMPO-FREE
Since the last matchup Wisconsin's offense has become a slightly more extreme version of itself, moving from 19th to 9th in 3P%, sliding up a slot to third in TO rate, and getting marginally worse at already 300+ offensive rebounding and FTA/FGA rankings. It is now even more of a Typical Beilein/Wisconsin offense, at least by statistical shape, than it was before. (A team that generates most of its shots off post-ups is obviously not a Beilein offense stylistically.)
It remains imperative to limit Wisconsin's attempts from behind the arc, where they hit 40%; inside they're just 145th nationally. Wisconsin doesn't get a lot of shots off from deep—they're 262nd—despite the fact that their two guards will take and hit unassisted threes.
You will be aware of Wisconsin's defensive style: sag off everything inside the line, give you a bunch of midrange two looks, floppity flop flop flop. Reuvers has been a giant difference-maker for them. More or less the same crew of guys was 203rd in defending twos a year ago as Reuvers pupated with just over 10 MPG. Now he's out there most of the time and Wisconsin is 12th.
THE KEYS
Defense like you generally do. Michigan's defense was fine against the Badgers, who had 57 points on 63 possessions until the late garbage with the Brazdeikis no-call-and-then-flagrant followed by some goofy meaningless stuff that pushed the final margin from four to ten. Happ was 12/22 from the floor on mostly tough shots; Trice did nothing; there's not a whole lot you can do that will slide your expected PPP much lower against what is a top 30 Kenpom offense.
Doubling off Iverson is nice in theory but he only got nine minutes in the last game; everyone else on the roster except Aleem Ford (28%) is shooting 40%+ from three. Just live with Happ putting up shots against Teske and win by scoring a PPP.
Consider Hack-a-Happ, though. A 47% FT shooter shooting a one-and-one has an expected return of 0.69 PPP, so you should probably do it during the window that's possible. Would take a few minutes of pressure off of Teske.
[Barron]
Iggy. Obviously. Zero points at the Trohl Center. Will be covered by a 5. Just lit up Rutgers with a bunch of 1-4 pick and roll against a 240-pound paint-bound power forward. Michigan must flip that defensive matchup into an advantage.
In other pick and roll news, the drop coverage Wisconsin runs incessantly is vulnerable to off the dribble threes, so Poole PNR is another option.
Midrange twos. Wisconsin forces a ton into the midrange (26th nationally) and those shots don't go down (25th), which is an ugly ugly matchup for a Michigan team that takes too many midrange shots and converts just 31% of them. Michigan was 5/19 on other twos in the first game, with Poole hitting 3/8 and nobody else approaching acceptable conversion levels.
Michigan is inevitably going to be forced into a fair number of two point jumpers, and then it's just about making some of them.
[Barron]
Dad Bravison calls. The strangest thing about Brad Davison's emergence into the league's Scumbag Steve is the impact it's had on charge calls leaguewide. You can't flip on a Big Ten game these days without seeing an obvious legitimate charge ignored. It's clear that there's been a leaguewide memo about flops… that does not seem to apply to Wisconsin, which didn't commit a foul of any sort in the first half against Minnesota.
At least they did get called for various flops in the second half? I dunno. But neither team can really afford foul trouble. These games almost never feature any; in the current environment it might be more dangerous to try to take a charge than drive the lane.
THE SECTION WHERE I PREDICT THE SAME THING KENPOM DOES
Michigan by 5.