Hoops Preview 2018-19: Wings
Gone are Muhammad-Ali Abdur-Rahkman and Duncan Robinson. Enter Ignas Brazdeikis, Brandon Johns, and Adrien Nunez.
Despite losing two significant rotation members from last year's squad, the depth at wing should stabilize Michigan as the team looks to repeat last year's March run.
Charles Matthews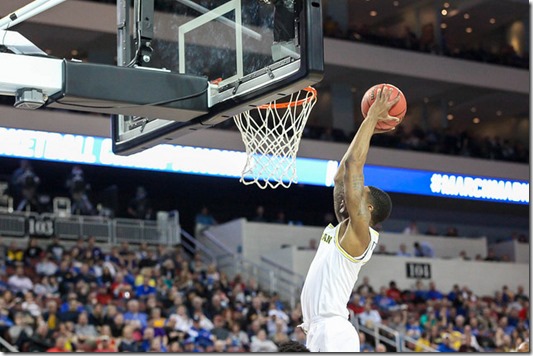 [Bryan Fuller]
Year: Senior
Measurables: 6'6'', 205
Base Stats: 30.1 MPG, 13.0 PPG, 58/32/56 2P/3P/FT%, 5.5 REB/G, 2.4 AST/G, 2.0 TO/G
Key Advanced Metrics: 25.1% usage, 105.7 ORating, 16.1 assist %, 14.7 turnover %, 17.0 total rebound %
Following a brief flirtation with the NBA Draft, Charles Matthews decided that his time in Ann Arbor was not complete.
Matthews' first season under John Beilein was a bit of a roller coaster, but it ended strong with great play in March. Transferring from Kentucky, Matthews was learning a completely new system and implementing novel concepts during game play didn't come without its struggles:
"I came into the season, we're going over plays and the freshmen were looking at me. And I was like y'all are going to have to look at somebody else. I don't know this stuff either." 
Now with a full season under his belt, Matthews will be expected to shoulder a heavier burden.
With the departure of MAAR, Matthews is the only proven playmaker Beilein has among wings. Although he sometimes over-dribbles, Matthews developed chemistry with Jon Teske in the pick and roll last season and he will continued to be called upon to summon it to create shots for both himself and others.
When he's off the ball, Matthews showed an ability to recognize and occupy open space via cuts leading to easy buckets.
Defensively, Matthews often took the task of defending the best opposing wing and did so admirably. His athleticism and strength provide real deterrents for bigger wings and help slow down offense that has given Michigan trouble for years.
If Michigan is going to have a deep run in March again, Charles Matthews will need to be a big part of it. With his physical abilities and developing skills and chemistry in Beilein's offense, it's entirely possible that he can play just that type of role.
Ignas Brazdeikis
[Marc-Gregor Campredon]
Year: Freshman
Measurables: 6'7'', 215
Recruiting Profile (Hello post): Four-star, #9 PF, #40 overall (247 Composite)
Arriving in Ann Arbor via Ontario, Ignas Brazdeikis earned the starting spot in Michigan's first exhibition game against Northwood.
Brazdeikis is a unique freshman in that he appears likely to play multiple positions for the Wolverines right out of the gate. Beilein makes a point of defining player's roles and that's especially true among his young players who have a lot to learn in his new, complex system.
But Brazdeikis isn't your typical freshman.
At 6'7, he possesses the size to play power forward but the skill and athleticism to move up as high as the shooting guard position. He moves fluidly on the court and can attack mismatches, both big and small, that will remind many Michigan fans of Moritz Wagner.
Of course, that's not to say that Brazdeikis will produce at the level of Wagner as a freshman, but his versatility in all lineups will help fill a void left by Wagner's departure.
As with all freshmen, there will be ups and downs with Brazdeikis' first season in Ann Arbor. But his intriguing skill set makes it likely that the ups will be far higher than with your typical first-year player.
[After THE JUMP: Livers, Nunez, Johns]
Isaiah Livers
[Marc-Gregor Campredon]
Year: Sophomore
Measurables: 6'7'', 235
Base Stats: 15.1 MPG, 3.4 PPG, 59/36/67 2P/3P/FT%, 2.3 REB/G, 16 assists, 12 steals, 11 blocks
Key Advanced Metrics: 12.8% usage, 110.3 ORating, 99.2 DRating, 11.4 defensive rebound %
After starting over half of Michigan's games in 2017-18, Isaiah Livers will begin 2018-19 coming off the bench.
Despite the formal difference in role, John Beilein explained that the change isn't a major one:
"The same way he did last year, he was a starter in name only and we would get Duncan in there and he would fill his role. He might've played more minutes, in our scrimmage, he might've played more minutes than anyone in our scrimmage. He gives us a presence defensively where he's talking and doing some things."
Those things Beilein is referring to are those mostly go under the radar. Livers has great size and athleticism which makes him a solid man defender, but his major defensive value lies in his help defense.
But it's help defense not in the way that most people think about the term. Livers doesn't block a ton of shots, he doesn't steal a ton of passes. Rather, he does the little things in terms of positioning that makes the job of his teammates easier. Sometimes it's shading towards an over-matched guard to prevent easy penetration. Sometimes it's feigning help to discourage action. It doesn't hit the highlight reel or the box score, but it matters greatly.
Perhaps the most significant help defense Livers provided last season was via switches. We detailed previously how Luke Yaklich has improved the defensive scheme in terms of off-ball switching. That played a critical role in Michigan's success last year and Livers was the most impressive Wolverine in grasping those concepts.
Offensively, Livers provides a subtle but important role, similar to that of Glenn Robinson III in years past. As a 36 percent shooter from deep, he forces defenses to account for him when he plants himself in the corner to help spacing. And when they don't give him enough credit, he hurts them with his athleticism along the baseline.
He's not the sexiest player on this year's team, but Isaiah Livers is exactly the type of player that Beilein loves and relies on, and he'll be important in anchoring the bench this coming season.
Brandon Johns
[Marc-Gregor Campredon]
Year: Freshman
Measurables: 6'8'', 225
Recruiting Profile (Hello post): Four-star, #16 PF, #70 overall (247 Composite)
One of the more surprising recent basketball recruiting stories came last year when Beilein poached highly-touted Brandon Johns from East Lansing.
Michigan fans couldn't help but get excited when Johns' highlight video reached YouTube. The highlights depict a superior talent who scored just in nearly every way in high school.
Most striking is what a physical specimen Johns was as a senior. He towered over his counterparts while displaying fascinating athleticism that smaller players couldn't handle.
Those are the same reasons that Wolverine fans need to hit the brakes and adjust expectations for Johns' freshman season.
In high school, he was able to simply overpower and out-talent his opponents. At the next level, he'll enjoy an advantage in those areas most of the time, but not nearly to the same extreme. In college, Johns will need to adjust and learn to find ways to score and make plays in forms that aren't simply a product of his size and speed.
With Livers and Brazdeikis likely to fill most of the minutes at the four, Johns will need to forge a role as a small-ball five.
And the center position is probably the best transition for him.
There, he will be able to take advantage of his athleticism against slower defenders and wreak havoc as an off-ball threat. The minutes may be minimal, especially early in the year, given how raw he is currently, but the five is his best chance to take advantage of his athleticism while working during practice to develop the skills he will need long-term.
Adrien Nunez
[Marc-Gregor Campredon]
Year: Freshman
Measurables: 6'6'', 220
Recruiting Profile (Hello post): Three-star, #62 SG, #304 overall (247 Composite)
Among Michigan's impressive incoming freshmen class, Adrien Nunez is easily the largest unknown.
He was largely off the recruiting radar for much of high school career, but he emerged as an option following a solid senior season.
Nunez doesn't jump off the film as a major athlete, but his high school coach believes that he can translate to the next level in that respect:
"In certain areas he's very athletic, in others he needs to improve, but he's a Division I athlete," Quinn said. "He's just got to be taken to the next level. He keeps it simple on the court, looks to shoot, and when he penetrates he's looking to score more … there are times he needs to learn to kick it out.
When watching his highlights, one thing is clear: he has a terrific shooting stroke. Nunez is a strong candidate to redshirt, but if injuries hit Michigan hard this year, he could find a role as a spot-up shooter along the perimeter.