Holes, And The Digging Out Of Them
11/26/2016 – Michigan 32, Florida State 33 – 10-3, 6-2 Big Ten, season over
[Joseph Dressler]
I can feel the hot take brigade trying to get through the door already: tweets about how much of this gets put on Drevno, the near certainty I'm going to hear something that sets my teeth on edge on WTKA this Thursday. Michigan's epic season ended with a wet fart, yes. In the aftermath I don't care to complain about it. I don't care to argue about what Michigan should or should not have done, or just... whatever.
Jim Harbaugh is an elite coach. The man has a track record. He is going to be here for a long time. His teams will be very good and often great, and sometimes they will meet other very good or great football teams, whereupon they will play a close, exciting game that will turn on one or two plays that are made or are not made. I hope they win these games. If they don't, they don't. Michigan's done all they can do and now it's time to sit back and see what happens.
That could be an extremely long period of being very good and not breaking through to satisfy the moist goatee brigade. The annals of sports are littered with excellent teams that met other excellent teams and didn't win. The difference there is razor thin and largely determined by luck.
Michigan isn't that juggernaut just yet. They were about 85% of one. The remaining 15% was why a one-point game felt lopsided for 58 minutes: the offensive line.
---------------------------------------------
FSU's defensive gameplan was simple, and weird: move one of the best defensive ends in the country to DT. The guy you saw running into the backfield virtually untouched all game was, yes, DeMarcus Walker. Michigan's inability to handle him was total. He racked up a +9.7 in PFF's grading, which is a single-game season high for Michigan or its opponents. That's a good season total for many players. Walker had ten pressure events in 45 pass rush snaps and crushed some runs besides. A quick review of the game confirms that Walker killed everything, with an assist from Derrick Nnadi on the other guard.
The two guys with tire treads on their jerseys in the aftermath are at very different points in their career, but the reason they were put in that spot is the same. Ben Bredeson is a freshman who should not be playing yet. Kyle Kalis is a senior who's played too much. Both had to be on the field because there was almost literally nobody else available.
David Dawson's apparently so far from the field that he decided to transfer before taking his shot at a starting job this spring; Juwann Bushell-Beatty's brief cameo after the Newsome injury was the impetus for inserting Bredeson in the first place. Everyone else is either Patrick Kugler, a low-rated redshirt freshman, or a true freshman. If Kugler's a miss, and it appears that way, you have no choice but to die in a fire.
That goes back to Michigan's inability to evaluate, recruit, or develop offensive linemen under Brady Hoke. Hoke could find an All Big Ten DT under a rock; he and his staff had no idea what a good player on offense looked like, and this was most true on the offensive line. Michigan's six-man 2013 OL class is down to Kugler. None of the five departures was particularly close to breaking through.
The next year Michigan took just two OL, which is always a terrible idea. One of them, Bushell-Beatty, was the guy replaced when Bredeson stepped into the starting lineup. Hoke's final class had just one guy who signed, three-star legacy Jon Runyan Jr. Newsome committed in the interregnum; Michigan added Nolan Ulizio in the late scramble.
None of these guys started getting coached well until Harbaugh arrived, and the damage could only be mitigated, not undone. Sometimes OL don't work out, and sometimes you have to keep playing the ones that don't because you don't have anyone else, and sometimes this results in an elite defensive line digesting your quarterback.
------------------------------------------
I don't know, man. I started this season's coverage off by proclaiming this to be The Year, and it more or less was. Michigan spent most of the season in the top five of the human polls and #1 in fancystats. They're about to send a dozen guys to the NFL draft. They played like an elite team for most of the season, and if you think losing in double OT in the Horseshoe with an injured quarterback and a rain of terrible calls is some sort of stain on your honor, well... I cannot help you.
The difference between an epic season and a merely good one was razor thin and largely due to the vagaries of fate. Michigan had two spots at which they absolutely could not afford any injuries. They got it in the face at both spots. Grant Newsome went out for the season, paving the way for a true freshman to start. Wilton Speight missed the Indiana game; it's unknown how much of his late slide was due to that collarbone/shoulder injury. Survey says: enough to make a difference, probably.
So they did not win all the things. That sucks. They were very good at all the things it was reasonable to be very good at, though, and that should offer some more confidence going forward. If that's a disappointment I'm with you; if it's an outrage the door is that way.
AWARDS
Known Friends And Trusted Agents Of The Week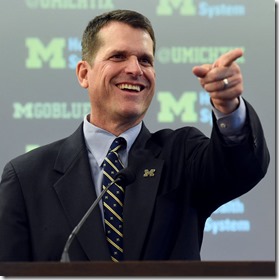 you're the man now, dog
#1 Kenny Allen did the impossible: he graded out positively in all three kicking facets per PFF. His eight punts for 47 yards each, 44 yard net, nine return yards ceded, and lone touchback was worth a whopping +0.5 to Pro Football Focus Punter Batman. He hit three chip shot field goals and only had one of his kickoffs end up returnable—alas, that.
Also he terrified the FSU punt returner into a terrible muff that set Michigan up at the one.
#2 Taco Charlton kicked off his day by delivering the kind of hit to Deondre Francois that triggers the Deondre Francois Gets Obliterated Repeatedly montage that follows the poor kid around wherever he goes. He wasn't blocked on that one. On a bunch of other plays he was, usually by Roderick Johnson. Johnson, an All-ACC player who was the best player on the FSU line, ended up –2.2 to PFF and Charlton had a sack to go with four QB hits. Good luck in the NFL, sir.
#3 Ryan Glasgow had a similar day against worse competition, forcing a bunch of pressure up the middle and helping shut off Dalvin Cook, with a couple of Dalvin Cook exceptions.
Honorable mention: Maurice Hurst had another extremely productive day in limited snaps. Chris Evans had that touchdown that momentarily staked Michigan to the lead.
KFaTAotW Standings.
12: Taco Charlton(three-way T1, PSU, same vs Rutgers, #3 Maryland, #2 Iowa, #2 Indiana, #1 OSU, #2 FSU).
10: Wilton Speight (#1 UCF, #1 Illinois, #3 MSU, #1 Maryland),
9: Jabrill Peppers(T2, Hawaii; #3 UCF, #1 Colorado, #2 Rutgers, #2 MSU)
6: Ryan Glasgow(#2 UCF, #1 UW, #3 FSU)
5: Chris Wormley (three-way T1, PSU, same vs Rutgers, #1 Iowa).
4: Jourdan Lewis (#3 UW, #2 Maryland, #3 Indiana), Mike McCray(#1 Hawaii, T2 OSU), Ben Gedeon(#3 Colorado, #3 PSU, three-way T1 Rutgers, T2 OSU), Kenny Allen (#3 OSU, #1 FSU).
3.5: De'Veon Smith (four-way T2, PSU, #1 Indiana).
3: Amara Darboh(#1 MSU).
2.5: Karan Higdon(four-way T2, PSU, #2 Illinois).
2: Jake Butt(#2 Colorado), Kyle Kalis (#2 UW)
1: Delano Hill (T2, Hawaii), Chris Evans (T3, Hawaii, four-way T2, PSU),  Maurice Hurst (three-way T1, PSU),  Devin Asiasi(#3 Rutgers), Ben Braden (#3 Illinois), Channing Stribling (#3 Iowa).
0.5: Mason Cole(T3, Hawaii), Ty Isaac (four-way T2, PSU).
Who's Got It Better Than Us Of The Week
This week's best thing ever.
[Dressler]
We have a lead! I bet this lead lasts a long time and—aww, hamburgers.
Honorable mention: Mike McCray pick-sixes Francois. Kenny Allen uses Zoltan Mesko punt lasers to force a muff.
WGIBTUs Past.
Hawaii: Laughter-inducing Peppers punt return.
UCF: Speight opens his Rex Grossman account.
Colorado: Peppers cashes it in.
PSU: Wormley's sack establishes a theme.
UW: Darboh puts Michigan ahead for good.
Rutgers: Peppers presses "on".
Illinois: TRAIN 2.0.
MSU: lol, two points.
Maryland: very complicated bomb.
Iowa: The touchdown.
Indiana: Smith woodchips Michigan a lead.
OSU: Goat. Duck costume. Yeah.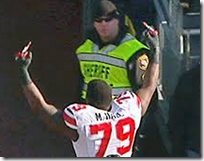 MARCUS HALL EPIC DOUBLE BIRD OF THE WEEK.
This week's worst thing ever.
Jabrill Peppers is warming up... and Jabrill Peppers is obviously not playing. Goodnight, sweet prince.
Honorable mention: all plays on which OL were asked to block Walker. The kickoff return. The 92-yard touchdown. The Cook items.
PREVIOUS EPIC DOUBLE BIRDs
Hawaii: Not Mone again.
UCF: Uh, Dymonte, you may want to either tackle or at least lightly brush that guy.
Colorado: Speight blindsided.
PSU: Clark's noncontact ACL injury.
UW: Newsome joins the ranks of the injured.
Rutgers: you can't call back the Mona Lisa of punt returns, man.
Illinois: They scored a what now? On Michigan? A touchdown?
Michigan State: a terrifying first drive momentarily makes you think you're in the mirror universe.
Maryland: Edge defense is a confirmed issue.
Iowa: Kalis hands Iowa a safety.
Indiana: A legitimate drive.
OSU: The Spot.
[After THE JUMP: let's have a real good time. An okay time?]
OFFENSE
[Eric Upchurch]
The inverted quarterback. Wilton Speight did a lot of difficult things brilliantly and a lot of easy ones terribly. When set upon by barely-blocked hellhounds, Speight did his thing where he finds a guy you didn't even know was in a route for a first down. When given a reasonable amount of time, Speight missed throws that weren't necessarily easy but were much easier than his completions.
It's tough to render judgment when Speight was getting pressure up the middle on a majority of snaps. We've seen it all year with Hurst and Glasgow: edge rush is one thing but when a 300 pound man is running directly at your face, all your options are bad. While you probably don't want to hear me say anything about Speight's shoulder/collarbone, I did hear that it was the kind of thing that would linger for a month or two even if he was healthy enough to play. That further complicates any extrapolation from this game to next year.
A season-long view doesn't offer much more clarity. Speight was lethal, and terrible, and seemed to have little in between. He was very good for ten throws against Iowa and then fell off a cliff, and that was a microcosm of his play and the season.
The stats reflect that up and down performance, averaging it out into the #40 QB in yards per attempt and #42 in passer rating. S&P+ was far kinder, asserting that Michigan had the #14 pass offense in the country prior to the bowl game. It'll drop but not to 40th.
[Dressler]
Not quite. Another game, another opportunity for Amara Darboh to do something hard that he doesn't quite manage. Speight left a touchdown low and behind him, but still catchable; he couldn't bring it in. He had a deep completion down the sideline; he landed on his back barely out of bounds. He's been good but something short of great, as in all three losses one more tough-ish catch from Darboh ends up changing, and probably winning, the game.
At least that's over. The great De'Veon Smith debate now ends inconclusively, because there's only so much you can do when you are getting hurled backwards by a bear. Smith was never as bad as his detractors suggested and never had the luxury of running behind a truly good offensive line when he is the kind of guy who needs a head of steam to show off his best talents.
The one thing that did disappoint this year was his pass blocking. Smith was impregnable a year ago; too many times this year he got in the way but did not actually slow down his opposite mark much. He went from a major asset in pass protection to meh. There is no explanation I can figure out, just one of those things.
Next year's running back pecking order. Seems obvious that Chris Evans is at the top right now with Higdon and Isaac trailing and vulnerable to falling out of the rotation if Kareem Walker makes good on some bowl practice hype and/or Michigan manages to flip Najee Harris. Evans isn't going to be a bell-cow feature back at his size, so there will be another committee next year.
Wide receiver pecking order. Ask again later.
DEFENSE
[Patrick Barron]
Maybe Jabrill Peppers is good. Dalvin Cook lined up wide and Mike McCray split out over him and you could cut to any Michigan fan in the world and found the same thing: someone desperately looking for an abort button that was not there. Michigan did not abort, and Cook had a footrace against McCray. It went poorly.
Meanwhile, Cook had the single-biggest flip play of the game when he turned third and 22 into a 70 yard run and eventually a Florida State touchdown that felt like game over at the time. It was not game over, but it did set up FSU with sufficient points to make their comeback. On that play Metellus was backside help trying to flow over and limit the damage. Cook beat him to the corner and blew downfield past him. Very hard to watch that when you know damn well Peppers is getting there and setting up fourth and three or so.
Three huge plays and the rest of it was pretty much as expected. The two Dalvin Cook plays above and the 92-yard touchdown on which it looks like Dymonte Thomas busted were more than half of FSU's yards. On the rest of their snaps they totaled 171 yards; Francois completed 9 of 27 passes; Cook averaged 3.7 yards an attempt on plays other than the 71 yarder. This is why the preview was focused on keeping FSU's explosive plays to 20 yards instead of 70; Michigan did not do this.
Sigh. FSU's winning TD coming on a fade route against Jourdan Lewis is quite the twist ending. I literally cannot remember a successful fade route against Lewis in the last two years. If some odd twist of fate had given me the opportunity to call FSU's play on that down, I would have chosen "throw a fade at Lewis," because I have types "lol try that again" dozens of times on Twitter in the aftermath of teams doing just that for some damn reason.
I guess it had to happen sometime. Then was not ideal.
SPECIAL TEAMS
Aforementioned Allen performance. I've never given a specialist #1, I don't think. Quite a finish for his career. I wouldn't be surprised if he ends up on a practice squad next year.
Deadly kickoff return. Michigan's demise in this game started with the only kickoff return FSU managed, and it was a bizarre one: the returner stopped and was about to put his knee down before coming out of the endzone. Everyone anticipated the dude getting out to the 10 and then getting blasted. That did not so much happen. Jordan Glasgow missed a tackle, nobody else was there to help, and FSU started the last drive in field position.
I have no take here. That was bad and I rather wished something other than that happened.
MISCELLANEOUS
Don't even with the supposed offsides. First, that movement is just about simultaneous with the snap and is probably legal. Second, Michigan isn't winning that game anyway.
HERE
Worst:  A Terrible, Exciting Game

Man, that was a weird game.  It was a "classic" in the sense it ended with a bunch of exciting, game-changing plays in the final couple of minutes, but for about 3 quarters it was pretty ugly.  FSU's defensive line dominated UM's offensive unit, while UM largely bottled up FSU's offense save for a couple nice plays by Cook and a 92-yard TD throw on busted coverage by Francois.  UM had 23 yards rushing on 15 carries and 83 yards passing on 19 attempts in the first half.  FSU was a bit better, but without that 92-yard bomb they had 85 yards passing on 6/14 passing and 78 yards rushing on 19 attempts despite Cook picking up 12 and 28 yards on successive carries on that first drive.  The teams were a combined 3 for 15 on third down before halftime, and while for the game FSU only had 4 sacks and UM 2, both QBs were getting knocked around on a significant portion of their attempts.  Speight was nearly beheaded a couple of times by Walker and Sweat, while Charlton probably moved a couple of Francois's organs on a crunching sack in the 1st quarter.
Boy it would be nice to have a great running back again:
First, for context - here are all of UM's all time leaders by YPA at 5.0+ and at least 2500 yds - Tim and Ty at the top and by large margin.  The only similar era was Butch and Jaime back ending the 80s; the time this boy fell in love with UM football.

| | | |
| --- | --- | --- |
|   | Ave | Total |
| Ty Wheatley | 6.1 | 4,178 |
| Tim Biakabutuka | 6.1 | 2,810 |
| Rob Lytle | 5.9 | 3,307 |
| Gordon Bell | 5.4 | 2,902 |
| Butch Woolfolk | 5.4 | 3,850 |
| Jamie Morris | 5.4 | 4,392 |
| Harlan Huckleby | 5.2 | 2,624 |
| Lawrence Ricks | 5.1 | 2,651 |
| Mike Hart | 5.0 | 5,040 |
This list is missing Michigan's all-time best YPC rusher—Denard Robinson at 6.2—but does reveal that Michigan hasn't been able to run the ball like they're "supposed to" since the mid-90s. Getting the run game up to those levels, the Stanford levels, is priority 1 for Harbaugh.
ELSEWHERE
I have not read my feed reader, I confess. For a UV.