Hokepoints: Would Bill Walsh Draft This D-Line?
Left: Walsh. Right: Wormley by Upchurch
A few weeks ago I stumbled onto a 1997 article by Bill Walsh where he explained how he evaluates talent at each position. I then applied those evaluations to Michigan's offensive personnel, because Borges is supposedly transitioning us to Walsh's WCO. People requested a defensive version so here you go.
It's probably not as useful because the closest NFL comparison to the Mattison ideal is the Greg Mattison Ravens. But then when you read about the history of Mattison's 4-3 under defense, you find (49ers DC under Walsh) George Seifert's ideas peppered all over. And there's a reason for that:
Offensive evolution doesn't matter so much when you're talking about going back to the offense that dominated 1997. The 4-3 under defense—or whatever you call what Michigan does by shifting the line toward the nearest sideline—is more akin to a 3-4 than the 46 defense Walsh used to deploy against the run-heavy offenses of his day, or the Tampa 2 stuff that owned the period which that article was written.
Walsh's defensive opinions are geared toward a 3-4, and that's perfect for our purposes, since the 4-3 under is similar in personnel. When you see it you can see why:
So in we go again. I'm moving right now so I can't do it all in one again. Here's the interior DL and I'll cover linebackers and defensive backs in later weeks.
Nose Tackle
Dana Stubblefield / Rob Renes / Pipkins via Upchurch
Walsh Says: 6'2, 290. As discussed in the article when I made all the DL recruits into Wii avatars, the NT should have his mass low; a pyramid is more difficult to move than a cube. Like Mattison, Walsh puts the hands at the very top:
Quick, strong hands to grab and pull are critical. This is common with the great tackles. The hands, the arms, the upper body strength and then the quick feet to take advantage of a moving man, just getting him off balance.
The Walsh ideal doesn't necessarily have to take on doubles. What he looks for is the strength to not get knocked backwards, and the ability to move laterally without giving ground. The best can burrow forward and push a guard into the pocket.
Note that Walsh is inadvertently describing a 4-3 DT more than a 3-4 NT—he's not asking for a two-gapper who sucks up doubles but a one-gapper who can't be budged. However the first step to beating spread teams is an NT who requires doubles, since the spread 'n shred's base dive play is most dangerous when an interior OL is releasing into the linebackers.
Walsh's Favorite Wolverine: Rob Renes. NFL scouts want everyone to be Wilfork, but active, stout, and sound come first.
What to look for in a Scouting Report: "Crab person" a la Mike Martin, i.e. he plays low and with great leverage. Strength—opponents can't move him. "Has excellent hands." Athleticism: Walsh didn't mention this but guys who are ranked basketball recruits as well seem to have a high success rate; that's obviously a mark of quickness/agility being important.
What you can learn on film: Nose tackle recruits are often so much bigger than the competition that they can terrify offenses without technique. You can learn more from the plays where he flows down the line of scrimmage then makes the play. Leverage. Hands maybe but this seems to be something most will learn in college. It's paywalled (and there's a lot that's 3-techy about him) but if you have a Rivals account go watch Ndamukong Suh's high school film and how he uses his arms to dominate guys off the ball.
What could signal bust potential: We've seen our share of planetary objects who get lots of hype because they're 320-pound creatures who pop average teen OL like so many zits. This is an effort position that scales dramatically with the transition from high school to Big Ten. An athletic man-child has a massive ceiling but is as likely to follow the career path of Richard Ash as that of Johnathan Hankins.
How our guys compare: The expectation here is for Quinton Washington (above-right/Upchurch) to reprise his role at Nose with Ondre Pipkins figuring in as a rotation starter and making appearances at the 3-tech spot as well. Q came to Michigan as a spread-style offensive guard highly sought after by all the right people. His switch to the defensive line was initially a swap with Will Campbell, except Washington stuck with it. It was a painful year and change waiting for him to catch up, made worth it last year when he was a pleasant surprise at nose. Listed at 6'4-300 he's on the plus side of the size curve but not to the degree Campbell was (Suh as a senior was listed at the same size). Where this project is concerned, Hoke seems to have had success in every facet except his stated goal of making Quinton two inches shorter; I like to mention that one of my favorite DTs to watch is Kawaan Short, who was listed at 6'5 as a recruit and 6'3 as a draft prospect. That upper body strength that Walsh covets in his NTs is what made Washington stand out as a recruit and contributes to the success he's had across the line.
left: Q.Wash's UFR totals for 2012. right: Pipkins's. Clicking bigs them.
Ondre Pipkins arrived looking pretty much exactly like an NFL nose tackle—6'3-340—and played pretty much exactly like a true freshman, as you can make out from the UFR chart above. That's technique (i.e. hands) talking—he got minuses for getting scooped and buried and eating doubles, and plus'ed for flashes of mobility.
Richard Ash has two years of eligibility left so you can't write him off yet but he came in a non-mobile planet and had to lose a lot of weight to uncover his playing body. The Walsh measureables are not favorable, at least not yet. The freshman pegged for NT (though either could play either) is probably Maurice Hurst, since he checks nearly every one of Bill's boxes, right down to a listed height-weight of 6'2-290. Mike Farrell on Hurst:
"He has a nice frame that can still add weight but what really stands out about him is his quickness off the ball and his light feet. Hurst beat most of his opponents with his first step and he was able to win the leverage game most of the time as well."
Watching his film you can see the hands (start at 0:48). The knocks are he needs to get lower (on film you immediately see that butt sticking out) and I don't see strength mentioned much. He played running back for his high school and wasn't so big that he could get by on size so Hurst probably appreciates technique. I would guess he needs some time to put on muscle before he can contribute.
[After the jump, moving down the line]
Three Tech and Five Tech

Fred Dean / Brandon Graham / Jibreel Black via Upchurch
Walsh Says: 6'5, 275. Because Walsh is talking about a 3-4 defense, what he's describing should be the DT/SDE positions at Michigan, which are fairly interchangeable. But then a lot of what Bill mentions is pass rushing, so especially for 3-tech you have to manually keep some of his DT descriptions to mind. You'll note the height jumps—leverage is still important but to a degree you'll trade that for "explosiveness." Walsh wants a guy who has the strength to stand up to offensive linemen but as opposed to the nose it's quick-burst strength:
Upper body strength is somewhat different than that of a defensive tackle. The defensive end does not come into contact with an offensive tackle until you often see what happens, or after you set him up. Where the defensive tackle has to do it right at the snap. So it does take hands to use your techniques to get past him.
Reggie White, Bruce Smith, Chris Doleman also come in for mentions as ideal pass rushers who don't give up anything against the run. I also want to grab this from the DT description, emphasis est à moi:
You are looking for somebody who can move down the line of scrimmage and make a tackle, pursuing a ball-carrier. That would be lateral quickness in a short area, being able to get underway and move over and through people. If you get knocked off the line, or get knocked sideways or knocked off balance, you cannot play this position. You must be able to work your way through people, so that kind of strength is a must.
Walsh's Favorite Wolverines: At 5-tech it's Brandon Graham, at 3-tech Mike Martin may have ended up the better player by a nose but the ideal is Alan Branch. Obligatory: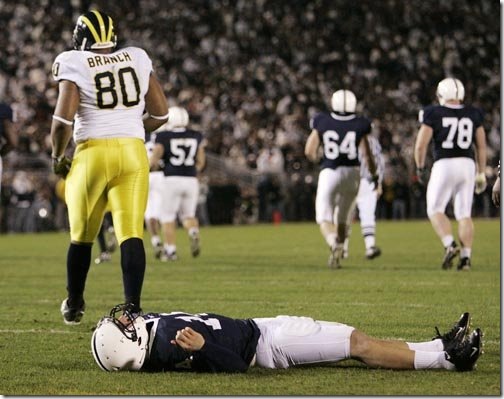 Branch was 6'6-326 on arrival, and Michigan in 2005 switched to a 3-4 with him at DE in front of Woodley, whom we'll get to next week. In Mattison's defense that would translate to the 3-tech.
What to look for in a Scouting Report: For any DE spot you want more 'splosions than a Michael Bay movie. Size: nice. Strength: nice. Athleticism: very nice. But what we really want to hear about are how the guy leaves mushroom clouds and scantily-clad babes running in slow motion (ie offensive tackles) in his wake. Another thing is intelligence—Martin, RVB, Will Johnson, or even going back to Hoke's late-'90s guys like Rumishek and Feazell, these are all guys who got credit for brains. The difference between the 3- and 5-techs versus the WDEs is they also have that DT's agility. Will Heininger didn't have any Michael Bay in him but became an effective 3-tech because his technique was sound and he could move side to side.
What you can learn on film: He doesn't necessarily have to get the sack—he just has to be a matchup nightmare for offensive linemen. Walsh mentions a guy who can push a tackle back is just as useful as a sack artist. Good balance and change of direction are important as well since these guys often have to get to the other side of a blocker when the play changes direction.
What could signal bust potential: If he can't move side to side, don't buy! This is the classic Pat Massey problem. Michigan hasn't had many whiffs here—the 4-stars who didn't make it mostly did it to themselves. Of those whose talent was just overrated, Massey (right, via the MGoBlue archives I saved long ago) had a lot of size—he was 6'8—and straight-line speed, but he was too easy to run around in space. A more recent example of this same effect is Anthony LaLota, who had the smarts, hoops thing, motor and strength, and came to football late which we took for a sign of a high ceiling. Of note people said he looked more like an offensive tackle, and in fact Rutgers finally tried to move him there in his waning days as a college player. Magnus wasn't impressed and compared him to Massey. In both cases (and though you can't call him a bust this was true for Pierre Woods as well) the straight-line speed led to high rankings, but the key ingredient missing was lateral mobility.
How our guys compare: There's a lot of dudes to discuss here, but only two are upperclassmen and only one—Jibreel Black—has seen much playing time. Black arrived as a poor man's Brandon Graham and even took his jersey. Jibreel had the explosiveness right away to play the rush end spot and last year moved all the way to 3-tech, where he was really used as more of a rush option. That spot he passed over—SDE—seems to be his best fit. For lateral mobility insert highlight of his all-important stuffing of Braxton Miller in the 2011 Game. Oh you want that non-mentally? Okay well here's what what smart plus balance plus agility in a DE does:
The young player I don't know which way to go on at 3-tech is Chris Wormley. He was epic as a high school sophomore (watch the lateral quickness at 1:09), but then his high school competition that we managed to scout him against was so sub-par it was difficult to get a read on him, and his injury last year set back what the buzz put at an early contributor. He made a lot of top performer lists at camps but then Rivals said the most impressive thing about him was how he looks getting off the bus. People in the weight room this winter are buzzing on him again. I want to believe that the down-rating his senior year was Ohio State fans with sour grapes—hardly unheard of when it comes to Ohio recruits who go blue—and this position requires seasoning, so it's way too soon to tell whether we've got RVB2 on our hands. The other guys from his class projected at 3-tech are Will Henry and Matt Godin, neither of whom are very explosive. They're both kind of tweeners, Godin straddling the 3-tech/5-tech line and Henry being the nosier. RS junior Ken Wilkins wasn't highly recruited, hasn't cracked a depth chart and doesn't seem likely to do so.
Incoming Henry Poggi is probably the nearest thing to the Walshian ideal for a 3-tech, and may figure there or even at SDE this season. He needs to gain weight—he's listed at 260 lbs on Rivals—but he spent his senior season rising up rankings. He comes from a football family and gets compliments for his awareness. They call him a penetrator and praise his hands. He's even got RVB's flow down. I'm extremely high on Poggi.
Among the SDE-like are Keith Heitzman, a 3-star technique recruit whose early UFR tracking looks like a Heininger plus a scholarship. And Tom Strobel's got a little bit of the Massey factor—he's 6'6-252 on the official roster—but everything in his scouting report reads like Van Bergen. Brennan Beyer was a SAM linebacker as a freshman and Michigan's most consistent WDE last year, but I could easily see him moving down to the five-tech role if he comes back stronger or gets squeezed out by a pass rusher.
Since there's a lot of overlap between the rush end (Beyer/Clark/Ojemudia last year) and the rush linebacker (Jake Ryan's spot) I'll cover the WDEs with the linebackers next week.