Hokepoints: Michigan Men Play for Michigan
Three products of the Detroit suburbs.  Watson & Trent: MGoBlue archives; Ojemudia by Eric Upchurch
In most states, the conversation on National Signing Day is about how awesome the kids are at football. Everybody looks at the rankings, those at the top have their little ceremonies around fax machines, and then everybody hits a lot of refresh to see whether mortgaging all of your elementary schools was enough to lure that top talent to your favorite team.
Well let me explain some tings about da Great Lakes State. First of all, people in the lower p like to explain tings. The second thing you should know is we got Sparties. Holy wah do we got Sparties. And the ting about Sparties is dere everywhere, and you're not allowed to shoot 'em.
Already by this point the scripts for tomorrow are written: State can't compete with Michigan for the guys Michigan wants. Michigan wins in February, State wins in October (one time in three). Detroit has the 5-stars but Grand Rapids has the players. Hoke has changed the dynamics in the rivalry. No, services just overrate his guys. Fewer people in the state means recruiting has suffered. Mom, Michigan's making fun of me. Are we at the Zilwaukee Bridge yet? I can't answer every great question in the Great Lakes State, but I figured I might tackle a few of the factoids that float around the peninsulas every year around this time.
Did the Talent Leave with the People?
The state indeed has been losing people, although most of the people who fled Detroit didn't make it past Oakland County. Estimated population in 2012 was 9,883,360, while the 2000 census read 9,938,444. We lost like a half a percent. If you look at it against U.S. growth as a whole, Michigan's population was 3.53% of the country and now it's 3.15%, an effective drop of 11% if the shift proportionally affects people who graduated after 2001 who have football talent and the opportunity to develop football skills. If that's had an effect it's not noticeable in the small sample:
I'm not letting population shift or Rivals off the hook for no in-state 5-stars in three years; I'm saying there's more evidence that mononucleosis is to blame. And anyway can you blame them now for not giving one to Lawrence Thomas last year? What's weirder is the last three (Will Gholston, Campbell and Ronald Johnson) all turned out to be somewhat below those expectations.
Does MSU recruit just as well in-state as Michigan?
Well, no. But they take a very sizeable chunk of the blue chip pie. The blue-chip pie:
| School | ***** | **** | *** | ** | Total |
| --- | --- | --- | --- | --- | --- |
| Mich | 5 | 32 | 35 | 2 | 74 |
| MSU | 1 | 26 | 41 | 17 | 85 |
| PSU |   | 4 | 5 | 1 | 10 |
| OSU |   | 3 | 3 |   | 6 |
| Other B1G |   | 6 | 40 | 34 | 80 |
| ND |   | 2 | 4 | 2 | 8 |
| Other BCS | 1 | 10 | 18 | 35 | 64 |
| Directionals |   |   | 23 | 244 | 267 |
| Other MAC |   |   | 22 | 110 | 132 |
| Other FBS |   |   | 5 | 10 | 15 |
| FCS |   |   | 1 | 13 | 14 |
| Total | 7 | 83 | 197 | 468 | 755 |
Does the East Get Overrated Compared to the West?
This is a thing coaches sometimes still say, and was repeated often enough by my west side friends as truth in my college days. I don't know if it's still even said—maybe it was just the typical whining that always comes from the direction Brian Kelly is in. But we can test it a little anyway. Here's how I split up the map: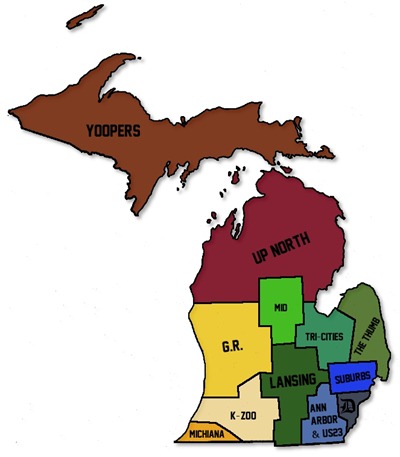 Apologies for the greenness of the blue state; the relative partiality to one school or another is another thing we ought to test. Now here's how recruits were spread across it over this period, next to the spread of games played in the NFL by players from whichever region: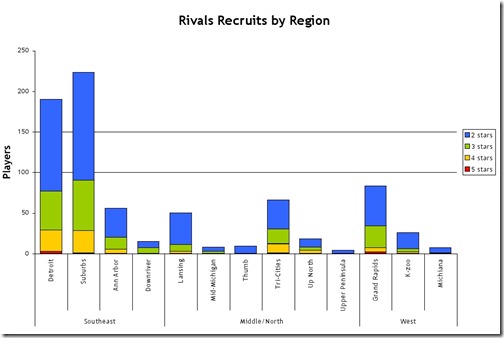 The West's distribution isn't any different than its recruit contribution. Once in awhile a 2-star at a Grand Rapids-ish school may get overlooked, come to Michigan, and end up earning $12 million/year in the NFL, but most of the time those 2-stars are Obi Ezeh.
The thing that's off here—by a lot—seems to where I'm sitting…
[After the jump, something stinks in Oakland County. Other than the author I mean.]
What's up with my hometown?
Last year I made a recruiting in Ohio primer (part II) because Hoke was cleaning up down there, and people asked for a Michigan version. Maybe I will now since I built the database to get the charts above. But for now I'm just copying that format to focus in on this one region.
The Detroit Suburbs: 223 players, 27 four-stars, one five-star
           4- and 5-stars                                    3-Stars                        
Recent Wolverines: Devin Funchess, Mario Ojemudia & Charles Stewart (Farmington Hills Harrison), James Rogers (Lamphere), Chris McLaurin, James Ross & Morgan Trent (Orchard Lake St. Mary's), Will Johnson & Roger Allison (Lake Orion), Matt Godin & Mike Martin (Catholic Central), Martell Webb (Pontiac Northern), Gabe Watson (Southfield), Rondell Biggs (Southfield Lathrup), Tom Berishaj (Sterling Heights Stevenson), Jim Presley (Milford), Quinton McCoy (Valley Christian)
Recruits: Shane Morris (De la Salle), Wyatt Shallman (Catholic Central)
Current NFL: Kyle Cook, T.J. Lang, Connor Barwin, Brandon Fields
5-Stars: Gabe Watson, Michigan
So this is a bit embarrassing. The Detroit suburbs contributed almost 30 percent of the recruits from 2002 to 2013, and even if I just count NFL players who joined the league after 2005 I never get more than 13 percent of Michigan-born players from Oakland and Macomb Counties. Among active players this region has produced various backup linemen (EDIT: Lang is a starter for Green Bay) and a punter.
Part of that is I may have lost something in the transition from town they were born in (what I have for the NFL) and school they went to, and there's lots of big private schools out here. DCC, DCD, OLSM and Brother Rice are the big contributors of NCAA talent, so take it up with them if I've misapplied guys. The other power around here is Farmington Hills Harrison, which looks like a prison and regularly pumps out serviceable college players. Getting Funchess and Ojemudia was big since that was typically an MSU feeder for years.
Are guys from here getting overrated? It is a rather well-to-do area, minus parts of Pontiac and my living room at present. The schools are among the best in the country, even the public ones. So it's not inconceivable that these players have had access to exceptional coaching and fewer distractions than the rest of the state, meaning they could be ahead of the curve when entering college, then fall back to the pack as other guys catch up. When you go through the list of the area's past blue chips it does show a lot of guys who hit their ceilings in college or soon after:
Pro Bowlers/Longtime NFL Starters: none.
In the NFL: Mike Martin. Cook was a 3-star, Lang and Barwin 2-stars, Fields is a punter. Trent was waived before last season.
Great college player, played some NFL: Gabe Watson, Edwin Baker, Morgan Trent, Mark Dell, Drew Stanton, Kyle Brown, Chris Colasanti, Charlie Gantt
Good college player, no NFL: Martell Webb, Agim Shabaj, Will Johnson
Mediocre college players: Quincy Landingham, Taurian Washington, Darris Sawtelle. Dionte Allen, Jeff Lindsay
Washed out: Quinton McCoy, Jim Presley
In College in 2012: Dion Sims was a beast for MSU. Rob Bolden transferred to LSU. Olaniyan will probably start for PSU this year. James Ross, and the Farmington Hills trio (Funchess, Ojemudia and Burbridge) all showed star potential as freshmen. Jamal Lyles redshirted at State.
Just recruits: Shane Morris, Wyatt Shallman and Jon Reschke top the state's recruiting rankings but all three fell in the rankings most of the year.
So…with an extremely small sample maybe there's something to the East-West complaint. However the narrative to explain it is just backwards: it's not good western coaching outstripping the pure talent of Detroit but the affluent suburbs with less naturally talented kids getting extra stars for being heady and closer to college-ready.