Hokepoints Draws Up Death By Press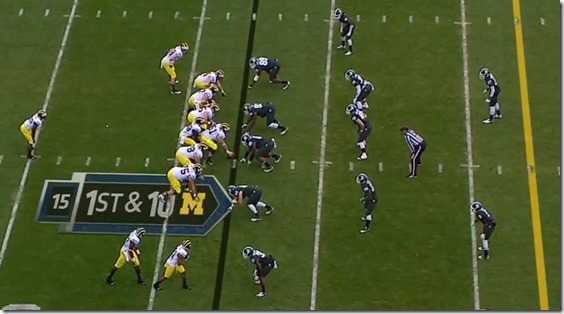 We shall have to *press* our *quarters*. Ha ha! do you smoke the pun dear Maturin?
We've been talking about how Michigan State's defense worked and how Michigan's this year and in the future could be using that as a model. I've brought up how the 4-3 over works, but the genius of Dantonio's defense is really in how he does coverage. Since it seems this is what Michigan will be doing, I thought a lay understanding of it wouldn't go amiss just now.
Coaches, you can offer corrections or tune out because this is going to be a little more basic. Spartans, try not to be too offended at the butchery I make of your wonderful defense. You are truly our state's top program and in no way does continuing to whine about a statement a 21-year-old made in 2007 make you petty.
Now let's go to the alignment above. We're looking at a 4-3 over; the defensive line is shifted to the "strong" side (technically Michigan's offense is balanced but the side with the two TEs is strong. Also that's the field side). We're also looking at a defense that is really creeping up. The safeties are 7 and 8 yards off the line of scrimmage, the linebackers are 4 yards off, and the cornerback at the bottom of your screen is in press. The variant on the 4-3 over is the defensive ends spread out (the SDE is in a wide-9 tech, the WDE completely outside the RT's shoulder), and the linebackers group in closer to compensate.
This is "aggressive." The guys apparently in charge of the deep part of the field are further off the line of scrimmage than the running back. There's a mismatch on your right, where a cornerback is matched against a tight end (Butt), but that hardly matters since any run is going right into a pile of bodies.
Cover 2 and Cover 2 Man
Getting up and bothersome to any receivers near the line of scrimmage has big benefits. The receiver will have a hard time getting into his route, throwing off the timing of the play and ensuring the offense gets nothing cheap like a quick out or in. A good press corner will prevent his receiver from getting into an easy route like a slant (the old fashioned man-coverage beating route). The danger of this is the press doesn't work all the time and then you've got a receiver accelerating downfield past a cornerback who's facing the wrong way. For this reason press teams would leave the safeties back to help. It ends up functionally not that different from Cover 2.
Of course that has a downside as well. While each receiver has 1.5 guys occupied with him, you've got the safeties and outside linebackers chasing the passing game instead of manning the run gaps. Defensive rule numero uno is don't be easy to run on.
Quarters
A very popular alternative these days is Quarters. The link will explain further but simply put, with quarters coverage the cornerbacks and safeties have option routes depending on what the receivers do. They watch the inside guy (in a stack it's the back guy). If he goes vertical the safety has him; if he goes into the flat, the cornerback does and the safety plays Cover 2.
Watch this gif from the above link until you get a feel; the left side is the #2 receiver going vertical and the right side is him going into the flat.
"Going vertical" as I learned it, is the receiver going 8 or more yards downfield before making a turn. This is a strong coverage technique to cover the outside and downfield stuff the receivers will do, and leaves the linebackers available to cover short Cov 2 routes and react to the run. It's very base; the best way to beat it is to have your running game outmatch their front seven. The safeties are able to stand back and read, so like Cov 2 they're available to cut down whatever made it through. That's good enough for Virginia Tech, who's been running Quarters and been solid against the run for a decade and a half. But it wasn't good enough for Dantonio.
Very Aggressive Quarters
You may have already smoked out the difference between Michigan State's alignment against Michigan and the Cover 4 look that quarters starts out in. You've got that cornerback pressing a guy, for one. And the other thing: if the coverage is waiting until the inside guy is 8 yards downfield to be sure of their decision, and the safeties are standing 7 yards off the line of scrimmage, aren't they setting themselves up for one of those "hey maybe I oughtta be chasing this guy who just ran by me." things?
State will pack their guys in the box so linebackers and safeties are right there to stop the run. The linebackers squeeze laterally into the box, so the coverage is strongest inside (knowing this, offenses don't typically expect to find open guys there, leaving those LBs free to run Narduzzi's favorite Double-A gaps blitz).
That makes them very stout against the run, but should have a weakness tradeoff against outside passes. If the #2 receiver goes vertical the safety has to turn and go with him, meaning there's zero help for the cornerback.
State's answer to that: "So what!" This is where stretching the boundaries of pass interference comes into play, because the cornerback's job is to grab anything, pay off anybody, or sacrifice however many livestock and virgins it takes to keep that receiver from getting downfield.
Here's where Dantonio's program development comes into play, because it takes a long time for cornerbacks to get to the point where their press will work often enough that the quarterback stops expecting that guy to be open. Also they have to be ready for what coaches will do to screw with them.
It's also where finding good players comes into play. You can't get away with this if you have crappy Indiana safeties. There's tremendous strain put on the defensive backs to play up and still cover deep; if they can't handle it (and the offense has any kind of downfield passing ability) the jig is up.
In the defense's favor: in the college game, especially the game today where Tom Brady wannabes are less common than Denard Robinson wannabes (i.e. guys who are running threats but hardly devastatingly accurate deep passers), an offense that can rip you over the top is a rare cove indeed. The talent-depleted Big Ten has been short on defense-stretching receivers; a good 40% of Big Ten wideouts who'd pose a major threat to this scheme play for Maryland. Braxton Miller has a lot going for him but he tends to sail such passes over his open guys' heads. Devin Gardner, especially a beat up Devin Gardner, has a tendency to underthrow, turning open receivers into a game of Five-Hundred. Hackenberg might have success but his best targets are tight ends; Sudfeld has a similar problem now that his slot dude is the last man standing. And omigod can you just imagine what happens when this thing meets Gary Nova? "Like a Wrecking Ball" don't enter into it!
Screw-Proofing
Last year Borges tried to screw with the Quarters reads by making it unclear who's the #1 or #2 receiver to that side, either with stacks or putting 3 receivers to the same side or like this (watch the WRs at the top of the screen):
Michigan ran just a two-man route, motioning the outside receiver into the inside receiver. Ultimately Funchess leapt a million feet in the air to beat Drummond to the outside, but look how seamlessly the Spartan defensive backs executed this and made it hard.
A novice might have a hard time with who's 1 or 2, but not a 5th year senior. Dantonio built his program, like Wisconsin's, on retention. He'll hold onto guys for three or four years usually before they see the field (or else the kids have to beat out the upperclassmen). It also makes those elders kind of crucial because the depth chart carries a lot of pressmen in training.
So for the first few seconds of the play, it's kind of Cov 2 man with everybody so bunched near the line of scrimmage that the run game will be right there and obvious, and thus easy to stop. Then quarters rules take over. And it can't be cracked wide open because pass interference isn't likely to be called unless you're playing at Notre Dame.
Can Michigan do this? Actually it's probably the best thing for the defensive personnel the coaches have collected, since the one thing we seem to have a glut of is really good cornerbacks, and more in development.