Hockey Uniforms Breeding Like Tribbles
Michigan's just done their annual slight tweaks to the hockey jersey, but they fed 'em after midnight and now they're getting kind of ugly and multiplying at an alarming rate. Michigan announced no fewer than five(!) different jerseys this fall.
The white home jersey have miraculously stayed the same; the road jerseys are now blue duplicates of the home:
Still not a fan of that out-of-place looking block M, but oh well. In marked contrast to the increasingly bepatched football jerseys, these are very clean. It could be worse.
Speaking of…
The fugly Big Chill jerseys with the rabid hamster on them are back. I blame these things for the bumblebee Michigan State uniforms, BTW, and they are dead to me.
The fourth and fifth jerseys are for the GLI and I'm not sure how I feel about them until I see them.
There's also a version of these with the colors inverted. Note the lack of wings on the helmet. UPDATE: false alarm.
The operative theory here appears to be "if we put out five jerseys everyone will want to buy at least one." Next week they'll announce special NCAA tourney editions of all of these. They're identical, but when you put them someone shoots you in the heart. No sale! I only like that once a year!
For the record, my favorite iteration is from the 2008-2009 season: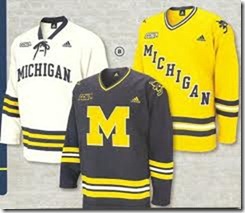 I preferred the white and maize. Very classic looking, both of them. Though the Maize is kind of a Rangers ripoff, I'm okay with that. I'm hoping they come back around to something they like soon, as my jersey is so old it's got the university crest on the shoulders and was hand-knit by twelve-year-olds. Twelve-year-old Americans! Can I get a Triangle Shirtwaist shout-out up in here? No? Oh, okay.
Carry on.