Hockey Coaching Candidates: Alternatives to Mel
[Ed. A- David Nasternak, our hockey beat writer, did the heavy lifting in compiling this article and also helped author it.]
At some point today, Warde Manuel will sit down in his office overlooking Hoover Avenue and State Street, check his to-do list, and find an item at the top wholly unfamiliar to him as Michigan's athletic director, a task that was also wholly unfamiliar to the seven men who previously sat behind his desk: hire a new men's ice hockey head coach.
Most of the buzz on this site and around the local scene has been centered near Mel Pearson, Red Berenson's longtime assistant turned Michigan Tech head coach. There is probably a good case for him (particularly if based on his teams' Corsi over the past few seasons), and he might be a fine head coach and quality option, but there are also a couple of reasons to remain skeptical. We're not saying that they cannot be ironed out or that he would not succeed as Michigan's next head coach. We do think that there are other options out there to consider as well.
David talked to a handful of people and did a lot of digging. These are the upper-echelon alternatives that we think should at least be investigated. For the record, very established guys at programs that aren't a step down from Michigan have not been included on this list, so you're not going to find Don Lucia or Jerry York on here.
SUCCESSFUL COLLEGIATE COACHES
Norm Bazin, UMass Lowell
He's only 46 years old and already has nine years of head-coaching experience and an additional 11 years experience as an assistant. Eight of his years as an assistant came at Colorado College; those years nearly killed him. Seriously.  His incredible survival story is a must-read.
Coaching highlights:
Three years as an assistant at UML
Eight years as an assistant at Colorado College
Three years head coach at Hamilton College
Six years head coach at UML
Over the course of his six years at UMass Lowell, he has: twice been named Hockey East Coach of the Year, won the Penrose award for Division I coach of the year, finished with a winning percentage >.600 each of the last seven years, won the regular season Hockey East title two of the last five seasons, won the Hockey East conference tournament three of the last six seasons (while making the final five consecutive seasons), made the NCAA tournament five of the last six years, won at least one game in the NCAA tournament each of those five times, and made the Frozen Four in 2012-13.
Unfortunately for Michigan, given all that he has been through and that he is coaching at his alma mater, he may be happy at UML. Regardless, he should be first on the list. He might be the list. And he's young, too. Give him what he wants.
[After THE JUMP: other current collegiate head coaches, guys with Michigan connections, and a couple wildcards]
Jim Montgomery, University of Denver
Montgomery has turned a pretty good Denver program into the top team in the nation this season despite having just six players on the roster drafted by the NHL. He has become one of the hotter coaching commodities in college hockey; the first paragraph of his bio on DU's website says that he just signed a contract extension through 2020-21, which feels a little GET OFF MY LAWN. Looking through his accomplishments, you can understand why:
Hired as DU's head coach in 2013, his team won the NCHC conference tournament in 2014, made the Elite Eight in 2015, made the Frozen Four in 2016, and won the 2017 national championship
His Denver squad finished at the top of the PairWise rankings and won the NCHC regular season title
Was the head coach and general manager of the USHL's Dubuque Fighting Saints from 2010-13, during which time he won two Clark Cup championships
In 2013, he guided his team to a regular season championship and was named the USHL's general manager of the year
Spent four years (2006-10) as an assistant at RPI
Though one can hope that it won't be, Montgomery's new contract could be a sticking point. He has four years left on a deal for which terms haven't been disclosed but is rumored to be among the highest-paying in the NCHC. Michigan would be competing with NHL teams for his services as well; apparently Calgary offered him the head job last summer and the Florida Panthers want to interview him for their vacant head coaching position.
Nate Leaman, Providence
What Leaman has done at Providence is nothing short of remarkable. In 2011-12, he took over a program that had finished over .500 once in the previous seven seasons. Since then, he has:
Finished five consecutive seasons with a >.500 overall and conference record
Made four consecutive NCAA tournament appearances
Won a national title in 2015
Named the USCHO Coach of the Year in 2015
Won the Hockey East coach of the year award in 2015-16
And that's just at Providence. He was also the head coach at Union for eight years, culminating in a Spencer Penrose Award win for the top coach in DI hockey in 2011. All that, and he's only 44 years old. Like Montgomery, he has a contract that runs through 2020-21 and has turned down NHL offers (though not NHL head coaching jobs) in the past. FWIW, he kind of looks like Mike Babcock. (That's not worth anything. I'm sorry. It's true, though.)
Rand Pecknold, Quinnipiac
Pecknold has been the coach at Quinnipiac since 1994. He's led the transition from DII to DI, maneuvered several different conferences, and is finally a regular in the NCAA Tournament.  He has not had a losing season at any level since the '95-'96 campaign. His team has dropped off a little bit this season, though, and will not get an at-large bid. Some of his highlights include: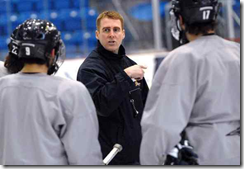 Making the NCAA Tournament four of the last five seasons
Making the NCAA title game in 2013 and 2016
Won three different CoY awards in 2016
Has a .600+ winning % over the last five seasons and .800+ in two of the last four
His downside is that he has almost been at Quinnipiac as long as Red has been at Michigan. So, would he even be interested in leaving? It's definitely worth finding out. He's also never been as successful as he's been in the last half-decade. If there's a time for him to push his ceiling, it's now.
Keith Allain, Yale
Despite having a down season, Keith Allain has been tremendously successful at Yale. He's in his 11th season with the Bulldogs and has built up quite a resume:
Making the NCAA Tournament in six of his last nine seasons
Winning the National Championship in 2013
Owns a .570 career winning % at Yale
Despite making the NCAAs, he's only won a game in two of his six seasons.  He's also 58.  That's not too old, but there are also a few younger options who have the prime of their careers ahead of them.  We don't think that Allain is a bad option, but he's a bit farther down the list.
Scott Sandelin, University of Minnesota-Duluth
He does not have the gaudy winning percentage that some of the other candidates have, but he's also been competing in the old WCHA and now the NCHC, both very tough conferences.  Some of his highlights include:
Was an assistant coach at North Dakota for six seasons ('95-'00)
Took UMD to the NCAA Tournament in six of the last nine seasons (including this season)
Made the Frozen Four three times, the national title game this season, and won a National Championship (which you, uh, might remember quite vividly)
Sandelin, like Pecknold, has seemed to find his niche; he's been in Duluth for 17 seasons. It could be tough to pry him away from a program that he, like Berenson, has mostly built and maintained himself. UMD is a perennial contender and coming off of one of their best seasons this year. Unfortunately, without much of a coaching tree from Red, Michigan is going to have to go pull a guy out of someplace else. Sandelin is not a bad option.
STRONG MICHIGAN CONNECTIONS
John Madden, Cleveland Monsters (AHL)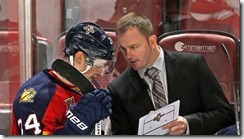 Madden played at Michigan from '94-'97 under Red Berenson. After leaving Michigan, he played in the NHL for 10+ years with the Devils (where he won a Cup), Blackhawks, Wild, and Panthers.  After retiring, he was an assistant coach with the Florida Panthers for three seasons before becoming the head coach with the AHL's Cleveland Monsters. He is just finishing up his first season, sitting just above .500.  It is probably a little too early to hand him the keys to the program, but he's definitely a guy to keep your eye on.
Bill Muckalt, Tri-City Storm (USHL)
Muckalt could be an interesting guy. He's a flier for sure, but definitely worth consideration.  He also played under Red at Michigan from '95-'98.  His coaching record includes:
Four years as an assistant at Michigan Tech from '12-'15 under Mel Pearson, who recruited him
Taking over for the USHL's Tri-City Storm and leading the organization to its first Championship ever in '15-'16.  The team won their division by four points despite losing 17 games in OT or a Shootout, which is about twice as many as the team with the second most extra time losses (nine). That seems rather unlucky. This season, the team has come back to earth, however, hovering just below .500
Apparently, he is also called "Full Throttle" because of his intensity and dedication to what he does.  That seems…familiar.
"Nicknamed "Full Throttle" because he doesn't do anything halfway; the past month Muckalt has had knee surgery, travelled to Sweden to meet Frolunda junior Linus Weissbach, held a week-long tryout in Las Vegas and is now on route to this weekend's NHL draft.

Pearson speaks highly of his protégé, "he's a rising star, true student of the game."

-The Hockey News, June 26, 2016
WILDCARDS
Jeff Blashill, Detroit Red Wings
Blashill is currently employed by an NHL team.  A local NHL team.  You may have heard of the Detroit Red Wings?  David was never a fan, but there are (and have been) rumors swirling about his impending release by the organization. However, a lot of Hockey Folk believe that the actual problem lies elsewhere, not with Mr Blashill.  So…crazy?  Sure! But…that's why he is a 'wildcard.'  Let's look at some things:
He has state of Michigan ties (from Detroit, then Sault Ste. Marie, played and started coaching at Ferris State)
He continued under Enrico Blasi at Miami (NTM) for 6 seasons
Won a USHL Championship in 2009 with the Indiana Ice
Won an AHL Championship with the Grand Rapids Griffins in 2013
Took Western Michigan to the NCAA Tournament for the first time in 15 years in 2011 (also their best season in over a decade) in his only season in Kalamazoo
Let's be real.  He may not have an interest in coming back to college.  He may not even have to leave Detroit (but probably).  However, he's still a very viable option.  He's been successful everywhere he's gone (before the NHL), and he still very young (43). He might not be our top choice, but if he's available and remotely interested, he's definitely worth looking into. The point is that there are other guys, like Blashill, that could be decent options.
Ron Wilson, former NHL head coach; 2016 Team USA WJC head coach
Alright, let's go super rogue!  Here are his highlights:
Coached 4 NHL franchises, leading 3 of them to the Playoffs, including Washington to the Cup Final in 1998
He made the NHL Playoffs in 8 of his 17 seasons
He coached the US and won the 1996 World Cup of Hockey
He coached Team USA in the 1998 and 2010 Olympics, winning a silver medal in Vancouver
He was also tabbed to lead the US in the 2016 World Junior Championship
Unfortunately, Ron Wilson had a stroke in December of 2016 and was unable to coach Team USA.  So, this may not even be feasible.  His name came up as a "you never know" and upon thinking about it further, he seemed like an intriguing option.  If he is capable and interested, he certainly has the experience. The grind is also lighter than the NHL/professional schedule; he turns 62 very soon. Western Michigan had success bringing back Andy Murray, a candidate in a similar situation as Wilson. He is the perfect way to end this list of guys with which it would be intriguing to start a coaching search--a search that Michigan has not had to do in quite some time.