Hockey's Gap Year
Dave and I got into a discussion on the podcast about the source of the hockey team's woes; this conversation made me want to lay out the case that this is the least talented freshman class in the recent history of Michigan hockey.
This isn't a hard case to make. The freshman class has eight guys in it who've seen more than a game worth of action. Zero of these players are drafted. The joint top scorers are Nolan Moyle (7-3-10) and Garrett Van Wyhe (4-6-10), and Van Wyhe is pretty clearly the best forward Michigan brought in this year. He's +8, which is a titanic accomplishment as the center of a line that was very clearly the fourth line at the start of the year and is now Michigan's… second line? On a team without a top line? 
Don't get me wrong: I love me some Van Wyhe. But he's a guy who came in as a 20 year old off a 23-point, 59 game USHL season. Before he flipped to Michigan he was headed to Army. The gap between Van Wyhe and Larkin/Connor/Lockwood/Norris is giant. Maybe Van Wyhe will have more overall program impact since he's going to be around for four years. If he's your best freshman forward that's a problem. Especially when your entire top line exits. 
The story is the same on defense. Michigan is playing Nick Blankenburg and Jack Summers on a nightly basis now. Blankenburg leads the team with a +12 and is clearly a strike; Summers has done okay. Blankenburg was a flier coming off a single AJHL season. At this time last year I was trying to figure out whether he was a walk-on. (I still think he and Van Wyhe are on light money.) He was drafted by the NAHL, the second-tier feeder league that usually sends Michigan healthy scratches.
There's a version of Michigan's program that could take a class like that in stride, but it's not this one. Last year's class was Hughes, Norris, a Pastujov who'd been out for most of the last two years with injuries, and then whatever Mel could scrape together. This turned out to be Jack Becker and Dakota Raabe. With Norris out, it's the wildly talented but wildly wild Hughes and zero other players who would be on a scoring line or top pairing on a tourney-streak-era Michigan team until maybe their senior year.
Lockwood, Pastujov, and Slaker are all guys you could be happy with if they were filling out scoring lines led by stars. There are no stars—there's barely anything in the freshman and sophomore forward classes other than scramble guys. This is why they're .500. 
[After THE JUMP: why this is happening now]
Why did this happen?
Slaker is emblematic of the turn M's recruiting took [Coller]
Remember Jim Harbaugh's first recruiting class? He walked into approximately four guys with 13 limbs between them and had to scramble for anyone, which is how you get Nolan Ulizio starting at right tackle for a bit.
This was similar, albeit less severe, because of Red Berenson's extended twilight period. Berenson's retirement seemed to be pending for five years. Maybe the program lost its way in scouting and acquiring kids in the same way they got lost on the ice. Maybe the uncertainty of whether Berenson was going to be around hurt. Either way, while Michigan's pedigree was able to bring in headliners the classes were increasingly filled out with randos. Some of those guys are solid players—Jake Slaker, a late add from nowhere, stands out. But this is not a team of super talented guys.
Michigan did lose a couple of first-round defensemen post-Red. Matthias Samuelsson decommitted to go to Western; Bode Wilde defected to the OHL. I don't know what went down in those circumstances. Mel is certainly recruiting like a bunch of crazy garbage is going to happen every summer to help mitigate events like that, at least.
As to why this is happening now: this is happening in year two of Mel because hockey's recruiting timelines are absurdly extended. Michigan just took a commit from a 14 year old. He's the son of an NHL player and "the best bantam skater" some guy on twitter has ever seen, so special circumstances… but not that special. Michigan has four commits from 2004 birthdates now.
Mel had to execute the same patch job he did on the 2018 class on 2019. Pearson walked into a world where he had to put together a class well after most of the top guys had committed, and the only guys currently in it who were committed when he was hired are two guys Michigan deferred from 2018 . They've done a decent job, grabbing NTDPers Johnny Beecher and Cam York, but again the bulk of the class is going to be older undrafted folks. It's not until 2020 that Michigan's recruiting looks like it will bounce back to what was once the usual.
The elephant in the room, though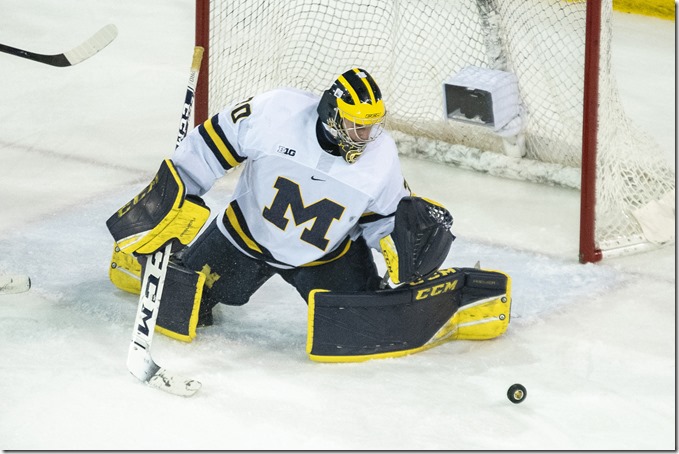 [Coller]
Goalie. Michigan does not have a goalie committed in any class. Jack LaFontaine is going to Minnesota. Hayden Lavigne had a .908 last year and has an .886 this year; Strauss Mann has a .899. Michigan's defense has been iffy at times, but Mann is 64th and Lavigne 77th among 78 qualifying goalies in save percentage.
Save percentages are extremely difficult to draw conclusions from when they're based on so few shots, but Michigan's defense is probably not the worst in the country, or close to it. Even Red's last team, which was horrible at giving up shots from the slot, had a collective .911. The only comparable season in recent memory was the 2012-13 season, in which freshmen Jared Rutledge and Steve Racine were so bad that third-stringer Adam Janecyk got 11 games… and was also pretty bad. Rutledge went back to the USHL and ended up in DIII; Racine was able to recover and post mediocre stats for the rest of his career. He was a backup in the ECHL for a couple years after college.
Michigan needs better goaltending than "backup in the ECHL."