Hello: Terry Richardson
Though it seemed for a long time like Michigan would not acheeve dream of landing the top in-state trio of LBs Royce Jenkins-Stone and James Ross and CB Terry Richardson, fear not: Richardson sealed the deal today, completing the triumvirate.
GURU RATINGS
Scout
Rivals
ESPN
24/7 Sports
4*
#10 CB
4*, 5.8
NR CB, #195 Ovr
NR CB, 150 Watchlist
4*, 97,
#3 CB, #31 Ovr
There is a machine hidden somewhere deep in Detroit that pumps out 5-9, 160-pound cornerbacks, and sends them to Cass Technical High School. Terry Richardson is the latest model, following Boubacar Cissoko, Dior Mathis, and Delonte Hollowell.
Richardson was a 2-seed in Sam Webb's March Madness recruiting column for the Detroit News. Allen Trieu on Terry's game:
The question with him is the size. He stands 5-9, 162 pounds, but he is an excellent football player with great instincts and excellent ball skills. His extensive offer list is proof that many of the top programs in the country have seen enough to say, 'We can overlook the lack of size.'
For the record, Michigan has commitments from 1-seeds James Ross and Royce Jenkins-Stone, 2-seed Devin Funchess, and 3-seeds Matt Godin and Mario Ojemudia, and is in good position with a couple other prospects. Michigan State has commitments from... none of the top 16. The report on Richardson is almost the exact same as the three DBs before him: excellent skills, except he's really short (he was a combine-verified 5-8 in 2009, but that's 3 years before he enters college, too). Trieu says he has the best ball skills of the Cass Tech lineage. Sam also profiled him in the fall:
"He's a natural at corner," said Scout.com Midwest regional manager Allen Trieu. "He has tremendous instincts to go along with the quickness and hips to turn and run with receivers. He also has great ball skills. His main weakness is size. I'd like to see him add weight this offseason but his tackling this season has been solid despite that."
Terry's been putting on weight, as he claims he was only 130 pounds(!) as a sophomore:
"I believe last year I was around 130, and right now I am at 165," Richardson reported. "I feel way stronger. My press coverage is looking a lot better. That is something that I just cannot wait to work on this summer during camp season — being more physical in press coverage."
Moving along, Terry talks about himself on his Scout profile:
"I'm a big play guy. When we need a big play, I'll come through and make it happen. I'm also smart and I can read routes and know what the offense is doing. I'm also always very composed and don't get rattled. I want to be more explosive and get in and out of my breaks faster. I'm working on being more physically fit and getting stronger."
Playing intelligently and building strength are HUGE needs for short DBs. Terry is a certified short guy. The only question about Terry is whether he can do those other things well enough to counter sub-optimal height.
It's relevant because all Cass Tech DBs are the same, so check out Brian's Delonte Hollowell profile for the general vibe on Terry, as well. Aside from the differences noted above, Terry is also a liiiittle bit taller than Delonte, and listed quite a bit faster.
OFFERS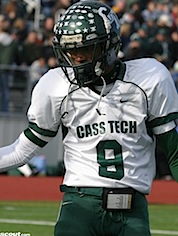 Allen gave a little love to his offer list above, and here is a small sampling of schools who aren't too worried about Terry's height to offer: Alabama, Iowa, LSU, Ohio State, Oklahoma, Penn State, and USC. All of those schools have put guys into the league at the position in the past couple years.
Other offers include Arizona State, Cincinnati, Indiana, Michigan State, Notre Dame, Pitt, Toledo, and UCLA. This is not some under-the-radar prospect. He had interest from Florida, Miami, Oregon, and Tennessee, and if those schools had extended offers, this would be as exciting a prospect as there is in this class.
STATS
Terry Richardson finished his junior season with 35 tackles and 12 interceptions on defense. Offensively, he caught 12 receptions for around 400 yards and five touchdowns.

Richardson had four interceptions, 16 breakups and 20 tackles as a sophomore.
Not bad. Cass Tech ran a spread offense of sorts (though Royce Jenkins-Stone got his share of carries at fullback), and Terry got a few receptions on that side of the ball. Defensively, the Technicians don't play a lot of teams that throw the ball much, and I wouldn't be surprised if those stats are a little... exaggerated.
FAKE 40 TIME
Scout says 4.5, but none of the other sites have listed 40 times. Considering his Scout profile also lists a combine-verified 4.64 (actually not bad with laser timing), I'll have to give two FAKEs out of five.
VIDEO
Youtube highlights:
You can also catch a couple glimpses of #9 in last year's Cass Tech FNL feature, where he impressed me a bit more than 2011 Michigan commit Delonte Hollowell.
PREDICTION BASED ON FLIMSY EVIDENCE
Terry seems like a great corner, but on the other hand, Michigan has plenty of talent in the pipeline. Courtney Avery will be but a junior in 2012, and Blake Countess's class (also including Greg Brown, Tamani Carter, and Raymon Taylor) will just be sophomores or redshirt freshmen. Considering Terry is just a skinny little guy, a redshirt year is probably in order.
Following such a redshirt year, special teams time as a redshirt freshman is the expectation, before the graduation of Courtney Avery and Terrence Talbott opens up a starting spot, for which he'll compete alongside whichever younger guy doesn't take the Woolfolk/Floyd starting spot in 2012.
I would guess Terry has a good chance at that spot, assuming natural development, or he at least gets a chance in nickel packages (though it seems Mattison's current plan is to play a bigger safety type in the nickel). By the time he's an upperclassman, Terry should be getting plenty of time in the rotation, and be a possible all-conference type in his final two years.
Though his size may limit him in the NFL Draft down the road (assuming he's not done growing - don't forget he won't even be in college for another 18 months), he still has enough other skills to be selected after the first round.
UPSHOT FOR THE REST OF THE CLASS
I am shaking in my shoes trying to figure out what other defensive back is going to commit within the next couple days, because I sure don't have the "comes in pairs" post ready to go for another guy (although Shane Morris and Matt Godin started to break up the position-by-position lockstep).
You know the story by now - DT, RB, OL, and WR are the remaining needs. A QB would be very nice, but is no longer imperative, and the remaining slots can go to the best prospects, regardless of position