So, Michigan kicked off the 2011 recruiting class a week ago with a commit from OH CB Greg Brown. HOWEVA, in order to get all our previewin' done before the season, an informative update had to wait until today. Brown hails from the alma mater of Charles Woodson, whom you may have heard of, and has been a Michigan lean for a long time.
Informative update:
GURU RATINGS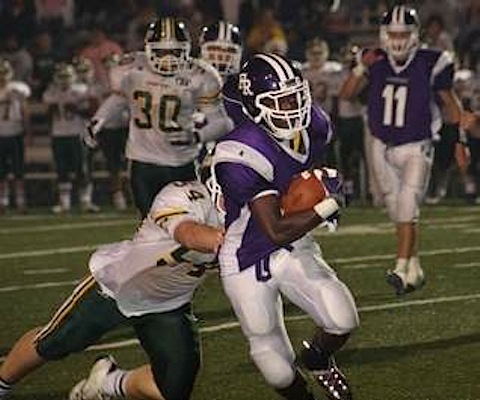 | Scout | Rivals | ESPN |
| --- | --- | --- |
| NR | NR | NR |
Don't be scared at those "NR"s across the board, as the recruiting sites haven't yet started evaluating juniors, aside from a few big-timers. Brown plays both CB and WR for the Little Giants, but is expected to primarily play defense in college. Jim Stefani brings a little info on Brown:
2007 Honors: Top 12 Ohio Freshman Watchlist (January 2008). One of the top sophomores in Ohio. Sophomore starter at DB. Very quick, speedy, athletic, great body control, fine ball skills and has fluid hips. Very impressive at the 2008 Michigan summer camp and was rated by some onlookers as the second best CB at the camp as a mere freshman. Very impressive at the June 2008 Ohio High School Coaches Associations 7-on-7 event. From a program that has produced the likes of Charles Woodson, Rob Lytle and Bob Brudzinski over the year. His father played at Iowa.
A Fremont Ross staffer has called Brown "the next big professional athlete to come from Ross."
OFFERS
Michigan, Michigan State, and Central Michigan all offered after seeing Brown in camp. One MGoHeuristic is that camp offers (especially to guys without a lot of offers overall) carry heavier weight, because the coaches have evaluated the prospect in person, which gives a better indication of skill. Ohio State did not offer, though he did attend their elite camp.
STATS
I couldn't find any first-hand statistical information, but UMGoBlog says that he had 30 tackles in 5 picks during his sophomore season (pseudo-confirmed by ESPN). He's also played both QB and WR offensively in the past, so word on stats in that department.
FAKE 40 TIME
Basically every database has Brown listed at 4.4 seconds. It's not terribly precise, so that could mean anywhere between 4.40 and 4.49. Until we get a more precise measurement, I'll give this a mere 1 FAKE.
VIDEO
Scouting Ohio has a brief video, and promises to have more later:
PREDICTION BASED ON FLIMSY EVIDENCE
Brown's enrollment at MIchigan is still a long, long way off. He could blow up over his last two high school seasons, or he could falter and become a lesser-rated guy. Still he's among the early top-15 lists in the state of Ohio, which often means low 4-star or high 3-star status.
He'll come in 2011, and with Michigan's growing depth in the secondary, should be able to take a redshirt year to get acclimated (unless, of course, he proves to be a top-top prospect). After that, he'll make the standard journey from special teams as a freshman, to backup duty as a sophomore, and probably grab a starting spot by the time he leaves campus.
UPSHOT FOR THE REST OF THE CLASS
It's a long, long way out for the 2011 class, and the 2010 group isn't even complete yet. Assuming Michigan gets a couple more CB/DBs in the 2010 class, there won't be a huge need in the 2011 class. If there's another guy out there who's a top prospect and shows interest in Michigan, the Wolverines would likely take another corner.
ETC.
Commitment article from local paper.