Hello: Grant Newsome

Newsome at Michigan (via 247) and on the field (Rivals)
Lawrenceville (NJ) Prep OT Grant Newsome announced his commitment to Michigan this morning via a very heartfelt note he posted on Twitter [click for full size]: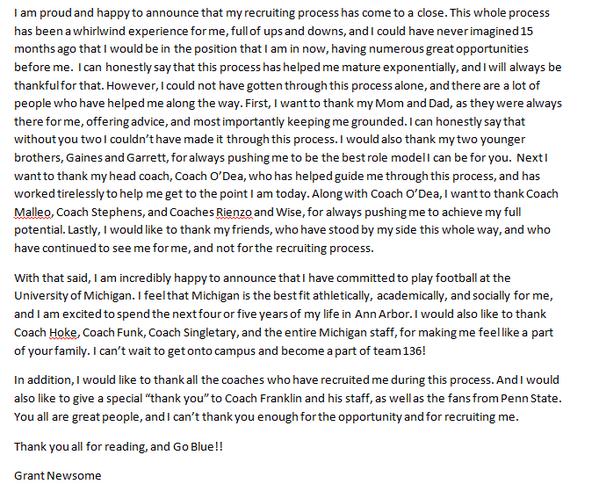 Newsome, who chose U-M over Penn State after recent return visits to both schools, is the seventh commit in the 2015 class, joining Jon Runyan Jr. among offensive linemen.
GURU RATINGS
Scout
Rivals
ESPN
247
247 Comp
4*, #20 OT,
#215 Ovr
4*, #21 OT,
#199 Ovr
4*, 81, #25 OT,
#235 Ovr
4*, 92, #22 OT,
#192 Ovr
4*, #19 OT,
#198 Ovr
Newsome is rated with remarkable consistency by scouts, to the point that he's ranked higher among offensive tackles on the 247 Composite than any of the four recruiting services. I don't think I've seen that for any player, let alone one who's yet to play his senior season.
There's almost universal agreement about his size, as well. He's listed at 6'7 everywhere but 247 (6'6"), and everybody but Rivals (280 lbs.) pegs his weight at 290. There's little question where Newsome fits on an offensive line—that's prototype tackle size.
SCOUTING
Newsome made his first major mark on the recruiting scene after his sophomore year, when he picked up an offer from Penn State shortly after standing out in their summer camp ($). Unfortunately, no scouting report at that link, but pulling in an offer from a strong recruiting Penn State program that showed major interest in him through two coaching regimes is a pretty good sign.
Scout's free eval likes his mobility and notes he needs some work on technique, which will be two running themes throughout this post:
Newsome is athletic, strong in pass protection and can get to the second level quickly in the running game. He is good drive blocking and does a nice job in pass protection. He has good length and is able to protect the edge, but does need to refine his technique. Newsome also gets to the second level quickly. -- Brian Dohn
He gets to the second level so quickly it needs to be noted twice in a four-sentence span, apparently. Getting another look at U-M's latest commit, Dohn ranked Newsome's performance third among offensive linemen, one spot ahead of Runyan, in a strong field at the New Jersey NFTC ($):
3. Grant Newsome, 6-6, 290, The Lawrenceville (N.J.) School
Skinny: Newsome had the unenviable task of being a left tackle in a 1-on-1 competition, which is slanted greatly toward defensive ends. His kickstep was good, he did a good job of not reaching and he used his length to tie up and frustrated defensive ends. Newsome also showed a good initial punch, and his lateral slide and footwork was also solid.
It appears Newsome's already improving on some of the technical aspects. While he came up short of position MVP honors and an automatic spot in The Opening, 247's Steve Wiltfong thought his performance could've merited an invite to Nike's elite camp:
Mclean (Va.) Lawrenceville School Top247 offensive tackle Grant Newsome could have easily won offensive line MVP honors and been invited to The Opening as well. Perhaps he still will. Has the ideal frame one wants in a left tackle, has nice length, he can bend, he keeps defensive linemen off him, not letting them get their hands on him.
ESPN's junior eval is just a condensed version of their longer one, so I'll reprint it here; it reflects the general consensus that Newsome has the ideal size and potential to be a great left tackle, but needs to add strength and technique—like most every offensive lineman coming out of high school—to put it all together ($):
STRENGTHS: Is very tall with a lean blend that looks to be capable of supporting additional bulk. Can move adequately in space for a guy his size with the ability to pull and block what is directly in front of him. Flashes the ability to get set quickly in pass to slide feet and mirror. ... AREAS OF IMPROVEMENT: Needs to continue to develop functional strength. Does not always roll hips and explode through contact. Can deliver a punch and jolt defender when given the angle but first step is not consistently on proper angle. Hand placement will need to improve as an edge protector. ... BOTTOM LINE: Newsome has the frame and athletic ability to develop but is still a bit raw at this stage. His size and athleticism will garner interest from some bigger schools down the road.
NJ.com placed Newsome second in their state rankings—ahead of Penn State's trio of highly touted New Jersey commits and 2016 five-star Rashan Gary—published this February after he earned first-team all-state honors:
Attributes: Newsome is as good an athlete as you will find playing offensive tackle. He possesses terrific feet and initial quickness. His lateral agility, anticipation and overall athleticism project him to left tackle in college. He displays good willingness in the run game and the potential to become a standout BCS offensive lineman.

Recruit capsule: Grant Newsome

• Frame - 10
• Pass Blocking - 9
• Run Blocking - 8
• Awareness - 7
• Upside - 10
Only consensus five-star corner Minkah Fitzpatrick ranks in front of Newsome; the locals really like his game. That article also featured the requisite glowing review from his coach:
"He's a very unique player in the sense that he combines anything that anybody who coaches college football would want in a young man. He is smart, articulate, tall, long and athletic. He's got a great sense of the game, a great work ethic and he's smart on the field and in the class room. And he's a gentleman. And I know that's a lot of superlatives, but he's doing a fantastic job all-around and we are lucky to have him." – Lawrenceville head coach Danny O'Dea
The above and the note Newsome posted upon committing probably covered any concerns about fitting The Pattern™. Just in case they didn't, it's worth noting Newsome heavily emphasized academics throughout his recruitment, taking looks at the likes of Cal, Duke, and Northwestern, and going into exacting detail on how Michigan's combination of excellent academics and support made a major impression after his most recent visit ($):
Newsome, who is looking to major in Civil War history   [ed-Ace: my man]  , said the academic tour, and specifically the M-PACT program and its director Shari Acho were a major plus for the Wolverines.

"It's definitely something I would say will factor into my decision," he said. "Michigan's academic support system is really unique for their athletes and it's something my mom and I were both really, really impressed with. They gave me a clear cut idea of the types of classes I would be taking and what the life and schedule is like for a student athlete. Michigan's APR and graduation rates were something I had heard about, but it's not something I'm concerned about at all. I know I am capable of succeeding anywhere I go, and for me the support system stood out so much, I know I will have more than enough resources to be successful in school if I decide to choose Michigan." 
It appears at least one negative recruiter didn't get the updated APR scores.*
Michigan is getting a lineman who fits the left tackle mold to a T, has excellent athleticism for his size, displays no off-field warning signs, and needs to add strength and technique to get to where he needs to be. Given U-M's recent offensive line classes, he should be afforded time to develop, and after that the potential is very high.
[*Honestly, negative recruiting doesn't really get a rise out of me—it happens everywhere in some form or another—but at least get the facts right.]
OFFERS
In addition to Michigan, Newsome earned offers from Alabama, Cal, Duke, Georgia, Louisville, LSU, Maryland, Miami (YTM), Michigan State, North Carolina, NC State, Northwestern, Ohio State, Penn State, Pitt, South Carolina, Syracuse, Tennessee, Vanderbilt, Virginia, West Virginia, and Wisconsin, among others. A decent list, I guess.
HIGH SCHOOL
Lawrenceville Prep went 5-3 last season, and while the Rivals search function is still not working for me, they've got an alumni page that gives you a solid idea what level of program they are—the vast majority of their graduates who play college football do so at Ivy League schools or the like.
STATS
Offensive lineman, no stats.
FAKE 40 TIME
No 40 time is readily available, but, you know, offensive lineman. The quick feet, as described by seemingly every scout, are what matter here.
VIDEO
Junior highlights:
Sophomore highlights are available on his Hudl page.
PREDICTION BASED ON FLIMSY EVIDENCE
He'll be a tackle.
Okay, that's both obvious and uninformative. Newsome should be able to take a redshirt year; when he gets to campus, Erik Magnuson and Ben Braden will be redshirt juniors, Chris Fox and Logan Tuley-Tillman redshirt sophomores, and Juwann Bushell-Beatty should be a redshirt freshman. Early enrollee Mason Cole and David Dawson, who's in the same class as Fox and LTT, may also be in the mix at tackle, though at least one of those two should eventually slide inside.
Newsome most likely will get a multi-year apprenticeship while he's refining his technique and hulking out, then he'll get his shot at earning a starting job.
UPSHOT FOR THE REST OF THE CLASS
Michigan has the offensive tackle they needed, and while they could add another lineman—probably a good idea for class balance if they have the room—they're in a position to take the two they've got and focus on other positions given the depth along the line in the last few classes.
With Ty Isaac's transfer taking up a scholarship, we're projecting 15 or so players in the class with normal attrition, though that number could certainly grow. That leaves eight spots remaining for U-M to add a running back, a wide receiver or two, a tight end (a spot they could fill soon with Chris Clark), a defensive end or two, an outside linebacker or two, and perhaps another defensive back to fill Shaun Crawford's vacated spot. Add all those needs up and you get to nine players—space is limited, something that Michigan has used to their advantage on the recruiting trail in the past.