There's a Delaware State?
DSU is a historically black college located in Dover (the capital of The Small Wonder). The school has just over 3,000 students, making it slightly larger than Ann Arbor Pioneer. It was founded as an agricultural school for blacks by the Morrill Act when the doctrine of Separate but Equal kept them out of schools for white students.
Who are the Delaware State Hornets?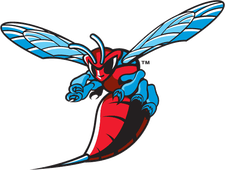 DSU's athletic teams are the Hornets, and their colors are Cherry Red and Columbia Blue. They compete in the Mid-Eastern Athletic Conference (MEAC) of Division 1-AA. Their football stadium, creatively named "Alumni Stadium" holds 7,193 spectators, by far the smallest of any team Michigan has played in the modern era.
Delaware State is not the 1-AA superpower that Appalachian State was in 2007. The Hornets are an average-ish team in the MEAC, and though they went undefeated in conference in 2007 (their only losses on the year were to 1-A foe Kent State and in the playoffs to 1-AA National runner-up Delaware (the first ever meeting between the two schools, something of a controversial topic)). This past year, however, the team went 5-6, missing out on the 1-AA playoffs.
What Should We Expect?
Head coach Al Lavan has brought a new era of respectability to the Hornets' football program, as the 2007 playoff appearance was the school's first ever. He is 35-22 in his four years in Dover, with the only losing season coming last year.
The Hornets finished 94th out of 118 1-AA teams in total offense, but their defense was stellar, finishing 13th in the country. That wasn't just a product of playing awful offenses from the MEAC, either, as many of them finished middle-of-the-pack or better in 1-AA for total offense.
As you'll see in a moment, last year wasn't exactly a rebuilding one for Del State: They will come into this year minus a ton of talent from last year's senior class.
Offense
The Hornets' pass offense loses 4-year starter Vashon Winton, and will be breaking in a new signal-caller. In addition, they lose 2 of their top 3 receivers.
Speaking of those receivers, one of them was departing tailback Chris Strother, who leaves, along with the next two top rushers, one of whom was Winton. Though I can't find any definitive info, the rushing yardage for a QB would certainly imply that Delaware State employs some type of spread offense.
Defense
Leading tackler Kevin Conner has graduated (along with fellow linebacker Jackie Watkins), and defensive back Avery Grant is the returning leader in that department. He is also the team's returning leader in tackles for a loss (that's right, as a DB), with a whopping 8.5. The defensive line loses a pair of stalwarts as well, with Ronn Spinner Jr. And Akiel Russell mobing on. The remaining starter at linebacker, Joe Mendes, led the team in sacks last year.
The distribution of statistic would lead me to believe that the hornets imply some form of spread defense, likely a 3-3-5 with Grant, the team's star, at Rover/Bandit.
And?
This has been a first glance at the Delaware State Hornets, and I'm sure both Brian and I will give them a more thorough treatment over the off-season and leading up to the game.
The author is the publisher of Varsity Blue.