Michigan has commitment number 2, and it's another offensive lineman. Cincinnati OL Caleb Stacey has pulled the trigger and committed to Brady Hoke and the Wolverines. Here's what he had to say to Tom:
"I just got back from a visit to West Virginia, me and my parents sat down and talked about everything. We just decided that Michigan was the right place for me. It was just the place I felt best and I felt comfortable."
Informative update coming later.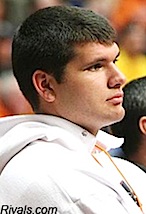 GURU RATINGS
| Scout | Rivals | ESPN |
| --- | --- | --- |
| NR OG | NR OL | NR OL |
INFORMATIVE UPDATE
We shall start, as we (almost) always do, with size. The three sites are mostly in agreement on his size, with Scout and Rivals crediting him at 6-4, while ESPN docks him an extra inch, saying Caleb is merely 6-3. The consensus weight is 280 (although Rivals says he's only 275).
As a slightly shorter guy, it's almost certain he's an interior player. Since it's early in the process, there's not a whole lot of info on Caleb out there as it relates to his ability.
Since I'm posting this from my phone at the lacrosse game, a more in-depth breakdown based on his video (and a more thorough search for articles on his play) will have to wait until Wednesday Recruitin' - for now, check out a couple useful comments on this post.
OFFERS
Caleb had a wider range of offers than Ben Braden, though not necessarily quite as high-profile. Rivals gives him BC, Bowling Green, Cincinnati, Illinois, Indiana, Miami (NTM), NC State, Ohio, Toledo, Wake, and West Virginia offers. Scout adds South Florida.
Despite the lack of information on Caleb out there, this is no under-the-radar kid. Encouraging? Yes.
STATS
Caleb is an offensive linemen, and one who doesn't get a lot of press, at that. No stats available.
FAKE 40 TIME
None of the premium site have a listed 40-yard dash time for Caleb, but Rivals does list a GPA of 3.2. I'll pretend like that's a 40 time, and give it seven FAKEs out of five.
VIDEO
Ask, and ScoutingOhio shall provide:
PREDICTION BASED ON FLIMSY EVIDENCE
Very early in the process, Caleb has the sort of offers that indicate he would be a bigtime prospect following the summer. However, an early commitment probably means he won't spend a lot of time at camps, and his profile will stay a little lower. High 3-star to mid 4-star is probably his (slightly unfair) ceiling.
In college, a redshirt is near-automatic for young linemen. Caleb is no exception, and he'll sit a year on the bench before working into the 2-deep. The interior line depth chart is not quite as dire as the tackles, and so he's likely to sit another year as a redshirt freshman.
After that, however, it's way to early to tell. Will there be attrition from the current roster? Will more-recognized linemen commit (not that they're necessarily better for their recruiting profile, but who knows)? We'll wait and see for now.
UPSHOT FOR THE REST OF THE CLASS
MOAR LINEMEN. That's two out of four to six spots filled. With a number of commits expected to reach the high teens, that should have no other effect on the class.
Hopefully, in fact, it gets a commitment train rolling through the end of spring.