Austin White is a 6'0", 180 pound tailback from Livonia, Michigan, who's just committed to Michigan. Google, I stalk with it.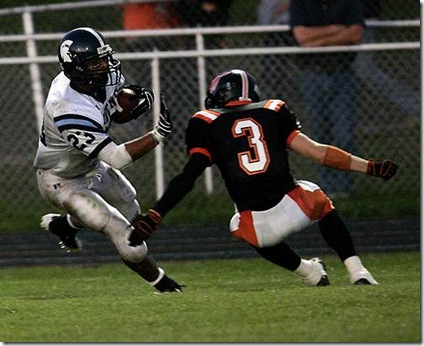 GURU RATINGS
| Scout | Rivals | ESPN |
| --- | --- | --- |
| 4*, #17 RB | 3*, #32 RB | 77, no position ranking |
White first served notice he'd be a Big Ten level recruit at a camp shortly after his sophomore year:
A future Rivals100 candidate Austin White of Livonia (Mich.) Stevenson put on a show at the camp.

Claiming early oral offers from Michigan and Michigan State White, a running back, was asked several times to go up against the top linebackers in the camp and every time he came out victorious in the one-on-ones. He was even held so bad on one play that his jersey almost ripped off, but it couldn't stop the 6-foot, 185-pounder from still making a big catch.
Michigan and State followed up with official offers the first day they could do so, at which point Helmholdt said people should expect White to be "one of the top running back prospects in the country" and "challenge for top honors" in Michigan's 2010 class.
As you can see above, that didn't exactly happen. Though White checked in fourth—ahead of Robert Bolden—in a February ranking of the state's top ten players, two of the three scouting services put White amongst the three-star rabble when it came time to assign the stars. (FWIW, he didn't he didn't miss four by much on Rivals.) While the third, Scout, has him well within their top 300 they also have him considerably lower than analysts suggested he'd end up after White's initial burst onto the scene.
Wha' happen? It appears White didn't end up as big or as fast as you need to be to end up an elite prospect. ESPN's middling evaluation touches on his "great receiving skills" but kind of sounds McGuffian in its concern for his head:
White is a productive, well-rounded back with good upside when projecting for the next level. Has a taller frame for a back and needs to watch his leverage but has good muscle tone and the room to add 10-15 pounds of bulk to increase his power and durability. … not a burner with a great second gear or overly explosive. For a bigger high school back he goes down frequently on first contact and legs can go dead when wrapped up. At times, his high running style hinders his balance, running strength and ability to avoid trip-up tackles. Durability could be an issue at the next level as well if he does not run more behind his pads. … could eventually develop into the complete package at the next level if he can add the bulk and power to carry the load.
The traditionally reserved Touch The Banner's scouting report also notes the receiving ability and says he has the tools to be a read option back or receiver in the spread offense, but says he's not a gamebreaker and that he lacks the "speed and moves to be a finesse rider." The upshot:
Projection: White will be a solid but unspectacular back in a BCS-level program.

Reminds me of: Jerome Jackson.
I always liked Jerome Jackson, actually, and think he might have established himself a decent starter if not for his incredibly ill-timed injury at the beginning of the 2005 season that opened the door for a guy named Hart. Jackson was reduced to playing Wally Pipp until he came off the bench in the 2005 Iowa game.
I'd love to hear Scout's more positive take, but there's not much explanation behind their rankings. His profile is all you get:
An explosive back who can be used in a variety of roles. Has great feet and change of direction ability and makes many people miss in the open field. When he finds a crease, burst and acceleration are good and has breakaway capabilities. Is a fine receiver out of the backfield and has experience playing slot and split.
White might have some upward mobility yet after a positional MVP performance at the Illinois Nike camp:
White was the top running back at the camp. He flashed his excellent speed, has a powerful looking frame and can catch the ball. White, who has a dozen scholarship offers including Michigan, Michigan State, LSU, Illinois and Wisconsin, left no doubt on Saturday that he is a Big Ten-type prospect.
Helmholdt on the same camp:
Livonia Stevenson's Austin White took home the MVP honors at the running back position with considerable ease. The 6-1, 185-pound White was nearly unstoppable in the one-on-one portion of the camp, using his speed to outrun would-be defenders. White's footwork and agility in the drills portion of the camp also solidified his MVP honors.
We'll see that take effect, if it does at all, in the next Rivals re-rank. If he doesn't bounce up there he's a three-star unless his senior year is preposterous.
FWIW, recently the News named him the #2 playmaker on the West side of Metro Detroit going into 2009—Devin Gardner was #1, obvs—stating he is "one of the most dynamic running backs the last four years or so."
OFFERS
White's picked up an impressive but not quite world-beating assortment of offers: Michigan, Illinois, Wisconsin, Michigan State, LSU, and Iowa are the most prominent.
STATS
His junior year landed him on the Free Press's All West team, which gave them cause to sum the stats:
Austin White, Livonia Stevenson: One of the most dynamic backs in the state, White rushed for more than 1,000 yards as a sophomore and this season he became a more complete player. He rushed for 1,610 yards and 28 touchdowns on 228 carries. He returned nine kickoffs for 279 yards. White also had 21 receptions for 310 yards and four touchdowns. He even threw a touchdown pass. "It's almost like there's nothing he can't do," coach Tim Gabel said.
FAKE 40 TIME
What's the deal with the lack of fake 40 times of late? Not one article had a preposterous listed speed that would put a high school kid on par with Usain Bolt. All I've got is a camp-measured 4.58 from the Scout profile. What happened to the 4.16s of yesteryear?
VIDEO
This is a Livonia Stevenson highlight reel, not an Austin White one, but when you run for 1,600 yards your team's highlights tend to feature you heavily:
There is also the "Hammertime Play of the Week" from some week in the past. Please, Austin, don't hurt 'em.
PREDICTION BASED ON FLIMSY EVIDENCE
My thinking in this case has really latched on to TTB's Jerome Jackson comparison. And I don't necessarily think that's a bad thing. Jackson was similarly sized and a mid-to-low four star on Rivals—I don't recall his Scout ranking. And while he wasn't Mike Hart he had a promising freshman season and once inserted into the lineup in that Iowa game he proved effective, far more so than Grady, at least.
White's a guy that most of the Big Ten wanted; the lone exceptions were Penn State and Ohio State. Add in the LSU offer and that's a serious argument White can be a productive back at the Big Ten level. His less than ideal size and speed combo would ideally see him function as the second back in a platoon system headed by a star back.
White's versatility will serve him well, though. He can function as a multi-purpose player that opponents will have a hard time preparing for when he comes in the game. Put him in space against a linebacker and it's advantage Michigan; line him up in a twin back set with a pounder like Minor or Cox against a nickel or dime and it's advantage Michigan.
UPSHOT FOR THE REST OF THE CLASS
I addressed this in detail just yesterday, but to repeat: Michigan loses three tailbacks and Michigan's got two or three replacements in the class now. They'll be very picky the rest of the year, with Eduardo Clements and Brandon Gainer the only folks who seem like they'd be offered a spot no matter what. (If Brennan Clay decides to ditch Oklahoma, add him to the list.) Your Jamaal Jacksons and Cassius McDowells are out of luck.
Etc.: Tom VanHaaren interviews White.