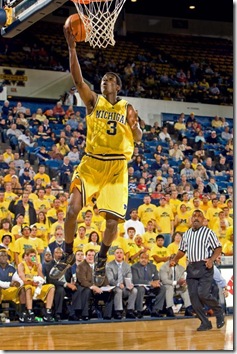 FIGHT
[note: this post and the BWS post were written before the Northwestern game.]
A hearty thanks to Burgeoning Wolverine Star for showing men of pessimism what pessimism really is in his post on Michigan basketball's immediate future. Whereas I'm content to downplay Michigan's chances at making the tourney this year, BWS wants you to know that Michigan isn't making the tourney next year, the year after, or ever again.
I kid. I think so, anyway. But the thing that struck me as true Keyser Soze-level pessimism was when BWS downplayed the possibility Hardaway will blow up by comparing him to Manny Harris:
Hardaway's measurables and stats are remarkably similar to Harris' throughout his career at Michigan:

| | | | | | |
| --- | --- | --- | --- | --- | --- |
|   | PPG | RPG | APG | FG% | 3P% |
| Harris 07-08 | 16.1 | 4.2 | 2.7 | 38.10% | 31.80% |
| Harris 08-09 | 16.9 | 6.8 | 4.4 | 41.50% | 32.70% |
| Harris 09-10 | 18.1 | 6 | 4.1 | 42.10% | 30.80% |
| Hardaway 10-11 | 12 | 3.8 | 1.5 | 37.50% | 32.60% |

Not that adding Manny Harris to this team wouldn't be beneficial, but Hardaway's production and body type--to say nothing of his predilection to take bad three pointers--are things Beilein has had to play with in the past. With any luck, Hardaway will avoid the general apathy and combativeness with the coaching staff that Harris showed toward the end of his career at Michigan, but regardless, seeing Hardaway turn into an unstoppable force is a little optimistic IMO.
The thing about Harris is that he didn't get much better, as the above chart suggests. None of those percentages have anything to do with frequency. Harris's usage rates as a sophomore and junior were almost identical, he took as many threes, as many twos, etc. The main difference between the two years was a considerable drop in assist rate that the team mirrored, dropping from third to 21st in percentage of shots assisted. Since the only losses from the team were two walk-on guards and the Grady buried behind them you can argue that Harris actually got worse between his sophomore and junior years. Also, Manny collapsed every Big Ten season as defenses collapsed on him.
BWS uses this as a cautionary tale about projecting Hardaway down the road, but I think that's backwards. Players improve as they age and they improve a lot when they are young. Manny not improving at the same time he was getting suspended, sitting on the bench for OT against Iowa, etc., says more about Harris specifically than Beilein's ability to deal with a Harris-type player.
Even if Beilein's inability to cajole Harris into learning how to use his off hand or not jack up strange three-pointers multiple times per game suggests Hardaway's fate, Harris still improved radically after his first season. There will be graphs. Meanwhile, Hardaway has a much better offensive efficiency mark than Harris as a freshman with nearly as much usage. He's almost reached Harris's sophomore and junior marks because of one glaring difference between the two players: turnover rate*. Harris was at 22% as a freshman and only got down to 16.5% as a junior; Hardaway is 14th nationally at 9.3%.
Now, there are lots of reasons for this that have nothing to do with the relative merits of the players. They can be summed up with the words "Darius Morris," who has a Harris-like 18.8 TO rate that no one's complaining about because he's fourth nationally in assist rate. Hardaway does not have to be the primary ballhandler. He doesn't provide the assists Harris did. He has a lower TO rate than anyone on the team, three-point specialists included, despite using more possessions than anyone except Morris. He should learn what shots are good and which are not as his career progresses, something Harris didn't want to or couldn't because he didn't have the butter—[strangling sounds] version of Darius Morris next to him or anyone who could shoot ever.
While I don't think Hardaway is as good as Harris was as a freshman or will be as good as Harris was as a sophomore, he doesn't have to be in the context of this Michigan team to be more efficient than Harris could ever dream of being. Chart? Chart. Chartzzzz.
[These are adapted from the excellent Big Ten Geeks study from a couple years back that showed the general path of improvement as players age. Kenpom has not updated individual numbers from last night yet so these are a tiny bit out of date. Hardaway went 5 of 11—3 of 8 from three—was 4 of 4 from the line, and had four assists to two turnovers, so these are slightly pessimistic.]
Shot%
Harris maintained an epic usage level his entire career; Hardaway has started off at nearly the same rate.
eFG%
Due to the high usage both are below average. Harris was less efficient, likely because very few of his buckets were assisted. Hardaway should not expect to improve as much but should at least equal Harris next year; average is within reach.
TO%
Harris was slightly above average for the duration of his career but these numbers include a lot of stone-handed post players and are not targeted towards guards; I don't have any data but eyeballing it those numbers seem thoroughly mediocre.
Hardaway's numbers are remarkably good for anyone, even players who believe the ball is radioactive. He's the only freshman on the list until you get to #38, and the first frosh playing outside the Dakotas you find is #44 Jared Sullinger. The guys above him are folks like Wisconsin's Tim Jarmusz (9.5 usage rate), Illinois's Bill Cole(11.5), and… uh… Jordan Taylor (best point guard in the country unless you're an idiot).
His numbers are so good that we can expect him to regress next year, especially if he starts driving more aggressively. They're also too good to be a fluke given his usage.
ORtg
Since Hardaway doesn't have to be the primary ballhandler he is crushing Harris and the average for freshmen. Improving shot selection, reducing usage, increasing assist rate, and general improvement should send this higher next year—higher than Harris ever achieved.
What would have happened to Manny Harris if he had an awesome point guard next to him? What about awesome point guard + conscience? What about awesome point guard + conscience + actually liking his head coach? These are the questions we're about to find out as we watch Tim Hardaway, Jr., go from maddening but efficient-for-a-freshman to something between a good second banana and a ninja.
SIDE NOTE: These numbers brought home another point: Darius Morris is a better player than Harris ever was, full stop. Literally the only thing Harris has on Morris is a few points of 3PT% and a slight edge in free throw rate**. Morris is shooting far better than Harris ever did from within the arc, assisting on damn near everything he's not scoring, and maintaining an acceptable TO rate.
Freshman, Minutes, And Improvement
To further dispute BWS, he mentions later that people are pointing towards the extreme youth of the team as a reason they will improve considerably:
The biggest source of hope is that Michigan's team is once again one of the youngest in the country. Much like in 2009, Michigan's team is at a serious disadvantage in terms of college experience. This was one of the biggest points of optimism for the 2010 season that ultimately saw the team flame out spectacularly and lose close games in agonizing fashion.
Even before the season it was clear Michigan was overrated at the #15(!) team in the country after finishing the year 50th in Kenpom. People expected them to get better and got worse, something I'd again argue was a chemistry problem largely brought on by Harris. That problem won't be around next year and even if it did the overall percentage of freshman minutes then was far lower than it is this year. In 2009 freshmen played 31% of Michigan's minutes. This year it's 44%.
What's more, the second and third highest usage guys on the team are freshmen who play at least 60% of minutes. In 2009 Douglass and Novak had low usage and Laval Lucas-Perry was a mid-year transfer who only played 33.% of Michigan's minutes. The percentage of possessions used by freshman this year is vastly higher. Two years ago: 26%. Now: 45%. That plus being on the same page should yield a significant improvement in 2011-12.
Yes, Mr. Gaerig, you are too pessimistic about basketball, but you already came to that conclusion yourself.
*[The percentage of possessions used that end in a turnover.]
**[Harris has an individual edge in rebounding but this year's team is much better in that category than they were the last couple years so how much of that is actually meaningful is in question unless you're David Berri. Also Morris doesn't play the three, Hardaway does.]