Hard Right Turn
11/12/2016 – Michigan 13, Iowa 14 – 9-1, 6-1 Big Ten
[Eric Upchurch]
The punt landed on the four and took an abrupt right turn, as if God himself had decided to intervene with a brief misapplication of the rules of physics. In my experience punts do not do this. Usually they continue forward on their merry way. Sometimes they'll catch the turf in a particular way and bounce backwards, which still would have been great for Iowa but not quite as great as what happened. Which was, again, a punt hitting inside the five and veering away from the endzone like it was remote-controlled. It settled at the two.
Behind me, an Iowa fan exclaimed "RON COLUZZI IS A GOLDEN GOD." You, dear reader, may think this was some sort of cynical punt-to-win exclamation from a fanbase that hasn't had much else to hold onto this year. I do not think this was the case. Coluzzi had already dropped a coffin corner punt inside Michigan's ten and induced Devin Bush's ejection with a certainly-intentional mid-play flip. I feel that the Iowa fan was expressing a genuine opinion that Ron Coluzzi has occult powers given to him in a satanic ritual.
After Khalid Hill fielded a pop-up to start the second half and fumbled it to Iowa, I had no choice but to agree. Ron Coluzzi is a golden god. Yea, and wroth.
---------------------
The game veered at the same instant that punt did. Michigan was up 10-0 after a 72-yard touchdown drive and had collected 125 yards midway through the second quarter—not the flamethrower operation they'd been the previous three weeks, but not bad for three drives, one of them starting in Iowa territory and ending with a goal-to-go field goal.
Two plays later Michigan had given up a safety because Kyle Kalis let Iowa's best lineman into the backfield more or less free. Their next four drives went three-and-out, with a fifth stillborn thanks to Coluzzi's occult powers. Passes were dropped. Deep balls were vastly errant. Michigan's ground game could do little against a defense that just gave up a 300-yard day to Penn State.
And what do you say about that? Michigan appeared to be a knockoff version of itself, cheaply made and sold out of the back of a van. Iowa was vastly improved in this game after a wakeup call against Penn State. They brought out a bunch of traps and quick pitches and in general looked like a team actively attempting to win a football game, instead of one present at it and hoping things go their way. Desmond King made a series of excellent run defense plays; Jaleel Johnson got a bunch of pressure; Akrum Wadley is currently looking at an industrial washer on the spin cycle and thinking is that all you got? They were good enough to compete.
They should not have been good enough to win. This had little to do with the Iowa defense:
...an array of overthrown, late and underthrown deep balls saw the Michigan quarterback complete just one of his 13 passes aimed 10 or more yards down the field — a 29-yard gain to Jehu Chesson.
PFF had Iowa's coverage -4.2 on the night largely because Amara Darboh repeatedly got screamingly wide open downfield. Two yards here, four yards there—nobody was in his area code. Michigan completed none of these throws. When Wilton Speight did give his receivers reasonable opportunities, too many times they went clang. Chesson, Butt, and Darboh all had reasonably catchable balls thunk off their hands and too the turf. Yes, Speight could have done better. Yes, the receivers could have done better. They did not.
Michigan isn't this team. Unfortunately, it appears that neither are they the rampaging death machine that stomped through this season, barely dented by nine different teams' best shot. Because of the 9 in the record above and the way that 9 was acquired, this game has drawn a truly epic amount of stupid overreactions to it. This means Michigan isn't 'Bama. It doesn't mean they can't beat a team that beat Northwestern 24-20 at home.
How much of this is Michigan being a CLOWN FRAUD and how much is just college football losing its damn mind like it always does it yet to be determined. Ron Coluzzi is a golden god; Ron Coluzzi probably did not plan for his punt to veer sideways. Randomness is always a factor. Teams put up stinkers every year for no other reason than having a bunch of weighted coin flips go the wrong way, and it's not hard to move one or two balls a couple feet and exit this game undefeated and not particularly challenged.
They did not, and now it's a long wait to see how much of a weird night in Iowa is being in the wrong place when a punter ascends to the heavens and how much are real chinks in Michigan's once-impregnable armor.
AWARDS
[Upchurch]
Known Friends And Trusted Agents Of The Week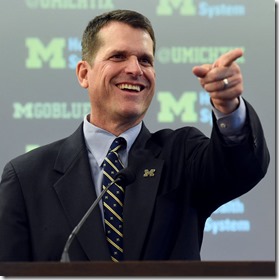 you're the man now, dog
#1 Chris Wormley had a sack and another TFL; he did a great job on a reverse to pursue and get outside to hold the damage down on a play that looked real bad for a second; he bounced between DE and DT and was consistently pushing the middle of the pocket on passing plays; he dismissed various tight ends with authority, as per usual. His impact outstripped the box score, and the box score is pretty good.
#2 Taco Charlton was similarly dominant on the night. He got the hit on Beathard that resulted in the late interception, dismissed yet more tight ends, and had a major hand in Michigan's dominant pass rush despite not picking up the stats himself.
#3 Channing Stribling had that late interception and was repeatedly tested by an Iowa offense determined to keep it away from Jourdan Lewis at all costs. He had multiple pass breakups and dominated a couple plays so comprehensively that Beathard just booted the ball out of bounds instead of risking a throw. A pass or two completed against him and some iffy run D don't offset an otherwise terrific game.
Honorable mention: Jourdan Lewis, as per usual. Ryan Glasgow and Maurice Hurst were both good on the interior; Chris Evans had a solid day running the ball; Mason Cole was a bright spot on an OL that had a rough night.
KFaTAotW Standings.
10: Wilton Speight (#1 UCF, #1 Illinois, #3 MSU, #1 Maryland)
9: Jabrill Peppers(T2, Hawaii; #3 UCF, #1 Colorado, #2 Rutgers, #2 MSU)
5: Ryan Glasgow(#2 UCF, #1 UW), Chris Wormley (three-way T1, PSU, same vs Rutgers, #1 Iowa), Taco Charlton(three-way T1, PSU, same vs Rutgers, #3 Maryland, #2 Iowa).
3: Mike McCray(#1, Hawaii), Ben Gedeon(#3 Colorado, #3 PSU, three-way T1 Rutgers), Amara Darboh(#1 MSU), Jourdan Lewis (#3 UW, #2 Maryland).
2.5: Karan Higdon(four-way T2, PSU, #2 Illinois).
2: Jake Butt(#2 Colorado), Kyle Kalis (#2 UW)
1: Delano Hill (T2, Hawaii), Chris Evans (T3, Hawaii, four-way T2, PSU),  Maurice Hurst (three-way T1, PSU),  Devin Asiasi(#3 Rutgers), Ben Braden (#3 Illinois), Channing Stribling (#3 Iowa).
0.5: Mason Cole(T3, Hawaii), De'Veon Smith (four-way T2, PSU), Ty Isaac (four-way T2, PSU).
Who's Got It Better Than Us Of The Week
This week's best thing ever.
Ty Isaac puts Michigan up 10-0.
Honorable mention: Interception that nearly sealed the game; Kenny Allen nails a 51-yard field goal to give Michigan the lead.
WGIBTUs Past.
Hawaii: Laughter-inducing Peppers punt return.
UCF: Speight opens his Rex Grossman account.
Colorado: Peppers cashes it in.
PSU: Wormley's sack establishes a theme.
UW: Darboh puts Michigan ahead for good.
Rutgers: Peppers presses "on".
Illinois: TRAIN 2.0.
MSU: lol, two points.
Maryland: very complicated bomb.
Iowa: The touchdown.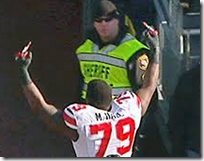 MARCUS HALL EPIC DOUBLE BIRD OF THE WEEK.
This week's worst thing ever.
Kyle Kalis leaves Jaleel Johnson on the two yard line, creating a safety that started Michigan's weird ride towards a loss.
Honorable mention: QB sneak is down a yard short of the first down line and is not reviewed; Ron Coluzzi being a golden god repeatedly; Darboh can't bring in a fade that would have just about ended it
PREVIOUS EPIC DOUBLE BIRDs
Hawaii: Not Mone again.
UCF: Uh, Dymonte, you may want to either tackle or at least lightly brush that guy.
Colorado: Speight blindsided.
PSU: Clark's noncontact ACL injury.
UW: Newsome joins the ranks of the injured.
Rutgers: you can't call back the Mona Lisa of punt returns, man.
Illinois: They scored a what now? On Michigan? A touchdown?
Michigan State: a terrifying first drive momentarily makes you think you're in the mirror universe.
Maryland: Edge defense is a confirmed issue.
Iowa: Kalis hands Iowa a safety.
[After THE JUMP: WELP.]
OFFENSE
[Upchurch]
Welp. I'd like to know what the point of having things happen is if they are in no way indicative of things that will happen in the future. Wilton Speight drove off a cliff in this game. He missed every one of his deep shots, most of them badly, and started turfing relatively easy throws midway through the second quarter.
There was no apparent reason for this. Immediately after the safety, Speight left an open comeback route five yards short and then missed a blitheringly open Darboh deep. On both he had some mild pressure—the first was a waggle that was reasonably contained, the second had guys coming in but unable to get a hit on him—but nothing that should have thrown off his throws. The latter was especially disappointing since he threw off his back foot unnecessarily.
@JDue51
Aaaand we go 3&out

Darboh torches #5 w double move but Speight can't step into his throw due to pressure
(Kalis, Braden, Smith) pic.twitter.com/8OP2I6oQg1

— Due (@JDue51) November 14, 2016
We've seen Speight stand in and deliver over the past month; not so against Iowa.
Things proceeded from there, with Speight and his receivers repeatedly combining to not quite catch passes. Both Darboh and Chesson had opportunities to make moderately difficult plays on balls that could have been thrown better and did not. Chesson had a touchdown in his hands that some jostling from a CB knocked loose; Iowa would get down to the three on their TD drive when one of their WRs brought in a four-yard pass despite Lewis hammering the guy much harder.
But it was mostly Speight. He threw a ball way behind Butt on third and two on Michigan's opening drive of the second half that had some people wondering if Butt ran the wrong route or needed to settle further outside against zone coverage. He did not. Grant Perry was running a slant against a linebacker just outside Butt and was wide open for the conversion. Speight picked the wrong WR. The interception was a fight between Chesson and the CB because it was a couple yards behind an open receiver.
I don't know, man. Nothing in the past means anything in the future.
Unless he's hurt and that is the explanation. Harbaugh:
Speight appeared to suffer a left shoulder injury during the final offensive snap against Iowa on Saturday night. After the game, he spoke with the media -- without any ice or a shoulder sling -- and said he felt sore, but wouldn't know more until later in the week. ...

"I would anticipate today, the next couple days that (O'Korn and Morris) will get the majority of the reps," Harbaugh added.
Michigan was looking at Speight's shoulder even before the final three-and-out, as ESPN cameras caught him working with trainers and testing out some throws. Things looked much worse after Speight got hammered on Michigan's final offensive play. There are rumors flying around that Speight might be seriously hurt; Harbaugh's not going to tell anyone that, ever.
The safety. Looks like it's Kalis busting his assignment, passing Johnson off to nobody as both Asiasi and Magnuson flare out to defenders to get kickout blocks.
How the hell are you gonna shoulder-chip a 320pounder when you pinned on your own goalline?

A quiet Iowa crowd is now awake. pic.twitter.com/jkGGixwkPl

— Due (@JDue51) November 14, 2016
Hypothetically possible that Magnuson was the issue but if that was the case Asiasi should be attempting to hit the DE, not the LB. Unlikely that both of those guys got it wrong.
Meanwhile in Kalis's night. Johnson owned him in pass protection. Michigan got away with an obvious hold on the big pass play on their touchdown drive and Johnson was ripping through him on a lot of Speight dropbacks. Michigan's attempt at a one minute drill before the half started with a Johnson sack on which Kalis got whipped.
Hugely disappointing night from a guy who has been Michigan's best offensive lineman this year.
Ugly crack sweep stuff. Michigan's outside run game was completely throttled, culminating in the bizarre decision to pitch it outside on third and one against a defense that had been swarming sweeps all night. Remember that stuff we were talking about where Penn State would point out Iowa's obvious audibles? Well, when Michigan motioned into looks-like-crack-sweep, Iowa had a call they'd make with their linebackers, and Iowa would get seemingly their entire D to the ball.
DEFENSE
I mean, it's not like you can blame them. Iowa gained barely over 200 yards and scored ~13 points. You can hand out blame to some missed tackles here and there, but... I mean... Iowa receivers gained 14 yards. Michigan sacked Beathard for more yardage than that. In almost all situations that wins a game by one billion points.
Michigan faced 13 drives*. They gave up a touchdown right before halftime on a drive starting on the Iowa 48; two field goals resulted from drives starting in Michigan territory. That was it. Even against an offense that's been scuffling like Iowa's that's about on par with expectations.
*[12 in the box score but functionally 13 since the double running-into-the-kicker event didn't have anything to do with the D.]
I BLAME THEM FOR THIS. Both Ace and I praised Akrum Wadley and puzzled at his relative lack of impact on an Iowa defense otherwise devoid of playmakers. Temporarily Non-Idiot Ferentz finally let Wadley get more carries than LeShun Daniels; Wadley had 28 touches in this game for almost literally all of Iowa's yards. Just about everyone in Michigan's back seven missed a tackle on him.
Also, McCray in space. The only significant passing gain of the game was a second and ten dumpoff to Wadley on which McCray got beat so badly he couldn't get a tackle in. Exacerbating my frustration is the fact that Wormley aborted a pass rush to chuck Wadley and did so successfully. To still get beat that badly despite getting help is alarming.
Then it was McCray chasing Wadley into the endzone on Iowa's fourth down conversion; McCray overrunning a reverse that Wormley had brilliantly strung out. That's the blinking weak spot on Michigan's defense. It's still a small target—see the rest of the game.
The pass defense is still outstanding. Beathard couldn't hook up with one of his WRs on a post on the first drive with Delano Hill arriving late, and that was the last open receiver on the night for Iowa. Per PFF Beathard was pressured on half his dropbacks, which is insane, and on several throws he was fortunate that he was way off because Michigan players were in better position than his wide receivers. Stribling missed his usual tackle and gave up an early slant but was otherwise unbeatable; Jourdan Lewis was Jourdan Lewis.
Tyree Kinnel got most of the second half. Hill exited with what looked like a harmless cramp; I don't think he returned. Kinnel entered and there didn't appear to be any dropoff. So that's nice for next year.
SPECIAL TEAMS
[Upchurch]
"Ron Coluzzi is a golden god." Michigan started drives on their own 2, 7, and 8 because of what seems like a freaky Coluzzi ability. The guy has just 5 touchbacks on the year, and none in this game. When not feathering punts inside the 10 he was blasting them: he averaged 47 yards a kick despite a number of pooch punts. Peppers only got one return (and nearly broke it).
Nearly broke it. In the aftermath of that game, Peppers's single punt return sticks out as a major what-could-have been moment. He'd broken a few tackles and reversed field and for a second I thought he was gone.  If he is gone, that is all from Iowa City.
In conclusion, dammit.
A good scout. Coluzzi had the two popup kicks bookending halftime. Michigan anticipated the first, move Peppers to the kick's pending location, and got a return out to the 38 for their troubles. They did not anticipate the second since it was not in a squib scenario. Khalid Hill fielded it. This could have gone better.
Just hand it to Peppers. If you are an upback and catch a kickoff, hand it to Peppers. Trust me. It's a good idea.
MISCELLANEOUS
[Barron]
Iowa is terrific. This is the second time I went to Kinnick and probably the last* for a while, so I'd better tell you about it now because I might not have an opportunity in the future. Iowa football is great. It is a sneaky tentpole program of college football; it's the main locus of sporting passion in a state that doesn't have any pro teams but can cobble together enough people to make a D-I program work.
So you go there. The first thing you notice is that Kinnick is gorgeous. It's all brick, even on the interior, and if we're being totally honest it kind of feels like when Bill Martin added the luxury boxes he pointed at Kinnick and said "do that." Upon entering it was nigh-impossible to tell where the student section was because everyone was in black and standing the whole time. This is a very disappointing 5-4 (now 6-4) team that had its bloggers overreacting and predicting Rutgers-esque scores before the game but that stadium was packed to the gills 20 minutes before the kick.
At halftime I ducked back under the concourse because it was about ten degrees warmer underneath and hung out for a while. An Iowa fan engaged me and asked where I was from, how I was doing, that sort of thing; there was no animosity. He was checking on his fellow fans, mostly. I had only good things to report.
Afterwards the logistics of having working media and plain old fans driving in the same car caused us to wait outside one of the main exit points of Kinnick for about 20 minutes; probably half that stadium walked by us. Other than one or two guys who said things too dorky to actually be threatening, everyone was happy and polite. There was one guy out there the whole time just high-fiving everyone.
The existence of Iowa is one of the reasons I like college football so much better than the NFL.
*[I'm 0-2 and they're in the other division and I'm guessing that most M-Iowa games in Iowa City are going to be at night going forward. Surprise: November night games suck.]
Also, this guy. I mean, cumong.
[Barron]
Kirk Ferentz would be a much better coach if every game was against Michigan. It never fails. I watch Iowa. Iowa looks like they're coached by a person who has not seen the last 50 years of football. I watch Iowa play Michigan, and Kirk Ferentz goes for it on fourth and three, correctly. I don't know who's more frustrated by this pattern: me, or Iowa fans. Every time they play Michigan they get a glimpse of what their program might be like if they tried to win every game. 
Hooray these guys. This crew is the one that obliterated reason in last year's MSU game, and they didn't do great here. Michigan was unfortunate that the things they screwed up in Michigan's favor (the first quarter non-catches by Chesson and Darboh, a missed hold on Kalis) were mostly reviewable and overturned while the things they screwed up in Iowa's favor (running into a kicker who's rolled outside the pocket and is no longer protected, a bogus facemask, a missed false start) were not. The horrendous spot on the late scramble stands out as a reviewable play that both the crew on the field and the booth blew.
This wasn't nearly as bad as either of the last two MSU games. It's still appalling that this crew hasn't been busted down to intramurals.
deserved it [Barron]
Running into a rugby kicker. They should change that rule. As soon as a punter takes off as a runner he loses the protection afforded stationary punters. The end. If you want to rugby punt you risk getting run into on the punt. Remove the ambiguity of the tackle box, which only lends itself toward bad calls.
End of game Lloydball. After the interception you're up two with about two minutes on the clock. Iowa's got all three timeouts so you're in a situation where you should be calling it just like you would in the first half. Getting a first down is paramount because they can stop the clock three times and get the ball back with almost nothing run off the clock.
I wanted something other than a run up the gut with Smith on first down. Even with Speight struggling, I'd rather take a chance and get five or seven yards or whatever and give myself a good shot at a short yardage conversion. Didn't like the Peppers call on second down; Michigan put Speight in a bunch with two other WRs and Iowa flat out ignored him. The overhang corner to the other side was free and bottled Peppers up. Take Speight off the field and you've got a much better chance at having that work.
HERE
It was a crazy weekend, so maybe it's fitting UM joined the lot.  Washington and Clemson lost just as badly, exposing their own weaknesses in the process, and the end of the season remains the gateway to accolades it's always been:  beat IU and OSU, and UM will be in the B1G championship game and have a chance at a playoff spot.  And maybe I'm in the minority, but OSU still feels tractable simply because it's a team with decided issues (QB accuracy, limited rushing attack outside of Barrett) and performances that have exposed them.  But after a tumultuous week off the gridiron, I wasn't expecting to be writing about another underdog stunner.
As you might imagine, the State of our Open Threads was "sailor with stubbed toe":
Many of the advanced stats told a similar story of stunned despair:

FART (Fucks Adjusted For Real Time) Rate - 3.956, so nearly 4 fucks per minute of airtime, which is a season high and over 1 fuck more per minute of air than MSU

SHART (Shits Adjusted For Real Time) Rate - 1.167, twice the rate of the MSU game and I can assure everyone I was adding to them in the living room

SQUIRT (FART / SHART) Number - 3.390, which is actually a little less than half of Wisconsin's 6.492, but we underutilized shit heavily in that game

FAP (Fucks Per Play) Rate - 5.519, which is the highest for the season so far, far above 3.701 for MSU, and low for my own inner monologue during this game. Not sure how others feel.
ELSEWHERE
Due to the long trip the around the web bit about the game is coming later.