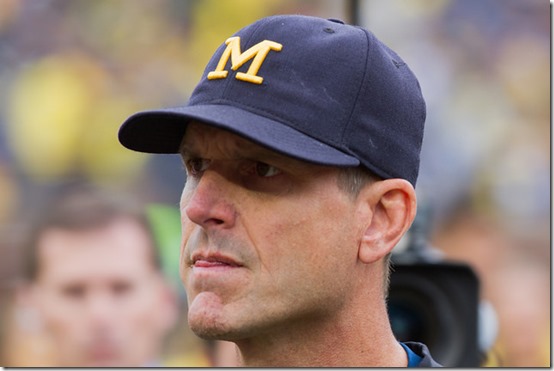 [Upchurch/MGoBlog]
Jeff Holzhausen first walked through Forest Hill cemetery over twenty years ago. He wanted to honor two Michigan legends during The Week before The Game, and he decided the best way to do so was to visit their graves. Holzhausen led his first tour group on that same walk a few years later, and he's been doing so ever since. I went on the grave walk last year, and afterwards I wrote a piece that was (thankfully) never published. The thesis was basically that Michigan fans had too tight a grip on the past and how that grip would need to slacken if the football program was ever going to become healthy again. It took one year, one speech, and one chance encounter with Jim Harbaugh to show me that I entirely missed the point of the grave walk.
"We want the Big Ten championship and we're gonna win it as a team. They can throw out all those great backs, and great quarterbacks, and great defensive players, throughout the country and in this conference, but there's gonna be one team that's gonna play solely as a team."
The University of Michigan is brutal. You will come in idealistic and looking down innumerable paths as realistic options and at some point you will be a confused shell of that self, drained and defenseless and lost, wondering not only what your next move is in the bigger sense but what you're going to do just to get to the next break. Michigan is more than those who have downed a pot of coffee because how else are you supposed to prep for that orgo exam and an econ exam and finish this stupid worksheet for Spanish? That's a college experience, but it's not unique; you can find that at almost any campus across the country. At Michigan, there comes a point where you will look around and feel like everyone is better than you; Michigan's seeping into your soul in that moment as much as it ever will.
"No man is more important than the team. No coach is more important than the team. The team, the team, the team, and if we think that way, all of us, everything that you do, you take into consideration what effect does it have on my team?"
No one associated with Michigan takes the "Leaders and Best" line lightly. The power in that comes from a bunch of high strung, neurotic, obsessively achieving individuals working toward common goals. The goals aren't the same; the endgame for a research team investigating the genetic causes of a certain mental health issue is different than it is for the football team, but the overarching theme is the same: use your collective talents to achieve something great.
"Because you can go into professional football, you can go anywhere you want to play after you leave here. You will never play for a team again."
Michigan has a fortunate history of having the right person show up at the right time, a new captain to right the course of a ship just slightly off course. At the same time, Michigan has had leaders in place that have had an ability to spot a fine-drawn mistake in course; Yost was hired after the dissatisfaction born of four losses and a tie in the twenty games played in 1899 and 1900.
The expectations for on-field performance have been high for over a century; expectations for traditional football powers will always have death-and-taxes status. Somewhere along the way, though, a new component of those expectations was wrought. It's not enough to win at Michigan. It has to be done with integrity, honesty, and through a ceaseless pursuit of perfection.
[After THE JUMP: Schembechler, Yost, Ufer, and an unexpected guest] 
"You'll play for a contract. You'll play for this. You'll play for that. You'll play for everything except the team, and think what a great thing it is to be a part of something that is the team."
The grave walk isn't a staged event created to satiate some small segment of the fanbase's desire to live in the past. It's a celebration of the pillars of Michigan football and the values they instilled in their teams, values which in turn spilled over to the University as a whole. At Michigan, athletics reflect academics and academics reflect athletics. Michigan has been fortunate enough to have spent much of its history with its most visible university representatives operating under a clear set of values that dovetail nicely with the school's mission.
It's not all about wins and losses, bowl games and championships. That's the tangible piece of a set of values that people see being resuscitated. The crux of the grave walk is celebrating the common piece of your being that was carved in Ann Arbor under the guidance of a university that itself has been guided by athletic luminaries. It's about celebrating the corporeal contributions of the men that crafted the body of Michigan football: the voice, the heart, the spine. A bunch of strangers gather under a campus icon and trek through the cold and darkness to honor the firmament that helped shape their college experience, to remember those who took the reins at the right time and kept the ship on course.
The group that showed up in 2014 was small; I'd be surprised if it was much more than 20. That's not an indictment of the Michigan faithful as much as it is of the program itself, which was sickly. The direction of the program was uncertain, as was exactly what its values were. The Oz-like athletic director had just been ousted, and without the master puppeteer behind the curtain the program was four facades, a hollowed-out shell; it's hard to believe in the integrity of a program when someone who shouldn't be at all involved in certain decisions is the one making them.
"We're gonna win it. We're gonna win the championship again because we're gonna play as team, better than anybody else in this conference, we're gonna play together as a team."
The group that gathered under the bell tower for the 2015 grave walk was reflective of 2015 game days: more people, more excitement, more optimism. The walk itself, though, was much the same as the year before: down Ingalls Mall to North U, onto Geddes, across Observatory and into Forest Hill. From there the group follows the winding path and ends up parallel to Geddes at the foot of Bo Schembechler's grave. Jeff says a few words about what Bo meant to the football program, university, and himself. I saw out of the corner of my eye that a small group had joined us during Jeff's speech: an alum, his daughter, his father, and a known friend and trusted agent. Jeff, as he does every year, asked if anyone else would like to say something about Bo. The alum stepped forward.
He spoke about Bo's famous enthusiasm, honor, and integrity, about how everything he bases his personal and professional life on came from Bo and his experiences at the University of Michigan, how everything in his life is rooted at Michigan. He closed by saying that Schembechler set the bar at the very highest level and called him one of the greatest of all time. That's when Jeff handed Michigan alum Jim Harbaugh a maize-headed hammer and asked if he'd be willing to smash a buckeye. He was.
"We're gonna believe in each other, we're not gonna criticize each other, we're not gonna talk about each other, we're gonna encourage each other."
We then wound up the back of a hill and ended at the graves of Fielding H. Yost and Bob Ufer. After more speeches and singing the alma mater, Jim Harbaugh led the group in The Victors. He shook hands and chatted, and the group started to disband. He did an interview or two with small TV outlets while I talked with his Known Friend and Trusted Agent, who also happens to be a known friend of mine. After Harbaugh spoke with some of the people who lingered behind, shook more hands, and took a few selfies, we started the trek back to the front of the cemetery. At that point our mutual friend mentioned something to Harbaugh that was of interest to both of us, and he and I started talking.
I shoved my gloved hand into my pocket and fumbled around for my recorder momentarily, but my gut reaction to that impulsive move was to leave it. Harbaugh wasn't there for a media availability. He wasn't there for a one-on-one interview with me or anyone else. He wasn't there for photo ops or to make a video of him smashing a buckeye. His speech at Schembechler's grave and something he said on Monday mashed together and looped through my head in that moment:
Yeah, in everything I know in my professional and personal life was experienced here at the University of Michigan, was rooted here at the University of Michigan- the team, the team, the team.
He wasn't the J. Ira and Nicki Harris Family Head Football Coach; he was a guy who went to Michigan. He wasn't Jim Harbaugh, football coach famous enough that people dress like him for Halloween; he was Jim Harbaugh, guy who wears the same thing because it saves time. He wasn't Harbaugh the astringent football coach; he was Harbaugh of Michigan. We talked about the NFL, conference calls, and cleats.
"And when we play as a team, when the old season is over, you and I know, it's gonna be Michigan again. Michigan."