9/26/2015 – Michigan 31, BYU 0 – 3-1
HALP [Eric Upchurch]
"We were dominated in every facet, their defense over our offense. Every guy, every play. That thing was a shellshock, from the first snap right though the last."

–BYU offensive coordinator Robert Anae, 2015
"If you put a pit bull in a ring with a chihuahua, don't expect the chihuahua to win."

-former PSU WR Chafie Fields, 2006
The last time something like this happened, Alan Branch sent Anthony Morelli to the sidelines muttering about pudding. The year was 2006; Michigan's defense was a flamethrower of a thing. Dudes from it still litter NFL rosters: Branch, Lamarr Woodley, David Harris, Leon Hall, hell, Ryan Mundy. Each level of the defense had an NFL Pro Bowler on it. Lloyd Carr had finally, agonizingly made a switch from Jim Herrmann to Ron English, and things took off.
This was right after 2005, the 7-5 year one idiot Michigan fan dubbed "the year of infinite pain" because the worst thing that had ever happened to him as a sports fan was a light pillow buffeting followed by off-brand ice cream. That year Michigan had coughed up all manner of leads in all manner of ways, culminating in the infamous punt from the Ohio State 34 and the nigh-effortless OSU drive to win that followed. That was a jarring thing, the first gray hair emerging from the program's ear.
Adapting to the reality of the 2006 defense's otherworldliness was gradual, and then sudden. The Penn State game was the seventh that season, and only then was it crystal clear that what was going on was not the usual. It took just four games this season to start wondering about a repeat.
It's hard not to when BYU's coaches are wandering around wondering what blew their clothes off, when their quarterback comes to regard the pocket like it's the Mines of Moria. Here there be Balrogs. A full two-deep of them.
via Ace
------------------------------
Here's the numbers stuff. Michigan's third in the country in yards per play allowed, behind
a Boston College team that started the season off with Florida State… and Howard, Maine, and Northern Illinois
a Kent State team that's only in the conversation because it held Delaware State (remember them?) to –33 yards.
Michigan hasn't given up more than 337 yards in a game; two teams barely crested 100 yards and a third used a fourth-quarter drive to get over 200. The one team that moved the ball a bit on them, Utah, just atomized Oregon. S&P has Michigan fourth. (FEI does not update until week seven.) Michigan's already acquired 32 TFLs, 8th nationally on a per-play basis. Again they are mostly behind teams who scheduled Random Assemblage Of Ants In Helmets State. By any measure Michigan has established itself one of the nation's top defenses a month into the season.
A month is not a year. A number is just a number. But these numbers reflect what we've seen when Michigan has rolled out onto the field. They go seven deep on the defensive line. They have an All-American corner and two more guys coming on, and oh also Jabrill Peppers.
Aside from some blips in coverage against Oregon State none of the results have felt at all fortunate. In fact big chunks of the yards acquired have been batted passes still caught or sacks miraculously spun out of, with a side of NFL throws made under extreme duress. This level of performance is not sustainable, but only because we are currently peeved when the opponent scrapes into triple digits.
Any reasonably sane projection we're in on. We will also consider slightly insane ones.
------------------------------------------------------
That 2006 defense sprung leaks. We got a taste of it a couple weeks before Football Armageddon when Michigan ran out to a big lead against Ball State and rested the starters. Johnny Sears fell over a lot, Ball State scored, and scored again, and soon the starters were in desperately trying to prevent a potential tying touchdown in the waning moments.
That was Akron before Akron, and if you want to point a finger to the exact moment when a paranoid observer would have started building a bomb shelter, that was it. The soon-to-be 2007 secondary faced a jankety MAC spread and collapsed.
A couple weeks alter Michigan would go the whole game against soon-to-be Heisman winner Troy Smith with a 4-3 on the field against a spread offense. Chris Graham tried to cover Tony Gonzalez, a future first round draft pick at wide receiver. It went poorly. Michigan gave up 42 points. A couple months later Michigan shut down USC for a half; in the locker room Pete Carroll told his offensive coordinator to stop running the damn ball. USC ripped off 29 second-half points.
2006's Achilles heel—they had one great cornerback, one okay one, and nothing else—was in retrospect obvious but it took a long time to find anyway.
One may be on the way here, but it's hard to figure out what it might be. The spread ineptness that haunted Michigan's manball administrations for a decade and a half is emphatically out the door. If the thing you're exploiting against this secondary is the third and fourth corners on fly routes down the sideline, good luck. If there's an ACHILLES OUT OF NOWHERE here it's probably the sudden degradation of the defensive line if and when they face elite opposition. Even the occasionally iffy linebacker play will probably be fine against the kind of team that seeks to test Michigan there.
And I can't see that happening. We head back to precedents in an attempt to communicate how something feels. It is possible we're not going quite far enough back for this one.
HIGHLIGHTS
And from the BYU perspective:
Also every snap videos for the offense and defense.
AWARDS
Come back here young man who is older than me [Upchurch]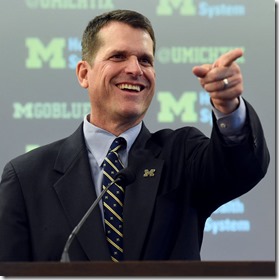 Yet To Be Named Harbaugh-Themed Guys Who Did Good Award.
you're the man now, dog
#1 Ryan Glasgow has somehow not featured on these lists yet. It says all you need to know about Michigan's faith in him that they decided to spend most of the day in dime with 5 or 6 guys in the box. Glasgow collected his usual TFL or two and was the linchpin of a 2.0 YPC performance in the most attractive circumstances possible for a rushing offense.
#2 Jabrill Peppers had his usual TFL, threw a BYU receiver to the ground with authority at the end of the first half, was not beaten in coverage, played (sort of) tiny WLB much of the day, spooked Tanner Mangum into a fumble on one particular blitz, and had two near-electric punt returns. Also, fair catches.
#3 De'Veon Smith ripped off this week's Who's Got It Better Than Us and thundered over 100 yards in the first half. It feels sort of wrong to put any offensive player on this list after that D performance, but I mean… yeah.
Honorable mention: All defensive persons. Darboh.
YTBNHTGWDGA Standings.
5: Chris Wormley(#2 Utah, #1 Oregon State)
3: Jake Butt (#1 Utah), Jourdan Lewis (#1 UNLV), De'Veon Smith(#2 Oregon State, #3 BYU), Ryan Glasgow (#1 BYU).
2: Ty Isaac(#2 UNLV), Jabrill Peppers(#2 BYU).
1: Willie Henry (#3 Utah), AJ Williams (#3 Oregon State), Channing Stribling(#3 UNLV)
Who's Got It Better Than Us Of The Week
This week's best thing ever.
Absolutely brutal decision this week but have to go with De'Veon Smith teleporting through a pile of players and then posterizing the same defensive back twice.
Honorable mention: Amara Darboh's OBJ impression. Every defensive snap save approximately three of them.
WGIBTUs Past.
Utah: Crazy #buttdown.
Oregon State: #tacopunts.
UNLV: Ty Isaac's 76 yard touchdown.
BYU: De'Veon Smith's illicit teleporter run.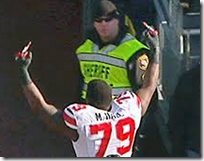 MARCUS HALL EPIC DOUBLE BIRD OF THE WEEK.
This week's worst thing ever.
BYU scrapes over 100 total yards on their last drive.
Honorable mention: Rudock doesn't see the fact that Jehu Chesson's guy has fallen down on the first snap. Michigan gets stuffed on a fourth down in the second half. Blake O'Neill goes rogue on a 4th and 16 punt fake.
PREVIOUS EDBs
Utah: circle route pick six.
Oregon State: Rudock fumbles after blitz bust.
UNLV: Rudock matches 2014 INT total in game 3.
BYU: BYU manages to get to triple digit yards in the last minutes of the game.
[After the JUMP: I AM FEELING QUITE POSITIVE THIS WEEK YES SIR]
OFFENSE
U-S-A [Fuller]
Citizen Dang. Amara Darboh had himself a nice catch, didn't he? This has been a useless excuse to get this picture in the game column.
(But seriously this kind of thing is why I have been frustrated at Rudock when he puts it past the outstretched arms of Darboh. If you put it up with him he can make things happen, and half the time he doesn't they'll flag the DB for PI. Give him a chance to make a play and plays might get made; overthrow him and nothing happens. Give circus a chance.)
More Rudock Than Rudock. That was closer to what we thought we were getting with Jake Rudock: turnover-averse, a little mobile, good awareness, maybe will ignore a free touchdown here and there. While he had a couple of nice downfield balls to open up Michigan's Reasonably Long Pass account for the year, my favorite play of his was the sidearm sling to Darboh. That is the Rudock I thought might be a real good player this year, able to move around in the pocket with the intent to get it downfield.
I did get frustrated with him in the second half when he repeatedly decided against throwing balls to apparently open guys. Butt has taken to waving frantically when he feels he's open, which he often is. Rudock wasn't testing that. I appreciate the lack of turnovers in this game; it feels like Rudock downshifted the risk too much. He still seems like a guy who isn't seeing what's happening in front of him fast enough to operate with confidence.
Still, I'll take it. This version of Rudock pairs well with the defense.
I FEEL HAPPY [Fuller]
Tailbacks. Smith maintained his place at the front of the line without even so much as a hint that Ty Isaac's excellent UNLV game would impact playing time distribution; Isaac was in fact limited to two carries as Derrick Green got a number of snaps after Smith was knocked out.
Smith obviously had the impossible run; he also had another couple of runs that I thought were excellent on his part. He squeezed through a narrow gap on the first big run of the day; a later 11-yarder saw him make one of those hard cuts that put linebackers on the wrong side of blocks. That is not something we've seen from him much yet.
I thought the other backs missed some cuts; Drake Johnson was gifted a counter to the pitch sweep Michigan has run for three weeks and bounced it outside into nothing when an obvious cut upfield is a big gain.
Green looked fine. He didn't make a ton of yards himself but I thought he went where he should with the exception of a carry similar to the one where Johnson did not cut back.
Hail Harbaugh. That pitch sweep barely existed a week after it was money against UNLV. Instead we got that counter and a bunch of other stuff. I had a complaint about Al Borges that he only stopped using stuff after it had definitively stopped working; that felt like Harbaugh anticipating that BYU would prepare for the pitch and only putting the counter in the gameplan.
[Fuller]
A brief blocking aside. I might come up with a blitz misread in this game—there were a couple—but Smith has been an excellent pass blocker so far even if I end up dinging him for a couple pressures in this game. That is no small part of the playing time dominance he's maintained.
Dawson in for Braden. Just precautionary, they said, and there's nothing in Braden's play that would suggest he's under serious threat right now. Good to get Dawson some run.
Fullbacks and fullbacks and fullbacks. I've been designating Henry Poggi a tight end in UFR so far this year; I think I might change that after this game. We saw further deployment of Khalid Hill as an inline guy while Poggi and Houma spent virtually all their time as twin FBs. Michigan's going to need a dedicated FB next year anyway, and they've got tight ends coming out their ears suddenly.
Offensive line things. Another game of mostly excellent pass protection. There was the occasional blitz screwup. IIRC, both sacks were instances where BYU's multiply-multiple pass defense got guys through basically untouched. That will happen; that will also open up things like Rudock's second touchdown scramble. BYU often sacrificed lane integrity in an effort to get pressure; overall that decision was a push.
Stanfordization continues apace. Man, was it nice to see Jake Butt ripping through a secondary selling out against the run. Rudock nailed him for what would be a 41-yard chunk on the easiest big completion we've seen probably since Denard left.
[Upchurch]
Wacky plays. The weekly dossier:
Double fake screen leads to a wide open Khalid Hill (RPS +3) on third and eleven and first and goal from the one.
Basically uncovered seam pass to AJ Williams is batted down after Williams lined up as the left tackle and Mason Cole lined up in the slot. Safety was coming down to make a tackle, but probably after the catch.
Michigan comes out with four guys to the short side. Two are OL, two are WRs. Three are on the LOS, the fourth is behind. Obvious screen is obvious and a BYU DB slices into the WR for a dangerous PBU.
The first was obviously brilliant. I had much consternation when Michigan lined up in an old-style pro set on third and eleven; it worked out okay. I felt the other two suffered a bit because Michigan didn't get them off very quickly. On both Michigan got to the line, I saw the weird formation stuff, and then 8 or so seconds elapsed before the snap. That may have contributed to the bat-down on the second and definitely nerfed the third.
There were some other tweaks and wrinkles, like Michigan running a fullback trap, but nothing that stood out as trick-play-ish.
DEFENSE
Peppers as linebacker [Fuller]
Modern. I mentioned this last week; bears repeating. This defense feels very comfortable against spread offenses. The ability to press and Peppers's presence shut down most of the cheap edge stuff that has killed Michigan for years; the DL's ability to win one on one consistently lets Michigan keep a super deep safety. That is a hell of a combination.
I think they'll have to let some of the deep protection lapse when they come up against teams more proficient at both phases of offense, but the kind of things we saw Saturday veritably portend doom for Minnesota, Northwestern, and Penn State, teams that are the most likely losses outside of the Big Two left. All of those teams are rickety offenses that should find the sledding very tough against Michigan.
Combatting the big play. Hard to tell from the broadcast but in the stadium it was clear that Michigan's gameplan was to play a lot of man with two deep safeties behind it—often very deep—to prevent the kind of explosive plays that BYU had gathered in their first three games. That meant a lot of dime packages that either featured Peppers as a linebacker or only had Morgan.
To not get gashed on any runs in that formation—their 28-yarder game against a nickel when Joe Bolden got edged—is pretty incredible.
Grabby times. As part of the gameplan Michigan switched from having Jourdan Lewis on the outside exclusively to one where he was frequently a slot corner. This put him on their slot guy, who is relatively quick, and allowed Michigan's rangier corners to combat the fee fi foe fum types on the outside. This worked just fine. BYU could find nothing other than the occasional five-yard route.
Michigan took a couple of pass interference penalties. Both were probably legit. On the first Lewis arrived slightly too early on a slant; on the second Stribling got unnecessarily grabby. He got shook by a step and had a very obvious jersey pull on a ball that was well wide of the WR; in that situation better to give up the coverage and hope the DL bails you out, as they did by forcing a bad throw.
Backup NT getting a sack on a three man rush: okay [Fuller]
Hurst coming on. The above was a sack Maurice Hurst acquired as a nose tackle in a three man rush. That was not a freshman QB sack, as so many of BYU's have been—he was through in a flash and made the tackle.
He also continued displaying the power he's flashed in the first three weeks. He's not the biggest guy in the world but he gets off the line of scrimmage in a flash; often he's under the OL's pads before he can even get a step in. On most defenses he would be a starter we were starting to get hyped about. He's paying off on the talent he used to dominate the spring game—and he's making me feel better about David Dawson every time he does something like the above.
Jersey grab plus PBU: flawless victory [Fuller]
The one fluttery moment. Mangum did break the pocket and find a man downfield once. That was the above photo, where Hill gets a subtle grab in and extends to get a PBU. There was room for a completion here but it was very narrow; Hill played it about as well as you can.
Stribling, Clark, and Hill have all been performing well above expectations. The comparison to Blake Countess's 2014 is inevitable. It turns out that having good positions coaches is important.
[Fuller]
The bad stuff. Apparently we're having a weekly section to talk about the four plays that were not thunderous victories for the defense. The above was one; bad luck by Stribling not only to not intercept the ball but bat it to the BYU WR. He has his good days and bad when it comes to staying in our dimension.
The big run came when Bolden took a fullback block and could not close down a lane between him and Peppers; it was probably going to be a nice gain no matter what but by losing leverage he tacked on a bunch. Morgan was coming at that play hard and probably tackles for five or six if Bolden can just turn it back.
And… like… that's it? Is that it?
SPECIAL TEAMS
Rogue punt. Zoltan Mesko against Michigan State flashbacks there. It was actually a reasonable decision to go for it… if it was fourth and eight. Fourth and sixteen not so much. Which is exactly what Harbaugh told Mesko on the sideline if the lip readers are correct.
Having that option is good on fourth and not sixteen.
Fair catches FTW. Not that it amounted to much in the grand scheme of things but when I was watching the Utah-Oregon game there was a point at which the Oregon punt returner had a  reasonable opportunity to field the ball but instead let it drop, which cost Oregon probably 20 yards of field position on what ended up being a 75-yard punt.
Peppers has not done this. Two, maybe three punts that weren't in the potential touchback zone have hit the ground this year. Even if he's not busting big returns (and he had a couple of nice ones in this game, though one came back for a penalty) merely fielding every permutation of the infinite rugby punts is a huge win in hidden yards.
The cost there is a potential muff, and Peppers did fumble one out of bounds in this game. That ball was always likely to go out as he was running to the sideline to catch it; I still wonder if the aggression here might end up costing Michigan a turnover at some point. Given all the yards it's saving it is probably a good tradeoff; unfortunately the downside comes in huge chunks while the benefits pile up incrementally.
Field goal. Another forty yarder and another step away from alarmed fall camp chatter.
[Fuller]
Pop up kickoffs. They worked pretty well in this game, with Ben Gedeon delivering a couple of hard hits to the returner well short of the 25. On the other hand they almost gave ten yards back on one that was headed out of bounds before the BYU returner caught it and immediately stepped out.
While I like the overall approach to special teams—let's do something on them—I am still a bit skeptical that trying to squeeze out a few yards here and there with short kickoffs I going to be worth it.
MISCELLANEOUS
Speaking of that fall camp chatter. Not a banner year for it. Lawrence Marshall is only seeing the field in garbage time, Shane Morris was apparently never a real threat for the job, and no matter how well Bryan Mone was playing before his injury it is hard to believe that he could have eaten into a rampant Glasgow's playing time.
the sole downer [Fuller]
Injuries. Michigan has been fortunate so far. A few depth players have been out the past couple weeks but few starters have gone down; nor is anyone's injury seemingly long term. Notable events from this game:
Joe Kerridge missed this game but dressed and could have been used if needed.
Ben Braden left in the second half with what was described as a bruise; he too could have returned.
De'Veon Smith got carted off with what looked like a rolled ankle but participated in the postgame press conference and said he would play against Maryland.
Dymonte Thomas, Wyatt Shallman, and Brian Cole were all out.
Even with Mone gone for the year Michigan has gotten off light compared to a lot of teams. Penn State's injury list after their game against SDSU was extensive; Minnesota is hurting; MSU has lost a number of key players for the year already and may have added Jack Conklin to that list.
Hell of a transitive property week for Michigan. Utah of course went to Autzen and blew the doors off Oregon. They rushed for 6.5 yards an attempt and passed for 8.0 per. Oregon's offensive stats are deceiving since a 96 yard touchdown drive that started with four minutes left gets them to relative respectability. Before that, Oregon had barely over 300 yards on 13 drives. Michigan played Utah dead even save for a couple interceptions due in large part to a true freshman WR.
On top of that, Oregon State had a respectable outing against Stanford, sticking with the Cardinal for most of three quarters before the wheels came off. They netted 386 yards—almost double what Michigan gave up even if you discount the punt fiasco. UNLV put up 80(!) against an FCS team. Finally, BYU's resume outside of the Michigan game looks better after Boise and UCLA humiliated Virginia and Arizona, respectively.
Possibly quite tractable. That Michigan State game looks a lot closer to even now than it did at the beginning of the season. MSU has gotten outgained in three straight, and the relative performances against Utah (on the road) and Oregon (at home) look rather appealing. MSU has had trouble running the ball for big chunks of the year, something it looks like Michigan will be able to exploit, and their secondary is way short of what it's been, especially after Arjen Colquhon was knocked out for the year.
Meanwhile the schedule looks easier every week. Maryland is a tire fire. Northwestern and Minnesota just struggled with MAC opponents—something of a theme for the Gophers. Rutgers is an interdimensional tire fire. Only Penn State looks like it's going in the right direction after a solid 37-21 win over SDSU, and the prospect of Michigan's DL against that OL is still highly tantalizing.
Getting way, way ahead of ourselves. I of course plan to enjoy this season of actual mean-ass football, but I can't help but look at next year's depth chart and cock an eyebrow. Michigan's departures:
OFFENSE: Jake Rudock, AJ Williams, Graham Glasgow, Sione Houma, Joe Kerridge
DEFENSE: Mario Ojemudia, Royce Jenkins-Stone, Desmond Morgan, Joe Bodlen, Jarrod Wilson, Wayne Lyons.
They get the entire two-deep back at the three pure DL spot plus add Mone; they get every corner back; they get four OL back; they get almost all the TEs back and all the WRs back. Find a QB and you are in business.
It's happening. This is quite a thing. It is a BYU fan who talked to a parent of a player:
Their son said the Michigan team they saw on the field was not what they had prepared for in practice and film study. Harbaugh game planned for this game totally differently from other weeks. They knew what we were going to do and had something to counter it. We all witnessed it.

4. We got out coached. There is a reason Harbaugh is an NFL level coach. He is good. He prepares a unique game plan every week. There was an insinuation that we don't adapt much to the opponent. (My commentary on that point: That is consistent with what we've heard the coaches say that we worry about our own execution and rely on that to beat the opponent. The problem is that other teams focus on execution just as much. More talented and better coached execution beats even our best execution when we don't have the talent or game plan to support it.)
That parenthetical aside sounds exactly like me for the past decade. The kind of things we saw Saturday where Michigan anticipated ripostes to what they'd done the first three weeks and went after them are the kind of things I've wanted to see for a Michigan team for a million years. They are the reason the stuff about execution drove me up the wall. Yes, of course execute. This goes for coaches too.
Related is Arizona Cardinal DB Tyrann Mathieu in the aftermath of the 47-7 noogie his team delivered to Jim Harbaugh's previous coaching stop:
Tyrann Mathieu: "Their passing game has just simplified so much, it was easy for us to anticipate routes, get some good breaks on the ball."

— Matt Maiocco (@MaioccoCSN) September 28, 2015
Maybe you shouldn't have hired Brady Hoke in a mustache disguise.
That Harbaugh is able to jam so much offense into college players is testament to his coaching ability, and that he's frequently able to counter-punch before taking a shot himself is pretty cool.
The stickers are too dang big. By the end of the year they will not have anywhere to put them:
[Upchurch]
Joudan Lewis is going to need an auxiliary helmet just to keep his spare stickers.
CONGRATULATIONS DIRK JEEBLERS. The noted telenovela actor and organic tractor pitchman was in town to receive an award for being the least mustachioed man in show business.
[Fuller]
Sorry about the spelling. Keep on keepin' on.
This reporter is certainly looking forward to season 12 of LOS CORAZONES CALIENTES. Hearing from Ol' Jeebs himself that his character EL CAPITAN is up to his usual tricks… what does it mean for darling ROSA and EL NINO DEL SEIS DEDOS? Can't wait to find out! /fingerguns
HERE
Best:  Rock You Like a Hurricane

This game in a single image:

That's Wilford Brimley (as "Uncle Douvee"), on a horse, with a bow and arrow, escaping a fireball created by the dynamite he placed around his cabin deep in Bayou, which he detonated to kill a phalanx of guns-for-hire trying to kill him and his "nephew", Jean Claude Van Damme's "Chance Boudreaux", is the movie Hard Target.  It is an incredibly dumb movie that may be the best 97 minutes you can spend in a day.

Tanner Mangum and the BYU offense was that cabin on Saturday, except UM wasn't a bunch of goons circling in for the kill, but instead a bunch of grizzled warriors streaking away on their trusted steeds, swatting away passes, grinding up linemen, and warning all those who listen about the dangers of high blood sugar.
This week's Inside The Box Score was front-paged already but this is why: 
My dad was a collector. He collected Michigan football programs and ticket stubs. The first thing we would do when we got to the stadium was find the program vendors. Dad would buy two programs and carefully wrap them in black plastic garbage bags to protect them from the elements. He would tuck those into his Michigan bag that kept his binoculars (and unlike many Michigan fans, he actually put binoculars in his binocular case) and his radio and earphones. He would get two programs every game because at the end of the season, he would give one complete set of that season's programs to, I believe, the UofM alumni association of Lansing to raffle off for their scholarship fund. The other set of programs he kept. He made it to most of the away games. On the rare occassions where he couldn't go, he'd ask a friend to get him a couple programs. On Friday, my brother and I decided to keep those programs, at least for the time being.

My dad had a dream of one day displaying all of the ticket stubs on a wall in a Michigan room in the house. He never got around to doing that, but we still have all those ticket stubs. Nothing would get my dad more upset than when a ticket-taker would rip the ticket in half, instead of tearing it off neatly at the perforation. Dad would even separate 3/4 of the stub from the ticket to make it easier for the ticket-taker. Phil Hartman played a character on Saturday Night Live called, "The Anal Retentive Chef." That was my dad.
Utah (+2) - Well who saw that score coming?  While the data is too new for me to utilize, S&P+ had Utah's unadjusted offensive stats showing the team as one of the 15 least explosive offenses in the country (a fact shared by Oregon State, and UNLV) thru week 3.  Uhh, that's going to change this week.
ELSEWHERE
moohaha [source needed]
Official thing. Michigan's now putting a bunch of stuff on Soundcloud. Harbaugh's presser has all the "talk abouts" you could ever want:
Hilariously, this is filed as "hip hop." Bzzzt, soundcloud. Looking for "dadrock."
Blog stuff. M Go Girl presents:
The Michigan State Feelings Status Meter

And because I am endlessly amused at the Spartan capacity for a) not enjoying success, b) needing Dave Brandon levels of validation, and c) using logic that would evade Einstein in defending the value of their current undefeated status, I bring you the Spartan Feelings Meter. I'll try to update this regularly until my mission is complete and Mark Dantonio is so puckered up he's forced to drink his weight in Miralax to dislodge the solid form of his hatred for Michigan and Jim Harbaugh (and everyone else in the world who doesn't fall all over MSU.)

As you can see, this week's trouncing of Oregon (who Sparty barely beat) by Utah (who barely beat Michigan who soundly beat BYU who almost beat UCLA who just kicked Arizona) and the resultant questioning of the value of their signature win has registered Sparty as Upset/Apprehensive. Still firmly in the Safe Zone, but trending upward.
Coach Edwards.  I strolled over to the opposing team suite (it's on the same wing and floor as the media).  I asked if any former players from the 1984 BYU team were onsite.  The woman said, "I'm not sure, but the coach of that team is here," and she gestured to the old man sitting against the window.  Sure enough, the man sitting a couple feet from me was legendary BYU coach LaVell Edwards.

Coach Edwards was kind enough to pose for the photo below (left), at the time in much better spirits than when the ESPN cameras spotted him upstairs in the second half:

He led the Cougars in their finest hour, which was the last and only other time these teams met.  It was the 1984 Holiday Bowl, where QB Robbie Bosco and crew defeated Bo & your beloved Wolverines to capture the national title.
Every so often, you get one right.  I had no idea that Darboh would do it in such spectacular fashion.  On a previous Saturday this September, maybe that Rudock throw is a little higher, or a little less on target and Darboh makes a great effort but for naught.  But on this day, on 3rd and 5, with the Michigan Stadium winds swirling, having gone three and out on the opening drive of the game, Darboh made a catch that will be long remembered and replayed in Michigan lore.  (Thankfully, it was part of a touchdown drive, when Rudock scrambled for three yards for a touchdown, meaning it actually was a part of something useful.)
OFFENSIVE CHAMPION – Could have gone several ways here, (OBJ Darboh, De'Veon Smith, heck, O-Line for that matter), but I'm going with the guy under center – Jake Rudock.  Sure, I loved seeing a Michigan QB RUN for two touchdowns, but it was WAAAY more than that.  He looked comfortable running the offense.  He threw the ball well downfield – in part to the kick-start provided by OBJ Darboh – and he had no turnovers against the Cougars.  Do you realize his turnovers have gone down each game this year?  Utah (3), Oregon State (2), UNLV (1) and now BYU (0).  Umm – I'll take that ANY DAY!
Touch The Banner. Maize And Go Blue. Maize and Blue Nation.
Other media. The latest episode of Inside Michigan Football. Tom Dienhart is huddled under a blanket:
Now hear this: The Big Ten title will go through Ann Arbor. The No. 2 Spartans come to Michigan on Oct. 17. And in the season-finale on Nov. 28, No. 1 Ohio State comes to town. Are you thinking what I am thinking? That's right, the Wolverines could have a good shot to beat one of those two teams. Heck, maybe Michigan will beat them both and win the Big Ten East. Hey, now is the time to dream big. After today's annihilation of BYU, anything seems possible for the Wolverines.
"Rome wasn't built in a day -- that's a pretty good adage," senior defensive tackle Ryan Glasgow said. "You know, if we do this today and next week come out and don't play the way we can play, then it's all for naught.

"We have to keep stacking the little wins every day in practice and film, and then come out and play the same way we did today."
The BYU perspective:
"They outmanned us, outplayed us, outperformed us, whatever you want to call it," said BYU quarterback Tanner Mangum, who finally looked like the freshman that he is, completing just 12 of 28 passes and getting sacked three times. "They just took it to us."
Michigan opens an 11.5 point favorite against Maryland. Seems low? Official site citizenship Darboh thing.
Let's all point and laugh at 49ers management. The Mercury-News sent a guy all the way from the Bay Area for reasons. Trolling 49ers fan reasons, apparently:
Harbaugh has often told friends how great it was for him to grow up in a college town -- or really, multiple college towns, because his father was an assistant coach at several institutions. You get the sense that Harbaugh feels the same way now, regarding his own kids. Because if you are looking for a college town from central casting, Ann Arbor qualifies.

"There's a lot of fun things here," Harbaugh said.

Saturday, a whole lot of fun things.
Hours after that was published the 49ers showed up and played like they were coached by a plumber, losing 47-7 to the Arizona Cardinals. Unfortunately, they cannot fire Jed York. This is yet another way in which the NFL is inferior to college football.
Shall we check in with licensed twitter troll Tim Kawakami?
York and Baalke decided Kaepernick was better off without Harbaugh because York and Baalke didn't like Harbaugh. I understand Harbaugh can be difficult and probably has a limited span in any single job, but he's not the one who initiated these troubles.

York and Baalke ran off the best coach they'll ever have (the other coaches York has hired: Mike Nolan, Singletary and Tomsula) because he made them antsy.

How's Harbaugh doing in Ann Arbor these days, anyway?
49ers fans are sad and didn't do anything wrong here, so the least you can do is ironically purchase this Jim Tomsula t-shirt.