A Guide To College Hockey
Afternoon guys,

I've been mulling this over for a bit and I don't know it makes for a mailbag question, a separate post or even just a "here are some helpful links Dana" reply but here goes;

How would you guys explain (REALLY explain) college hockey to someone new to the sport?  I'm not a complete layman, I follow the team through MGoBlog and even spent a couple summers at Red Berenson camp years ago, but when it comes to Michigan athletics it's definitely Football, Basketball and Hockey in that order that I follow.

So again, how would you guys explain college hockey to a layman or someone who wanted to know more;

- Conference makeup and where the power in college hockey lies (who is the SEC of hockey, etc) -

- RPI (convenient way to rank all 60 teams or nah?)

- Recruiting (where do US College Hockey players come from I guess…did I mention I'm Canadian?)

- Scheduling

Etc, etc.

Thanks,
Dana
Time to break out some bigger headers.
Conferences
Penn State blew it up, but it needed to blow up [Bill Rapai]
College hockey is a bifurcated sport with two main areas of interest: the East, which consists mostly of New England and the occasional Pennsylvania team, and the West, which is concentrated in Minnesota and Michigan with scattered outposts in Nebraska, Colorado, Ohio, Indiana, Wisconsin, and elsewhere. There are also a couple of Alaska teams funded largely by the state's desire to have local sports of any variety and two weird outliers: Arizona State just started a program, and Alabama-Huntsville has one for… reasons.
The East is more or less static with some minor movement. From top to bottom:
Hockey East contains almost all of the big state schools in New England plus various private institutions that fit in for historical reasons. BU and BC are the perennial powers with a rotating cast of other teams who are good enough to make the tournament. UNH and Maine used to be powers but have fallen off a bunch recently. ND joined up and is quickly departing because HE is kind of perfect.
The ECAC is about half Ivy League schools and half academically respectable schools in upstate New York and environs. Historically they've been a weak league with one bid more often than not, but in recent years surges from Union, Quinnipiac, Yale, and Harvard have seen them lock down high seeds in the national tournament and even a couple of national titles. Sustainability of this surge is in question.
Atlantic Hockey is a one-bid league that does not offer the full scholarship complement of 18—I think it's 12 for them. They're the Horizon League, basically.
The vast majority of these teams are smack on top of each other. HE and the ECAC are bus leagues in which most weekends see two different teams come to town. AH is a little more spread out with teams in Pittsburgh (Robert Morris, Mercyhurst) and Colorado Springs (Air Force, which wants to be in the same conference as Army and Navy).
The West is now all over the place. There used to be two conferences, the WHCA and CCHA. The CCHA was all the Michigan teams save Tech and everything else in the Midwest. The WCHA was all the Minnesota teams, Wisconsin, North Dakota, and the two Colorado teams. Those conferences split the Alaska teams. The Big Ten blew this all apart a couple years ago, and now:
The NCHC is more or less the top half of the old WCHA (minus Minnesota and Wisconsin) plus WMU and Miami from the old CCHA. This means they have a couple of major powers and a large number of respectable outfits. They are probably the best conference in college hockey at the moment. They just added Arizona State, an upstart program that just finished its first season.
The Big Ten is a six-team league consisting of Michigan, Michigan State, Minnesota, Wisconsin, Penn State, and Ohio State. It is currently in a down phase since Michigan is in Berenson limbo, Minnesota had an off year, Wisconsin took too long to replace Mike Eaves, and Michigan State spends every day of every year spitting on their rich heritage. Wisconsin is going to get real good real quick here and once Mel Pearson (knock on wood) comes back from Tech, Michigan will also get back to what it was. ND, who will be good as long as Jeff Jackson is around, joins next year.
The WCHA got stuck with the leftovers from both the CCHA and WCHA. There are some good teams in there, but it's more mid-major than major.
The West is far more spread out than the East. The addition of the Big Ten was deeply controversial, especially in Minnesota, but once Penn State added a program it was a fait accompli.
One benefit of shakeup: the addition of a conference now gives new programs a landing spot. Previously the WCHA and CCHA were both full at 12 teams; new programs eked out an existence as an independent or in the ever-shifting, now-defunct College Hockey America. Many of them failed. Without the Big Ten it's tough to see an Arizona State adding a program. Also, Penn State has been a great success. They just missed the tournament this year and play to a sold-out rink.
RPI/Pairwise
I believe hockey is unique amongst NCAA sports in that they select and seed their tournament exclusively by a formula. The Pairwise used to be a complicated pile of factors that overweighted some things (recent games, nonconference schedule) and underweighted others (how good you are at hockey). Elements of it were gradually pared away until the current version, in which there are three factors. One of those, head to head, usually doesn't apply. RPI breaks ties when it disagrees with the other factor, common opponents. So these days with very limited exceptions RPI == Pairwise.
College hockey RPI is okay. They do some home/away weighting that is out of whack with stats and they have a quality win bonus for beating top 20 teams. (This is approximately the top third of D-I.) That latter plus the relative lack of true tomato cans means a lot of the issues basketball RPI has do not apply. The end result makes enough sense that people don't complain about it much.
There is a competing ranking system called KRACH that is more mathematically rigorous but tends to overrate schedule strength; the differences between the two are a lot more muted now that the WCHA, which was by far the best conference before the shakeup, is no longer in its Voltron form.
Scheduling
Teams play 34 or 36 regular season games plus a conference tournament and an NCAA tournament. (You get a couple extra games if you go to Alaska.) Games are usually on Friday and Saturday nights with the occasional midweek or Sunday game. Somewhere between 20 and 28 of these are conference games, depending on the number of teams in each. Conference tournaments generally have a round or two of best-two-of-three matchups and then a single-elimination final 4 (or 5).
TV coverage is poor unless you're Minnesota or Notre Dame. Regional sports networks were generally carry a handful of games. FSN covers every Minnesota game that the BTN does not; NBCSN picked up a bunch of ND games because ND. The Big Ten Network covers a reasonable number. Full coverage is rare, and smaller schools often rely on streaming. Even megapower North Dakota struggles to get TV coverage, with only 4 national games a year ago.
The Tournament
Hockey has a 16-team single elimination tournament held at four regional sites and then a Frozen Four modeled after… well, you know. The Frozen Four is a successful and well-attended event that will draw a full house or something near to it even when it's thousands of miles away from the nearest hockey program. The regionals are half meh and half a disaster.
The meh half is in the East, where the teams are so close together that the NCAA can rotate through a more or less defined collection of mid-sized arenas that will all be reasonably full because at least two fanbases will be right on top of them. Atmospheres are still muted for the most part.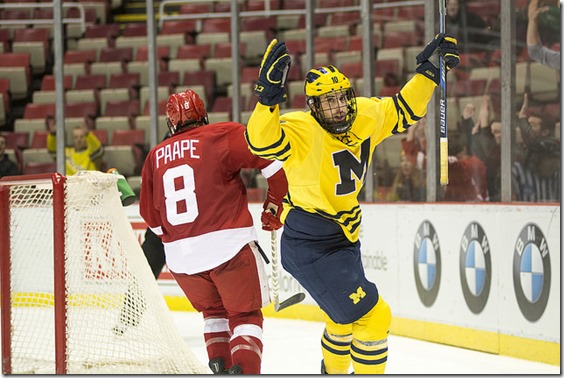 Neutral site college hockey is not well attended [Jason Coller]
The West is the disaster. Michigan has seven college hockey teams and hasn't seen more than one NCAA regional in a decade; instead the committee keeps putting regionals in places like Fort Wayne, St. Louis, and even Omaha, in buildings way too big and with ticket prices way too high. A second West regional is generally in the WCHA footprint, Minneapolis as often as not. These regionals are almost universally attended by marching bands and crickets and are loathed by literally everyone in the college hockey world except a plurality of coaches who either think playing in a tomb gives them a better chance to win or are in the East and therefore don't care.
There have been some rumbles that the NCAA will finally move away from the failed regional model in the next few years, but I'll believe it when I see it. It's a shame, because Yost hosted a couple of regionals a decade ago, and they were insane. So insane that the rest of college hockey got mad and more or less banned campus sites. The leadership of college hockey has failed massively in this department.
The Rules
On the other hand, college hockey has pioneered most of the rules that the NHL adopted over the course of the past decade. These include no-touch icing*, two refs, and getting rid of two-line passes. The main differences between the NHL and the NCAA that remain are
fighting is five, a game, and a suspension in college
there is no goalie trapezoid behind the nets
five-on-five OT, with shootouts only applicable to conference standings**
no handpasses, anywhere
Olympic rinks are allowed
Also you have to wear a full shield.
*[The NCAA had pure no-touch icing until a few years ago, when they went to the same hybrid icing the NHL did.]
**[A game that ends in a shootout is treated as a tie for RPI purposes.]
Recruiting
These days a plurality of players come from the USHL, a "Tier 1" junior league spread throughout the Midwest. The USHL and NAHL, another junior circuit with two main hubs in the upper Midwest and Texas, were about on par until a decade or so ago when USA Hockey created the Tier 1 designation and the USHL went after it. In general this means a higher level of facilities and support for the players. If you believe in point equivalences—ie the idea that a league can be judged by how well its players' scoring translates to higher leagues—USHL to AHL/NHL point transitions are more or less on par with the CHL. The NAHL is some distance back and their players usually populate lower-tier teams and fourth lines.
USA Hockey's National Team Development Program also plays in the USHL but is a thing apart. They have U17 and U18 teams that play a variety of international tournaments and, for the U18s, a ~30-game schedule of exhibitions against college teams. The U17s draw the majority of USHL games and generally get cranked due to the age gap. The NTDP gets about 80% of the first round NHL draft picks who are headed to college.
Minnesota and New England both have high school hockey that is good enough to produce a lot of recruits, and the NCAA recruits from various non-CHL junior leagues across Canada, the most prominent of which are the BCHL and OPJHL, if the latter is still called that. Per the most recent NCAA data 24% of NCAA hockey is played by "nonresident aliens," the vast majority of whom are Canadian.
One key difference between Canada and the US is that US players will often stick with their junior teams after high school. USHL teams can have players up to 20 and for many teams their answer to recruiting deficiencies is to bring in older and older players. There was a recent kerfuffle when the Big Ten, which generally recruits right out of high school, introduced a proposal to reduce eligibility for players who enter college older than 20. Everyone yelled at them and it was withdrawn.
Level of Play
More variable than the CHL but likely to be better overall. In large part this is due to age. College hockey players are on average much older than CHL players, and now college alums make up about 30% of the NHL. While the CHL has more NHL prospects per team—both leagues have about 60 teams total—the NCAA's are more concentrated, so unless you have a lot of Atlantic Hockey teams on the schedule that gap between future NHLers is smaller. The NCAA also has a significant edge in point equivalencies. Three years is apparently more than enough to bridge the gap in relative NHL draft status.