Guess the Score, Win Stuff: OSU (NNTOSU)
I keep a relatively well-updated roster on NCAA 2013, based on Operation Sports but I tweak Michigan and its opponents as the season goes along. This morning while chasing the toddler around I left it simulating the Michigan vs. Oregon State game. I hear it blowing up from the other room and come back to find Peppers returning a kickoff. Now I'm watching, and getting into this. Oregon State doesn't complete a pass until the 3rd quarter—a 9-yard screen on 4th and 14—but they're running all over the right side (Ojemudia's). I try Marshall and it gets worse. I try a formation that has RJS there and nope.
But the fake videogame OL is consistently getting push, and Rudock is 60% with no INTs and 4 TDs, and Butt gets 9 catches for 110 yards, and Green busts a long one in garbage time, and because it's on sim I'm seeing angles of Michigan Stadium that I don't really get while playing. Fake Michigan beats Fake Oregon State 62-10, outgaining the Fake Beavers 387 yards to 192 (60 yards passing after giving up on the run). Morris comes in kneels and the band strikes up The Victors. There's nobody but the toddler around. So I raise my fist, and am transported home.
How this works again:
Readers predict the final score of a designated game by placing a guess in the comments, preferably in the format of [M score][hyphen][Opp score], for example "41-30" or "35-31 Michigan", or "28-24 Go Blue", or "38-0 Harbaugh!" etc.
The three guys who read this part holler at people who post in a different format
First person (by timestamp) to post a particular score has it.
If you got it right, I contact you for an address by your MGoBlog account email, and you give me some time to get that to you.
If nobody got it right or I don't hear from the winner(s) we push it to next week or let it go.
About Last Time:
Michigan went to Utah and a ton of people predicted the 24-17 final score, but with Michigan on top. We still have two get the score correct, and three people were off by one. They get Endzones!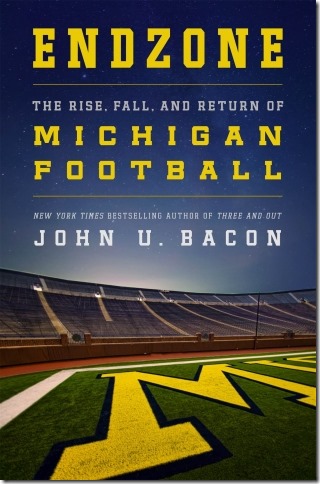 This Week's Game:
Michigan comes home to face the Beavers. At the Big House. I mean, banner-touching, Varsity-singin, Blues Brothers-dancin', 107,601 person-holding, Crisler's seat-reserving Michigan Stadium!
And on the Line:
A full-size, limited edition print by famous portrait artist (and Bacon book interviewee) Ben McCready. Bennie is named for THAT Bennie, who was his godfather. McCready is part of the lifeblood of this Michigan of ours. And while the Legends jerseys are no longer, some of the men they honored deserve to be on your wall (clockwise from left: Anthony Carter, Tom Harmon, Bob Chappuis, Bennie Oosterbaan, Ron Kramer, Desmond Howard).
Our favorite ol' hole in the ground is shown on the day it opened (bottom left), as it appeared in the Bump/Bo days (bottom right), and filled in the last year before the halo (1997). The Collector's Edition is 24" by 32" and there will only ever be 1,997 of them. You can also buy an 18" by 24" print from his site. Note that these are prints not posters—I have one and it's about as thick as HTTV's cover.