Guess the Score, Win Stuff: East of Michigan
The Firehouse Museum, the Huron River, Depot Town, the phallic watertower, Sidetrack burgers, a bowl of everything at the Bomber Restaurant that magically absorbs your entire hangover, bowling…this is the entire list of nice things my EMU grad wife had to say about Ypsilanti. Even their Meijer sucks. To her list I would add running backs coach Mike Hart and the "Players Coached" section of Ron English's chrome website, where you can get quotes like this:
"When I think of Marlin Jackson, I think of a stallion. Marlin Jackson was a stallion. I didn't break him, but I did corral him a little bit in terms of getting him to believe in technique."

-Ron English, EMU Head Coach
File under things you will never unlearn. Other things that are like mammals according to Ron English: LaMarr Woodley and Prescott Burgess.
How this works again:
Wednesdays I put up a winnable prize that consists of a desirable good.
You guess the final scores of this weekend's designated game (football or hoops, depending on the season), and put it in the comments. First person to post a particular score has it.
If you got it right, we contact you. If not, go to (5)
The desirable good arrives at the address you give us.
Non-winners can acquire the same desirable good by trading currency for it.
About Last Week:
So it's come to this, Bob Huggins. A fight to the death. Mano a mano. Man to man. Just you and me and my GUARDS!
*SWISH* *SWISH* *SWISH**SWISH**SWISH**SWISH**SWISH* 81-66. Simon of SimonOnSports was closest at 81-65.
This Week's Game:
The University of Discgolf heads west on Washtenaw at 8:30 tomorrow night. Winner gets to claim to be the dominant school in the county.
And on the Line…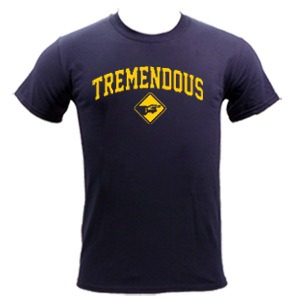 Fact: If you are wearing this shirt in Ann Arbor while facing South, you could be pointing at Mike Hart right now!
Fine print: One entry per user. First user to choose a set of scores wins, determined by the timestamp of your entry (for my ease I prefer if you don't post it as a reply to another person's score--if you do it won't help or hurt you). Deadline for entries is 24 hours before the start of the game. MGoEmployees and Moderators exempt from winning. We did not invent the algorithm. The algorithm consistently finds Jesus. The algorithm killed Jeeves. The algorithm is banned in China. The algorithm is from Jersey. Rutgers is from Jersey. Holy shit guys Rutgers is in the Big Ten. BIG TENNNNN! The algorithm constantly finds Jesus.This is not the algorithm. This is close.