Goal-by-Goal Analysis: Ohio State
[JD Scott]
Friday, January 26, 2018
#6 Ohio State 4, #17 Michigan 0
1st period
Miller goal
OSU 1 UM 0 EV 16:40 Assists: Joshua & Parran
Cecconi pinches and misses the puck, which is passed off the wall to Parran in the high slot. Parran sees Joshua leaving the defensive zone with four Michigan defenders still turning, and he's able to hit him with a nice outlet pass about halfway between the blue line and center ice.
Joshua reads Hughes, Michigan's lone defender back, and decides that he's far enough outside Joshua to dish before entering the offensive zone. Miller carries the puck in.
Joshua swings his stick over, which Hughes uses against him. Hughes lifts the stick back into the air, effectively erasing Miller's pass. Miller is on the same page; he brings the puck to his side and prepares his shot.
Hughes is almost able to get over and poke-check the puck off Miller's stick. Miller's just able to get the shot off, though. Lavigne has stepped up to challenge and even stands up when he sees where the puck is headed, but the shot somehow ends up going just under the crossbar. There was a reverse angle replay later that shows the puck on Miller's stick, Lavigne standing, and the net moving. Lavigne raised his right shoulder and thus the left dipped just a bit as the shot was released, and I guess that was enough to create the tiny window Miller needed.
[After THE JUMP: we turn our attention to Pairwise]
So, about the missing breakdowns. I was only able to find a portion of Friday's game available online. I had David double check to make sure that I wasn't missing something obvious and he ran into the same problems I did. I'm leaving the goal list here so you can see what happened, when, and whether it was 5v5 or special teams, but we're going to otherwise skip ahead from this gut punch to Saturday's cup check.
2nd period
Laczynski goal
OSU 2 UM 0 PPG 18:36 Assists: Weis & Jobst
3rd period
Jobst goal
OSU 3 UM 0 EV 3:28 Assists: Miller
Joshua goal
OSU 4 UM 0 PPG 8:53 Assists: Miller & Myer
alsdkfjasdlkfj
Saturday, January 27, 2018
#6 Ohio State 5, #17 Michigan 3
1st period
BECKER GOAL
OSU 0 UM 1 EV 7:08 Assists: N. Pastujov
The first (and only) assist on Becker's goal is in the screen cap below, which, yes, is a play starting to develop deep in the defensive zone. Nick Pastujov pokes the puck ahead for Becker here. There's an OSU defender who almost breaks it up, but the puck goes under his stick and pulled up and to the middle by Becker.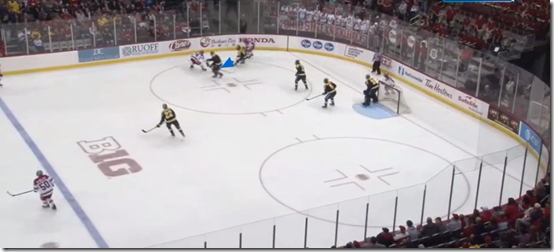 Porikos and Becker switch in the neutral zone, with Becker taking the middle of the ice and Porikos drawing the attention of the defensemen.
Becker lines up with the right defenseman (from Romeo's viewpoint). This works to his advantage, as that defenseman is giving more of a gap than the one on the left. Becker puts everything he has into his wrister and appears to beat Romeo, who was snagging pucks through intense traffic the night before, five-hole. Hockey!
Gerard goal
OSU 1 UM 1 EV 9:57 Assists: Unassisted
Gerard picks up a loose puck near the edge of the neutral zone and carries to his far left. He's at a 3-2 disadvantage as he enters the offensive zone, as Michgan has two defensemen and a forward back.
Gerard doesn't even test the waters of a pass. He's looking to shoot the whole way, and Luke Martin gest his stick over a fraction of a second too slowly to interfere with Gerard's shot attempt. It hits Lavigne's chest protector and bounces off.
The puck hits Piazza's skate just as Lavigne is starting to push out of his butterfly (and thus has opened up the five hole). Lavigne sees the puck ricochet off the skate and attempts to cover it with his glove, but the ricochet beats his reaction time.
2nd period
Gerard goal
OSU 2 UM 1 EV 00:26 Assists: Laczynski &Weis
Hughes waits a beat too long to pass to the boards and gets his pass deflected by Weis. Weis gathers the loose puck and races into the offensive zone with a trailer and Cecconi back.
Cecconi calculates the risk of take a swing at the puck and decides that it's a risk worth bearing. He misses.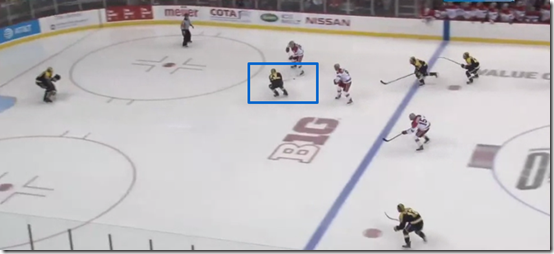 This opens up the pass from Weis to Laczynski. Cecconi spins and almost gets in Laczynski's way, but he's able to pull the puck around the outstretched stick and get a backhader on net. Lavigne makes an excellent toe stop.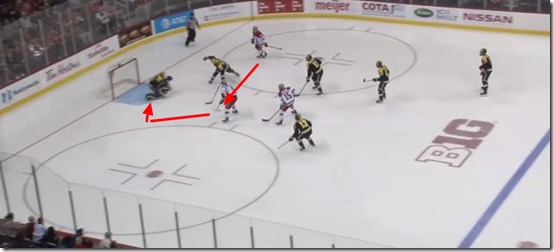 The rebound, however, is sitting there just waiting for an opportunistic forward. OSU has one in Gerard, who has to do no more than skate down the heart of the ice to the net to retrieve his gift. Slaker is almost on the boards when they're both at center ice, so it's not a huge surprise that he doesn't get over in time to tie up Gerard. Warren maybe could have picked up Gerard but was focused on Laczynski, plus the gap between Slaker and Gerard was shrinking quickly.
PORIKOS GOAL
OSU 2 UM 2 EV 9:57 Assists: Raabe
Porikos tangles up his man and knocks the puck back into the neutral zone just before OSU gains the blue line. Raabe picks up the loose puck and plays it to himself off the wall, fighting through a check in the process.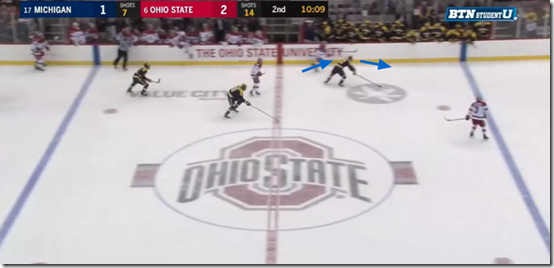 Raabe carries in and quickly sees that his pass to the middle is cut off by OSU defenders. He has two options: shoot it himself of find a trailer.
Porikos calls for the puck; he has a step on the nearest OSU skater. Raabe grants the request, dropping it for Porikos to one-time. Meanwhile, Winborg is about to be shoved into Romeo by Jobst when he side-steps the contact. Jobst bowls over Romeo, effectively taking his goaltender out of the play as the shot's on its way. Naturally it finds the back of the net.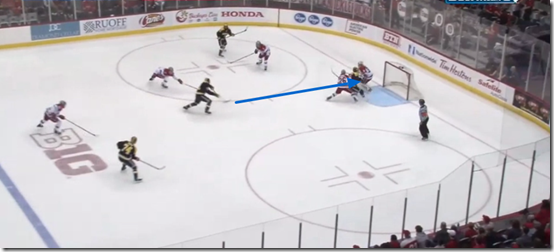 Hein goal
OSU 3 UM 2 EV 13:12 Assists: Wiitala
Michigan's trying to clear the zone when they run into trouble, which was a recurring theme this series. Slaker rims it around to Norris, who throws a pass ahead for…well, it's not so much about the "for" as it is "throws a pass ahead." Wiitala is the only guy in the vicinity, and he picks it off.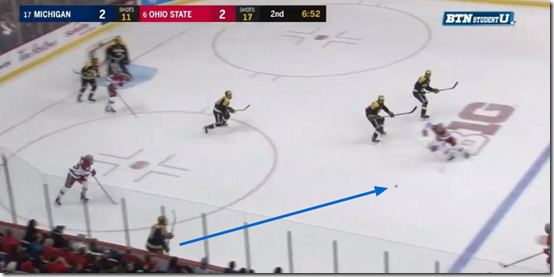 One turn and three strides and Wiitala has a 3-on-1. It's a 3-on-2 if you count Slaker trying to gain some ground and get his stick in a passing lane, but the closest he gets is to almost hooking Wiitala. He wisely untwists his stick as Wiitala passes (might be a saucer to get over Cecconi's stick, but I'm not absolutely certain).
Hein releases a snapshot as Lavigne is trying to push left. There's really no blame to assign once the puck was intercepted by Wiitala. Turnovers create untenable situations.
Kearney goal
OSU 4 UM 2 EV 16:56 Assists: Ege
Michigan again runs into problems clearing their own zone; this play starts on at least the third chance they had to get the puck out. Lavigne stops a shot and allows a rebound that Slaker sweeps to the boards. There's no one nearby and the flip is flat and to the wall instead of angled toward the top of the zone. Kearney carries to the blue line and passes to Ege.
Ege walks the puck down, and though the gap he has is workable, Kearney is alone on an island. He decides to pass it back to Kearney, who has plenty of time and space to skate in before shooting.
Warren and Norris converge to try and get their sticks in the shooting lane, but Luke Martin is dealing with something in the lane far more obstructive: OSU's Dakota Joshua. Lavigne is screened by their entanglement and whether he sees this puck is an open question.
3rd period
Jobst goal
OSU 5 UM 2 SH 11:48 Assists: Stork
Cecconi fires a slapshot toward the net that misses, hitting the boards and skittering up to Hughes near the blue line. He tries to gain possession on his backhand but the puck isn't settled and hops away. Jobst tries to steal it, but Hughes' stick forces him to jump. Jobst pokes at the puck and knocks it to the wall. He circles back for the puck while Hughes backskates.
Jobst drops the puck for Stork, then comes off the boards and enters the zone in the middle of the ice. Stork moves outside him, gaining the zone near the wall.
Hughes chooses to body up Stork; seeing this coming, Stork drops the puck for Jobst, thus making the coverage irrelevant to the play. Cecconi's back, so it's not as if the skater is uncovered.
Jobst shoots through Cecconi. Lavigne makes the stop but then starts to stand, and as he stands the puck rolls down him and into the crease. It proceeds to cross the goal line after an excruciatingly long time rolling….and rolling…and rolling backwards.
SLAKER GOAL
OSU 5 UM 3 EV 17:30 Assists: Norris & Hughes
Not surprise here, but Hughes uses his forward-like skating to skate through the middle of the ice and quickly pull up, leaving plenty of space to pass to Norris at the point.
Norris takes a couple of lateral steps and shoots, a Slaker screen of Romeo working to his advantage. He misses, though, which may or may not be intentional given the circumstances. If he missed on purpose he pulled a Lidstrom and I'm very, very impressed.
Slaker sees the miss, slips his guy, turns on the puck, and has a wide open net.
Sometimes nothing goes right. A puck goes in off your defenseman's skate; a puck seems to teleport through your goalie; a puck is stopped, falls, and is clocked going slower than a Roomba when it rolls past the goal line. Young guys made relatively few, but costly, mistakes. Lavigne didn't have it. The DMC line was quiet. Life moves on.
Michigan needed to split this series, and despite the appearance of the box scores they didn't get run out of the rink, but they couldn't get anything to cross the goal line, either. The games went back and forth until someone made a mistake or Michigan wore down and couldn't clear the zone on their second or third try and boom, put another one on the board for the Buckeyes.
Our attention now turns to Pairwise, where Michigan sits 16th. You may recall that 16 teams make the tournament; they are firmly on the bubble with their fate still in their hands.
Michigan gets Wisconsin at home this weekend. Wisconsin is currently 19th in Pairwise, one spot above the threshold for a quality win bonus.  Michigan's currently has a sizeable lead in common opponent win % (.5486 vs. .4583), so that comparison point seems safe. The RPI and head-to-head points could shift this weekend, though. Michigan currently wins the comparison because they have the better COp and RPI, but the RPI lead isn't on solid ground (.5310 vs. .5261). If they sweep Wisconsin they'll get a tiny quality win bonus, but most importantly they'll add two points for winning the season series. That series currently stands at 0-1-1, so a split won't win them the head-to-head. Michigan loses the overall comparison at least 3-2 if they get swept, and losing the Wisconsin comparison loses them a Pariwise point that they can't afford to lose.
I'll dig into this in greater detail next week, but it doesn't look to me like Michigan's series the following weekend against Michigan State can impact Pairwise points at all. They could get swept and I still think their RPI and COp (granted, hard to predict) plus two season wins would win them the comparison 4-3. If that's the case, the season comes down to next weekend's Wisconsin series and the Notre Dame home-and-home in two weeks. The good news? The Suday, Feb. 18th home game against Notre Dame is actually going to be on BTN! (This Wisconsin series better be televised.)