Goal-by-Goal Analysis: Notre Dame
NCAA Tournament Midwest Regional Semifinal
Friday, March 25, 2016
Michigan 3, Notre Dame 2 (OT)
1st period
SELMAN GOAL, MICHIGAN
UM 1 ND 0 EV 10:31 Assists: Kile & Downing
Nieves wins the draw back to Downing. The wingers go in motion off the draw, with Kile going from right to left. This picks up the attention of the defender in front of the net, who takes a few steps with him. Meanwhile, Selman is skating through the faceoff circle, now left unoccupied thanks to the defender being drawn out toward Downing.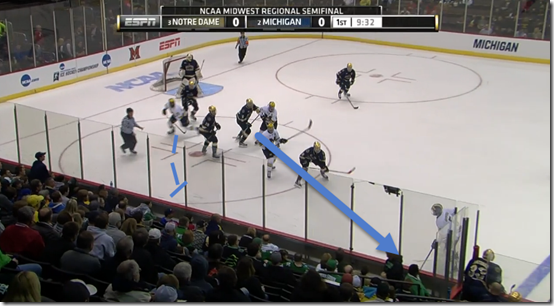 Two defenders are watching Kile as he receives the pass from Downing. Nieves has locked up the defender nearest Selman in the high slot; he did so immediately off the draw, and this is just where they ended up. Selman is blitheringly open, though ND goaltender Cal Petersen is square to Kile. Selman's shot catches him off guard, and he isn't able to move across and re-square before the puck's behind him.
[You already know the OT winner is after THE JUMP why have you not clicked yet]
Bjork goal, Notre Dame
UM 1 ND 1 EV 15:46 Assists: unassisted
Bjork picks up a loose puck in his defensive zone and starts to carry it out. Downing sees this and gambles for a steal; I know it's hard to see here because I can't find the other camera angle, but he stabs across Bjork's body and misses. He's now relegated to having both given up inside position and chasing Bjork from behind.
Bjork's about to hit full stride as Downing has to spend time turning and starting to skate again.
There's a clear 2-on-1 developing, and Downing's last ditch effort to make up for lost positioning is to swing his stick around, hoping to knock the puck away from Bjork. It doesn't work.
Bjork puts on the brakes as he sees Racine get deep in his crouch, which tells me that he was thinking top-shelf from around the time he cross the blue line. Racine does indeed hit the ice, and Bjork lasers a shot over far-side over his shoulder.
2nd period
DiPauli goal, Notre Dame
UM 1 ND 2 EV 00:24 Assists: Bjork
Bjork enters the offensive zone with one defenseman and one forward checking him and one defenseman back. He splits the defenseman and forward, though De Jong tries to get his stick across Bjork and slow him without incurring a penalty. One can see there's a winger trailing to Bjork's left who is going to enter the zone undetected because of the two defenders now behind him, which in turn causes Downing to have to step up and take him.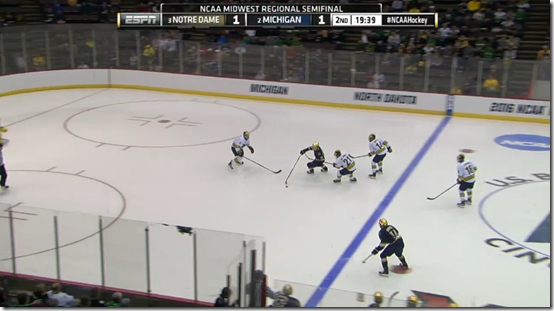 Bjork turns to his left, shielding the puck and creating a fleeting screen while simultaneously dropping the puck back for DiPauli.
DiPauli snaps the puck on net as he receives it. Maybe there was something in the scouting report about going high blocker-side on Racine, because DiPauli does and ND scores again. In Racine's defense, I'm fairly certain that he never saw the exchange between Bjork and DiPauli because of the screen.
3rd period
WERENSKI GOAL, MICHIGAN
UM 2 ND 2 EV 09:52 Assists: Nieves & Boka
Werenski's got the puck at the blue line and reads the pressure in front of him well. That defender's closing with his stick close to his body, and though Werenski likely knows that he'll extend it to take away the passing lane down the boards Werenski sees that he has enough time to move the puck and support down low to receive the pass.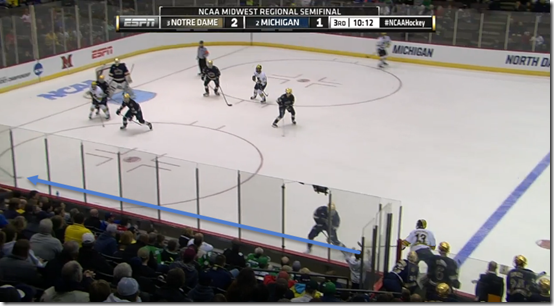 Nieves skates up the boards, and Werenski moves to the middle of the ice. Now they've isolated that defender between them, and all Nieves has to do is get a clean pass off to Werenski and he'll have an open look. He does, of course.
Werenski wires one to the top corner; that's quickly become "his" shot. (When Compher scored the first goal against NoDak I tweeted that he stole Werenski's move, and this is what I was referencing.) Petersen doesn't even get his glove up.
Overtime
MOTTE GOAL, MICHIGAN
UM 3 ND 2 EV 08:19 Assists: Compher & Connor
Notre Dame turns the puck over in the neutral zone and Connor picks it up. He carries in to the left while Compher drives the middle.
Connor shoots from the top of the faceoff circle and the puck deflects off the ND defender. Compher is in good position to pick up the loose puck because of his positioning; he was in front of the net to screen, and he just has to keep skating the direction he was already moving to retrieve the loose puck.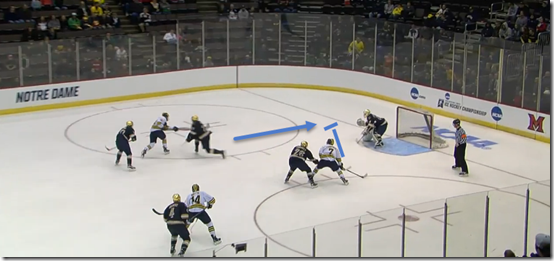 Compher gains possession of the puck and uses telepathy/echolocation/spider-sense/Find My iLinemate to perfectly place a no-look pass on the tape of Motte's stick. There's a defender on Motte, but he's got his stick under Motte's right armpit when he would have done better to try and lift his stick. Motte snaps the shot home, and Notre Dame's season is over.