Goal-by-Goal Analysis: Minnesota
a defenseman in a shooting lane was a common sight this series [JD Scott]
Friday, January 12, 2018
#9 Minnesota 3, Michigan 5
1st period
DANCS GOAL
MINN 0 MICH 1 EV 00:14 Assists: Calderone
Michigan has Calderone high to forecheck, and his presence at the edge of the neutral zone is enough to get Lindgren to pass the puck to Sadek along the boards. Dancs reads the pass and comes charging hard at Sadek.
Dancs' rapid pursuit causes Sadek to recoil, and the puck rolls off his stick as he pulls it back across his body. Calderone has skated to the area and picks up the loose puck, turning with it and entering the offensive zone with Sadek in pursuit.
Sadek closes the gap quickly and Calderone feels the pressure. He decides his best play is to pass back to Dancs, who has plenty of space to operate and picks up the pass cleanly.
Dancs starts to cut through the middle of the faceoff circle when he pulls the puck out to his side. He holds it there long enough that Sadek reads it as a shot and gets ready to block it. Sadek pulls his stick in and starts to bring his knees together; Dancs still has the puck held out to his side and now has room to shoot around Sadek. He doesn't try to dangle Sadek, instead opting for a filthy snapshot that beats Robson in the far-side top corner. It's a perfectly-placed shot, and it doesn't go in if a.) the goalie has an elite glove hand or b.) the shooter misses his mark.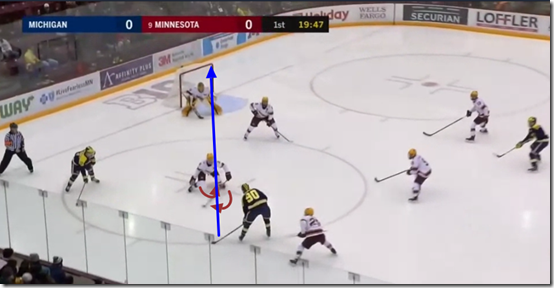 [After THE JUMP: this post is antithetical to showing good defense but it was there and we should talk about it]
Mittelstadt goal
MINN 1 MICH 1 EV 2:21 Assists: Sadek & Lindgren
Sadek is looking to start Minnesota's breakout and sees Mittlestadt open on the opposite side of the ice. There's some pressure from Michigan imminent, but the passing lane is clean for the time being.
Mittelstadt carries through the neutral zone without deterrence because Michigan's focused on getting defenders back. Minnesota has to have two guys tag up for Middelstadt to enter the zone onside. As he does, Hughes and Boka are in their lanes, with Hughes starting to creep over a bit to cover the winger at the line.
Mittelstadt carries in and just keeps going, turning a potential 3-on-2 into a 1-on-1 with Cecconi. Mittelstadt copies what Dancs did just moments earlier, seeing a lane to shoot around the defender and snapping a shot on net. Lavigne flat-out misses, but the puck was wobbling and took a strange path to the net.
M. PASTUJOV GOAL
MINN 1 MICH 2 EV 8:13 Assists: Calderone & N. Pastujov
Pastujov drives the net, and the puck is knocked off his stick just as he's about to fire a backhander on net.
The puck doesn't go far, though. Johnson gets his hand into Pastujov's shoulder as Pastujov regains possession of the puck. Johnson regroups and shoves Pastujov off the puck. Glover decided to vacate the front of the net before Pastujov regained possession, and his gamble pays off: he's able to corral the loose puck.
Er, kind of. It sort of ricochets off of him and hits the back of the net. Calderone, the player Glover left, has cut through the slot and is looping around the net. The blade of his stick collides with Glover's, which sends the puck back toward Pastujov.
Pastujov takes a step out, sweeping the puck on net. It looks to me like it hits the skate of Tyler Sheehy and is redirected under Robson's pad.
Robson was pushing off his right post to lock down the left post when Pastujov shot, which means Robson's right pad is trailing. As he tries to pull it in and close the five hold the puck is already under the pad. It continues its slow trickle toward the goal line as Robson gets his knees together. He looks back into his net as it's about to cross the line; by the time he slams his blocker first-first into the ice, it's in the net.
MARODY GOAL
MINN 1 MICH 3 EV 18:10 Assists: Hughes
Hughes carries in and slams on the brakes when he's about even with Dancs. Everyone else—Minnesota's two defensemen included—continues to drift toward the net. This opens space and a cross-ice passing lane for Hughes.
The other important thing going on here is who's covering whom. The two defensemen sees Dancs skating hard down the middle and decide to stick with him; one marks Marody, but Gates (#10) doesn't seem to notice.
Dancs continues to glide backward to the slot, which keeps a defenseman behind him. Sheehy carries Calderone, who skates from the top of the faceoff circle through the high slot to Marody's left. One of the defensemen stays up to play Hughes, who passes across for Marody.
In this moment, Gates realizes that he's pulled a Gob Bluth. Marody has all the time he could want to size things up. He eventually pulls the trigger on a quick-rising snap shot and goes bar down.
2nd period
Reedy goal
MINN 2 MICH 3 PPG 3:37 Assists: Bristedt & Nanne
Winborg chases behind the net and forces Johnson to his left, which isn't ideal because it's forcing him to the side where there's no Michigan forechecker; if Johnson passes to his right, Raabe is in the vicinity. Winborg gets a piece of Johnson and slows him down, but he eventually gets a pass up-ice to Szmatula.
Szmatula sees a lane on a diagonal to the opposite side of the ice and fires a perfect pass. Minnesota's on the power play, so he's virtually guaranteeing a clean zone entry since the pass is not to the middle of thus is away from Raabe behind and Luke Martin ahead.
Martin comes very close to poking the puck away, but the pass to Bristedt in the slot gets through. Hughes turns his stick and tries to hold down Bristedt's hands but misses. Lavigne stops the shot, but he also gives up a small rebound.
Obviously the ideal thing here is for Lavigne to hold on to the initial shot attempt. Short of that, the next most ideal thing is for him to cover it once it falls directly in front. Somewhere waaaay down the list is the unfortunate collision between the puck and Raabe's skate; Lavigne tries to sweep it away, Raabe has skated to the crease to pick it up and get the puck out, and the doink off the blade leaves a free puck for Reedy.
The two low defenders are behind the net and Raabe is clearly not a factor at this point in terms of covering someone or an area. That leaves Winborg, who's just now getting into the zone after tripping at the other end of the ice. Nice that he applied some forechecking pressure, but it ends up as a gamble that doesn't pay off on the PK. Reedy has half the net open and simply flips it over Lavigne.
WARREN GOAL
MINN 2 MICH 4 EV 18:01 Assists: N. Pastujov & M. Pastujov
Michael Pastujov gains the zone for Michigan along the wing and passes ahead to his brother as he's about to get crushed into the boards. It's right about here that Sheehy realizes no one has picked up Warren, so he bolts across the ice to cover. It's also here that it starts to become clear that it's not entirely Sheehy's fault no one's on Warren, as Mittelstadt has apparently started a vision quest and is sorta gliding around.
Sheehy takes a bad angle, though, and all he can do to disrupt the pass is hope to knock it away.
NARRATOR: He doesn't
I could be too generous here but I don't think Schierhorn's (he replaced Robson after the first period) initial reaction here is wrong. He's got Warren about to receive the puck at the top of the crease, so he pulls together his pads in anticipation of a shot down the middle. From the overhead camera it looks like Warren only gets a piece of the puck, which sends it on a diagonal to the near post.
Schierhorn gets his leg out but it appears as though he helps push the puck across inadvertently with his skate.
3rd period
McManus goal
MINN 3 MICH 4 EV 16:22 Assists: Sheehy & Lindgren
Cecconi does a really nice job walling off the passing lane and forcing Sheehy to carry in wide.
Hughes looks back and sees that he has a guy to cover skating to the net, and said guy is behind him. He shows the defensive awareness you'd expect from a defenseman here both in his head turn and in holding up when he might instinctively want to see if he can knock away the shot attempt. The shot comes from far outside; as noted above, Cecconi forced the play wide and there's no one in front of Sheehy to pass to.
The box at the bottom of the last screenshot shows that there's a definite threat, though. No one has picked up McManus, the three forwards instead congregating in the faceoff circle to the puckside. Lavigne pushes the puck away with his stick; he needs to absorb the shot and hold for a faceoff. Instead, there's a rebound sent right to McManus and a wide open net which Lavigne will never be able to get across and cover.
WARREN GOAL
MINN 3 MICH 5 EN 19:31 Assists: none
Sheehy (I think) swings the puck to Johnson at the point. He reaches way back to play it on his forehand, and in bringing the puck forward he loses control of it. Warren stretches and knocks the puck out of Minnesota's offensive zone.
Johnson and Warren end up in a footrace. They bump hips around center ice and fall, with Warren rolling over Johnson and pinning him against the ice. Even so, it looks like Johnson might be able to swat the puck away.
And then his stick goes over the puck. Game over.
Saturday, January 13, 2018
#9 Minnesota 1, Michigan 3
1st period
WARREN GOAL
MINN 0 MICH 1 EV 1:13 Assists: Norris
Warren, in on the forecheck, finishes a hit on Middelstadt a moment after he passes the puck up ice. Norris contests the pass.
Norris digs the puck out and passes it to Warren. Warren turns on the puck and starts to skate to the middle.
He's sprung free by an incredibly well-set screen from Slaker, who sees Sadek standing there and walls him off on the fly.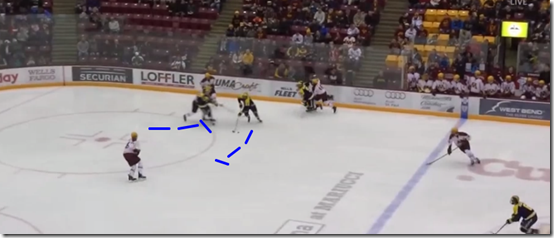 If the scouting report on Minnesota's goalies wasn't shoot high it will be now. Schierhorn is at the top of the crease to challenge but that doesn't deter Warren, who is far enough from the nearest defender to get a shot off clean with time. He snaps one top shelf and beats Schierhorn.
NORRIS GOAL
MINN 0 MICH 2 PPG 3:06 Assists: Slaker & Boka
Boka pushes the puck ahead for Slaker just as Slaker enters the offensive zone. He carries down the wing, that space created because Boka bumps Romanko before heading for the middle of the faceoff circle.
Romanko almost recovers, but Slaker has surveyed the situation and is waiting for this moment: Boka is about to clear the cross-ice passing lane to Norris.
Norris gathers the pass behind his left foot, turns on the puck, and snaps it in. Glance at Schierhorn's positioning in the screen cap below and it's easy to see that there's no chance he can get across to stop a one-timer off a cross-ice feed.
2nd period
Romanko goal
MINN 1 MICH 2 PPG 15:26 Assists: Ramsey & Rossini
Time is winding down on Minnesota's power play, so Rossini decides that he'll throw the puck on net and hope it gets redirected. It doesn't, but Lavigne does give up a rebound with a gaggle of guys standing in front of the crease.
There's a slight chance that this didn't ever reach Lavigne but instead hit Piazza, and if that's the case, hoo boy, does he have some awful luck during this sequence. The puck falls in front of Ramsey, who's able to shoot unbothered since he's the middle skater in the 2-1-2, the two low defenders are trying to cover guys at the sides of the net, and the two high defenders are still in the process of turning and getting to the front of the net.
The shot itself, though, is impeded. Piazza dives across the crease in an attempt to stop the shot. He does, but the puck falls behind him, not under him.
I appreciate Piazza's effort and instinct to stop the uncovered shooter in the slot but doing so means that Romanko is now unchecked and there's a loose puck for him to sweep into the corner of the net. Pretty sure that Lavigne would have made the point-blank save on Ramsey's shot. Lavigne manages to avoid getting tangled with Piazza but can't push across fast enough to stop Romanko's backhander.
MARODY GOAL
MINN 1 MICH 3 PPG 17:19 Assists: Calderone & Hughes
Calderone withstands copious contact from Lindgren as he's entering the zone. Skating through the check gives him space down the wing and in the corner, and he chooses to continue skating behind the net. The next obstacle appears when Zuhlsdorf steps away from Winborg and to the back of the net. Calderone can't skate away from the pressure this time, and the puck gets knocked away.
Marody, who was trailing Calderone down the wing as he entered the offensive zone, has cut through the faceoff circle, the slot, and across the faces of Gates and Szmatula undetected. He sees the loose puck behind the net and plucks it, free from interference thanks to Lindgren peeling off and heading to cover Winborg in front of the net and Zuhlsdorf finishing his hit on Calderone.
Marody sweeps the puck back, in turn creating his own one-timer. Schierhorn has no idea where the puck is; he sees it go behind the net to his left, then gets his back under the crossbar so that no one can flip it in off a roll down his back. By the time he sees the puck again, Marody's releasing a shot into the uncovered portion of the net to Schierhorn's right.
3rd period
No scoring
The defense is good. Seriously. I'm starting to get used to one forechecker pressuring hard and, when things eventually break out toward the opponent's offensive zone, two defensemen back to handle the rush. There's been progress, with a lull in defensive effort and execution in the middle of the season leading to this. It's hard to put into words how impressive this is. I've been doing these breakdowns since 2013 and this is the most reliable I've seen all six defensemen since I've started. They consistently get back, and while some of them pinch (how could you not if you're Hughes) the forwards have done their fair share to help out. I don't really have one guy to point out because I was impressed with everyone; forwards did the little things that make it difficult to play against like using the stick to make contact without overdoing it and drawing a penalty, while defensemen reliably picked up and tried to move netfront skaters.

The numbers back this up.

David's

Friday

and

Saturday

recaps track Corsi and shot attempts from the house, and two patterns emerged: an increasing ability to keep the house area clear as Friday's game went on and an increasing ability to suppress overall shot attempts as Saturday's game went on. Friday saw Minnesota's attempts increase from 13 in the first period to 19 in the third frame (when they were pressing and trying to get an equalizing goal) but their attempts from the house went from 3 on 13 total attempts in the first to 7 on 12 in the second to 5 on 19 in the third. Minnesota found themselves in a similar situation Saturday and mustered only 7

total

attempts in the third period. They were unable to find space to effectively break out of their own zone, and they didn't have space to create in the offensive zone when they got there. Michigan's even-strength defense was a net positive this series.

Penalty killing is still an issue. Per CHN

, they're third-worst nationally at 74.7%. I suggested that maybe the wedge+1 could shake opponents with its aggressiveness but I need to publicly rescind that after seeing some of the difficulties Michigan had on switches this series. It looks to me like they're currently playing a box that doesn't extend past the top of the faceoff circle, and even with that they're having difficulty against good puck movement. I don't know what they can do to fix it, but you have to think there's something that can be done if this staff can turn around the even-strength defense the way they have.

The Warren-Slaker-Norris line is a nice complement to the DMC line. Warren obviously had a great series; I'm not surprised, as I feel these three bring out the potential in each other. Norris is developing into a two-way forward with a good offensive skill set; he's starting to look like what you'd expect from a first-round draft pick. Slaker's a better skater than I remembered and has excellent vision. Between those two, Warren's ability to snipe, and all three of their efforts in the defensive zone (Norris's goal on Saturday stands as a great example), I think Michigan's found the combination for a very useful second line.

Lavigne seems to have locked down the starting job. He was very good and has an extremely dang handy penchant for stopping point-blank shots. My only concern is his rebound control—he often allows shots to pop back out front—but that seems like something that could be expected to develop as he plays more.

One of the student equipment managers had a Nike wolverbear pullover on and I need you guys to help me find this. I must have this pullover. Also, I am a very professional journalist.