Goal-by-Goal Analysis: Michigan State
Friday, March 13, 2015
Michigan State 3, Michigan 5
1st period
MSU 0 UM 1 EV 03:54 Dancs (3) from Compher (12) and Nieves (18)
Michael Downing starts the break with a nice outlet pass through the defensive zone and into the neutral zone that ends up on Boo Nieves' stick. Nieves taps it ahead to Dexter Dancs, who dumps the puck behind the net.
JT Compher, in the middle of the ice in the above screen cap, skates to the goaltenders left to get the puck. He turns sharply as a defenseman closes on him. Meanwhile, Dancs has cut across the ice and is now in the net-front area. Compher backhands a pass to him.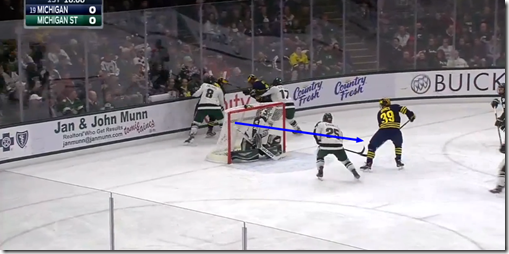 You can see from the above screen cap that MSU goalie Jake Hildebrand has eliminated the success of a wraparound by locking down both posts. The downside to this, from his perspective, is that the top of the net is exposed over both shoulders. This is a low-stakes gamble unless the puck comes out from behind the net quicker than he can react to, which is what happens. Dancs has to lift his shot and he does, placing it over Hildbrand's shoulder on the far side.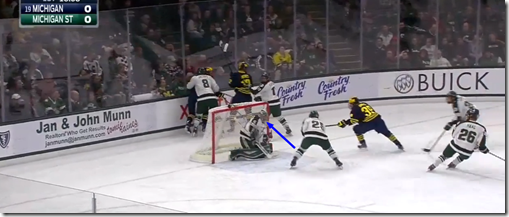 [Hit THE JUMP for the rest]
MSU 0 UM 2 EV 09:42 Martin (6) unassisted
In praise of Cutler Martin's defensive positioning (see below).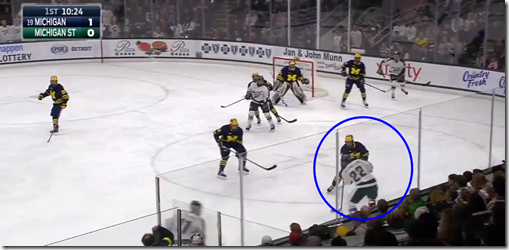 Martin's taken away the shooting lane, and he doesn't have to take away a passing lane because JT Stenglein falls over, the puck rolling away from him and into the neutral zone. Martin jumps on it and has a breakaway opportunity.
He uses a toe drag to freeze Hildebrand, and it somehow works.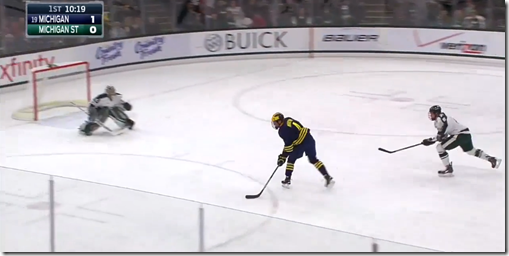 It's hard to tell whether Martin was consciously shooting for the five hole or whether he just let a shot go after what he knew would be the only move he was going to make; regardless, the puck goes through Hildebrand's legs before he can get into his butterfly.
MSU 1 UM 2 EV 13:43 Keller from Krygier
Picking up a play with an impending one-timer: a sign of good things to come.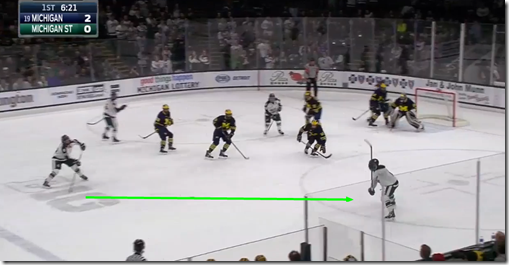 Nagelvoort makes a save(ish) on the one-timer but then loses the puck. You can see in the screen cap below that he's turning to look for it in the net; at this point the puck has bounced out to the faceoff circle.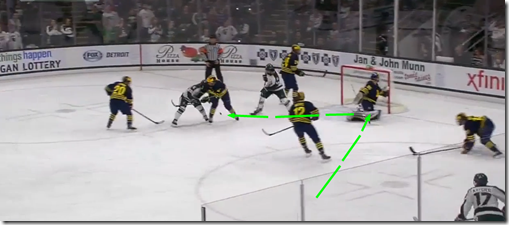 Nagelvoort then does the unthinkable: he turns his back on a live puck. If the puck's in the net the play's over; whistle blows, goal scored, faceoff on deck. There's no need to look to see if it's back there. There is, however, a need to look in front of the net in case, you know, the puck's still in play. Which it is.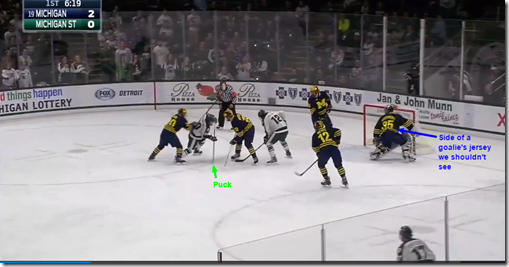 Keller shoots before Nagelvoort can get into his butterfly.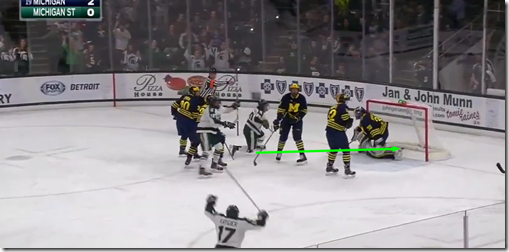 2nd period
MSU 2 UM 2 EV 11:59 Keller unassisted
Andrew Copp loses control of the puck near the blue line. Keller taps it ahead to himself, and is out on a breakaway.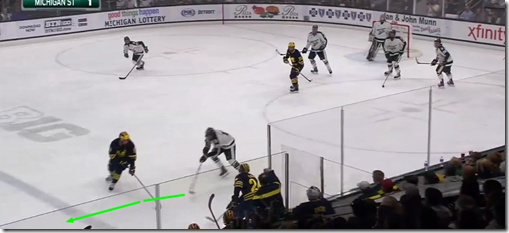 Keller has to chase down the puck off his zone-clearing chip shot.
But wait, what's this? A lone figure appears. Why, look how far away he is from his net! Is it Dominik Hasek?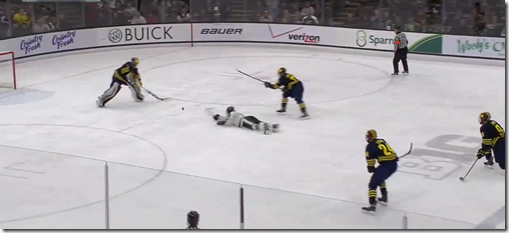 Nooope. Just Nagelvoort, who's making an ill-timed and poorly-executed decision to play the puck. Keller dives at it (obviously) and knocks it in. If Nagelvoort was going to play the puck he needed to get out quicker; he waffles for a fraction of a second, unsure whether he should play it or not as the shooter approaches. In hockey a fraction of a second's delay is tantamount to failure, and that's what this play is.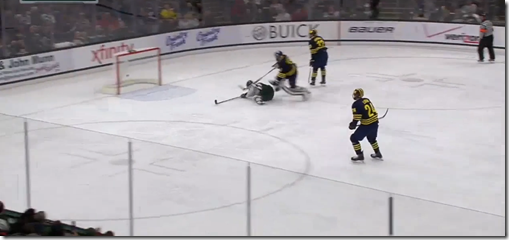 MSU 2 UM 3 EV 17:39 Larkin (14) from Hyman (30) and Downing (16)
Hyman totes the puck behind the net, and in the process provides a nice example of the on-puck strength Brian and I like to reference.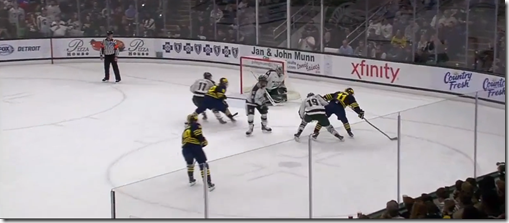 Hyman keeps his defender staved off long enough to pass out front to Larkin, whose shot through traffic is stopped by Hildebrand.
Hildebrand gives up a rebound that lands fortuitously in the spot that Larkin occupies. Larkin puts it in over Hildebrand's extended right leg pad.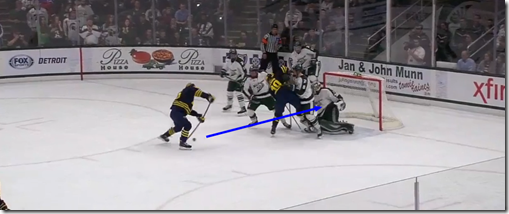 3rd period
MSU 3 UM 3 EV 04:52 Keller from Jacobs
Keller tries to center the puck to Jacobs, but his pass is a bit too far in front.
Downing tries to sweep it away and can't; he gets a second chance and knocks it toward Nagelvoort. The screen cap below shows that Nagelvoort is looking down at the puck, yet his knee is up in the air. He has to bring that knee down and butterfly to take away the five hole. His inability to do this Downing's double miss are a toxic combination.
And this was in the game Michigan won!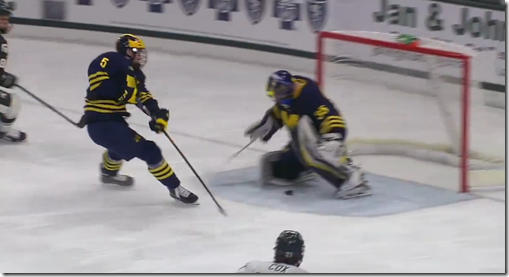 MSU 3 UM 4 EV 14:57 Lynch (6) from Copp (16) and Kile (12)
Alex Kile and Copp are on a 2-on-2 break. Kile takes the puck to the corner, while Copp skates around the goal to the back of the net to support. As Kile gets hit he drops the puck for Copp. The old cliché is that the most dangerous guy is always the trailer, but in reality the most dangerous guy is the one no defender picks up. Travis Lynch enters the zone late and Copp finds him unchecked in the high slot.
Hildebrand is still looking to the corner when Lynch lets his one-timer go, beating him high to the far side.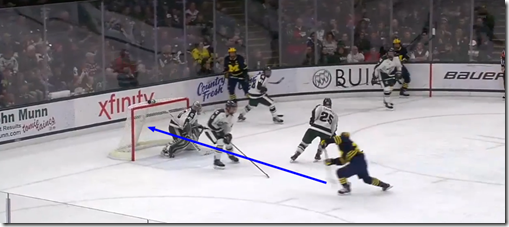 MSU 3 UM 5 EN 18:50 Motte (9) from Dancs (5)
Dancs sweeps at the puck near the blue line, banking it off the boards and out of the zone. Tyler Motte gains possession in the neutral zone and backhands the puck into the empty net.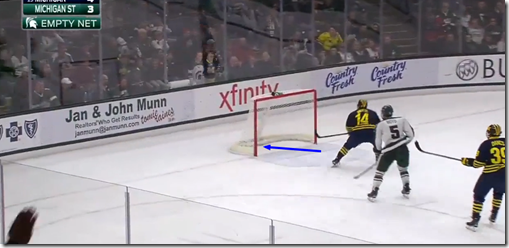 Saturday, March 14, 2015
UM 1 MSU 2
1st period
UM 0 MSU 1 EV 07:50 Ferrantino from Boyd and Cox
Michael Ferrantino carries the puck in and decides to shoot from far away and near the boards. Seems harmless.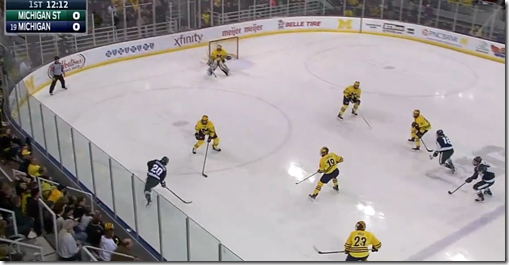 The puck grazes Kevin Lohan's ankle right after release; it's not enough to change the direction, but it may have altered the speed. Nagelvoort is still able to see it, and the puck hits his gloves and ricochets in off of it.
2nd period
UM 1 MSU 1 PPG 12:59 Werenski (9) from Larkin (29) and Selman (11)
Michigan is in the midst of putting sustained pressure on Hildebrand, as they were able to do on the power play all afternoon. Larkin has the puck along the boards but loses control. He flips it to the blue line as a defender closes on him. Werenski picks it up off a bounce and settles the puck before skating to the middle of the zone.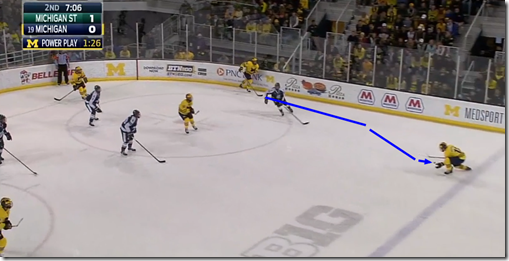 It looks as though Werenski barely loads up his shot, but he somehow unleashes one of the fastest wrist shots I've seen. It looks effortless. Hyman does an excellent job screening Hildebrand, and Werenski places his shot just inside the top corner.
3rd period
UM 1 MSU 2 EV 00:29 DeBlouw from MacEachern and Berry
Copp and Kile both lose the puck along the boards. Berry steals it from Kile and passes up to MacEachern, who's falling over. MacEachern sees DeBlouw ahead and somehow lifts the puck up for him to retrieve.
DeBlouw has an uncontested brekaway shot despite Serville (see screen cap above) being far enough back to potentially make a play. He turns late and never catches up to DeBlouw, who shoots over Nagelvoort's blocker.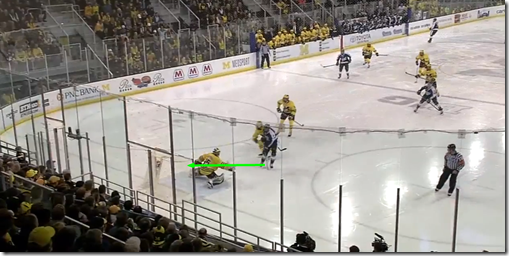 Notes/ramblings:
Hockey will break your heart. A game that involves the wanton bouncing of a frozen cylider lends itself to chaos as much as skill. Redirections off of steel blades and limbs and unpredictable bounces off of boards are as much a part of the game as tape-to-tape passes and seeing-eye shots. You know this, but you still let a little optimism creep in.
It starts with a breakaway goal by a freshman defenseman, and it continues to build when the Hobey-candidate senior one-arms a pass in front for the freshman who's so advanced for his age in all phases of the game. Michigan, the same Michigan that has struggled so badly on the road all season, finally does what they're supposed to and sets up a home game with a banner and a first-round conference tournament bye on the line. And that's after a game where the goalie stood up and turned his back to the play.
The optimism holds through the first two periods the next night. A bad goal allowed is followed by a holy terror of a wrist shot from a defenseman who should still be in high school in the next stanza. A shred of doubt emerges before the third period, but it's assuaged when you see the stats. Michigan will end up outshooting MSU 38-19, and though I don't have the advanced stats in front of me I'm sure that the Corsi numbers would reflect Michigan carrying play throughout the evening. Twenty minutes to go, a banner and bye still on the line.
Then, not even a minute in, it happens. The gut wrenching mistake by the defenseman that you thought maybe you'd been unduly hard on all these years isn't even the worst part of it; the goal stings, but it's what you know MSU will do for the next 19 minutes that makes your stomach turn. If Michigan's a super-villain, flashy and maybe a little arrogant but ultimately skilled enough to warrant (some of) it, then MSU's a common criminal who simply wants to smother you until you lose consciousness.
Sometimes the latter approach works. Sometimes a puck that doesn't go in ninety-nine times out of a hundred hits an ankle and a glove en route to the back of the net. Sometimes the other team has a goaltender who seems to see all and be everywhere at once, snagging pucks with his glove that he has no business getting to and in turn inadvertently rubbing salt in a fresh wound. Sometimes you win a game you don't think you should have one night, then turn around and drop the one you feel you had when everything was on the line. Hockey will break your heart.
********
The numbers are grim. Playoffstatus.com gives Michigan a 23% chance of making the NCAA Tournament; to do so they must win three games in three nights, winning the Big Ten Tournament in the process. Michigan is now tied for 20th in PairWise, so the necessity of winning out is not a surprise.
Up Next: On (to) Wisconsin
Thursday, March 19, 2015 at 8 PM on BTN
Michigan is 4-0 against Wisconsin this season and has outscored them 21-6, but this is single elimination hockey so don't get your hopes too high.