Ghosts Of Gergmas Past
11/28/2015 – Michigan 42, Ohio State 13 – 9-3, 6-2 Big Ten
[Bryan Fuller]
I did not make a list of the things I was hoping to avoid thinking on Saturday, but if I had "This reminds me of Greg Robinson" would have been near the top of the list. It probably doesn't beat out "I hope I can find that limb again" or "so that's what a velociraptor looks like", but it's a close thing.
But there I was, watching 225-pound James Ross line up just behind a nose tackle and thinking about Kenny Demens. Poor damn Kenny Demens.
The last time Michigan installed a 3-3-5 on short notice that didn't look like the way other teams run a 3-3-5 it looked like that. Michigan gave up 41 points on just nine drives to Matt McGloin. I'm sure someone has run this at some point in the history of football and had it work, but I'm still at a loss to explain how that might happen. Whenever it's raised its head at Michigan it's been a debacle.
This was a debacle.
-------------------------------------
The 3-3-5 wasn't a constant and may have been a misguided attempt to save the DL's legs since they had been whittled down to the starters over the course of the year, but as potential game-changing responses to the Ohio State approach to footballin' go… well, it did change the game.
Michigan did need to have something in their back pocket. I spent big chunks of the preview speculating about what might happen if and when Michigan was forced to abandon the defense it has played for much of the season. Playing man coverage with a deep safety against a team with a heavy QB run game and a superior tailback is only viable if you can win one-on-one battles up front.
Michigan has won those all year, but when Ryan Glasgow got knocked out of the lineup, Indiana exposed the remaining guys with tempo and a bunch of stretch plays, but they were still individually dominant against inside zone. Ohio State runs a lot of inside zone. Michigan got ripped on it.
Since OSU uses their quarterback as a runner extensively, Michigan spent most of he day with one fewer guy in the box than Ohio State had blockers. Often they lined up with one DL between Ohio State's tackles. After a reasonable start they got gashed towards the end of the first half, just in time for adjustments.
There were no adjustments. Michigan got its face caved in. When Michigan put three DL out there they got locked on the field; when OSU faced a third and short they went tempo and ran inside zone. Michigan had no response for this OSU tactic that dates back to the dawn of the Urban Meyer era.
The overall narrative of this season is still a highly encouraging one, but here Michigan has a choice: wake up like OSU did after their own debacle a week ago, or keep showing up in the most important game of the year completely incapable of holding the opposition under 300 yards a game.
DJ Durkin is indeed a promising defensive coordinator but the failure to respond when Indiana was ripping Michigan late and during this entire game should have us pumping our brakes on just how good he is. This is a punch in the mouth. We'll have to wait a year before a response, if Durkin hasn't already left town for a head job elsewhere.
---------------------------
But hey, we're disappointed about 9-3 that isn't 10-2 because of a galactically unlikely outcome at the end of the Michigan State game. Since 99% of Michigan fans predicted 8-4 or worse, that's something. Turning Jake Rudock into a killer quarterback is something. Three consecutive shutouts are something, and Michigan goes into the offseason with a lot of anger to fuel improvement.
Forward, and never look back at this one.
AWARDS
[Fuller]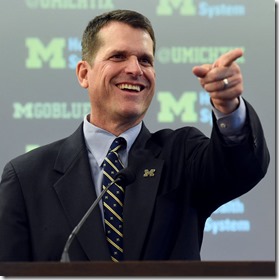 Known Friends And Trusted Agents Of The Week
you're the man now, dog
#1 Jehu Chesson had 111 receiving yards and Michigan's touchdown on a series of catches ranging routine to excellent. Darboh struggled to get separation; Chesson was generally open. That's a great sign for his ability to shake anybody and hopefully presages a big-time senior year.
#2 Jake Rudock completed his incredible in-season turnaround with an 8.2 YPA day against one of the best pass defenses in the country, and that was without a whole lot of help after the catch. Rudock placed a  bunch of throws just in front of the safeties, didn't throw anything approximating an interception, and dealt with a lot of pressure heroically. Just a stunning reversal, and a tribute to Harbaugh's QB coaching ability.
#3 Jake Butt caught five passes and further separated himself from the Big Ten tight end pack; he has still dropped just one vaguely reasonable pass all year. You might notice that all of these things are related to Michigan's passing battery, because that was the only good bit from the game.
Honorable mention: the refs for not calling holding a half-dozen times against whoever was trying to block Bosa. Peppers, I suppose.
KFaTAotW Standings.
10: Jake Rudock (#3 Northwestern, #1 Rutgers, #1 Indiana, #3 Penn State, #2 OSU)
9: Jourdan Lewis (#1 UNLV, #1 Northwestern, #1 MSU), Jabrill Peppers(#2 BYU, #2 Northwestern, #2 MSU, #1 Minnesota)
8: Chris Wormley(#2 Utah, #1 Oregon State, #3 Rutgers, #2 Penn State)
6: Jake Butt(#1 Utah, #2 Rutgers, #3 OSU)
5: Jehu Chesson(#2 Indiana, #1 OSU)
4: Maurice Hurst (#2 Maryland, #2 Minnesota),
3: De'Veon Smith(#2 Oregon State, #3 BYU), Ryan Glasgow (#1 BYU), Desmond Morgan (#1 Maryland), Amara Darboh(#1 PSU)
2: Ty Isaac(#2 UNLV), Willie Henry(#3 Utah, #3 MSU), 1: AJ Williams (#3 Oregon State), Channing Stribling(#3 UNLV), Blake O'Neill(#3 Maryland), Drake Johnson(#3 Minnesota), Delano Hill(#3 Indiana).
Who's Got It Better Than Us Of The Week
This week's best thing ever.
Jehu Chesson scored a touchdown, so that was cool.
Honorable mention: Michigan was pretty competitive for 30 minutes.
WGIBTUs Past.
Utah: Crazy #buttdown.
Oregon State: #tacopunts.
UNLV: Ty Isaac's 76 yard touchdown.
BYU: De'Veon Smith's illicit teleporter run.
Maryland: Jehu Chesson jet sweeps past you.
Northwestern: Chesson opening KO TD.
MSU: the bit where they won until they didn't.
Minnesota: form a f-ing wall.
Rutgers: Peppers as Denard.
Indiana: Delano Hill seals it with a PBU.
PSU: Jourdan Lewis breaks their back on a kickoff.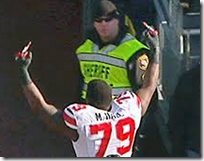 MARCUS HALL EPIC DOUBLE BIRD OF THE WEEK.
This week's worst thing ever.
The second half.
Honorable mention: The first half.
PREVIOUS EDBs
Utah: circle route pick six.
Oregon State: Rudock fumbles after blitz bust.
UNLV: Rudock matches 2014 INT total in game 3.
BYU: BYU manages to get to triple digit yards in the last minutes of the game.
Maryland: Slog extended by deflected interception at Houma.
Northwestern: KLINSMANN OUT
MSU: Obvious.
Minnesota: The bit where the lost it until they didn't.
Rutgers: KO return given up.
Indiana: run run run run run run run run run run run run.
PSU: OSU's WHAT ARE THOOOOOOSE gameplan against MSU.
OSU: the second half
[After THE JUMP: Rudock exponential improvement path, box numbers, sad things.]
OFFENSE
[Eric Upchurch]
Flipping the Luck switch. After most of a season during which Jake Rudock looked like the worst possible version of himself, he finished on an absolute tear. Overall, Rudock:
hit 64% his passes and threw for 7.7 YPA with a 17-9 TD-INT ratio,
finished in a dead heat with CJ Beathard (yep) for third-most efficient QB in the league*, behind only Sudfeld and Cook, and
piloted S&P+'s #15(!) passing offense.
That would have been unbelievable as late as the kickoff of the Indiana game. What happened? Everyone got better gradually in a new offense and Rudock got locked in once he had some time and space to do things. There are a lot of guys who improved drastically over the course of the season—Braden, Thomas, Williams, Charlton—but nobody more than Rudock.
That only confirms what we already knew about Jim Harbaugh: in addition to being one of the best head coaches around he has a claim to best QB coach in football. I can't wait to see what he does with John O'Korn, who is a lot closer to Christian Hackenberg or Ryan Mallett than Rudock. O'Korn has all the physical talent in the world; he is erratic and, at times, completely bonkers.
He will test Harbaugh's ability to shape anyone into an effective QB, and the upside there is rather good.
*[Part-time starter Cardale Jones excluded.]
[Upchurch]
O'Korn will have some dudes. Jake Butt hasn't given an indication as to his NFL draft intentions yet, and the NFL will be highly interested. But let's pretend he decides to come back for a second here.
O'Korn is now inheriting an established, excellent receiving corps. Chesson's development over the course of the season has taken him from Stonum to Breaston to maybe kind of Manningham; he promises to be a legit #1 receiver if he can maintain his level of performance over the last four games. Darboh provides some spectacular catches and a lot of possession grit; Butt is the best tight end in the country no matter what the Mackey committee says.
Michigan would like to add in a third wide receiver who can do slot things; I have faith that Grant Perry will be a lot better next year once he gets the offense down. There will also be the smattering of Peppers routes, hopefully against linebackers.
They hit that angle screen. De'Veon Smith ripped off a big gain before Michigan's touchdown on that same clever angle screen that almost worked against Michigan State but for a DL batting the ball down. It's a brilliant design on which everything looks like a normal pass play except for the center releasing to block the LB who has the running back in man coverage. Once that block is made, the tailback is sailing all the way to the safety level.
Timing is important: the RB has to be behind the LOS or the OL has to not hit the LB until the pass is complete. Michigan has been making sure the first is the case—or it's at least close enough that the flag doesn't come out.
Yes, Ohio State fans have a point about holding. You know that thing where fans of the opposition complain about the infinite missed holding calls in the aftermath of any game? 99% of the time these are ways to say "I do not understand what holding is." In the specific case of Ohio State fans and Joey Bosa, the bitching is justified. I was braced for flags on three or four different plays; none came.
The refs missed a couple of holding calls on Charlton, too, but I don't have many complaints after this one despite an obvious monster gaffe on the punt. (About that more in a bit.)
And despite that, he produced. Bosa's day according to PFF:
— Joey Bosa (DE, +8.3) was up to his usual tricks as he dominated the game as a pass rusher. Bosa came into the Week 13 matchup with a pass rushing productivity score of 15.8 (second in the nation). Thanks to nine total pressures on 35 pass rushing snaps, he had a score of 20.7 as the Buckeyes moved him around and no one on the Wolverines' offensive line had an answer for him.
The sack on which Rudock was knocked out of the game came on a play where Michigan added Grant Newsome and moved Cole to right tackle. A one on one matchup with Bosa and an unfamiliar pass drop are a recipe for disaster.
But he was probably going to get his anyway. Michigan's tackles have struggled against top-tier pass rushers all year. Cole's performance in this game won't dissuade anyone (like yrs truly) who thinks he's destined to move to center next year. Michigan obviously thinks a lot of Grant Newsome, and Newsome has the physical attributes that you need to be an elite pass protector. Cole's had a very good year, but it doesn't seem like he's at that level.
[Fuller]
Peppers as general offensive player. Michigan largely used Peppers as just a guy who plays offense. Above he's catching a crossing route on which he got matched up with a linebacker. Michigan also ran him a bunch. He was effective when given the opportunity to be effective; I think his role will expand slightly next year, but he's still critical to the defense.
Run game blah. I don't think anyone expected much here unless Peppers blew up; Michigan got as much as everyone expected. The line has been creating small gaps against poor defensive lines. Against a very good one they created little.
It was especially grating to see De'Veon Smith have to dodge unblocked guys at the line of scrimmage to get four yards when Michigan couldn't or wouldn't deliever similar run blitzes that would force Elliott into guys who had an advantage.
This generation of Michigan offensive linemen will culminate next year, when three of the starters from this year are seniors; Cole will be a junior. They should get better, but I'm not seeing an NFL player amongst them other than Cole.
DEFENSE
[Fuller]
Welp. Steve Sharik compiled some numbers on the way OSU ran in this game that are illuminating:
I'm doing a rudimentary breakdown of run results vs. scheme. Basically comparing what happened defending the run when we played with adequate #s in the box vs. not. Gotten through first half and:

13 runs vs. single deep safety, 11.15 ypc, median 6 yards per carry; 6 carries gained less than 5 yards, 3 of those were misreads that would've been significant gains
4 runs against goal line D package
2 runs vs. 2 safeties at most 10 yards deep, those went for -1 and 2 yards.

2nd half was even worse.

18 runs vs. -1 in box, 8.78 ypc, median 9 ypc, only 2 of those runs went for less than 4 yards, and one of those was a misread
9 runs vs. even numbers, 3.33 ypc, take out a 13 yard TD run by Barrett where an unblocked Ross whiffed, and it was 8 carries for 18 yards with one carry longer than 3 yards, and that was a 4 yard gain.
Ten OSU opponents did better than Michigan did against OSU's ground game (the exceptions are Indiana and… uh… Virginia Tech). That is not a talent issue, unless you think the rest of the season was a mirage.
If OSU had won this game by hitting the kind of deep passes they did a couple times, I could accept that. Those are low percentage shots and that's life. Michigan just paved them a yellow brick road.
[Upchurch]
That said, woof on the linebackers. I haven't looked at the particulars yet—you will understand why—but the tackling in this game was generally repulsive. I don't know if the twitter legions yapping at Bolden were accurate or just engaging in confirmation bias, but it's clear that nobody was particularly good.
Again, I would caution that when the DL plays badly it often looks like the linebackers are screwing up when they're just trying to mitigate damage. I can't imagine there were a lot of inside zone plays featuring a three-man front with Ross trying to fill in gaps that weren't set up to make the linebackers look like rubes.
On the other hand, when you impact Ezekiel Elliott and get run through like you are a ghost that's bad. I can say that is bad.
But, again, tactics. I will go to my grave swearing that speed is about 15th on my list of traits it's important for a linebacker to have. The instances where they have to run flat out are minimal, and the stuff it buys you are mostly repairing problems when everything else goes wrong. (Lavonte David against Denard Robinson comes to mind.)
So. When Michigan got outflanked on the 66-yarder that started Michigan's long day the constant refrain about slow linebackers popped up. I don't think that is nearly as relevant as the fact that Ohio State motioned a tight end across their formation and Michigan's response was nothing. If they were aligned correctly to start they suddenly weren't, and Desmond Morgan got clubbed inside by a guy with a great angle to do so even if he was the fastest guy in the country. I just about lost my mind in the first half when Vannett would move and Michigan wouldn't move with him.
yeesh [Fuller]
Clark touchdown ceded: just a thing. Clark may have to go apologize to the gypsy after this game, because the touchdown OSU hit on him featured Clark's hand right between Jalin Marshall's arms. 95% of the time that's an incompletion. The ball was right there and Marshall managed to bring it and good for them. I don't hold that against Clark at all.
In general, Clark's first season as a starting CB was highly encouraging. His stature didn't seem to negatively impact his ability to cover very much, and it came in handy frequently. He's still got to adapt to various nuances of the position but as experiments go it was an extremely successful one.
Lewis hit deep. The Lewis deep hit was less contested than Clark's. I thought it was a perfect throw that beats almost any coverage; I also thought Lewis wasn't in the kind of position he usually is. A demerit, probably, but a minor one.
[Upchurch]
2016 safeties: still maybe not terrifying. PFF liked both of the guys who will be around next year. Dymonte Thomas and Delano Hill were 4th and 5th on their list of Michigan players who did well with grades of +1.6 and +1.8 respectively.
I can't say I thought anything was particularly bad on their part, which is nice. Michigan has very little behind them other than a couple second-year players (Tyree Kinnel and a moving Brian Cole) who haven't seen the field. That's the thinnest spot on the roster even considering linebacker.
SPECIAL TEAMS
this is running into the kicker [Fuller]
Going after the punt. That went very badly. It shouldn't have gone that badly, as Michigan only made contact with the punter's kicking leg. That's a five yard penalty. An Ohio State player is the one who blew up the punter, hitting the plant leg. If the refs get that call right it's a small field position hit in exchange for a chance at a big play. I'm okay with that.
Punting on fourth and five from the 36. Given the way the game turned out that was obviously a bad move. At the time it was understandable since Blake O'Neill is good at that stuff and most people anticipated a defensive battle. Jehu Chesson failed to catch the ball on the fly—his only bad play of the day—and Michigan netted 16 yards; the punt was sufficient to get OSU inside the five.
If that had happened in the second half I'd be livid since by that point it's clear your game situation is not one in which field position means much. And even at the time I thought that Michigan was moving the ball pretty well and should have gone for it. It felt like one of those 55/45 decisions so whatever.
In retrospect, of course, it was closer to 90-10 but Harbaugh did not anticipate OSU going through the Michigan defense like Dino Babers escaping the Big Ten.
MISCELLANEOUS
Buckeye ethnography, part N. Submitted: no fanbase in the country is more likely to call their players by their first name. Everyone does this to some extent (see: Denard) but OSU fans seem to do it for everyone.
Not as grating as SEC fans' tendency to sycophantically abbreviate everyone as "Coach Blank Blank"—for example, Mark Richt was until recently "CMR" to the Georgia fanbase—but this tripped my Old Butthurt Sportswriter gene sometime in the second quarter.
Wifi might not be as important as sitting with your friends but it would be nice. I figured this would happen, but I spent the entire game trying and failing to get twitter updates until everyone started leaving. It would be nice if the athletic department actually did something to allow people who really want to have some wifi to have some wifi—I would welcome paying for such a thing, and once you charge people you don't have to support nearly as many of them.
HERE
Worst:  The Ghost of Fred Jackson Lingers

I said it above, but without Peppers this team doesn't crack 40 yards on the ground running the ball, and the non-Rudock runners who got carries in this game are a (possibly) injured De'Veon Smith, a FB, and a guy who's (again, probably) still recovering from the second ACL surgery of his college career.  Guys like Green and Isaac, expected to be contributors at the bare minimum this season, faded so far into the background that it's hard to even make out their silhouettes.  You have to imagine there will be a shakeup in the RB corp, if for no other reason that Harbaugh will be inclined to give anyone new a chance to show they are better than the incumbents.  But after sorta-bludgeoning teams to start the year, the rushing offensefell off a cliff, and it hasn't totally been due to breakdowns in the offensive line.  I mean, I know the competition took a step up once the conference slate kicked off, but to go from averaging 4.8 ypc the first six games to 3.25 ypc in the last half, and even that number is goosed by playing IU, is downright stupefying.
Inside The Box Score is pretty grim in lots of ways:
The week leading up to The Game saw Michigan fans unite around the tragedy of a family losing their 5 year old son to DIPG, an inoperable brain cancer. When I saw the picture of Chad's father holding his son's lifeless body, I cried. I am emotional just thinking about it now. When I hear about parents suffering the death of a child, two memories from my childhood return.

When I was in sixth grade, a girl in my gym class collapsed in the parking lot and died. She had a condition that we later started referring to as, "that Hank Gathers thing." It was so sudden. One day, she was pretending to be a horse, running around at recess, and the next day, her parents were dealing with the thought of burying their daughter. We dedicated our yearbook to her, tried to heal, and move on with the knowledge that life is fragile so you should treasure every day, every moment. I didn't know her very well, but even now, 33 years later, I can picture her galloping around the parking lot, full of life and energy.
ELSEWHERE
Best case scenarios, worst case scenarios and something in the middle.

Worst case? Michigan was looking at something similar to last year, or maybe a little better: 5-7, 6-6, the Harbaugh effect setting in, but not so much to offset a lack of talent at a number of spots.

Best case? Well, you have just about close to what happened. If not for a once-in-a-generation-style loss against rival Michigan State, the Wolverines would have been 10-1 heading into the Ohio State game, with their destiny in their own hands in terms of a conference title game berth.
OFFENSIVE CHAMPION – The Jehu Chesson that played against Ohio State was not the same #86 that played against Utah. This guys is night and day different from where he was at the beginning of the season. Jehu is confident, strong and clutch. Not exactly the words I would have used to describe his play in September. To go over 100 yards receiving against the Bucks and to score a touchdown is what we have come to expect from him.
Hoover Street Rag. Baumgardner:
One team's there. The other isn't. At least not yet, anyway.

And that's sort of the point, isn't it?

Michigan pushed itself ahead of schedule during Harbaugh's first season. This is a much tougher team mentally. The program now has an identity. It has a leader who can continue to force a culture and it now has a core group of veterans who know what it really means to work and prepare.

But if Saturday's 42-13 Ohio State drubbing proved anything, it's that Michigan's still rebuilding its football program.
The Citrus Bowl is on the table against LSU. That would probably require the loser of the Big Ten title game getting in a NY6 bowl. That is likely if MSU wins the Big Ten Title game. If Iowa wins bowls might prefer to invite a team that didn't just fail to sell out a game against Penn State to clinch the division. Either way, Florida vs an SEC team with an excellent defense and moribund offense is likely.