Get Behind Me
11/26/2011 – Michigan 40, Ohio State 34 – 10-2, 6-2 Big Ten
Odoms via the Detroit News. Koger/Fitzgerald and Denard via Eric Upchurch.
Slightly more than a week ago, people better-prepared than I commemorated the fifth anniversary of Bo's death. I remember where I was, sitting in the room I was renting in a house that would be foreclosed on as Tom Orr, a Buckeye fan whose wife still worked for the TV station Bo did a show for, emailed me the things I didn't want to hear.
I had a thing I'd mostly written the night before about that year's Game, the one I did and still call Football Armageddon. It was an overdramatic thing based on a Sufjan Stevens song about the apocalypse. I wasn't sure about it. As I read it, panicked because I had to say something and what would I say, two things occurred to me. One, that the overdramatic thing was now on point. Two, that the part I hadn't written the night before about my father burning into coal—because it was impossible to—now sat there, obvious.
Ryan Van Bergen was in high school. He'd committed to Lloyd Carr months before. He was going to Michigan, fergodsakes. David Molk had ten thousand zits on his face. He was going to Michigan, too. Neither had the slightest idea.
--------------------------
Four years and two coaches later, the two of them sat in a room. They decided. What they decided was: that was not happening again. They decided they would stay. They loved Michigan, and they weren't going out in a disjointed mess. Their new coach reinstated an old tradition and they became captains unlike any in 40 years. They found their own way. There was no one save Brandon Graham to learn from, and there's only so much Brandon Graham can do.
I'm not really sure how or why but Denard Robinson stayed, too. It's possible Molk threatened to kill him.
In these decisions, in these moments, in these actually-kind-of-idiotic thought processes that led all of these players to stay here for a second or third coach, in a place that too easily booed them when they failed to live up to the expectations set for them, Michigan became Michigan again.
Dispatch
What is Michigan but a succession of players who chose the winged helmet and spent their four or five years in it trying to perform to the level previous players had? And how difficult would that be when your predecessors had either not lived up to that standard or abandoned you? Who was Ryan Van Bergen supposed to look up to?
By the time everyone else came back, Molk and Van Bergen and Martin and Koger and Woolfolk and the rest of the roster had already decided. Amongst themselves, for themselves.
-------------------
This program needed that to pay off. It needed to stop feeling sorry for itself, being at war with itself, sabotaging itself, stop hopping on the radio to trash this that and the other, stop needing to be trashed on the radio for this that and the other. It needed to finally bury Bo, and move past the strife caused by his absence. Only one thing could do that: beating Ohio.
They did, and now there are legacies.
That picture is David Molk to me. Hugging his quarterback and killing a press conference. Sealing a blitzing linebacker on a second-half stretch. Piloting one of the best rushing attacks in Michigan history.
That picture is Ryan Van Bergen to me. Destroying that Indiana drive after botching the call on the line; leaving OSU with his winged helmet thrust as far in the air as his 6'6" frame would take it.
Amongst the tackiness, that was real. That's what I waited for. One story of redemption from someone who did nothing wrong. I've sneered at the "Michigan Man" concept ever since it became a cudgel to use against the wrong head coach. The idea there was anything particularly special or deathlessly loyal or kind or mature about the program's alumni was ridiculous after the way the last three years played out. But no more.
These are Michigan Men; this is their season.
-----------------------------
After the game I loitered at my family's tailgate until the champagne was gone and then walked home. These days I make the walk to and from the game by myself. The people I used to walk with aren't around anymore.
At first this seemed lonely. I remember walking down Packard behind a father and his kid after The Horror. An elderly guy who kind of seemed stoned came out onto his elaborately flowered lawn and asked "they didn't really lose, did they?" The father nodded ruefully; the elderly guy shook his head. I remember getting body-checked into a car after last year's State game. I remember shivering the whole way after Northwestern '08.
On Saturday the sky was slate, the gunmetal November sky that goes with head coaches in shirtsleeves and sleet and the grim reconciliation with the elements via which the Big Ten footprint acknowledges both winter and mortality. Being outside, in Michigan, in late November, is usually a defiant variety of stupidity—a last taste of being outdoors before December closes in and the world becomes a thing briefly tolerated between heated areas. In the Midwest, football is to winter what spit from a condemned man is to a firing squad.
Saturday was also warm, warmer than any Ohio State game in memory. As I walked, alone, past the lurid green turf the field hockey team plays on I watched fathers play with sons. A tailgate across the tracks provided play-by-play as I passed by: a speed option the kid playing quarterback turned into a trick play by going out for a pass after he pitched. He was open; he dropped it; I filed it (CA, 3, RPS +1). The tailgate burst into sympathetic "awwws."
I kind of lost it passing behind the bleachers, just then. I came out the other side, and looked back, and saw two #16s and a #1 running around, catching and throwing, four-foot-five at best. Mottled clouds passed overhead. Two shades of gray were pushed by wind. It seemed to me like the closer, darker ones were giving way to the lighter background.
It felt like spring.
AP
Media
Photoset from Eric Upchurch and the Ann Arbor Observer:
This is a great shot you might see in next year's season preview:
I think that's Brandon Moore sticking up from the crowd. Eric also got a great shot of the Avery PBU/INT. Ace took some sideline shots with his phone as well.
Other photo galleries are availabe from AnnArbor.com, the official site, Maize and Blue Nation (pregame, postgame). Mike DeSimone's epic picture DB is super-sized this week.
Molk brought his trident:
 MVictors assembles shots of Brady Hoke's pet viking and the grenade, also pregame.
WE MUST EAT
Pregame hype video:
Give it to Old Hat Creative. Two consecutive years these have been great. Aaand JBrons provides a panorama:
Bullets
BRADY HOKE EPIC DOUBLE POINT OF THE WEEK. 14/17 for 10 YPA, 3 TDs, 0 INTs, 170 rushing yards at 6.5 YPC and two more touchdowns… uh… yeah. It was Denard Robinson's day. If he'd played like that week-in, week-out he's in New York and Andrew Luck is asking for his autograph. Alas, it was not to be.
Robinson didn't eat up passing yards with screens or long busted coverages, either. His long on the day was the 28-yarder to Dileo that CJ Barnett jumped. That's a disaster if it's even a little bit off; Denard made an NFL throw into Dileo's outstretched hands. The post TD to Hemingway was a 20-yard dart and the Odoms touchdown was thrown into space so tight I'm not even sure you could call it a "window." It was more like a keyhole.
Hypothesis: do you think Borges did something to Denard's throwing motion? That might explain his progression from inept in the nonconference schedule to decent, if limited, in the Big Ten to assassin against OSU. If Denard can extend that performance across a season… holy pants. The scrambles and draws have opened up for him the past couple weeks because his passing has been enough of a threat to demand attention.
Honorable mentions: Brady Hoke (for reasons discussed below), Al Borges, Fitzgerald Toussaint.
EPIC DOUBLE POINT STANDINGS.
3: Denard Robinson (Notre Dame, Eastern Michigan, Ohio State)
2: Brady Hoke (San Diego State, Northwestern), Fitzgerald Toussaint (Purdue, Nebraska)
1: Jordan Kovacs (Western Michigan), David Molk (Minnesota), Ryan Van Bergen (MSU),  Mike Martin (Iowa), JT Floyd(Illinois).
Future annoying conversations may be (unsuccessfully) pre-empted by "Ohio State 2011." On the podcast last week we talked about Hoke's natural aggression and how there would be a point in the future when it does not work out, thus spawning a week of extremely annoying conversations. This game is an uzi in the math camp's arsenal.
Hoke went for it on fourth and one on the OSU 40 in the first quarter. Hopkins got it easily and Michigan punched in a touchdown. Ohio State punted on fourth and four from the Michigan 36; Michigan moved the ball to midfield before the disastrous Hagerup non-punt set Ohio State up with the same field position they'd have had if they'd picked up the first down. Later, Fickell kicked on fourth and goal from the Michigan four down six.
I punched all these decisions into Advanced NFL Stat's fourth down calculator; it spat out that Hoke was right and Fickell wrong with a total margin of 3.2 expected points and a total shift in win percentage of 7%*. And their assumptions are based on NFL models where four yards to go is an automatic passing down; taking the game situation into account (it's spread mad college and both quarterbacks are unstoppable on the ground) it seems like much, if not all, of Michigan's final margin of victory came from the decisions the head coaches made.
How much more of a travesty is the Toussaint overturn if it puts Michigan in fourth and goal from the 25 down four? Orders of magnitude. How confident are you that Michigan wins that game without the offense ripping down the field in the fourth quarter? Not at all. Michigan does not win this game without…
*[I know you can't just add WP differences up like that but the differences are small enough that it shouldn't matter.]
Eric Upchurch
Controlled aggression. How would you characterize the first year of the Hoke era if given only two words? I don't think you could do better than sniping a couple Hoke used to describe Denard's game:
"Denard went out there as a quarterback of Michigan and went out there to help his teammates and be accountable to his teammates. He couldn't do it by himself and no one ever does, but I thought he played an aggressive, controlled football game."
Controlled aggression. From Mattison's okie blitzes that get an unblocked guy while dropping seven to Borges going for points in the fourth quarter Saturday to Hoke's decisions to go for it on fourth down to Hoke's ability to not strangle Hagerup (better man than all of us), "controlled aggression" is the story of Michigan's 2011… and its future.
I could not have been more wrong about Hoke. He's not the milquetoast win-by-not-losing sort. He's not even average. He has a gut feel that is on par with every RPG minimaxing engineer out there. Forged by the fires of MAC defenses, Hoke has learned to push when he should and pull back when he should. I would not want to play poker against him.
I know Hoke talks about toughness and physicalness even if the latter isn't really a word, and that's fine and important. It's half of the equation. The other half is putting your guys in position to take advantage of that. Hoke does that. MANBALL: pretty much not pejorative anymore.
Speaking of the Toussaint overturn. So the overturn at the end had the stadium baying for blood. Mike Pereira on that:
Why they even considered overturning this as a touchdown, I'll never know. There were two definitive replays that the booth had to look at, and in my opinion, one showed that the ball might have been a foot short and the other one looked more like it was a clear touchdown.

This decision seemed to be based on the first angle only. Even that, to me, was not conclusive, because when the video was stopped it was not clear whether the knee was down.
Pereira also tackles the Odoms catch/recatch that got Michigan down to the six, saying it was the right call. Myself, I'm not sure why they reviewed it or why it took so long. I do wonder how you align this logic with the Junior Hemingway 49% touchdown against Iowa:
The fact the ball hit the ground does not make the pass incomplete. It becomes a question of maintaining possession. Odoms' hands remained on the ball, and though the ball moved a bit, he did not lose possession. In order to reverse this ruling, I think you have to see the ball come out of his hands after it hit the ground.
I think ball hitting ground should be no catch unless you've already made the proverbial football move. That's clear. What we've got now is ambiguous.
And, then after the game, the fans just like, start banging their hands together. Michigan's grenade celebration caught the ire of Zach Boren:
"I lost so much respect for michigan after they won [and] threw the ball in the air acting like it was a grenade.

This is a great rivalry, and to take it to that level of disrespect is just so uncalled for. Act like you have won before [and] treat this rivalry like it should be treated."
Their family would never participate in anything so crass as celebrating amongst their teammates. They are a respectful bunch.
A stoic group of respectful people, those Borens.
[HT on the bolded zinger to MichFan1997.]
To get the bags of urine thrown at you you have to be in Columbus, though. Atmosphere skeptics will not be cowed, but this is high praise from a guy who would know:
The OSU-Michigan game today was the closest thing to a big soccer game I've ever been to. Kept thinking of USA-Mexico in Mexico.
Carey has been to USA-Mexico in Mexico, which… whoah. That is a hell of a comparison to make.
Weekly Borgeswatch. Beat up or not, that was an Ohio State defense that entered the game 16th in total defense and 12th in FEI*. Michigan rolled them. Eliminate the Hagerup disaster, a sack, and the kneeldown and Michigan averaged 6.4 YPC. Denard hit 9.8 YPA. They should have scored 44. They won that game with a functional turnover margin of –2—the Hagerup disaster is a 60-yard loss of field position and the Avery INT was superfluous—and their defense giving up 34. That's fantastic.
Borges's last three weeks have been superlative. It's still frustrating that a couple of poor gameplans cost Michigan against MSU and Iowa but Borges corrected course and lit up defenses ranging from excellent to okay the last three weeks of the season. Before the season I predicted that Michigan's YPC would drop by a yard; with the bowl game to go it's only down about a quarter of that. Passing efficiency has dropped (23rd to 39th) but YPA is actually up a couple tenths of a yard. The interceptions are the major issue, and a decent chunk of those featured wide open receivers the QBs ignored.
Some regression was expected even if Rodriguez stuck around, so the net transition cost on offense kind of seems like… zero. Fumbles have been a huge factor (last year: 29, 14 lost; this year: 17, 6 lost) and I don't think there's a whole lot of coaching in that, but at this point there's no denying Borges has kept the offense humming.
Imagine how good they could have been with bubble screens!  [kidding! srs.]
*[Although… I'm getting suspicious of that metric when it has Rutgers #1 in defense and Miami(!!!) #2 in offense. Miami hasn't gone over 20 points since beating Duke; they lost to FSU 23-19 and to BC 24-17. They beat USF 6-3 and are 73rd in total offense, 64th in scoring. There is no combination of circumstances that could make them the #2 offense in the country. FEI is failing sanity tests this year.]
BCS hootenanny. Michigan actually fell a slot in the BCS standings this week thanks to Wisconsin turning Penn State into paste. They're 16th; they need to creep up two spots* to be eligible for hypothetical Sugar Bowl against Houston. One of those is a given since the Big Ten title game loser will fall behind them. The next is likely as long as Georgia loses the SEC title game.
If Georgia doesn't things get dicey. Then you're hoping for Iowa State to beat KSU or Oklahoma State to annihilate Oklahoma to the point where disgusted voters drop them immensely. With KSU a 12 point favorite and Oklahoma State a 3.5 point favorite, neither of those things seem particularly likely. Baylor is also a threat to jump Michigan if they beat Texas—if it's close the computers will likely side with the Big 12 team. Baylor's favored by around 3. MFan_in_Ohio has a complete rooting guide.
The only scenario in which Michigan feels entirely safe is Georgia and Baylor both losing. Anything else and it's going to come down to the margins. Not getting the BCS game would be disappointing, but mostly from a program prestige point of view. The likely opponent would be better in the Citrus: Arkansas, Georgia, or South Carolina. Also, New Orleans vs Orlando is a blowout.
*[Pay no attention to the ESPN expert behind the curtain. He asserts Michigan just needs to be in the top 18 to be eligible. This is wrong:
If fewer than 10 teams are eligible for selection, then the Bowls can select as an at-large team any Football Bowl Subdivision team that is bowl-eligible, has won at least nine regular-season games and is among the top 18 teams in the final BCS Standings,
Otherwise it's top 14.]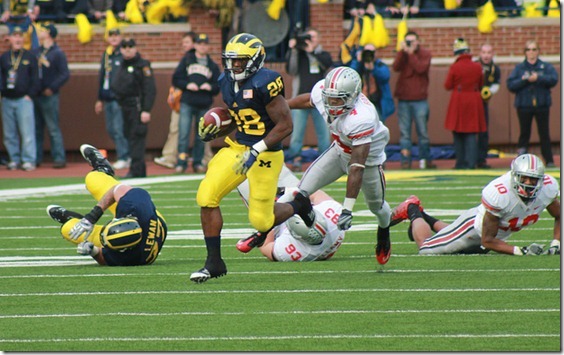 Eric Upchurch
Fitzkrieg* III. If Brady Hoke gets It, Fitzgerald Toussaint has It. Fitz is averaging 5.8 YPC this year and that's with a majority of his carries coming against Iowa, Illinois, Nebraska, and Ohio State. That is tied for the 14th best YPC in a single season (100 carries minimum) since 1949 and the second-best since Biakabutuka's 1995 campaign. (Denard's 2010 beats him out at an incredible 6.6 YPC. Tyrone Wheatley's 1992 season stands alone as the best in Michigan history. Wheatley picked up 1357 yards on 185 carries—eleven more than Toussaint had this year. He averaged 7.3 YPC. Holy pants.)
| Player | Att | Yds | YPC | TD | Year |
| --- | --- | --- | --- | --- | --- |
| Tyrone Wheatley | 185 | 1357 | 7.3 | 13 | 1992 |
| Rob Lytle | 221 | 1469 | 6.6 | 14 | 1976 |
| Denard Robinson | 256 | 1702 | 6.6 | 14 | 2010 |
| Steve Smith | 103 | 667 | 6.5 | 10 | 1983 |
| Tony Boles | 131 | 839 | 6.4 | 9 | 1989 |
| Jon Vaughn | 216 | 1364 | 6.3 | 9 | 1990 |
| Tshimanga Biakabutuka | 126 | 783 | 6.2 | 7 | 1994 |
| Billy Taylor | 141 | 864 | 6.1 | 7 | 1969 |
| Gordon Bell | 174 | 1048 | 6 | 11 | 1974 |
| Jamie Morris | 282 | 1703 | 6 | 14 | 1987 |
| Tshimanga Biakabutuka | 303 | 1818 | 6 | 12 | 1995 |
| Jesse Johnson | 107 | 634 | 5.9 | 6 | 1991 |
| Harlan Huckleby | 155 | 912 | 5.9 | 11 | 1976 |
| Chuck Heater | 114 | 666 | 5.8 | 6 | 1973 |
| Leroy Hoard | 130 | 752 | 5.8 | 11 | 1988 |
| Fitzgerald Toussaint | 174 | 1011 | 5.8 | 9 | 2011 |
| Butch Woolfolk | 253 | 1459 | 5.8 | 6 | 1981 |
| Russell Davis | 105 | 596 | 5.7 | 5 | 1976 |
| Carl Ward | 112 | 639 | 5.7 | 2 | 1965 |
| Rob Lytle | 140 | 802 | 5.7 | 2 | 1974 |
[active players bolded. also players from the last 15 years.]
Adjust that for schedule strength, and… well, Toussaint is pretty good, especially when Denard Robinson is taking a lot of attention for himself. If Michigan can find a tight end (possible) and adequately replace Huyge (likely) and Molk (er…), an Al Borges with a year of experience dealing with these guys could put up some silly numbers.
Have to keep that line healthy, though.
*[Now spelled right and everything!]
I'm just sayin'. Fitz did bust a long one on I-Form power late, but it didn't exactly go as planned:
That cuts behind something that's supposed to be a downblock. Usually that's doom, though not when you've blasted the DT five yards downfield.
With Denard and Toussaint propelling Michigan to its best running game since the Big Ten was only vaguely competitive, can we assert that running quarterbacks do work in the Big Ten and that the spread is a pretty good system for running the ball? After all was said and done, Michigan beat OSU—put up more points on OSU than they ever had—by running a shotgun centered offense that tore it up with the inverted veer. Kudos to Borges for adjusting; I hope we don't say "that was interesting" and go back to statues for the next decade.
I say recruit 'em all and let Borges sort 'em out. Mobile QBs who don't pan out can turn into Marvin McNutt; I don't think M should turn down Shane Morris but if there's a Devin or a Denard around… man, this stuff really works.
Everyone's spent the last year comparing this offense to RR's last one, and saying there's no dropoff. That's true. Now let's compare it to the Carr offenses featuring oodles of NFL draft picks. Hmmm.
Facepalmin': THE REVERSAL. Facepalm guy after the OSU game:
That's goddamn right.
Epic photobomb. Via the internets, here's Josh Garnett, Jake Long, and Eric Magnuson* plus a Heisman-level photobomber:
The wife saw this picture and said "why does Jake Long look strange" and I said "because he's next to people approximately his size."
*[Hockey fans will appreciate that I almost called him "Kevin." #hardcore]
Where are the safeties? So the disturbing thing about the game was Braxton Miller trashing the secondary. It could have been a lot worse than it was, but Miller's accuracy rating is still in the 50s so he overthrew a bunch of dudes.
No one was exempt: Floyd, Countess, Woolfolk, and Gordon each got burned (Kovacs was mostly used in the box and did not have an opportunity.) Some of that is Michigan showing a consistent one-high and Bollman exploiting that with receivers that, for the first time all year, seemed way more athletic than Michigan's secondary. Other parts were just inexplicable, like whoever the free safety was on the first touchdown sucking up on a covered Posey instead of covering the deep guy. I'll have to check the tape; I'm kind of concerned this is an '06 situation where whoops we have this huge throbbing vulnerability.
Floyd getting suckered on a double move on OSU's last drive was the worst. Have to stay over the top then and make Miller execute his way down the field.
Special K's magnum opus. Piping in "Build Me Up Buttercup" during Ohio State's final drive. Well done, you flatulent twit. Eleven Warriors:
"Sweet Caroline"? "Don't Stop Believin'"?   Nice traditions you've got there.  I didnt think anything could make the car keys thing less embarrassing. I stand corrected.
Chris Grovich of BSD:
Note how lame the Big House is with Journey blaring? That's you, Penn State gameday experience. A million times over.
Apparently Hunter Lochmann openly admits he's courting casual "families of four from Grand Rapids." Court casual fans and you get casual fans. Michigan's athletic department has no understanding of how to build long-term loyalty. The concept does not occur to them.
Here
I would like to point you to Those Who Stayed, the post-Minnesota game column, again.
The play of the game, or at least one of them, is not recorded in the boxscore in a meaningful way. After Hagerup's failed 4th down conversion, osu took over at our 31. They got down to our 5 yard line, and had 1st and goal. A couple strong defensive efforts lead to 3rd down.

On the next play, according to Chris Spielman (we were never shown this,) osu tried their TD pass to Stoneburner play, the one that got him TDs on ~ half his receptions this year. Only this time, Kovacs stayed with Stoneburner, and forced Miller to keep it. Jibreel Black (Jibreel Black? Yes, Jibreel Black) kept outside leverage, wrapped up Miller and forced the FG.

At the other end of the field, we did the same thing, only their 3rd string strong safety, Storm Klein, bit on the playfake leaving Koger wide open for the TD. (It may not have been Storm Klein, but for the purposes of this narrative, I'm going with Storm Klein.)
It was Zach Domicone, and it only serves him right for being such a tool on special teams. More than once I saw him attempt to goad Michigan players into personal foul penalties, but no sale.
I am also tweaked for the option fumble when they finally ran it with Odoms in motion, which fair enough. Denard got instant pressure which made the pitch a difficult one and the corner was wide open. Hopefully they get that straightened out eventually. Also we totally need to add the Braxton Miller speed option-whoops-seeya play.
Fitz Toussaint - Denard is light-years more effective with a true home-run threat in the backfield with him.  The read option becomes almost impossible to stop if read correctly.  Only having 2 negative yards against Ohio in 20 carries is remarkable.  It is a crime that the zebras took your TD away, go get 3 next year.
There is narrative about the point that doesn't work with a blockquote but is worth clicking through for. Also more Hagerup hilarity.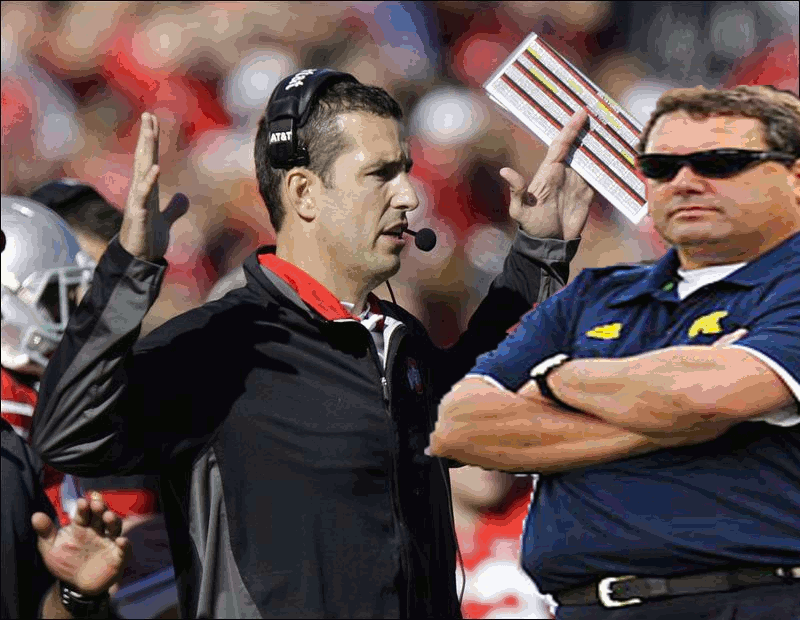 [escape pauses gifs]
And MichiganMan2424's cool story bro about meeting Fitzgerald Toussaint's mom on his way home from the game spawns other cool stories on the board.
Elsewhere
Media, as in unwashed blog masses. Hoke pointing from Hoke Points and the AP: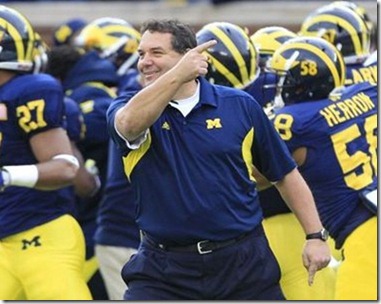 MGoVideo provides a Hoke Nyan Cat:
We need one of these with a Denard head and football body, I think.
Yost references Joseph Campbell:
Michigan fans had hoped for an easy victory over Ohio State.  A blowout.  A cake walk.  But that's not how good stories are told.  Even ones written not on the page, but between the lines of a college gridiron.  For after 7* consecutive losses, the task was too important.  After three years staring into the football abyss, the final push toward the mountain top demanded it be the hardest.

The hero's journey must never be easy.
For future reference, reasonable Joseph Campbell reference == autolink.
Sap's decals. TWB bullets. MVictors bullets plus cookie photo. Maize and Go Blue recap. TTB bullets. MZone autopsy. Holding the Rope gets the word "gyre" in there, one-upping Maize and Blue Nation's "whirlwind." Smiling Kovacs hug leads The Michigan Fanatic. BWS column.
The HSR is all in my head with their theme:
If you're a Michigander, you know that winter is miserable.  As much as the first snow fall of the season might be entertaining and even maybe a little bit pretty, while snow days may be a nice respite from the daily grind, the reality is that it's cold, dark, wet, and miserable.  You stay inside, you may get seasonal affective disorder, and you wait for spring.  You may be so desperate for any sign of spring, you seize false hope, only to see the snow return with a vengeance, the darkness fall.  No matter what the calendar says, the end of winter is a feeling and you know it when it happens.
Forever Saturday leads with the Van Bergen photo above:
I was briefly concerned yesterday that I would wake up at some point and realize that it was all just a dream and Michigan had in fact not beaten Ohio State for the first time since shortly after I graduated high school. It's Sunday now. It's really over.

The words: I do not have them. I just keep telling people "Michigan beat Ohio State!" and making weird sounds that apparently are some combination of exhilaration and relief. That's all I can do after that.
The national view comes from Jacobi:
WHAT MICHIGAN WON: Michigan beat Ohio State. Wait, let's try that again: MICHIGAN BEAT OHIO STATE. The 10-win season is absolutely nice for the Wolverines, but they've been circling this game on their calendars since time immemorial, and to get a win in this rivalry after eight years of futility is a major, major accomplishment for Brady Hoke and his charges.
Also:
LOSER: Michigan's classless fans
Look at them, rushing the field and celebrating after Michigan beats a 6-6 team. Act like you've been there, guys, right? The nerve of it all!
We're kidding, of course, because the cathartic value of a win like that, erasing eight years of misery and futility hard-wired into to Michigan's identity as a football program, would be off the charts even if Ohio State were coming into the game 0-11. But we're still talking about a bowl team here in OSU, and one that gave Michigan all sorts of fits over the course of the game. You have our full blessing on this field-storming, Michigan. And if anyone says otherwise, well, haters gonna hate. Feels nice to have haters again, doesn't it?
Yes. Exactly. Boren butthurt tweets == Tears of Unfathomable Sadness. So sweet.
And Hinton:
In the context of the entire season, though, it was an exclamation point on a legitimate return to form. Unlike 2007 and 2008, the Wolverines didn't endure an embarrassing flop against a major underdog. Unlike 2009 and 2010, they didn't blow their fast start with a depressing November fade against the meat of the Big Ten slate. They were never blown out, and after their dramatic comeback to beat Notre Dame in September, none of their subsequent wins were close. Last week's evisceration of Nebraska was Michigan's best game in five years, a complete win over a real opponent, and the first unmistakable line of demarcation between Brady Hoke's first team and Rich Rodriguez's last.
Media, soon to expire variety. Dispatch, you disappoint but do not surprise:
You tools should have the MANBALLS to reverse your cute little counter, but since you don't have the resources to find out anything about OSU's compliance, or lack thereof, it's not a surprise you don't. You suck.
Wojo:
It probably was tougher and crazier than they expected, but when the Wolverines finally beat the Buckeyes 40-34 Saturday and the fans swarmed the field, one thing was clear: It's back on, mercifully and manically.

Reset the clock. Reset the rivalry. After seven straight losses and 2,926 days, Michigan ended the agony against Ohio State and took another big step back to national relevance.
Niyo:
Michigan had just ended an eight-year drought — it was 2,926 days, to be exact, as coach Brady Hoke's sign not-so-subtly reminded his players inside Schembechler Hall — by beating archrival Ohio State. And Michigan's senior class had just ended a perfect home season the way few, if any, of them could've imagined.

So as the students came streaming onto the field to celebrate in Michigan Stadium, and the Wolverines started running off it to do the same in their locker room, a trio of defensive linemen — Mike Martin, Ryan Van Bergen and Will Heininger — lingered just a bit longer.
#niyogetsit
Mienke assembles facts about Denard Robinson's day:
Robinson's five touchdowns are the most by a Michigan player in one game against Ohio State.
Robinson is the first Michigan player in the modern era to score at least two rushing touchdowns and two passing touchdowns in back-to-back games, and is the first Big Ten quarterback to accomplish the feat since Iowa's Brad Branks in 2002. He had two of each against Nebraska.
More at the link.
The Daily's Tim Rohan:
Those who stay will redeem themselves.

Ryan Van Bergen stayed.

While his teammates mobbed Courtney Avery, whose interception for the Michigan football team sealed the 40-34 win over Ohio State on Saturday, Van Bergen slowly walked to the sideline, his hands on his head.

He flipped off his helmet, collapsed on the blue bench and wept.

The crowd's roar was deafening as Jake Ryan pulled Van Bergen close, whispering in his ear. Then Craig Roh did the same. They told Van Bergen how much his leadership meant, how much of an impact he had on them.
I don't think "redeem" is the right word but goddamn. Nesbitt on Koger. Wetzel on the rivalry's restoration.