Game Over, Insert Freshman To Continue
10/14/2017 – Michigan 27, Indiana 20 (OT) – 5-1, 2-1 Big Ten
[Bryan Fuller]
I am at stage five. I have passed through denial, anger, bargaining, and depression. And here we are: acceptance. Michigan is not very good this year. I accept that they are rebuilding.
Well... wait. Let me rephrase that. 60% of Michigan is righteous. 20% is questionable but encouraging. 20% is a deep, black pit of infinite depth that you fall through for hours at a time. The walls murmur foul, unspeakable red-zone stats. You yell "I DON'T BELIEVE RED ZONE OFFENSE IS MEANINGFULLY DIFFERENT FROM OVERALL OFFENSE"; the walls ignore you. Occasionally a gust of wind buffets you from below, braking your descent. It doesn't really matter, though. Terminal velocity or soon-to-reach terminal velocity are functionally identical when you are dropping forever in an inky expanse of nothing, waiting for the sickening crunch that will never come except when it does about every 365 days.
Woe! Woe! Fire and flame, death and brimstone! Woe. Dolorous woe.
...is what you might have said like 15 years ago when this stuff still had the capacity to hurt you. Now? Nah. Some Indiana fan sent me a picture of scoreboard from The Horror on Saturday and I just snorted. This is no longer a fanbase that considers 7-5 the "Year of Infinite Pain," as this site did way back in the ancient past. Michigan's going to lose some more games this year and end up in Florida on New Year's Day.
That's more or less fine. They return something like 21 starters next year, give or take QB. This depends on whether or not Brandon Peters can humorously conk John O'Korn in the head and sneakily don his jersey at some point in the next few weeks.
-------------------------------
You've probably figured it out already but the righteous bits are the run defense,  the pass defense, and special teams. The questionable-but-encouraging bit is a ground game that appears to be waking up and putting things together. And the black, infinite, inky pit is the passing offense.
O'Korn's 10-for-20, 58 yard performance was actually worse than last year's Indiana game, when he managed 59 yards on 16 throws. Michigan completed three passes for four yards in the second half—two of them screens—and did not even think about involving O'Korn in their attempts to put away the game. It got so bad that on one of Michigan's few downfield attempts of the fourth quarter that Official Journalists were barely concealing their bewilderment:
Zach Gentry was open. O'Korn threw into double coverage. Gentry tossed his arms up in the air at the end of his route.

— Dan Murphy (@DanMurphyESPN) October 14, 2017
Very same, Zach Gentry. A quick glance at the photo that leads this column will confirm how very, very covered Kekoa Crawford was. And yet.
Meanwhile Harbaugh almost lost his mind on the sideline when Michigan pulled out a shovel pass they hadn't put on film, saw it break for a first down and more, and then had it called back because O'Korn didn't get the snap off in time. Harbaugh's clearly toning down his sideline behavior this year after the PF in Columbus and the supposed extra focus on coach behavior; that was a moment where he just about relapsed. But did not!
Also this:
So here we are. That's three of four O'Korn games with extended playing time where he's been horrible. I have no idea what happened against Purdue, but if you're asking me to project future performance it's more in line with the last two weeks than the outlier. Teams are now preparing for a guy who's only good when he breaks the pocket, and there goes the efficiency of that gambit.
It's bad, man. It's so bad that Michigan spent half of its dropbacks presenting O'Korn with just two guys—or even one—in a downfield pattern. The interception he threw at a dominated Eddie McDoom was third and seven; Michigan had outside receivers run fades. Nobody else was in a pattern. O'Korn somehow still threw the wrong fade, choosing the 5'11" guy being checked by Indiana's best cornerback. Michigan dumbed down their passing offense to an extraordinary extent in this game, and their quarterback still couldn't keep up.
Game over, man. Game over.
It turns out there is a difficulty level too hard on the Jim Harbaugh Quarterback Constructor video game, and it's "Houston transfer who lost his job as a sophomore." Noted, and forgiven. Michigan's desperate scramble for quarterbacks upon Harbaugh's arrival turned up a strike in Jake Rudock, and a... not strike in O'Korn.
Michigan still has their goals in front of them, and maybe O'Korn has another Purdue game in him somewhere. I doubt it, personally, but we'd all written off the Brown Jug in 2008 just in time for Nick Sheridan to put up 200 passing yards in a 29-6 win. You can just barely cobble together a justification for continuing with O'Korn for another week, because a road night game at Penn State is next and we don't want to send our baby lamb to slaughter.
But win or lose against PSU, it's hard to imagine Michigan not taking Brandon Peters out for a test drive against Rutgers. Because Michigan's future is extraordinarily bright if they can find a QB. Even if O'Korn turns it around he's not going to be part of that future. Meanwhile it's hard to imagine production worse than what they've currently got. Here is where people say "it can always be worse": I submit that it cannot. Two point nine yard an attempt and two shoulda-been interceptions, people.
Game over. Insert freshman to continue.
AWARDS
go go go go [Marc-Gregor Campredon]
Known Friends And Trusted Agents Of The Week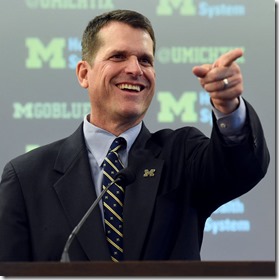 you're the man now, dog
#1 Karan Higdon. Yeah, maybe several defensive players had better individual games in chart-world. All of those guys reinforce each other, though. Higdon's efforts were emphatically not reinforced by Michigan's passing game and he still put up Michigan's first 200 yard RB game since Mike freakin' Hart. He earned all 25 of Michigan's overtime yards, showed legit deep speed on his long touchdown, and ground out countless YAC without much, if anything, in the way of a missed read.
#2(t) Rashan Gary and Mo Hurst. Gary's 2.5 TFLs coulda shoulda been 4.5; he was robbed of a couple more sack by bloody circumstance but for the first time felt like an omnipresent terror. Meanwhile Hurst continued being Hurst, repeatedly whipping guys and getting pressure directly up the middle. The downgrade when both gents were out on the first IU touchdown drive was obvious. Both guys get two points, because I want them to have these points.
#3 Lavert Hill, Brandon Watson, and David Long. Michgian's CB crew all but erased Simmie Cobbs, and Hill turned in a Jourdan Lewis-esque INT. Most completions were to guys they were not in coverage on. Also: I mean, 40 yards for Cobbs. Get it.
Honorable mention: Chase Winovich wasn't far off his DL mates. Devin Bush turned in another very good outing, albeit one without fireworks. Ty Isaac chipped in eight productive carries. The OL was excellent on the ground and gave up zero sacks... narrowly.
KFaTAotW Standings.
8: Devin Bush (#1 Florida, T2 Cincinnati, T2 Air Force, #1 Purdue)
5: Chase Winovich(#1 Air Force, #2a Purdue), Mo Hurst (#1 MSU, #2(T), Indiana) 
3: Mason Cole (#1, Cincinnati), Ty Isaac (#2, Florida, #3 Cincinnati), Lavert Hill(#2 MSU, T3 Indiana), Karan Higdon (#1 Indiana)
2: Quinn Nordin (#3 Florida, #3 Air Force), John O'Korn (#2 Purdue), Rashan Gary(T2 Indiana).   
1: Khaleke Hudson (T2 Cincinnati), Tyree Kinnel (T2 Cincinnati), Mike McCray(T2 Air Force), Sean McKeon(T3 Purdue), Zach Gentry (T3 Purdue), Brad Robbins(#3 MSU), Brandon Watson (T3 Indiana), David Long (T3 Indiana).
Who's Got It Better Than Us Of The Week
Michigan busts out a new counter look on a fourth-quarter drive, running it three times on a five-play drive that ended with a 59-yard Higdon touchdown. Don't stop:
Karan Higdon up the middle and ... Karan Higdon is gone. @UMichFootball makes it 20-10. pic.twitter.com/bx99KX2D3u

— Big Ten Network (@BigTenNetwork) October 14, 2017
Honorable mention: Michigan wins the game with a goal-line stand from the two. Higdon bounces outside for an OT touchdown. Higdon bounces outside for a first-half touchdown.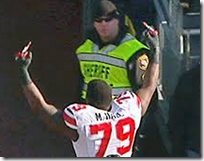 MARCUS HALL EPIC DOUBLE BIRD OF THE WEEK.
John O'Korn throws to a double-covered Kekoa Crawford instead of finding the other guy on a two man route. That guy, Zach Gentry, was open for a 40-yard catch and run touchdown. Also he was the only other guy in a route.
Honorable mention: Indiana breaks off a punt return that gets them to overtime; various absurd calls after the mean man yelled at the refs but especially the Cam Cheesman "hold" that was critical for IU's tying FG drive; Michigan picks up a bunch of legitimate penalties, including PFs against Kekoa Crawford and Josh Metellus (unless Drake Harris is on the punt return team).
[After THE JUMP: How can Peters be behind this guy?]
OFFENSE
backup backup QB is always everyone's favorite player [Patrick Barron]
How can Peters be behind this guy? I don't know. I do think even excellent coaches make mistakes and have to change their minds from time to time. Inserting Nolan Ulizio over Juwann Bushell-Beatty is an example. JBB was clearly a long way from good last year, and might still be a long way from good. Ulizio was worse, but Michigan still talked themselves into playing him. Something similar could be going on with Peters.
More likely: Michigan has a case of Joe Bolden Syndrome. Bolden generated three years of insane practice hype that never translated to the field. Not even the previous two years of experience could entirely douse it when Bolden was a rising senior; we were still treated to varying levels of "this guy is Devin Bush, but tall!" despite the fact Bolden had barely been replacement-level in two years as a starter. This wasn't even a guy shrouded in the mists of recruiting accolades and the bench. This was a guy who everyone had seen start for two solid years, and yet.
Bolden was once again barely replacement-level as a senior, and it was very frustrating when Ben Gedeon had a one-year run as a starting LB vastly better than the guy he replaced. Gedeon is starting on the Vikings defense as a rookie; Bolden is a grad assistant at WSU. Michigan would have been better off benching Bolden for Gedeon as soon as Gedeon was a sophomore.
My best guess as to how this happened: Bolden was a memorizer. He had the Michigan offense's playbook and was totally awesome when he saw something he recognized. He did this all the time in practice, thus the hype. When he was faced with things not quite entirely unlike Michigan's offense in live-fire play he froze, because he was a memorizer. Gedeon extrapolated: he could understand football principles and adapt on the fly based on his knowledge of the game. He had instincts. Bolden did not.
O'Korn might be good when he's seen the same defense for dozens or even hundreds of reps. He clearly has no ability to go from read one to read two, let alone three, unless he's in a situation he's seen a bunch. Or Purdue is playing, I guess? I don't know. Football is weird and complicated.
Anyway: what I'd heard this fall was that Peters only had command of a small section of the playbook and had a tendency to make explosively bad mistakes. Michigan's already whittled the passing game down to bare bones and is suffering explosively bad mistakes from their quarterback. I can't imagine Peters doesn't emerge here.
The not-inconsiderable bright side. Michigan tore it up on the ground in this game with a mixture of inside zone and power stuff. Indiana's run defense entering this game was not amazing, but in two of three games against Power 5 schools they'd stuffed opponents. Virginia had just 2.8 YPC and an opportunity rate of 17%; Penn State had just 2.3(!!!) yards a carry despite having Saquon Freakin' Barkley. Ohio State gashed them in the opener; this still looks like a run defense somewhere between decent and legitimately good.
So: Michigan's performance was better than OSUs in sack-adjusted YPC. OSU hit 6.0; Michigan was at 6.2. The huge Higdon touchdown was only a bonus; even without it Michigan averaged nearly five yards a carry.
The looming caveat. Michigan's zone ID was vastly improved in this game. I wonder how much of that is traceable back to Greg Frey. Last year Frey was at Indiana, going up against Tom Allen's defense every day in practice. Next week will be an acid test for the new-and-improved ground game.
[Campredon]
Better than Mike Weber. Karan Higdon vs Indiana: 25 carries, 200 yards. Mike Weber, season: 48 carries, 227 yards. I'm not sayin', I'm just sayin'.
Seriously, though: Higdon had a break-out game that should see him solidify the top of the depth chart at running back. He might even have a get-out-of-fumble-free card at this point. Higdon's correct decisions to bounce got Michigan two touchdowns. One of those was well blocked and fairly easy. The second was some Houdini business on the first and only offensive play in overtime. In addition he showed impressive long speed on his touchdown, and displayed his typical ability to grind out YAC by running behind his pads.
Ty Isaac was also effective in this game, but Higdon got 25 carries to his 8 and I'd expect something along those lines going forward.
Chris Evans keeps getting buried, usually because nobody's blocking for him. He managed to turn a TFL into four yards by reversing field, and that was about it as far as opportunities go. He's more of a spread back who thrives in space than a between-the-tackles guy who can run through an arm tackle like Isaac and Higdon, and if Michigan is going to go with a bunch of fullbacks and tight ends because those guys are better players than the wide receivers, Evans's role gets reduced.
I do think Evans should be more of a target on short passes. He dusted an MSU LB last week for a chunk gain, and with a passing game that's struggling badly there are way worse ideas than trying to get Evans a bunch of catch and run opportunities.
Hello Kareem Walker and his glorious dreads. One carry in this game, but it was an impressive one:
Who else was impressed by this run? I think Kareem Walker deserves another touch after this and Harbaugh did say he will get more. pic.twitter.com/ENekMFfJMR

— Michigan Moments (@GoBlueMoments) October 15, 2017
That's a first down conjured out of a TFL. Michigan had an effective day from Higdon and Isaac so the need to poke around Walker seems less dire; he should still get a few more at-bats next week.
How the grinding got ground. Michigan was effective at both inside zone and power stuff in this game. JBB and Onwenu proved to be people-movers on power stuff and Michigan was much better at identifying which guy was theirs in the zone game; IU didn't force Michigan into those downfield releases where the OL has no angle to block a linebacker.
Michigan also may have dipped into the "break glass in case of emergency" section of the playbook, first with the shovel pass that ate a penalty and then with the counter play Michigan had not shown on film until they ran it three times on their second-half TD drive.
Must be said. Kekoa Crawford added a bad 15-yard penalty and a heartstopping near-onside-kick to his season resume. Not great, Bob.
DEFENSE
GET IN MAH BELLIES [Fuller]
The usual. Drive overview:
7 three-and outs and one INT after two plays.
one first-down and out
three longish FG drives of 54, 61, and 42 yards
one 6 play TD drive of 64 yards
one 20 yard TD drive after the punt return
Two first downs and then a goal line stand in OT.
That's 15 drives and 20 points, not much worse than the 14-for-14 performance against MSU, and much of that was Indiana's usual tempo stuff catching Michigan in bad spots.
But not the usual. Michigan's pass rush felt less rampant in this game. I mean, probably? PFF had Winovich with a whopping 9 QB pressures and Hurst with 8.  That's almost half of Indiana's passes (43) from just two guys. I assume you can have multiple pressures on the same play. My frustration at Michigan's inability to get to the quarterback may be a derangement based on previous outings.
Even so, Indiana pass protected well enough to get in field goal range in a one-minute drill despite entering the game with indifferent pass protection stats. IU got their starting RT back and that was a big upgrade for them; Michigan also got their fair share of battery in. I think this is just derangement; I now expect almost literally every dropback to get pressured, because that's what this defense has taught me is normal football.
2.0. PFF's Josh Liskewitz on how Lavert Hill is faring this year:
After today: 8 catches on 21 targets, 0 TDs, 2 INTs, 6 PBUs, 18.8 QB rating against.

— Josh Liskiewitz (@PFF_Josh) October 15, 2017
This is barely off Jourdan Lewis's pace from last year, something JD himself noted on twitter. Also impressed: Richard Sherman. So that's a good start to your sophomore year.
Also the other CBs. David Long and Brandon Watson both got extended at-bats against Simmie Cobbs and won those battles. Long was particularly impressive on back-to-back plays where he dominated an attempted fade so badly that Cobbs was ten yards away from the throw and then covered a slant so well that Ramsey didn't even attempt at throw. He did draw two flags, a legit holding call and an absurdly bad PI call. Meanwhile Cobbs did almost zero against him.
Meanwhile Watson's time checking Cobbs saw him awarded a 62-yard catch-and-run that got overturned because Watson had forced him out of bounds so far that he was not able to re-establish himself in-bounds before the catch. That should not have had to go to replay, and even after it was overturned I was a bit ticked off because Watson didn't actually shove him out of bounds, he just stuck out an arm to keep in contact when Cobbs tried to avoid him. That should have seen a hat throw and illegal touching, IMO, but it was at least somewhat close.
Anyway: Cobbs had four catches for 39 yards and most of that was Long and Watson doing work. The cornerback spot is wildly exceeding expectations. Mike Zordich is good at coaching and bad at giving press conferences. I'll take it.
kind of think Kinnel should have cut this off [Fuller]
Still a little squirrelly. Michigan's safeties are a little wobbly. I don't want to overstate things here. They don't bust and they are part of a very good unit; they make the calls and those are usually very good.
But... I mean... insofar as I have worries about the defense, they're mostly about the safeties. Metellus had a bizarre incident on the sideline where an improv throw found him checking the slot guy a few yards short of the sticks; slot guy just ran by on the outside for a baffling conversion and a chunk more.
Kinnel turned a third-and-22 tunnel screen into an adventure with another hyper-aggressive missed tackle, and I'm fairly sure that the late IU TD was something he coulda-shoulda dealt with: Michigan was in man coverage against a rub route, but Kinnel was tasked in a short robber zone; it almost seemed like Michigan's defense was designed to bait Indiana into that drag throw, but Kinnel didn't read it fast enough and come up to tackle.
Both guys made their fair share of positive plays. Metellus tackled on a TE drag to prevent third and ten from being a conversion; Kinnel broke up a couple slants. They only bother me because there's nothing else to get bothered about on the starting D.
The special one. Mike DeBord's tactical innovations in this game: running a QB throwback and tunnel screens to the slot receivers. IE, things Purdue had already done. Michigan, unsurprisingly, was ready for those wrinkles.
It'll be interesting to see where Indiana goes from here. There's usually a hangover year when a very successful coach leaves where the unit they were in charge of looks basically identical under the new regime. Indiana is having one of these. They're still super-fast and all spread and the only hints that Kevin Wilson is gone come at the margins. Year two is when the new philosophy starts being introduced in earnest.
I predict this won't go well for the Hoosiers.
SPECIAL TEAMS
[Campredon]
I am a mite concerned with the above form. DPJ caught a couple of punts like this. Nothing bad happened; something bad might happen in the future if this continues. Silver lining: this plus his downfield catch give us a little more insight into his ability to make awkward catches, which appears to be good. Now if anyone could just put it on him.
You will get got more often as a pro style punt unit. Michigan has mostly avoided the consequences of reverting to pro-style punting in the wake of the disaster in 2015, but they suffered them against Indiana when a Brad Robbins kick was too long and not high enough and J-Shun Harris just about added two his two return TDs this year. When you are pro-style punting it comes down to the punter to keep your coverage units in the game, and that's a tall order to do every time for a freshman.
It's kind of weird this hasn't happened before. Mo Hurst blocked a 51-yard field goal in this one and my immediate thought was "why did that take so long to happen?" I am a very reasonable person who is not excessively demanding of people I have never met.
God bless a boring kicker. 38 and 40 yarders from Nordin went right down the middle of the goalposts, into the weird Fallout endzone Indiana currently sports. Not only does he make the field goals, there's never any doubt. He's at 88% on the season with two misses, one of them from 52.
THE FOUG DENDRITES. James "Ol' Doug" Foug honed his kickoff skills to a fine point; now he's dropping them at the two so fools have to bring them out. They inevitably get buried at the 15. That's good kickoffin'. Please ignore the one he put out of bounds. Returners are so terrified of Foug that they lose all perspective when the ball twists, horribly, into their path.
MISCELLANEOUS
I don't want to have to say this again but here we are. If you're playing a 1950s football game rife with offensive incompetence your decision-making should reflect that, and Michigan's approach just before halftime reflected that. There were a number of mutters about Harbaugh's excessive conservatism at halftime. I find these baffling, because... uh... what does a two-minute offense with Michigan's pass protection, wide receivers, and quarterback look like? Guernica? No. Not bizarre enough. Here we go:
"ALF devouring his cat"
That's what it looks like, and your dang hopes are the cat.
Similarly, Michigan's approach in the second half was more or less fine if you assume that your quarterback is a broken thing. When Michigan deviated from extreme conservativism they were rewarded with throws at the wrong guy, near interceptions, and one time they got six yards on third and twelve.
Now, if you want to complain about not inserting Peters I'm listening. Michigan was up and trying to hang on. They were trying to play as low-variance as possible on offense and let their defense take it home, and without a big punt return that would have worked. That makes the decision to leave a guy with 3 YPA who barely avoided two INTs vaguely, barely justifiable.
The power of the hatewatch. Also a timeslot in which not much else was going on:
ESPN says the Michigan at Indiana game — which aired at noon ET — was highest-rated CFB game of weekend: 2.9 overnight.

— Richard Deitsch (@richarddeitsch) October 15, 2017
My dream where all Michigan games are noon on ABC (or FOX, I guess) is one step closer.
Nice enforcement. I remember when yelling at people from the sideline and/or running onto the field was going to be a penalty. Nope, just on Harbaugh. Tom Allen took timeout specifically to scream at the referees for minutes at a time and instead of getting hit with a call he slid the refereeing in Indiana's favor for the duration. Several calls down the stretch were absurd, including a personal foul on Mo Hurst for tackling the quarterback, the holding call on Cam Cheeseman for something that was neither a hold nor at all relevant, and a pass interference on David Long for getting in the way of Cobbs on an uncatchable back shoulder throw Cobbs was not even looking for. IU also escaped an obvious grounding call when Ramsey threw the ball at absolutely nobody on their final drive while being sacked.
This was an awful, awful game for the refs.
Pine pine pine pine. It's a very good thing Michigan's running game took off in this game, because it might have been too painful for words if they'd lost to Indiana at the same time AJ Dillon was doing this:
Dillon, of course, decommitted from Michigan in favor of BC late in the last recruiting cycle because he wanted to be the man immediately. He evidently is.
HERE
Best: The Good Kid

You always hear that teachers spend a disproportionate amount of time dealing with the "troublemakers", the disruptive kids in a classroom. The quieter kids, the ones who just do their work without a fuss, are given a pat on the back and a silent "thank you" as the teacher navigates the room. You want to praise them and you do, but the reality is that the squeaky wheel gets the most attention, and if this analogy hasn't been made clear yet, the offense is the biggest fucking squeaky wheel on this team. By comparison, the defense is a wheel covered in the contents of a 55-gallon tub of lube rolling on a floor covered with Teflon. Also, it's the quiet kid who does her job really well without much fanfare, while the offense is destroying the school bus. Yes, this whole paragraph exists for the sole purpose of linking to an article about a tub of sexual lubricant. Deal with it.

On the day, Indiana was held to 278 yards of total offense, 3.9 ypp and 13 first downs, all season lows for the Hoosiers. This isn't CHAOS team like in years past, but when you face 72 plays over 15 drives and hold the opposition to well under 300 yards while picking them off twice, you're doing something well. Michigan forced 7 3-and-outs as well as a 2-and-turnover, and racked up 2 sacks and 7 TFLs to boot. Even when they buckled a bit at the end, it wasn't particularly egregious; the late TD was due mostly to IU getting a great return on a punt (again, ignoring multiple blocks in the back), and leaving a college kicker with a 46-yard FG to tie the game is a reasonable strategy. On the last play in OT, which brought back memories of way more gamesthan I'd like, Michigan's defense was able to overwhelm IU's line and chase Ramsey into throwing the pick to Kinnel, and at the end you saw Winovich just passed out on the field next to Ramsey, exhausted but elated. I sadly know the feeling.
Here's what all that looked like across the game:
R-squared for "fuck" was 0.83 in this game, so we are coming back to that word as a driving factor for expressing ourselves in these games. Keep in mind too that each page represents 300 comments and about 6 minutes of regulation play (OT factors into 9 and 10 here). You can see "fuck" spike right where you would think - end of the 4th quarter and in OT. The pace of talk on the offense, which is in gray, was fairly steady throughout the second half
ELSEWHERE
Mo Hurst was again the best defender in the country per PFF:
Another week, another stud performance from Michigan Wolverines defensive tackle Maurice Hurst. After capturing the top overall grade from PFF College last Saturday in a loss to Michigan State, Hurst graded out with a 97.4 score in the Indiana game (on a 0-100 scale). That's good for No. 2 nationally behind Colorado State's Michael Gallup and first among defensive players.

The highlights of Hurst's performance were his pass-rush grade (96.7) and his run defense grade (91.7) on 62 total snaps.
OFFENSIVE CHAMPION – Easy to single out Karan Higdon for this, but I'm going with the Big Uglies up front – specifically the Interior O-Line. It seemed like most of the successful (running) plays were straight up the middle. And while it's difficult to single out just one guy, I'll go with all three interior linemen. We saw some hints of this last week against another basketball school, so it was nice to see that it wasn't a one-week-wonder.
HSR:
Overtime began and Higdon pulled a Barry Sanders-esque "nothing doing here in my original running lane, hit my blocker, bounce, bounce, burn, score" run to open overtime.  It put me in mind of Tom Brady's pass to Shawn Thompson in the 2000 Orange Bowl, getting the ball first and getting the touchdown and saying "OK, your turn."  Michigan's defense responded after an initial, Michigan school record-setting sixteenth penalty calling a pass interference that would move the ball to the 12, (which the ESPN play-by-play on the website does not acknowledge), standing firm getting into Peyton Ramsey's face and finally forcing an interception, Tyree Kinnel grabbing the ball and allowing every Michigan fan to finally exhale after something like four hours of hoping things would not go sideways.
The 16 penalties was a school record. Ten of those were legit. Maize and Blue Nation. MLive on O'Korn. We could be FSU though.