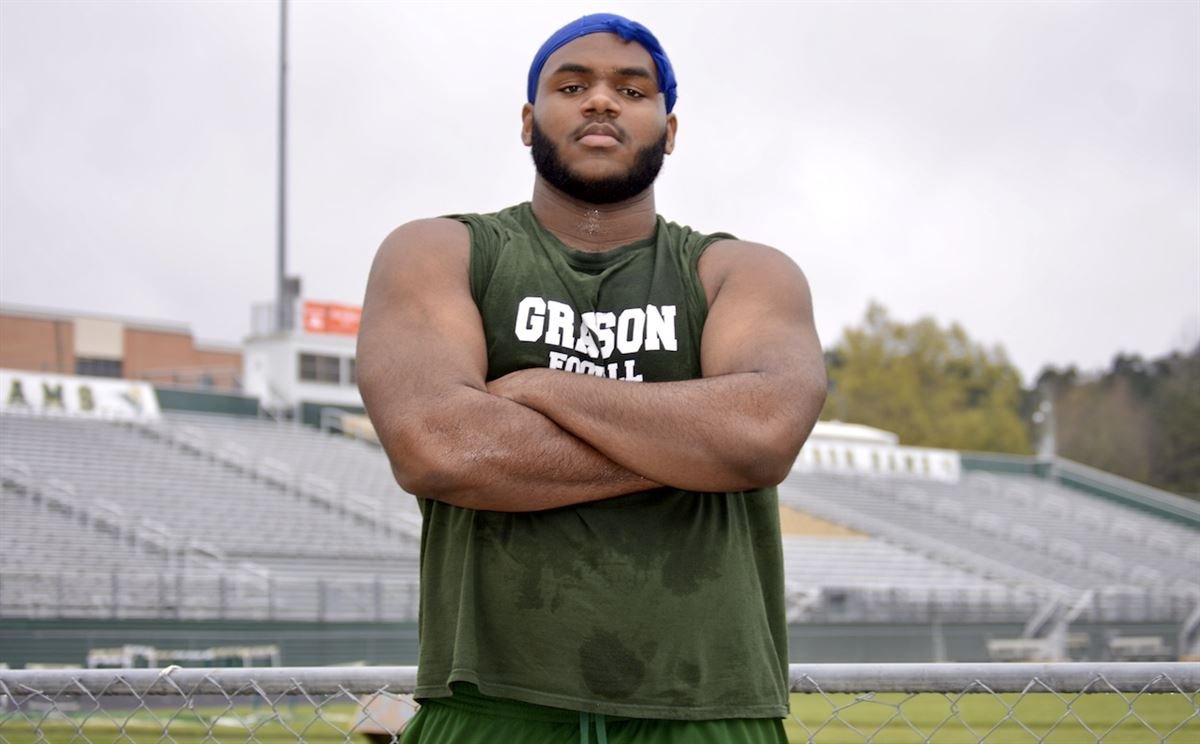 Friday Recruitin' Didn't See Your Text
This week saw the release of a new Top247 in which most of Michigan's commits stayed near their prior ranking. There were two moves worth discussing, though, as GA OL Trente Jones (pictured above) shot up and CA RB Zach Charbonnet entered rarified, dangerous territory. Charbonnet moved up from #41 to #26 in 247's rankings, which puts him six spots over the five-star threshold. Michigan's recent history with five-star running backs is woeful enough that an Angry Michigan Five-Star Running Back-Hating God may have been invoked at some point, but how can you watch Charbonnet's highlights and not give him a fifth star?
I also recommend watching this video for the runs at 3:05 and 3:27. There's a very useful every-touch/block video that someone cut up from the second half of Charbonnet's playoff game two weeks ago, and that shows that he's a pretty good blocker as well.
247's Greg Biggins wrote about Charbonnet in the aftermath of Oaks Christian's playoff victory last weekend and there are so many pull quotes you should just read the whole article.
His ability to make something out of nothing, take a pounding but not flinch and look even stronger in the 4th quarter than he did in the 1st really makes him special. His game translates really well to the college level and there is no question he has the ability to see the field as soon as next year at Michigan.
Biggins goes on to say that Charbonnet should be considered one of the best backs to come out of Southern California in the last decade and will eventually play in the NFL barring injury, so that seems good. Whereas TN RB Eric Gray's visit this weekend was probably necessary for Michigan to keep him in the class (more on that after the jump), Charbonnet's visit be this Saturday is the opposite. Steve Lorenz notes that Charbonnet spoke with 247 a few weeks ago and said he wasn't sure whether other schools were pursuing him because he doesn't respond to his texts and doesn't check his phone much these days.
Jones may not have ended up as high in the rankings as Charbonnet but he did jet up 266 spots (!), earning a fourth star in the process. He also is reportedly his high school's highest-graded lineman this season, which is very much worth noting as he is teammates with #9 overall prospect Wanya Morris. You may remember Morris from last week's roundup; he's the player who was taken first overall in the UA All-America Game draft, one spot ahead of Charbonnet.
[Hit THE JUMP for the longest 2019 update in a while]
2019 Update:
Saturday has turned into a big day for visits what with the relative closeness of the December signing day combined with being the last opportunity to visit the Big House for a game in 2018. Even bigger, however, is the one visitor who decided to visit at the end of the year, who was supposed to make it up, who talked about how important a visit was to getting a feel for a place he committed to in the summer, and who will now no longer be making the trip to Ann Arbor. TN RB Eric Gray cancelled his trip, which led Steve Lorenz to write that he is pessimistic Michigan will sign Gray. He reported that he isn't sure whether Michigan will continue to pursue him, but in his opinion there's a chance the two sides might just part ways.
Along with Charbonnet, NJ DE David Ojabo will be on campus this weekend. Ojabo, who will be taking his official visit, is ranked #309 in the composite but #208 by 247; Brian Dohn, 247's east coast analyst, was impressed by Ojabo's motor and speed off the snap to the point that he issued the fourth star Ojabo maintains after last week's re-rank.
Recently offered KS ATH Amauri Pesek-Hickson will take an unofficial visit to Michigan this weekend according to The Michigan Insider's Brice Marich, with an official scheduled for the week of December 8th. Pesek-Hickson thought he would be playing basketball at the next level until his recruitment cooled this past summer, at which point he switched back to football and landed offers from Missouri State and Michigan. The Ronnie Bell is strong with this one. Pesek-Hickson set his official when Harbaugh offered him earlier in the month, but this unofficial is a recent development. Another recent development: Steve Lorenz submitted a crystal ball for Pesek-Hickson to Michigan yesterday.
IN OL Dawand Jones will also take an unofficial this weekend on the heels of an official to USC last weekend. The 6'8", 360 pound tackle just finished his second season of organized football and has developed quite the list of primary recruiters, with Tim Drevno being his main contact at USC and Greg Frey his primary at Florida State. Jones is hoping to get an offer from Michigan after this trip, which means he's a likely backup plan should Michigan miss on IL OL Trevor Keegan. That seems unlikely, as The Michigan Insider's Brice Marich recently published notes from Keegan's midweek visit to Ann Arbor and in them noted his Michigan crystal ball prediction remains "solid and strong." Keegan, who is slated to announce his school of choice on December 14th, visited in the middle of the week to get a feel for what a day is really like inside the program, including how practice is run and how Ed Warinner coaches in practice; Marich notes that he left impressed.
Speaking of crystal balls, another was cast in Michigan's favor for OH DE Zach Harrison by none other than Bucknuts' Bill Kurelic. The decision isn't based on one piece of intel but instead the feeling Kurelic got at Harrison's UA All-American Game jersey presentation along with talking to coaches and teachers and teammates at Harrison's high school who have switch their gun-to-your-head pick from Ohio State to Michigan.
Michigan will be getting an official from a player they just hosted for an unofficial a month ago, with that visit coming just nine days after he decommitted from Georgia.
Official visit to Michigan this weekend〽️〽️〽️ #GoBlue

— Jalen Perry (@JalenPerry03) November 14, 2018
Perry's crystal ball is on South Carolina, but multiple visits in a month with one being an official is pretty, pretty good from Michigan's perspective. Brice Marich talked to Perry after his unofficial for the Wisconsin game and in the course of that conversation Perry mentioned how he loves Don Brown a lot and that he got to hang out and talk about his decision with Giles Jackson.
Oh yeah.. #Goonsquad19 ? We adding to that on Saturday 🤣〽️🕺🏽...
Commit watch ⚠️

— G5 (@gilesjackson__) November 15, 2018
Hmmmmmmmmmmmmmmm.
There is one additional official visit on the docket, though this one won't happen until December 14th. CT WR Cornelius Johnson plans to visit Michigan a week after he takes an official to Penn State, according to Rivals' Adam Friedman. Johnson's final five are Michigan, Penn State, Alabama, Notre Dame, and Stanford. He officially visited ND already this fall and told Friedman he will probably officially visit Alabama at some point and Stanford in January, and he will not sign until February. Johnson is interesting because he's #259 in the composite but #185 to 247, and with Brian Dohn on 247's staff it seems safe to assume Johnson's ability is closer to that ranking than the ones dragging down his composite.
Lastly, it wouldn't be a 2018 recruiting roundup without a little weather-related talk, and for that we turn to our primary source of meteorological discussion, NC LB/RB Quavaris Crouch. The Michigan Insider recently sent someone to Crouch's high school to get his thoughts on Michigan and the factors that will play into his decision. The answers are more or less what you'd expect if you've been following along with his recruitment: faith is important to him and he wants to be around people who share a belief in God (which is notable considering Dabo Swinney is the head coach of the other team most likely to secure his commitment), Michigan's academic offerings and network hold a lot of sway, the cold sucks but kids from Miami have adjusted so it's livable, and linebacker is probably the best business decision but playing on both sides of the ball to at least get a taste of offense at the DI level is Crouch's preference.
2020 Update:
Things have been pretty quiet on the 2020 front this week, though MI ATH Cameron Martinez received an offer last weekend. Martinez received a call from Don Brown and  Jim Harbaugh on Sunday with said offer, and the two said they like the current quarterback at either wide receiver or safety or possibly both. Martinez's most noteworthy offers at the moment are Northwestern, Indiana, and Kentucky, though he has no leader; Martinez told The Wolverine's Brandon Brown that he's focused on his team's playoff run right now and hasn't thought about who leads, but he does think he will make another visit to Michigan (he visited for the Penn State game) in December. 
GA QB Harrison Bailey has set a commitment date: November 29th. Michigan is his presumed leader, with 89% of the ballz in their favor.
Etc.:
Updated stats for 2019 commits. 2020 MI WR Maliq Carr picked up an offer.