Friday Night Lights 2011: An In-State Primer
This fall, I'll be chronicling the season of Michigan commits as they hit the field on Friday nights (or Thursdays, or Saturday afternoons) in their high school games. The series includes stat breakdowns, game stories, and even some original video. Here's a primer for the offensive side of the ball - the prospects whose games I'm most likely to attend this fall. If you have any corrections, you can e-mail them to me at [email protected], or post them in the comments of this post.
Harrison High School
Farmington Hills, MI
Farmington Hills Harrison 2011
Date
Time
Opponent
8-27
8PM
Detroit Cass Tech (@EMU)
9-1
7PM
@ Southfield
9-9
7PM
Stoney Creek
9-16
7PM
Oxford
9-23
7PM
@ Southfield Lathrup
9-30
7PM
Oak Park
10-6
7PM
@ Rochester Adams
10-14
7PM
OAA Crossover Game
10-21
7PM
Farmington
Devin Funchess
HS Position: Wide Receiver
Projects as: Tight End/H-Back
Mario Ojemudia
HS Position: Defensive Tackle
Projects as: Defensive End/Rush LB
Farmington Hills Harrison had plenty of success on the field last year, winning 14 straight game en route to an undefeated State Championship season in Michigan's second-largest division. Devin finished the season with about 33 catches for 800 yards, while Mario notched 127 tackles and 12 sacks from the DT(!!!) spot, also causing three fumbles.
Harrison looks to be strong yet again in 2011, with not only Funchess and Ojemudia back, but teammate Aaron Burbridge reeling in the receptions - I'll be keeping an eye on the #2 prospect in the state of Michigan, as he's a prospect for the Wolverines as well. Harrison does have to replace quarterback Tommy Vento (a preferred walk-on at Michigan State), but if they can find a signal-caller, the other pieces are in place for a deep run.
I should catch quite a few Harrison games, and their season-opener against Cass Tech is a must-see for Michigan fans, as Royce Jenkins-Stone and Terry Richardson will be suiting up across the field. That game is August 27th at 8PM in Eastern Michigan's Rynearson Stadium.
Cass Technical School
Detroit, MI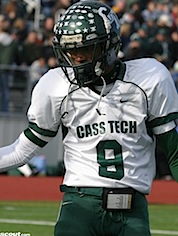 Detroit Cass Tech 2011
Date
Time
Opponent
8-27
8PM
FH Harrison (@EMU)
9-2
3PM
@ Detroit Central
9-9
4PM
@ Det Southeastern
9-16
4PM
Detroit Cody
9-23
6PM
Detroit King
9-30
6PM
Crockett (@Det Osborn)
10-7
4PM
Detroit Mumford
10-13
4PM
TBD
10-20
4PM
TBD
Royce Jenkins-Stone
HS Position: Fullback/Linebacker
Projects as: Middle Linebacker
Terry Richardson
HS Position: Slot Receiver/Cornerback
Projects as: Cornerback
The Cass Tech Technicians (We're from Tech!) had enormous success last season for a city league team, falling in the State Semifinal game on a final-minute turnover to eventual champion Lake Orion. Tech sent four players to FBS teams following the season, including Michigan freshman CB Delonte Hollowell (Illinois, Toledo and W. Mich got the others). Royce rushed for 10 touchdowns, and added 90 tackles and five sacks on the other side of the ball, and Terry finished with 35 tackles and 12 interceptions, plus 12 receptions for 400ish(!) yards and five touchdowns.
Despite losing plenty of talent, Tech looks to reload with Terry and Royce as the leaders. Royce's fellow linebackers Ruben Lile and Laron Taylor both have multiple Big Ten  offers, and DT Darryl Goldsmith is hearing from the MAC. There's talent in the 2013 class as well. The schedule sets up nicely, with the showcase game against Harrison leading into several Detroit teams whom Tech has dominated over the past couple years.
Aside from the season opener against Harrison, I should be able to make it to a couple more Tech games, many of which are conveniently scheduled during the day. The final two games are tentatively scheduled for Thursdays, which could mean more chances to check them out. [Ed-M: Bonus reason to go to a Tech game: their fan cheer is "Go Cass; Kick Ass!"]
Detroit Catholic Central
Novi, MI
Detroit Catholic Central 2011
Date
Time
Opponent
8-26
7PM
@ Dearborn Fordson
9-2
7:30PM
@ Delphos (OH) St. John's
9-9
7PM
Inkster
9-16
7PM
Highland Park
9-24
7PM
De La Salle (@Lake Shore)
10-2
1PM
UD Jesuit
10-8
7PM
Brother Rice
10-15
7PM
Orchard Lake St. Mary's
10-22
4PM
Prep Bowl (@Ford Field)
Matt Godin
HS Position: Defensive End
Projects as: Defensive End/Tackle
Last year, the Shamrocks saw plenty of success, but lost in the State Quarterfinals to current Michigan freshman Brennen Beyer and his eventual runner-up Plymouth Wildcats. They closed out the season 9-3. Matt capped off a 66-tackle (28 for loss), campaign with All-Catholic Honors.
Catholic Central looks to rebound from a down year in 2010 (seriously, 9-3 is a down year) with a return to the state finals - they won the State Championship in 2009. Along with Godin, tight end Matt Doneth is a BCS prospect as a senior, and 2013 RB/DE Wyatt Shallman should be one of the top prospects in next year's in-state crop.
With Michigan's heavy recruiting of the Catholic League this year (James Ross attends Orchard Lake St. Mary's, and 2013 QB Commit Shane Morris goes to Warren De La Salle), I should be able to make it out to at least a couple of Godin's games.
St. Mary's Preparatory
Orchard Lake, MI
Orchard Lake St. Mary's 2011
Date
Time
Opponent
8-26
4:30PM
GR West Catholic
9-2
7PM
Toledo (OH) St. John's
9-9
7PM
Highland Park
9-16
7PM
UD Jesuit (@Ferndale)
9-23
7:30PM
Columbus (OH) DeSales
9-30
7PM
Brother Rice
10-7
7PM
Warren De La Salle
10-15
7PM
@ Det Catholic Central
10-22
7PM
Prep Bowl (@Ford Field)
James Ross
HS Position: Fullback/Linebacker
Projects as: Linebacker
Last year, St. Mary's reached the State Championship game, but fell to rival East Grand Rapids (as the Eaglets so often do in various sports) on a goal line stand in the fourth quarter. The only other losses in the 11-3 campaign for St. Mary's came to another rival in Birmingham Brother Rice (once in the regular season, once in the Prep Bowl). James finished his junior season with 103 tackles, five sacks, five forced fumbles, seven fumble recoveries, and an interception last year.
This year, the Eaglets have to replace a Penn State-bound WR Allen Robinson, along with their starting quarterback Mike Koenigsknecht. The onus will fall on the run game and defense to bring the Eaglets back to the playoffs.
I should be able to make at least a couple OLSM games this fall, particularly when they take on other Michigan prospects.
Rockford High School
Rockford, MI
Rockford 2011
Date
Time
Opponent
8-25
7PM
@ Lowell
9-1
7PM
Holt
9-9
7PM
Grand Haven
9-16
7PM
Holland West Ottawa
9-23
7PM
Muskegon
9-30
7PM
East Kentwood
10-7
7PM
Grandville
10-14
7PM
Hudsonville
10-21
7PM
@ Jenison
Ben Braden
HS Position: Offensive Tackle
Projects as: Offensive Tackle
The Rams are a traditional football power in the State of Michigan, so only reaching the semifinals last year (they bowed out to Brennen Beyer's Plymouth team) was a disappointment. The 11-3 seaosn also included road losses to Howell and Canton in the regular season. Braden is an offensive lineman, so his didn't accrue any stats.
Expect a disappointing 2010 season to fuel a deep run for Rockford this year, led by Braden up front. His other bookend, Parker Ehinger, is off to Cincinnati this year, so the Rams need another big lineman to step up in their run-heavy attack. There has been a lot of talk this summer about how Braden impressed on the camp circuit, so a strong senior year could help him move into four-star range to the recruiting services.
Rockford [shows hand, points at left side of palm] is positioned across the state from most of Michigan's other commits (and, you know, Michigan itself), so it'll be rare that I get to take in one of Braden's regular-season games. However, Rockford should make a deep run into the playoffs, and I'll hopefully get to catch a couple there.
De La Salle Collegiate
Warren, MI
De La Salle 2011
Date
Time
Opponent
8-26
7PM
AA Pioner (@Lake Shore)
9-2
7PM
Carman-Ainsworth (@Lake Shore)
9-9
7PM
@ Dearborn Fordson
9-18
2:30PM
@ Brother Rice
9-24
7PM
Catholic Central (@Lake Shore)
9-30
7PM
Inkster (@Lake Shore)
10-7
7PM
@ Orchard Lake St. Mary's
10-14
7PM
UD Jesuit (@Lake Shore)
10-21
7PM
Prep Bowl (@ Ford Field)
Shane Morris (2013)
HS Position: Quarterback
Projects as: Quarterback
De La Salle has not been a power in the Catholic League, but they put together a good 2010 season, reaching the State Quarterfinals, where they fell to eventual champion Farmington Hills Harrison. The other losses in a 9-3 season for the Pilots came to another pair of Michigan commits in Detroit Catholic Central's Matt Godin and Orchard Lake St Mary's linebacker James Ross. Morris completed 102 of 180 passes for 1,150 yards, to go along with 14 touchdowns and just 2 picks last season.
De La Salle should be about the same this year as they were last year, but with another year of experience for their star QB, they'll look to get over the next hump. With a very strong junior season, Shane can make an early argument for 5-star status in the 2013 class.
Since he won't be hitting campus for another couple years, I'm not prioritizing Morris's games as highly as the other prospects. I plan to be in attendance (when possible) for a couple contests against 2012 Michigan commits.
Any corrections to the schedules posted here are welcome. If you attend any commit's game, feel free to e-mail me notes, stats, photos, etc. to [email protected].