Friday Night Lights 2010: A Defensive Primer
St. Francis De Sales Schedule 2010
Date
Time
Team
8-27
7:30
@ Gahanna Lincoln
9-3
7:30
New Albany
9-17
7:30
Youngstown Cardinal Mooney
9-25
2:00
@ Orchard Lake (MI) St. Mary's
9-30
7:30
@ Maumee
10-1
7:30
St. Charles
10-8
7:30
St. Charles
10-15
7:30
@ Bishop Watterson
10-22
7:30
Cincinnati La Salle
10-30
7:00
Cleveland Benedictine
Chris Rock

Columbus, OH
St. Francis DeSales
HS projection: Tight End/Defensive End
Projects as: Defensive End/Defensive Tackle
Last year, St. Francis De Sales went 7-3 in the regular season, making the playoffs. Once they got there, they pounded through 4 rounds to the state championship game. There, they lost to Ray Vinopal's Youngstown Cardinal Mooney team. Rock finished with about 50 tackles and 11.5 sacks despite struggling with illness through most of the season.
This year, DeSales expects to make the playoffs yet again (as they have for the past 17 years), and they have intentions to win it this time. They boast senior starters at many positions, and a number of talented players, including 2012 RB Warren Ball, who many suspect is silently committed to Ohio State. However, they have only 8 starters back off last year's team. Rock will play both defensive end and tight end for the Stallions, and look for an improvement on his numbers from last season with a healthy year.
Rock has switched from No. 88 to 54 so he can play on the line in addition to taking snaps at tight end.Rock has been a standout at defensive end since coming to the school for his sophomore year, and should continue to lead the sack parade this season.
If Rock can stay healthy and put a good product in the field this year, he could see his rankings improve. Prior to last year, he was considered a top prospect in Ohio's class of 2011.
I might be able to catch a game or two of Rock's, though they play in Orchard Lake during a Michigan game, so I'll have to head to Ohio to do it. DeSales streams audio from all their games on their website, and typically has highlight videos as well.
Plymouth Schedule 2010
Date
Time
Team
8-27
7:00
Salem
9-2
7:00
Howell
9-10
7:00
Wayne Memorial
9-17
7:00
@ Livonia Churchill
9-24
7:00
@ Livonia Franklin
10-1
7:00
Westland John Glenn
10-8
7:00
@ Canton
10-15
7:00
@ ?
10-22
6:30
Adrian
Brennen Beyer
Plymouth, MI
Plymouth High School
HS position: Tight End/Defensive End
Projects as: Defensive End/LB
Last year, Beyer's Plymouth team went 6-3, making the MHSAA playoffs. However, they were pasted in the first round by Canton 40-17 to finish 6-4. That was actually a vast improvement over their regular season loss to the Chiefs, in which they went down 49-7. Over the course of the season, Beyer accumulated 9 sacks and 9 tackles for loss. On offense, he had 6 touchdown receptions.
This year, the Wildcats are looking to make it back to the playoffs, and break their three-year streak of earning six wins. Beyer's offensive stats might suffer, as the team is replacing its starting quarterback, and one of the options is a dual threat. Defensively, I'm not sure if Beyer will stay at defensive end or move to linebacker in anticipation of playing that position at the next level. If Beyer has a huge year statistically, he could move up in the rankings, but he's probably at his peak right now.
With Plymouth's proximity to Ann Arbor, I should be able to check out a few of Brennen's games this year, and will have highlights to post on mgoblog.
St. Pius X Schedule 2010
Date
Time
Team
8-28
7:00
@ Trinity Christian Academy
9-3
7:30
@ Sealy
9-10
7:30
Bellaire Episcopal
9-17
7:30
Worthing
10-1
7:30
St. Thomas
10-8
7:30
@ Monsignor Kelly
10-15
7:30
@ Houston Christian
10-22
7:30
Monsignor Kelly
10-29
7:30
Houston Christian
11-5
7:30
@ St. Thomas
Kellen Jones
Houston, TX
St. Pius X
HS position: Linebacker
Projects as: Linebacker
Last year, St. Pius went 8-2 in the regular season, making the playoffs. Once there, they defeated San Antonio Central Catholic 42-28 and winning a district championship before being knocked out in a 28-36 Loss to Temple Nolan Catholic. Jones was one of the stars of his team, with 75 tackles, 22 tackles for loss, six sacks, and three fumbles forced/recovered in nine games played. he also added an interception in his first-team all-state campaign.
The Panthers expect to make the playoffs, as they have in each of the past seven seasons. Jones will be a key player defensively. It is important to note that their success does not come against some of the best teams in Texas, as they compete in the Texas Association of Private and Parochial Schools, and don't see the big public schools. That factor will probably keep Jones ranked where he is now.
I won't be seeing Jones in person this season, but still expect to fill you in on his stats each week.
Fremont Ross Schedule 2010
Date
Time
Team
8-27
7:00
@ Toledo Start
9-3
7:30
Toledo Whitmer
9-10
7:30
@ Tiffin Columbian
9-17
7:30
@ Cleveland Benedictine
9-25
7:30
Hunting University
10-1
7:30
@ Findlay
10-8
7:30
Marion Harding
10-15
7:30
@ Napoleon
10-22
7:30
Lima Senior
10-29
7:30
Sandusky
Greg Brown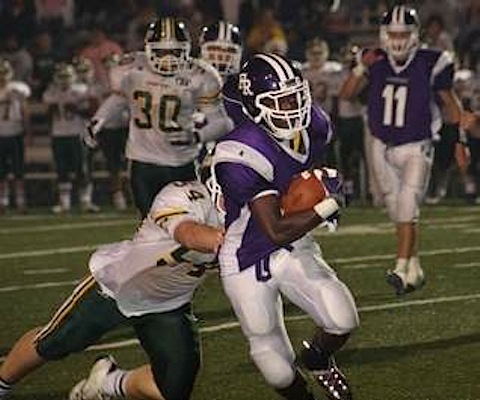 Fremont, OH
Ross High School
HS position: Safety/Receiver
Projects as: Cornerback/Safety
Last year, Ross struggled to a 5-5 record, missing the state playoffs. For a traditionally strong program, this was a serious letdown. Greg Brown was one of the stars of last year's team, however, and since he was committed for so long, I covered him in last year's Friday Night Lights feature. He finished with about 26 receptions for 440 yards, and 24 carries for 133 yards on offense (where he was named 2nd team All-district at wideout). I couldn't find defensive stats for him.
The year, Ross expects to make a return to the playoffs, and a much-improved record. Brown has moved from corner to safety on defense.
"We want to put him in a position where he can make plays," Kidwell said of Brown. "At corner you can run away from him or you can throw away from him. We put him at free safety and he'll be in the middle of the field and he should be a great run supporter for us and he should be a great pass defender for us."
His attitude is reportedly much better than it was last year, which might mean more stats. He'll still be a versatile threat for the offense, maybe more on the ground this year, as Ross graduated QB Cody Foos. If Brown can prove himself on the field this fall, he might be in for a rankings bump.
I'm not sure if I'll get a chance to see Brown in person this season.
Cass Tech Schedule 2010

Date
Time
Team
8-28
8:00
AA Pioneer (@EMU)
9-3
6:00
Detroit Central
9-10
4:00
@ Detroit Denby
9-10
4:30
@ Detroit Southeastern
9-24
4:30
Detroit ML King
10-1
6:00
Detroit Mumford
10-8
4:30
@ Detroit Northwestern
Delonte Hollowell
Detroit, MI
Cass Tech High School
HS position: Corner/Wide Receiver
Projects as: Cornerback
Last year, Cass Tech went 5-3 in the regular season, making the MHSAA playoffs. They squeaked by Dearborn Fordson in the first round, before Detroit Southeastern knocked them out with a 41-0 pounding. They finished with a 6-4 overall record. Through five games, Hollowell had 3 interceptions and 25+ tackles, but I couldn't find stats for the second half of the year.
Cass Tech, like most of the Detroit Public Schools, struggles against suburban schools. They are consistently one of the top teams in the PSL, though Detroit Southeastern has whipped them a few times in a row. Hollowell will be one anchor of a strong secondary, and be a speedy, big-play receiver on the other side of the ball. Hollowell is unlikely to see his rankings go up, as it's his size that's keeping him ranked where he is.
This Saturday, Cass plays Ann Arbor Pioneer at Eastern Michigan's Rynearson Stadium at 8pm, part of the Big Day Prep Showdown. I'll be there getting highlights of Hollowell (and his junior teammates Royce Jenkins-Stone and Terry Richardson). There are conflicting schedule on the internet for the Technicians, so I'm not sure which game is accurate for the 10th.