Friday Night Lights 2009: Post-Season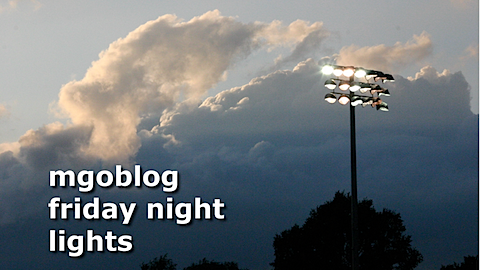 The high school season is long over, but there are post-season honors to cover, and a number of Michigan commits took part in All-American games over the past few weeks. Here's a roundup of those performances in what is likely to be the second-to-last FNL for the 2010 recruiting class (after Signing Day, I'll recap the seasons of everyone who commits after today).
MI QB Devin Gardner
Gardner was part of the winning Black Team in the Under Armour All-American Bowl, completing 2-of-4 passes for 15 yards and a score, while rushing 4 times for 14 yards. The Black Team won 32-7.
Gardner drew similar praise from Black team coach Sam Wyche, a former head coach of the Cincinnati Bengals and Tampa Bay Buccaneers.

"Devin is going to be a big-time player at Michigan," Wyche said. "He and (Alabama commitment) Phillip Sims are guys to me that are going to come quickly to the scene. Devin has a great smile. He is going to sell a lot of product for somebody. He's got a great personality. He's smart -- you can change directions with him and it doesn't bother him at all. He is ready to go."
Game highlights, courtesy of Under Armour:
Gardner's TD toss takes place at the 2:00 mark. As mentioned elsewhere on the blog, Gardner did not enroll early in Ann Arbor.
SC QB Conelius Jones
Named All-State honorable mention at wide receiver, which is odd because he only played quarterback this season. He was also named the All-State QB for Class AA in South Carolina.
MI RB Austin White

Named Honorable Mention All-State at RB.
PA DE Jordan Paskorz
Named to the Pittsburgh-area "Fabulous 22," the 1st-team all-area list. He was named 1st-Team All-Conference, and 1st-Team All-State.
FL DT Richard Ash
Ash participated in the Outback Bowl All-Star game. No word on how he did.
OH DT Terry Talbott
3rd-Team All-State at defensive tackle.
LA S Carvin Johnson
Named 1st-Team All-State in Louisiana's 5A Class. Honorable Mention for the All-South Team. He also made the All-Area 1st-Team offense as an athlete.
PA CB Cullen Christian
Local pregame fluff. Christian participated in the Army All-American Bowl over the weekend, playing corner. His East team fell to the West, 30-13. Christian was thrown at 4 times, with only one pass completed - a 39-yarder to USC commit Robert Woods. Postgame fluff. Cullen has been selected to the Big 33 Game.
WI P Will Hagerup
Hagerup also played in the Army game, as Christian's teammate on the losing East team. Will punted just 3 times, but averaged more than 45 yards per kick, despite shanking his first attempt.
"My brother has been in some big stadiums before and he was saying after that first kick you'll be a lot more calm," Hagerup said. "The first kick I was real nervous and it definitely could have been better. I was definitely more relaxed for the second two."