Friday Night Lights 2009: 12-22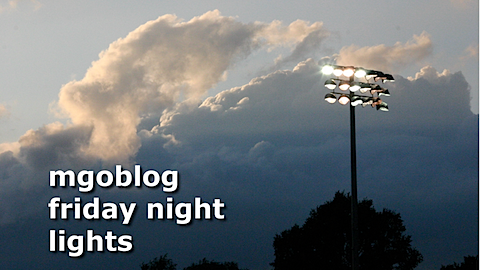 Since High School seasons nationwide have come to an end, Friday Night Lights will be covering mostly All-Star games and All-State/League/etc. honors for committed players. Any future commits will also get the full treatment.
New Commits
MD LB Josh Furman
Furman led his Old Mill Patriots to a Maryland State Championship, running over fools as a running back. Some of the specific games were tough to find (the local papers put articles more than a month old behind a paywall), but I was able to find full stats for his performance during the 12-2 season. He was named the MVP of his county.
Furman suffered a knee injury in the state final, and was unable to participate in yesterday's Maryland Crab Bowl.
Josh Furman 2009
Rushing
Defense
Game
Result
Rush
Yds
TD
Avg
FumRec
Yds
TD
Int
Sack
Arundel
L 27-34
16
219
2
13.69
Annapolis
W 17-15
1
1
Northeast
W 41-7
3
113
2
37.67
1
51
1
North County
W 27-6
17
141
3
8.29
1
Southern
W 35-17
21
182
2
8.67
South River
0
Glen Burnie
Meade
Severna
Broadneck
L 38-44
20
256
3
12.80
Regular Season
(8-2)
137
1510
21
11.02




1+
North Point
W 24-0
23
147
2
6.39
1
Arundel
W 58-55
42
414
6
9.86
Sherwood
W 20-13
30
201
2
6.70
Wise
W 17-16
6
12
0
2.00
Playoffs
State Champs
101
774
10
7.66


1+
Totals
(12-2)
238
2284
31
9.60




1
2+
FL DT Richard Ash
Pahokee had a rough season, despite tons of D-1 talent (including Ash, 7 Pahokee players are already committed to BCS-conference programs, with at least 2-3 more likely to follow suit). They finished the year 6-5, including a loss to Glades Central in the Muck Bowl. I couldn't find individual stats for Ash, but he reportedly had an up-and-down season - just like the rest of the Blue Devils.
Seasons Complete
MI QB Devin Gardner
Named 1st-Team All-State at QB.
SC QB Conelius Jones
Conelius participated as a wide receiver in the weekend's Shrine Bowl (North Carolina v. South Carolina). South Carolina dropped a 14-24 decision to North Carolina. Jones didn't accumulate any stats:
Jones had a pass thrown his way but was not able to get in the stat book. He saw a significant amount of playing time.

"It was a good all-star game. Everyone was fast and quick. It was an honor to be out here and playing."
TX RB Tony Drake
Tony was named Honorable Mention All-State in Texas's 5A Division, the most competitive football division in the state (country?).
MI RB Austin White

Named Honorable Mention All-State at RB.
LA Slot WR Drew Dileo

Drew had to pull out of a Baton Rouge All-Star gam because he was injured in his Championship game. He was Honorable Mention All-State in Louisiana's Class 3A.
MI WR Ricardo Miller

Named Honorable Mention All-State at WR.
MI WR Jeremy Jackson

Named 1st-Team All-State at WR.