Flanagan Family: How Devin Bush, Josh Metellus, and Devin Gil Found a Second Home
[courtesy Yasmeen Alcindor]
The secret to Michigan's success on defense isn't really a secret. It's hard to stay under the radar when your mustache is so perfect, your stats are so good, and your scheme is so aesthetically pleasing. But the secret ingredient in how Michigan's defensive personnel was assembled was, well, itself assembled. A few years ago, a sleek new Playstation 4 rolled off an assembly line in Yantai, a coastal city of about 7 million in China, not realizing that it would some day end up in the living room of Jabrill Peppers' apartment, let alone that it would play a crucial role in landing three contributors to 2017's no. 3-ranked defense.
The PS4's shining moment came on the night of June 14, 2015, when three then-recruits--Devin Bush Jr., Josh Metellus, and Devin Gil--went on an unofficial visit to Michigan. The three got in from South Florida around 11 on their first night in Ann Arbor and went straight to Peppers' apartment, where they found Willie Henry (or, as he's known around the program, Big Earl) ready and waiting to throw in NBA 2K15 or Madden 15.
"I'll bust out the 2K or we can throw in Madden if you feel like the odds are better in that," Henry says. "I don't think I ever lost to Jabrill, Devin, the other Devin, or Metellus." Metellus corroborates Henry's recollection. "It was just funny because Gil, he was playing 2K, he was just losing the whole time. It was hilarious," he says.
Asked who's the best 2K player, Gil says it has to be him. This is one of the many times during our interview where the crosstalk explodes, three voices criss-crossing with such speed that the tape plays back a staccato mess. As things calm down, Bush explains his frustration. "He plays as Golden State like he's tryin' to cheat," he says. The pride swells in his voice. "I play as random teams." Gil, the most reserved of the three, quietly retorts: "I'm still gon' win, though. Regardless, I'm gon' win."
And he might, but not that night. "A lot of people just like playing with Lebron but I can use it as an excuse: that's my home team I'm just playing with. Can't be mad that my home team got Lebron James," Henry says. "But you know me, I'm very competitive, too. So it was just two guys competitive at what they do playing the game at that time. I got the best of him that night but I could see from the fight in that that we had three great competitors coming from the same school that had the possibility to come to the same university. It was just a blessing. I had a great time with the boys that night."
[After THE JUMP: a secret plan, chasing offers, winning championships, and high-stakes games of…Uno?]
Competition for competition's sake is common among athletes, and it's especially common around Jim Harbaugh's program. Competing in NBA 2K, though, served an additional purpose. It was a plug-and-play way to find common ground and start digging into who exactly Michigan was recruiting.
"A lot of kids these days enjoy playing the game so that's something that I enjoyed, and seeing that those guys enjoyed that, it was something we could bond over, chop it up, talk to 'em, see their interests, see what they're liking about Michigan, see who else was that competition, what other schools that they liked that they were thinking about," Henry says. From there it wasn't hard to achieve the host's ultimate goal: sell them on what Henry calls the best university in the world. NBA 2K and Madden served as facilitators in showing how the team bonded off the field and what life was like away from Schembechler Hall.
No one knew at the time how close Bush, Gil, and Metellus were to committing to Michigan, but Henry liked what he saw. "Number one was their competitiveness and number two that they were level-headed, they were mild mannered, there wasn't disrespect, they weren't loud, they were great guys to communicate with," he says. "They seemed like they were great friends, so it seemed like they got along with people. They communicated. Nobody was really shy. They communicated, so I felt like out of some of the recruits that we had that committed, they were kind of like I would say one of the better ones that I've been around recruit-wise, those three."
It's no coincidence that Henry picked up on their ability to communicate. The three have been inseparable since becoming friends; Bush and Gil started playing pee wee football together at age six, and Metellus became friends with them immediately upon enrolling in the same school in 2012 and going through summer workouts together. Talk to their families and no one remembers a time where the three knew each other and weren't close; they were friends for a minute and family forever after. Their families kindly shoot down the idea that these are three friends playing college football together; these are three brothers who live in the same dorm suite, experience the same trials and tribulations of learning to balance time and make the most of their Michigan experience, and have grown to become almost the same person despite coming from different beginnings. This is family.
********
They couldn't be much more dissimilar now, but there was a time in the early 2000s when Allen Iverson and Devin Bush Jr. would have been able to empathize with each other. Bush Jr. started playing football when he was six years old for the Pasadena Optimist Club Panthers.In those early days playing in the AYFL he fell in love with the game… and only the game.
"He was not your practice kind of player. He wanted to just show up on gameday, put on his uniform, and perform," says Kesha Bush, Devin Jr.'s mother. "And usually, nine times out of ten, he'd perform and you couldn't really say anything because at the same time other kids are looking at him like he didn't practice full out because they'd get on him, like, come on, hustle up."
Bush Jr. soon had a reason to take practice seriously beyond meeting his peers' expectations. His father, Devin Bush Sr., reluctantly joined the Panthers' coaching staff. He didn't volunteer to be the team's head coach because of his wealth of knowledge garnered from eight years in the NFL and three at Florida State. Kesha often asked him if he wanted to get into coaching after his NFL career was finished, and he always told her he wasn't interested; currently Michigan's interim safeties coach, Bush is back on the field after two seasons as a Defensive Analyst and can't see himself doing anything else.
Kesha and Devin Sr. opened their home to everyone on the team from the beginning of Devin Jr. and Gil's youth football days. The players were assigned to teams according to their weight once they hit 85 pounds, and they moved to a new team every 10-15 pounds. Weigh-in day was Saturday, so Kesha and Devin Sr. would allow anyone who wanted to to spend the night at their house on Fridays. The boys loved hanging out there; the hot tub was a popular feature. Kesha would monitor the diets of those who needed it--she notes that her son and Gil were two of the ones who did--and the boys would always meet their weight requirement the next day.
Bush Sr.'s demands of his youth-league players were simple: perfection in everything they did. "You talk to Gil, when it comes to coach Bush, they never did anything correct," Kesha says. "It's always what could you have done better. Yeah, you made the play, but what didn't you do or what else could you have done? So all the boys that were coached under Devin have that same mentality that was instilled on the field, and that's why a lot of those boys stayed with him and they all moved up because he wanted to continue that because he knew how much the boys loved the game."
[Fuller; two above courtesy Yasmeen Alcindor]
"And even like I said with Devin, little Devin never did anything right in Devin's eyes, at least in little Devin's eyes. He did, but his dad didn't tell him. He would tell him, 'Okay, yeah, you made the tackle, but what else could you have done?' He never let him think what he was doing was good enough because in his eyes there's so much more you need to learn. Even if he'll come and tell me like 'Wow, Devin made this play that I didn't think he could make,' he never told him that. Never let him think that he's arrived," Kesha says.
"So that's why even now, Devin, I look at certain things that he says and even now, he had a good season but in his eyes he didn't because they didn't win. It's just the mentality, the mentality of what was instilled in him growing up."
The elder Bush had his reasons for pushing his team so hard, and particularly for pushing his son. On the field, Bush and Gil were competing with and against kids with an insatiable drive for success in football. Kesha notes that Bush and Gil were fortunate in that they never had to worry where their next meal was coming from or where they were going to sleep that night, but they played with other kids from varying backgrounds, and some of their teammates did have those concerns. "I just feel like in South Florida, football is the only way out for most kids," Gil says. "It's like so many kids put so much into football and when they go home they don't have nothing else, so they trying to build a way to get out of whatever situation they in."
"South Florida football, I've never seen anything else like it going through everywhere else. It's just...it's so intense," Metellus adds. "Every game you play is like a rivalry game. It doesn't matter who you're playing--they can be the worst team in the district or the best team in the district, it's just a rivalry game. We're all competitive and we all want to be the best, so when we go out there we don't want to let the next man beat us, so we just take everything to the heart."
Bush Sr. wanted his teams to take to heart technique and fundamentals, as well as his message that there is always a way to get better. Bush and Gil's Pasadena Panthers squads took a while to find success, but eventually the message sunk in and they won the 105-pound AYFL Super Bowl title. "In Optimist [Ed.A--currently AYFL], they were the Optimists that couldn't get past the powerhouse Optimist teams that were in the area," says Devin Gil's father, Victor. "They created their teams along with coach Bush, and he had a great coaching staff at the time also, which a lot of them were ex- either college football players or pros, and all our boys got together and it was always the same nucleus: Bush, Gil, and a couple other kids."
[Gil covers routes now, but he used to run them]
The nucleus expanded by one by the time the boys were about to enroll at Charles W. Flanagan High School. Bush and Gil met Josh Metellus during summer workouts before their freshman season at Flanagan. Metellus fit in with Bush and Gil immediately because they shared a similar desire to succeed academically and athletically. Metellus' rapid acceptance into the group was in some ways uncommon, notes Gil's father, Victor. Those who were accepted were those who identified with the importance of being the best in sports and school; slack in one and you found yourself on the outside looking in.
"If you weren't part of the group, you couldn't play on the team. And they hold each other accountable the same way that they do on the field and off the field because obviously they knew that if they did something wrong off the field, they couldn't play," Victor says. "Especially under coach Bush. So that's how they held themselves accountable and they told each other, 'If you can't get to class and get your school work done, then you're hurting the football team.' And that was how it was. If you hurt the football team, that means you were hurting your brothers."
[Fuller]
Metellus' path to initiation was smooth, but his road to Flanagan far less so. He lived in North Miami during some of his formative years, and he went to elementary school in Dade County. Prior to middle school, he was selected to receive an academic scholarship and college mentoring through a program operated by non-profit organization Take Stock in Children. Part of being selected by the program involved allowing his family to select a school that had a magnet program for mathematics, in which Metellus was excelling. He ended up at Walter C. Young Middle School in Pembroke Pines, a 30-minute drive from where he was living. Metellus' mother, Jhennifer Alphonse, was then told that Metellus had a chance to graduate early if he got into a specific math program at Flanagan, and that's how he ended up staying in Broward County schools through high school.
Alphonse eventually moved to Broward County, but not before Metellus started high school. Victor Gil and Devin's mother, Yasmeen Alcindor, were more than willing to let Metellus stay with them temporarily; like the Bush family, they were used to Devin's teammates staying over on weekends.
Between football practice, school, and hanging out on weekends, the three boys were soon spending nearly every waking minute together. Alphonse would come over on Sundays to pick up Metellus, who would complain that he thought she was just stopping by to bring him more clothes. Perhaps inspired by this, Bush Jr. found a way around that issue. "Most kids will come to your house in a bookbag and want to sleep over. [Bush] would literally come to my house with rolling luggage. Like with wheels," Alcindor says. "And I'm like, 'How long are you staying?' And he was like, 'Well, you can just take me to school.' And I'm like, 'Really?' But that's just his mentality." It comes as little surprise, then, that Metellus ended up essentially living with Devin Gil's family for the entirety of high school.
Alcindor loved having the boys stay over; she was unable to have any other children due to a heart condition, but having Bush and Metellus around all the time expanded her family--by more than two, no less. "They literally became so close that our families didn't have a choice but to become close as well," Alcindor says. "Bush's family is my family. We go on vacations together, we sleep over at each other's houses. Our unit is a core unit. Josh's mom is constantly over at my house. We are all a family. There's no friendships. These are my family."
Metellus, Bush, and Gil preferred to stay at Bush's or Gil's house and find a way to compete rather than go out. (This has remained true in college, where their preferred activities away from Schembechler Hall include getting something to eat, playing video games, and listening to [definitely non-Meek Mill] music). In high school, the three often played basketball in real life and virtually. Video game tournaments were common, as they allowed the three a chance to talk alongside an activity that had a clear winner and loser. Arguments over things like 2K team choice or Gil not owning up to his loses are contrived; Metellus admits that they look for things to argue about because they like arguing, not because they truly disagree.
"We've got the same beliefs and the same views on things. We wear the same fashion. Like, we all got the same boots on and nobody said anything," Bush Jr. says. Three identical pairs of boots go up on the glass coffee table in front of us, block Ms conspicuously stitched on a tag on the tongue. "Stuff like that just happens. I don't know, it's just funny. I don't know what our differences is. There will just be times where we'll be talking and we'll be talking about the same situation and we can finish each other's sentences."
Metellus says that sometimes they'll get in an Uber and all give the exact same response to the driver's question. Other times, Gil's phone will buzz and once he sees who the text is from, he knows what it's going to say without opening it; he was already thinking about the same thing. There are days when they'll FaceTime each other and not say anything, their nonverbal cues signaling whether they're on the same page that day.
There remain some small differences. Metellus is the neatest of the bunch, compulsively straightening things out when they're out of place or, in another manifestation of his desire for order, refusing to eat certain foods if they touch each other on his plate. Bush comes off as quiet and resolute, but Alcindor calls him a "clown" and Kesha says that once he gets to know someone he won't stop talking. Gil is the quietest of the three, interjecting only when he has something new to add; Kesha said growing up he didn't volunteer his thoughts, but that "you kind of got to pick it out of him." On the opposite end of the spectrum of extroversion is Metellus, who will talk to anyone about anything; Alphonse recalls a time she was at a doctor's appointment and walked into the room in the middle of Josh and the doctor having a detailed conversation about c-sections.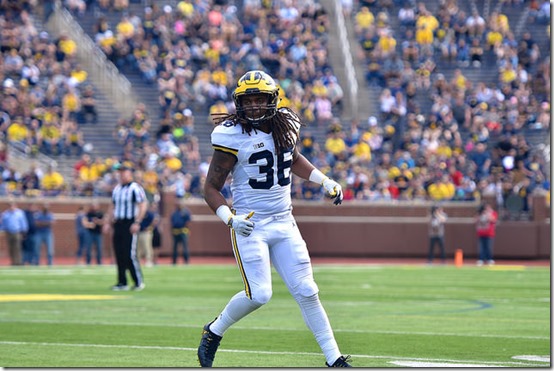 [Fuller; below courtesy Jhennifer Alphonse (R) and Yasmeen Alcindor (L)]
Gil, Metellus, and Bush all have their idiosyncrasies, but they draw their motivation from the same source: each other. "Sometimes I used to think my Devin was afraid to come and tell me if he did something wrong," says Victor. "I think he'd rather tell me than actually go tell Bush and Josh because they hold each other so accountable to make sure that they're successful in what they're doing, whether it's on of off the field."
From this perspective, it's easy to see how Metellus could evolve from a three-star recruit to a sophomore starter, how Gil made a surprise start in the season opener spelling Mike McCray without missing a beat, or how Bush outpaced expectations and was named first-team All-Big Ten and second team All-America. "We know what each of us is capable of, so when we see somebody not doing what they're capable of, that's also extra motivation, like I'm not going to let him down," Metellus says.
Individual goals melded into one shared desire to be the best, full stop. This paired well with the elder Bush's brand of coaching and led to unprecedented success at Flanagan. Bush Sr. became Flanagan's head coach in 2013, and within two years he had taken a previously middling program to the state title game in Florida's largest division.
The road to success at Flanagan was arduous for all involved. Growing up, Victor always told the boys that free time was their worst enemy. He and Bush Sr. felt that kids who found themselves in trouble ended up there not because of the circumstances of their upbringing but the choices they made in their downtime. Bush Sr. tried to remedy this with his practice schedule; kids would get to Flanagan for class around seven in the morning, and practice would finish sometimes as late as ten o'clock at night. "It's just that the environment sometimes comes to you without you even wanting it," Victor says. "So that was their safe haven was to be on the field, was to push themselves, and to understand that someone else down here probably is as good or better than you but didn't have that opportunity because you applied yourself in the classroom."
Bush Sr. made sure of it. "He'd check on those boys, make sure they're doing what they have to in school, getting them ready for graduation," Alphonse says. "He would check on them, pull them out of class if he needed to talk to them about school, so he made sure school was first. I'm telling you, he took that program to the next level."
He did, and he did so quickly. Flanagan went 9-1 in 2013, Bush's first season as varsity head coach, their season ending with a loss in the regional quarterfinal. In 2014, Flanagan finished the regular season 10-0 and made a run to the state semifinals. A one-point loss to South Plantation and a five-point loss to St. Thom
as Aquinas marred 2015's regular season record, but the team's defense had them poised for another deep run in the state playoffs; teams had scored a total of three points on Flanagan's defense in the first half of games in 2015. They called themselves the Donut Boys, a quality nickname that didn't last. Not like the Dirty Birds.
The Dirty Birds nickname was born during a routine film session. Bush Sr. stopped the tape to point something out when the players on the screen disappeared. In their place was a giant projection of a bird that had swooped directly in front of the camera at just the right moment. This was especially fitting considering Flanagan's nickname--the Falcons--and their head coach, a member of the 1998 Atlanta Falcons and one-time teammate of the nation's most famous purveyor of the Dirty Bird, Jamal Anderson. The nickname was so natural no one remembers who came up with it.
The Dirty Bird defense played with speed and aggression (they had 38.5 sacks in nine regular season games) and benefitted from the nonverbal communication that comes with players who have played together for years and, in the case of Bush, Gil, and Metellus, essentially lived together away from the field. They didn't allow a point until their fourth playoff game, a 30-17 win over Columbus in the state semifinals. They allowed just seven points to Osceola the next week, capturing Flanagan's first-ever 8A state title. Adversity from 2014 was addressed with more work, and that work translated to wins. Bush Sr., Bush Jr., Gil, Metellus cemented their status as Dirty Birds for life. That moment, however, was short lived. Moments after winning, reporters were asking Bush Jr. if he had decided what college he would attend. Was that the last time they would ever take the field together?
********
It's not hard to see why Bush, Gil, and Metellus were intrigued by Michigan considering how acclimated they were to long hours, grueling practices, and academics as a focal point of life. To play together in college was possible if unlikely, but to have that happen at a school 1,358 miles away from Pembroke Pines wasn't seriously considered until Bush Jr. visited Ann Arbor.
Michigan fit the pattern, though. Since their pee-wee football days, the boys' on-field path to success had repeated itself: they joined a new team, Bush Sr. joined the coaching staff, and within a couple of years they had a new championship ring.
Michigan offered Bush Jr. in February 2015, just two months after Harbaugh was hired and about a month after then-defensive coordinator DJ Durkin joined his staff. Bush Jr. took his first unofficial to Michigan at the end of March, and he found something unexpected.
Reflecting on his first memories of Michigan, Bush pauses, mulling how to verbalize that feeling of realizing that you could make a new home away from home. "This place was more...not to say you could do what you wanted to do, but kind of like be your own person, you know? Like, it's a real college town around here."
He was so enthusiastic about his experience at Michigan that he started talking to DJ Durkin about his teammates. There were these guys he played with named Gil and Metellus and they were both exceptional athletes and good students and great people and maybe Michigan would want to--Bush didn't need to say more. Durkin watched Gil's tape. He liked what he saw. He asked Bush to call Gil.
Back in Pembroke Pines, Gil's phone rang. He was in the car with his mom and dad and Kesha, Bush's mom. "Bush called Gil and we were all in the car together and he was like 'You have to come up here and see this. It's different,'" says Alcindor. "I guess my Gil was kind of like, 'Well, that's not the plan' and he was like, 'No, you have to come up here. It's different.' He was like 'I think we could do something up here. I really like it. I already started talking to the coaches about you guys and showing them your film and coach Durkin is really excited. He wants you to come up. He wants to meet you.'"
Victor was skeptical until he found out that Durkin was on the line, too. He was indeed serious; Gil picked up his Michigan offer that day.
The three ending up at Michigan still seemed like a longshot. Metellus had committed to Georgia Southern one day before Gil got his Michigan offer. Gil had committed to Miami two months prior. Bush was prepared to take his time in what would become a difficult decision between Michigan and his mother and father's alma mater, Florida State. Even so, their plan was inching closer to becoming a reality. "Those three already knew what the plan was. They chose not to tell us. Like I guess we were going to blab it out, I don't know, but those three already had in mind what their plan was going to be," Alcindor says. "This is not even a high school thing, especially with Bush and Gil. These kids have had this plan in mind since pee-wees. There's no ifs, ands, or buts. They were going to go to school together, they were going to live together--they had their plan set out, from winning the state championship when we were in high school, they are going to win the championship in college as well, and they're all going to go to the NFL."
Metellus, though, still needed to get his Michigan offer. It just so happened that the Michigan coaches would be attending a satellite camp hosted by Bush Sr. in early June. Metellus went, but his hopes were modest; he was looking to get an offer from another school in attendance, a school which he can't even recall the name of anymore.
The biggest school in attendance, however, was not lost on Metellus' mother. She pleaded with Metellus to go to bed early the night before the camp, but he couldn't sleep. The next day they arrived at the camp, which was already crowded with athletes hungry to show they had Division I talent. Alphonse had always wondered why Metellus wasn't getting more offers, and now she worried; he would have to stand out above a sea of kids to grab coaches' attention. These kids were so competitive. The kid who couldn't sleep the night before, the one who fretted about being late for the camp while his mom got his younger siblings ready, grew calm. He turned to Alphonse. 'Mom, I got this.'
Alphonse could barely contain herself after Metellus finished the camp. What had they said? What had he heard? In the immediate aftermath, there were no answers.
Later that day, Alphonse's phone rang. It was coach Bush. The Michigan staff had talked to him and told him they liked what they saw from Metellus. He didn't know whether an offer was coming, but they were certainly impressed. Alphonse broke down in tears. She couldn't believe that a school as big as Michigan might be ready to offer her son a scholarship. By the end of the night, Metellus heard from the staff. Bush and Gil an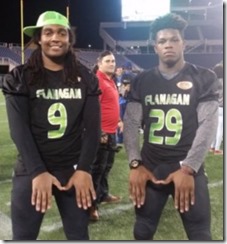 d Metellus' plan might actually come true. They all had Michigan offers.
"I had my son when I was 17, so it's very hard for them to make it out," Alphonse says. "I was a young mother, so I tell everybody the story about Josh: I said, 'I had a track scholarship, I got pregnant with you, I couldn't go to school.' He's like, 'Mom!' I'm like, I'm glad you're doing the right thing, so when they gave him the offer I was so happy."
Metellus was thrilled as well. He decommitted from Georgia Southern without telling his mother, and one week later he went on the aforementioned unofficial visit to Michigan with Gil and Bush. The good feeling Willie Henry got about the three recruits was reciprocated, with Metellus committing three days after their June 14th visit and Gil committing two days after that.
Bush's decision wouldn't be made for an additional six months. He says that Gil and Metellus didn't pressure him, instead allowing him to make whatever decision he felt was right for him. Even so, Michigan was always in the back of his mind. "It just came down to the future," Bush says. "How many people can say they played with two of their friends in high school and then in college, all together?" 
********
[courtesy Jhennifer Alphonse]
Jim Harbaugh made a visit to Pembroke Pines in early December, 2015, to discuss just that. He sat at the kitchen table in Devin Gil's house. He hadn't flown all that way to pitch his program and bail for the next recruit's house. He was there to get to know the families and kids better, and in the process found that he was among kindred spirits. They decided to play cards; what better way was there to spend an evening than with a little friendly competition? "Harbaugh don't like to lose, I'll tell you that," Alphonse says with a laugh. "And the boys don't like to lose, either. It was cute."
Harbaugh didn't realize it when he walked in the house, but the kitchen was the agora of the boys' competitiveness. "In order for someone to wash the dishes they have to play a game of Uno, and whoever loses has to wash the dishes; whoever loses has to take out the garbage; whoever loses has to clean the bathroom," Alcindor says. "Like, nothing can get done until something competitive is going to determine the outcome. This was every. single. day. I couldn't--it's like, just take out the garbage, please. 'Okay, well, we've got to play Uno.' Like, oh god. This was everything."
"They're just constantly at each other, and there's always good intentions to make each other accountable, even in practice, even in games, and even they can be playing the Madden game and it's the same thing: 'Oh my god, you lost three times in a row!'" Kesha adds. "Eeeverything they do, I mean you name it; they can be playing Paper, Rock, Scissors, they'll make it competitive. That's just how they are."
Alphonse remembers being nervous when Harbaugh first got to the house. She thought back to watching the Super Bowl just a couple of years prior and seeing a segment on his family. I hope my son can play for someone like that someday, she thought. And here Harbaugh was, sitting in her best friends' kitchen, playing Spades against the boys all three families consider their own sons for hours on end. Two weeks later, Devin Bush Jr. committed to Michigan.
********
Bush, Gil, and Metellus have faced their share of adversity since arriving at Michigan. They had to adjust to everything, from living away from home to learning a campus they had only visited a few times to things as simple as the weather. In South Florida, Victor notes, there's no reason to look out your window and decide you don't want to get up that day.
The adversity doesn't phase them, though. They've been through it before. They were the Optimist team that took a few years to topple the powerhouse clubs but ended up with a youth-league Super Bowl title. They were on a high school team that was ranked 86th in Florida when they arrived, but they left with state title rings. They say they've learned a lot about adapting to certain situations, particularly making adjustments to certain on-field situations. They've learned to balance hard practices and late nights writing papers, and there's still time on the clock to achieve their only goal: win a championship.
"It's happening, the same thing," Victor says. "Michigan, Harbaugh, a new program, new situation, and again I think the same nucleus of kids--I believe by the time these boys graduate, it's going to be a different picture and I do see a championship of some sort at the University of Michigan before they leave."
The three even have a phrase for it. They came up with it last summer during the dog days of summer workouts. T.O.P.: trust our process. It's how they found success before, and it's what they rely on when things turn into a grind. It got them championships and it got them into Michigan. The phrase is now Devin Bush's Twitter avatar and in Josh Metellus' Twitter bio. They've lived it and they believe it.
All Bush, Gil, and Metellus care about is winning. Of course that's all any college athlete cares about, true, but they have lost their desire for personal victories, three individual's goals becoming one singular purpose. What matters to them is what they win as a team. They say it with the utmost sincerity, and their actions reflect their earnestness. They turn everything into competition because they need everything to have a victor. They've been on the wrong end of upset wins in the state playoffs. They've been on the wrong end of could-have-should-have contests with Michigan State and Ohio State. They've also been on a platform at midfield, championship trophy held aloft in the humid Florida night. Trust their process.