Fixing The Worst Championships In America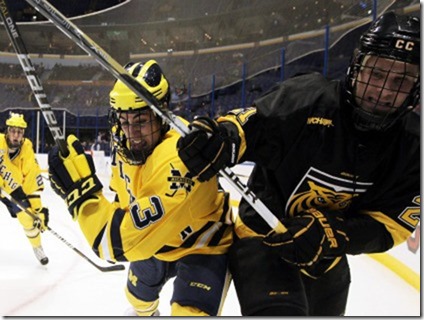 the background is devoid of people
College hockey is a lovely little sport with grandiose ideas that have harmed its growth for the past 20 years. For every jam-packed Yost regional with fans going bonkers—some of the best sporting events of my life—there have been ten antiseptic neutral-ice matchups featuring the barely weighted plinko of single-elimination hockey played in front of a crowd that could only be described as "dolorous" if you were feeling exceptionally generous.
The Frozen Four is a successful event that draws attendance from around the country annually; the rest of college hockey's playoff systems are inane at best.
Finally, this seems to be changing. Faced with the stark fact that no one even wants to host the NCAA hockey tournament anymore (ND is hosting this year despite having an odd 90-foot-wide rink because it was literally the only bid for the Midwest), a sensible new face on the competition committee has an innovative idea:
UND A.D. Brian Faison, new NCAA hockey committee chair tells me he will move for realignment of NCAA regionals to include home sites

— Dan Hammer (@Hamsbrew) March 18, 2015
Whether those are top 8 or top 4 hosting and format remains to be seen. Likely top 8. He believes there is growing support from coaches.

— Dan Hammer (@Hamsbrew) March 18, 2015
Do what they do in every other sport.
Seriously, though: fixing the worst tournament in American sports would be a personal relief and a step forward for a sport that is stubbornly fixated on playing neutral-site contests no matter how embarrassing they are. Yesterday's attendance at the Joe was scant:
This shot has people in it, unlike 90% of the sections
This will continue. Matt Shepherd yells at fans for not showing up, but that's a counterproductive point of view. The product sucks. The product wants me to drive 90 minutes round-trip to an almost-empty arena with the character of concrete during the first round of the NCAA basketball tournament. It does not offer me the opportunity to go to a packed and buzzing Yost Ice Arena in the seat I bought all year. (The cokes are cheaper, I'll give them that.)
Calling people bad fans doesn't change any of that. I'm fed up with it—I did not go nor even think of going—and I have had hockey season tickets for over 15 years. If I'm a bad fan, college hockey has vanishingly few good ones.
Fans eventually notice when they are being pooped on. And I don't know how only MLS and WWE executives realize this in American sports, but the fans are a huge part of the show. I will watch chunks of anything that has folks going insane in a little bandbox of an arena. It shows that whatever's going on is important to somebody. Anybody could be forgiven if they tuned in yesterday for thinking hockey meant nothing to anybody.
If you want your championship to be something other than embarrassing, there is an option. Over the three weeks the CCHA tournament used to take, the Big Ten could have three-game home series all the way to the championship, which would make the regular season more meaningful, provide a more meaningful champion, get their players more games, and make vastly more money.
The reason they do not is still mysterious. Wisconsin and Ohio State objected to needing to keep their buildings free for three weeks when a lot of high school championships are being played in them currently, but Minnesota, Michigan, Michigan State, and Penn State all have dedicated facilities with no or little competition for time. They should be able to out-vote the stragglers. That they don't is an indication that the Big Ten doesn't take hockey seriously—something results on the ice have amply proven.
Here is a plan for making college hockey seem, you know, fun:
The Big Ten plays all home-site playoff games. People will "attend." This is "good."
Two weeks of home-site NCAA regionals, best two out of three. There's already a bye between the regionals and the Frozen Four anyway. For best results, fill with hockey.
The Frozen Four continues being itself.
It is not a complicated plan.